| | | | | | | | | | | | | | | | | | | |
| --- | --- | --- | --- | --- | --- | --- | --- | --- | --- | --- | --- | --- | --- | --- | --- | --- | --- | --- |
| Year | Team | W | L | ERA | APP | GS | CG | SHO | SV | IP | H | R | ER | BB | SO | WP | HP | OBA |
| 2017 | | 1 | 2 | 5.11 | 23 | 0 | 0 | 0 | 0 | 24.2 | 28 | 17 | 14 | 6 | 16 | 0 | 7 | .286 |
| 2018 | | 2 | 1 | 4.50 | 23 | 0 | 0 | 0 | 1 | 26.0 | 22 | 18 | 13 | 18 | 14 | 0 | 2 | .234 |
| 2019 | | 4 | 1 | 2.80 | 36 | 0 | 0 | 0 | 1 | 54.2 | 54 | 19 | 17 | 17 | 39 | 1 | 3 | .258 |
| 2020 | | 0 | 1 | 2.40 | 11 | 0 | 0 | 0 | 1 | 15.0 | 16 | 8 | 4 | 1 | 12 | 0 | 1 | .281 |
| 2021 | | 1 | 0 | 4.11 | 25 | 0 | 0 | 0 | 0 | 30.2 | 26 | 16 | 14 | 11 | 26 | 0 | 1 | .230 |
Player Wire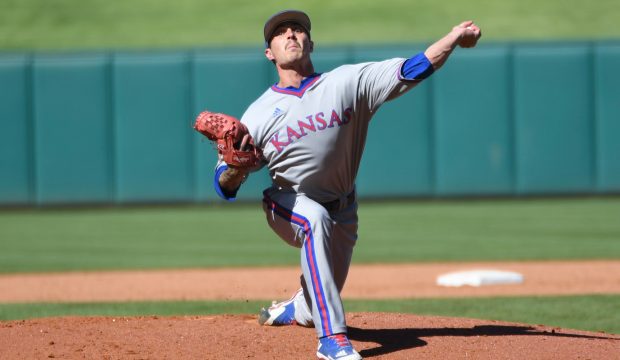 On The Upswing: Week Four
Taylor Turski and Kansas made a splash with a sweep of St. John's. Find out which other teams improved their stock a great deal over the past week.
2018 Conference Previews: Sun Belt
Travis Swaggerty and South Alabama are the clear-cut favorites to win the Sun Belt, but several teams hope to spoil their season. How should the Sun Belt stack up?