| | | | | | | | | | | | | | | | | | | | |
| --- | --- | --- | --- | --- | --- | --- | --- | --- | --- | --- | --- | --- | --- | --- | --- | --- | --- | --- | --- |
| Year | Team | POS | AVG | OBP | SLG | OPS | GP | AB | R | H | 2B | 3b | HR | RBI | HP | BB | SO | SB | CS |
| 2018 | | | .286 | .371 | .385 | .756 | 61 | 213 | 34 | 61 | 9 | 3 | 2 | 33 | 4 | 26 | 57 | 5 | 2 |
| 2019 | | | .316 | .405 | .509 | .914 | 61 | 234 | 50 | 74 | 25 | 1 | 6 | 67 | 7 | 32 | 44 | 5 | 3 |
| 2020 | | | .308 | .361 | .338 | .699 | 15 | 65 | 6 | 20 | 2 | 0 | 0 | 5 | 1 | 5 | 15 | 1 | 1 |
| 2021 | | INF | .303 | .425 | .476 | .901 | 53 | 185 | 38 | 56 | 13 | 5 | 3 | 32 | 4 | 39 | 41 | 8 | 2 |
Player Wire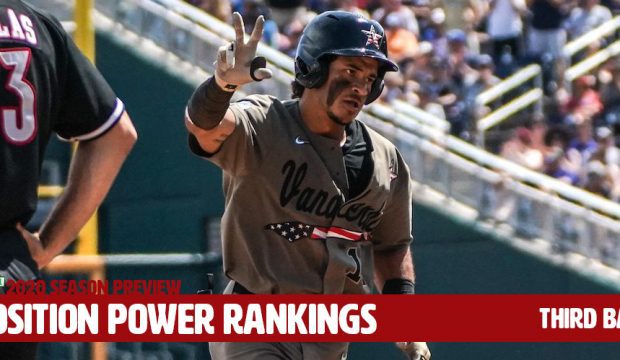 2020 Preseason Power Rankings: Third Base
Vanderbilt's Austin Martin and Louisville's Alex Binelas hold down the top two spots in our list of the top 30 third basemen in college baseball heading into 2020.
2019 Conference Previews: Patriot League
Electric righthander Noah Song leads a Navy club that is aiming for its fifth straight Patriot League regular-season title.
2018 Conference Previews: Patriot
Logan Knowles and Navy fell just short of reaching the NCAA postseason last year. Now, they hope to take control as we preview the Patriot League.