| | | | | | | | | | | | | | | | | | | | |
| --- | --- | --- | --- | --- | --- | --- | --- | --- | --- | --- | --- | --- | --- | --- | --- | --- | --- | --- | --- |
| Year | Team | POS | AVG | OBP | SLG | OPS | GP | AB | R | H | 2B | 3b | HR | RBI | HP | BB | SO | SB | CS |
| 2016 | | | .283 | .315 | .355 | .670 | 47 | 138 | 24 | 39 | 5 | 1 | 1 | 20 | 0 | 7 | 26 | 1 | 1 |
| 2017 | | | .273 | .310 | .327 | .637 | 16 | 55 | 6 | 15 | 3 | 0 | 0 | 7 | 3 | 0 | 6 | 0 | 0 |
| 2018 | | | .265 | .329 | .384 | .713 | 55 | 211 | 28 | 56 | 11 | 1 | 4 | 28 | 5 | 17 | 25 | 2 | 1 |
| 2019 | | | .307 | .361 | .482 | .843 | 58 | 218 | 38 | 67 | 11 | 0 | 9 | 37 | 5 | 15 | 30 | 5 | 0 |
| 2020 | | | .241 | .333 | .414 | .747 | 16 | 58 | 8 | 14 | 1 | 0 | 3 | 9 | 1 | 7 | 8 | 0 | 0 |
| 2021 | | INF | .252 | .301 | .431 | .732 | 57 | 218 | 23 | 55 | 10 | 1 | 9 | 32 | 3 | 14 | 34 | 1 | 2 |
Player Wire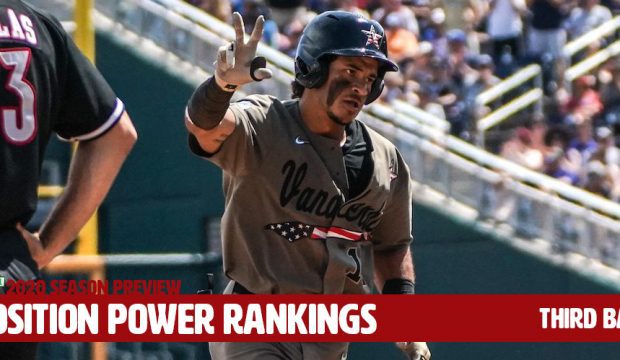 2020 Preseason Power Rankings: Third Base
Vanderbilt's Austin Martin and Louisville's Alex Binelas hold down the top two spots in our list of the top 30 third basemen in college baseball heading into 2020.
2018 Conference Previews: Sun Belt
Travis Swaggerty and South Alabama are the clear-cut favorites to win the Sun Belt, but several teams hope to spoil their season. How should the Sun Belt stack up?
2016 Conference Previews: Sun Belt
Reigning conference pitcher of the year Kevin Hill leads a South Alabama squad that could give Louisiana-Lafayette a run for its money in the Sun Belt.