| | | | | | | | | | | | | | | | | | | | |
| --- | --- | --- | --- | --- | --- | --- | --- | --- | --- | --- | --- | --- | --- | --- | --- | --- | --- | --- | --- |
| Year | Team | POS | AVG | OBP | SLG | OPS | GP | AB | R | H | 2B | 3b | HR | RBI | HP | BB | SO | SB | CS |
| 2017 | | | .316 | .365 | .441 | .806 | 40 | 136 | 27 | 43 | 6 | 1 | 3 | 21 | 6 | 5 | 32 | 8 | 3 |
| 2018 | | | .291 | .363 | .460 | .823 | 51 | 189 | 33 | 55 | 9 | 1 | 7 | 32 | 3 | 19 | 58 | 10 | 2 |
| 2019 | | | .257 | .371 | .348 | .719 | 56 | 210 | 36 | 54 | 11 | 1 | 2 | 30 | 12 | 26 | 73 | 14 | 3 |
| 2020 | JMU | P | .250 | .426 | .519 | .945 | 16 | 52 | 12 | 13 | 2 | 0 | 4 | 9 | 9 | 7 | 14 | 7 | 1 |
Player Wire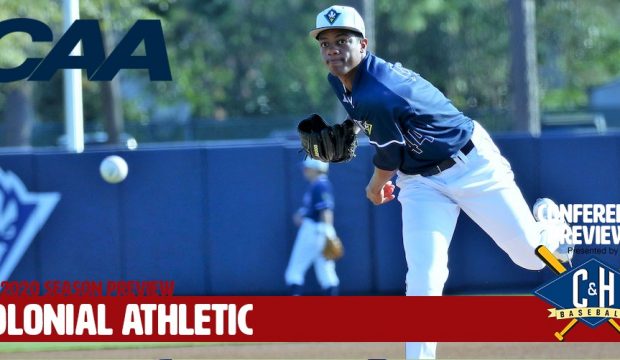 2020 Colonial Preview: UNCW Still The One
Perennial power UNC Wilmington is the clear-cut team to beat in the Colonial Athletic Association, but Northeastern, James Madison and Elon lead a hungry pack of capable challengers.
2019 Conference Previews: Colonial
UNC Wilmington is aiming for its sixth regional in the last eight years, but Elon, Northeastern and College of Charleston should be very formidable contenders in the CAA.
Prospect Rundown: Cal Ripken League
East Carolina two-way talent Alec Burleson was one of the Ripken League's standouts at the Southeast Collegiate Prospects Showcase. Find out who else caught Aaron Fitt's eye.