| | | | | | | | | | | | | | | | | | | | |
| --- | --- | --- | --- | --- | --- | --- | --- | --- | --- | --- | --- | --- | --- | --- | --- | --- | --- | --- | --- |
| Year | Team | POS | AVG | OBP | SLG | OPS | GP | AB | R | H | 2B | 3b | HR | RBI | HP | BB | SO | SB | CS |
| 2019 | | | .195 | .227 | .366 | .593 | 22 | 41 | 2 | 8 | 1 | 0 | 2 | 9 | 1 | 1 | 11 | 0 | 0 |
| 2020 | | | .296 | .424 | .407 | .831 | 11 | 27 | 7 | 8 | 3 | 0 | 0 | 1 | 1 | 5 | 9 | 2 | 0 |
| 2021 | | INF | .192 | .340 | .359 | .699 | 31 | 78 | 14 | 15 | 1 | 0 | 4 | 15 | 2 | 16 | 19 | 0 | 1 |
| 2022 | SLU | INF | .221 | .345 | .349 | .694 | 47 | 149 | 28 | 33 | 11 | 1 | 2 | 18 | 6 | 22 | 41 | 1 | 0 |
Player Wire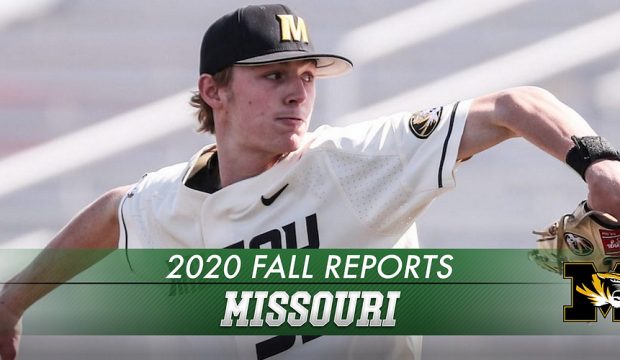 Fall Report: Missouri
Spencer Miles helps lead a very exciting pitching staff at Missouri, which looks built to make a run at regionals in 2021.
Fall Report: Missouri
Ian Bedell leads a Missouri pitching staff loaded with talent and experience, and the athletic lineup has more depth and versatility than it has in years. Mizzou could have its best team in a decade.
Newcomer Reports: Classes 16-20
Our Newcomer Reports continue with in-depth breakdowns of the incoming classes ranked No. 16 through No. 20 in our Top 25: Nebraska, Virginia, Ole Miss, FIU and Missouri.