| | | | | | | | | | | | | | | | | | | |
| --- | --- | --- | --- | --- | --- | --- | --- | --- | --- | --- | --- | --- | --- | --- | --- | --- | --- | --- |
| Year | Team | W | L | ERA | APP | GS | CG | SHO | SV | IP | H | R | ER | BB | SO | WP | HP | OBA |
| 2020 | | 0 | 0 | 0.00 | 1 | 0 | 0 | 0 | 0 | 1.0 | 1 | 1 | 0 | 0 | 1 | 0 | 0 | .250 |
| 2021 | | 1 | 0 | 2.46 | 27 | 0 | 0 | 0 | 0 | 7.1 | 6 | 3 | 2 | 10 | 12 | 0 | 0 | .214 |
| 2022 | LT | 0 | 1 | 4.88 | 12 | 0 | 0 | 0 | 0 | 24.0 | 15 | 14 | 13 | 19 | 38 | 7 | 1 | .179 |
| | | | | | | | | | | | | | | | | | | | |
| --- | --- | --- | --- | --- | --- | --- | --- | --- | --- | --- | --- | --- | --- | --- | --- | --- | --- | --- | --- |
| Year | Team | POS | AVG | OBP | SLG | OPS | GP | AB | R | H | 2B | 3b | HR | RBI | HP | BB | SO | SB | CS |
| 2020 | | | .139 | .244 | .139 | .383 | 13 | 36 | 3 | 5 | 0 | 0 | 0 | 3 | 1 | 4 | 9 | 2 | 1 |
| 2021 | | OF | .179 | .220 | .256 | .476 | 27 | 39 | 5 | 7 | 3 | 0 | 0 | 5 | 0 | 2 | 10 | 1 | 0 |
| 2022 | LT | OF | .242 | .306 | .439 | .745 | 34 | 66 | 9 | 16 | 4 | 0 | 3 | 13 | 2 | 4 | 20 | 0 | 0 |
Player Wire
Fall Report: Louisiana Tech
As fall workouts have shown, Louisiana Tech again has a team that appears to be an NCAA tournament contender.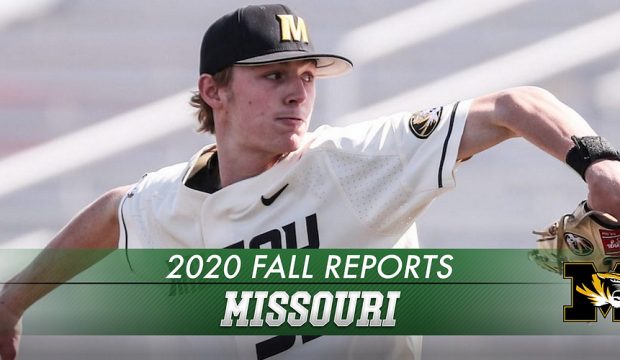 Fall Report: Missouri
Spencer Miles helps lead a very exciting pitching staff at Missouri, which looks built to make a run at regionals in 2021.
Fall Report: Missouri
Ian Bedell leads a Missouri pitching staff loaded with talent and experience, and the athletic lineup has more depth and versatility than it has in years. Mizzou could have its best team in a decade.