| | | | | | | | | | | | | | | | | | | | |
| --- | --- | --- | --- | --- | --- | --- | --- | --- | --- | --- | --- | --- | --- | --- | --- | --- | --- | --- | --- |
| Year | Team | POS | AVG | OBP | SLG | OPS | GP | AB | R | H | 2B | 3b | HR | RBI | HP | BB | SO | SB | CS |
| 2018 | | | .067 | .067 | .133 | .200 | 13 | 15 | 1 | 1 | 1 | 0 | 0 | 0 | 0 | 0 | 8 | 0 | 0 |
| 2019 | | | .217 | .304 | .333 | .637 | 32 | 69 | 12 | 15 | 5 | 0 | 1 | 10 | 0 | 9 | 17 | 0 | 0 |
| 2020 | | | .339 | .439 | .500 | .939 | 17 | 56 | 11 | 19 | 1 | 1 | 2 | 12 | 2 | 8 | 14 | 1 | 2 |
| 2021 | | | .200 | .300 | .265 | .565 | 45 | 155 | 16 | 31 | 5 | 1 | 1 | 20 | 3 | 20 | 39 | 3 | 1 |
| 2022 | SALA | C | .108 | .250 | .108 | .358 | 19 | 37 | 4 | 4 | 0 | 0 | 0 | 2 | 2 | 5 | 10 | 1 | 0 |
Player Wire
Fall Report: South Alabama
South Alabama was one game away from a super a year ago. Now, with the return of Jeremy Lee and others, the Jags aim for the next step.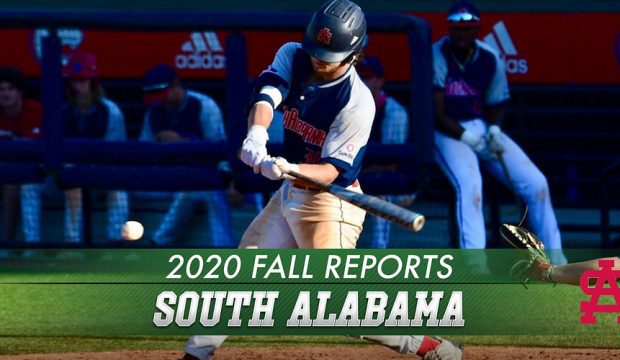 Fall Report: South Alabama
Potential first-round slugger Ethan Wilson leads a balanced, dangerous lineup for South Alabama, which has designs on Sun Belt supremacy.
2019 Conference Previews: Sun Belt
Louisiana and others are tracking Coastal Carolina as we prepare for the 2019 campaign in the Sun Belt.