2015 Fort Worth Regional Preview
Fort Worth Regional Participants

Horned Frogs

Fort Worth, TX

43-11

18-5 (1st Big 12)

At-Large

Wolfpack

Raleigh, NC

34-21

15-14 (5th ACC Atlantic)

At-Large

Seawolves

Stony Brook, NY

34-14-1

18-4 (1st America East)

Automatic

Pioneers

Bridgeport, CT

23-30-1

13-11 (3rd NEC)

Automatic
Regional Superlatives
Most Exciting Player: Logan Ratledge, ss, NC State. The heart and soul of the Wolfpack, Ratledge plays at full speed all the time and also owns a diverse skill set, with some pop, some speed, a disciplined offensive approach and good defensive skills.
Best Hitter: Cody Jones, of, TCU. Thanks to his plus-plus speed, Jones also has a strong argument for the "Most Exciting Player" category. His bat took a big jump this year, when he led the Big 12 in hitting.
Best Defensive Player: Keaton Jones, ss, TCU. The pride of Laguna Beach, Calif., doesn't have elite range or arm strength, but he might be college baseball's steadiest shortstop, and his instincts make his tools play up.
Best Pitcher: Preston Morrison, rhp, TCU. Morrison struggled in his last two starts, but he still deserves the nod here based on his incredible four-year track record. The wily low-slot righty has impeccable command (when he's on) and feel for pitching.
X-Factor: Corey Wilder, rhp, NC State. I saw Wilder when he was at his best against Florida State in early April – he struck out 10 and allowed just a run on three hits over seven innings, mixing a 90-95 fastball with three good offspeed pitches. I also saw him at his worst in the ACC tournament, when he walked four and couldn't get out of the third inning against Miami. If Good Wilder shows up, NC State has Omaha potential.
Best Starting Rotation: TCU. There isn't a better four-man rotation in college baseball than Morrison, Alex Young, Tyler Alexander and Mitchell Traver.
Best Bullpen: TCU. And there are few (if any) better bullpen trios than Riley Ferrell, Trey Teakell and Brian Howard.
Best Offensive Team: NC State. There aren't any juggernaut offenses in this regional, but the top half of NC State's lineup (Ratledge, Andrew Knizner, Preston Palmeiro, Joe Dunand, Ryne Willard) is capable of doing real damage, so the Wolfpack gets the nod.
Best Defensive Team: TCU. Stony Brook is an elite defensive outfit too, but we're going with the Frogs because they've got the best shortstop (Keaton Jones), two other very solid veterans at second (Garrett Crain) and third (Derek Odell), and a burner with serious range in center field (Cody Jones).
No. 1 Seed Win Probability (1-10): 8. NC State is a solid challenger playing its best baseball of the season late, but Stony Brook is the softest 3-seed in the tournament with a 2-8 record against the top 100, and Sacred Heart is a very soft 4-seed with a 23-30 overall mark. TCU has too much pitching and too much postseason experience to stumble here.
Team Breakdowns
TCU
TCU righthander Preston Morrison. (TCU)
With a loaded pitching staff coming off an Omaha run, TCU entered the season ranked No. 8 and spent the entire spring in the top 10, a testament to its impressive consistency. The Frogs ran away with the Big 12 regular-season title by 3.5 games, and they lost back-to-back games just once – in the Big 12 tournament, where they went 0-2. If there is a concern for the Frogs heading into the NCAA tournament, it is that ace Preston Morrison was shellacked in the conference tourney, allowing seven runs (five earned) over 3.1 innings, and he did not show the same quality of stuff he did early in the season, when his lively fastball reached 88 mph. A funky low-slot righty with superb feel for his fastball, running changeup and Frisbee slider, Morrison is one of the most accomplished college pitchers of his era, with a career line of 36-11, 1.84 in 445 innings over his brilliant four-year career. The Frogs also have a standout No. 2 starter in junior lefty Alex Young (9-2, 2.05), who commands a low-90s fastball and a very good curveball. Another polished southpaw, Tyler Alexander (5-2, 2.87), took over the No. 3 starter spot in the second half after struggling early in the year. And TCU has a rare luxury with a fourth starter, RHP Mitchell Traver (7-2, 1.89), who has the most electric stuff of all. Traver can reach the mid-90s and features a wipeout power breaking ball, but he's less polished than the other three. The bullpen is anchored by electrifying flame-thrower Riley Ferrell (0.67 ERA, 14 SV), one of the nation's most dominant closers over the last two years, and ultra-experienced veteran Trey Teakell. As a staff, TCU ranks second in the nation in ERA (2.33) and strikeout-walk ratio (3.99-1).
The Frogs are also an elite defensive team, ranking 11th in the nation in fielding percentage (.978). Senior Keaton Jones (.988) might be the most sure-handed shortstop in college baseball, anchoring the veteran infield defense. TCU has another standout defender in center field, where the speedy Cody Jones roams. Jones had a breakout season at the plate, hitting .376/.476/.507 with 25 steals to earn Big 12 player of the year honors. TCU's second leading hitter, Big 12 freshman of the year Connor Wanhannen (.339), is an athletic former high school quarterback with a short lefthanded stroke and an advanced middle-away approach. Fellow freshman Evan Skoug leads the team with six homers and has done an admirable job handling the staff behind the plate, though he isn't great at shutting down opposing running games. TCU isn't exactly an offensive juggernaut – coach Jim Schlossnagle has regularly described his lineup as full of No. 2 and No. 6 hitters, but lacking in true middle-of-the-order boppers. But the Frogs execute well enough to push across enough runs to win thanks to their elite run-prevention ability.
NC State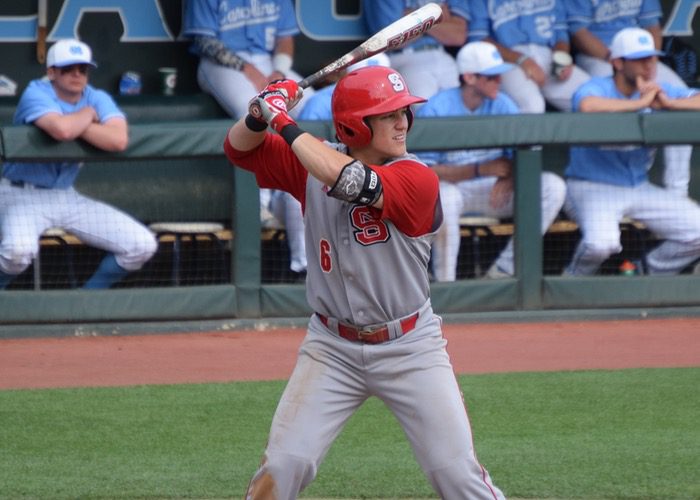 NC State's Logan Ratledge (Aaron Fitt)
The Wolfpack flew under the radar for much of the season, largely because while it was competitive in just about every series, it had a hard time getting over the hump and winning series in the first half. As late as April 24, NC State looked like a long shot for regionals, with a 21-18 overall record and a 9-12 mark in the ACC. Then everything clicked with a series win against Virginia, and the 'Pack surged to a 15-14 mark in the ACC, followed by a 3-0 showing in ACC tournament pool play to reach the championship game. Coach Elliott Avent gives a lot of credit to NC State's clubhouse chemistry and veteran leaders, particularly hard-nosed seniors Logan Ratledge and Jake Fincher. Ratledge (.330/.433/.549, 8 HR, 11 SB) made a huge leap as a senior, becoming one of the best all-around players in the ACC, with some power, some speed, more walks than strikeouts, and quality defense in the middle infield (first at second base, then at shortstop). Ratledge's "refuse to lose" mentality is contagious, and is a huge reason for NC State's success. Fincher, a standout defender in center field, has played through injuries throughout the season but has a knack for coming up with big hits and big catches. Andrew Knizner (.322/.362/.439, 5 HR) is NC State's second-best hitter behind Ratledge, and his successful conversion from third base to catcher has been another major boost for the Wolfpack. He was replaced at the hot corner by freshman Joe Dunand, whom Avent calls the best defensive third baseman he's ever coached. The other corner infield spot is occupied by Preston Palmeiro, the son of big league Gold Glove first baseman Raphael Palmeiro. Preston has a sweet lefthanded swing and emerging pop (7 HR).
Freshman Brian Brown (7-3, 1.72), a low-slot lefty with a superb changeup, emerged as NC State's most reliable starting pitcher, but the rotation is otherwise not a strength. When sophomore righty Cory Wilder (2-5, 3.39) is on, he has the stuff to dominate, with a 90-95 mph fastball and three quality offspeed pitches, but his strike-throwing ability is erratic. Six-foot-8 righty Johnny Piedmonte, the third starter, seldom works deep into a game, but has some feel to pitch with his 88-90 fastball and 77-78 slurve. While the rotation is a concern, the bullpen is becoming a real strength down the stretch, led by lightning-armed freshman RHP Tommy DeJuneas (1.82 ERA, 6 SV), who can blow hitters away with 93-96 mph heat but sometimes has issues with walks. Low-slot righty Joe O'Donnell and resurgent junior righty Jon Olczak give the bullpen two more relievers with some good mojo heading into the postseason.
Stony Brook
Stony Brook's Tyler Honahan (SBU Athletics)
The Seawolves are back in the NCAA tournament for the first time since their magical 2012 run to Omaha. Last year's team went 18-5 in the America East to win the regular-season title but was upset by Binghamton in the conference tournament. Most of the remaining stalwarts from the CWS team departed after last season, but not Cole Peragine (.302/.451/.374), a four-year starter who made a successful conversion from shortstop to catcher this year. Peragine is also a very tough out thanks to his plate discipline, drawing 47 walks and striking out just 19 times. As usual, rock-solid defense is one of SBU's calling cards – the Seawolves rank 10th in the nation with a .978 fielding percentage, led by exceptionally consistent second baseman Rob Chavarria (.990 fielding percentage). The 5-foot-6 Chavarria also hits in the cleanup spot even though he has just four extra-base hits in 167 at-bats this year – which illustrates coach Matt Senk's willingness to think outside the box, and also his team's lack of offensive punch. Sophomores Toby Handley (.324/.425/.412) and Casey Baker (.322/.377/.483) both took steps forward this year, as did junior Jack Parenty (.352/.425/.525, 46 RBI), who is by far the team's most dangerous hitter. Parenty led the America East in batting, slugging and RBIs, among other categories, and took home conference player of the year honors. This is a very patient, contact-oriented lineup, with a .295 team batting average and more walks (230) than strikeouts (211).
Stony Brook isn't particularly deep on the mound, but it has a nice veteran one-two punch atop the rotation in lefties Daniel Zamora (7-2, 3.03) and Tyler Honahan (7-3, 3.98). Zamora, a high school teammate of UCLA closer David Berg, bounced back very strong from Tommy John surgery and returned to his standout 2013 form, striking out more than a batter per inning. Honahan's fastball flashes above-average, and he can keep hitters off balance with his curveball. The bullpen is anchored by sophomore Cameron Stone (2-0, 0.72, 6 SV, 32-6 K-BB in 25 IP), a seasoned closer with 14 career saves in two seasons.
Sacred Heart
The Pioneers might be the most unlikely regional participants in the field of 64 this year. SHU is a good program – it made back-to-back regionals in 2011 and 2012. But nobody would have been on Sacred Heart to find its way into the postseason on March 25, when the Pioneers fell to 1-14 after losing a midweek game to Stony Brook. The Pioneers played better once conference play began, but they still had ups and downs, losing six straight games and eight of nine between April 25 and May 8. But all that matters in the NEC is winning the conference tournament. Sacred Heart went 13-11 in the regular season to earn the No. 3 seed, then won its first two tourney games against Wagner and Fairleigh Dickinson behind great pitching from James Cooksey (9 IP, 2 H, 1 ER) and Jason Foley (9 IP, 2 H, 0 R). That set up a showdown against top-seeded Bryant in the finals, and the Bulldogs won the first game to force a decisive winner-takes all rematch. The Pioneers trailed 4-3 heading into the ninth inning, when they surged ahead with a pair of runs to win 5-4. Dan Wertz threw 5.1 innings of no-hit relief to earn the win.
On paper, Sacred Heart stacks up very poorly against the rest of this field. The Pioneers are not offensive, ranking 255th in the nation in scoring (4.3 runs per game) and 279th in batting (.246). They're not great on the mound, ranking 196th in ERA (5.10). Their defense is mediocre, ranking 131st in fielding percentage (.968). To have a chance to pull off an upset or two, SHU needs Cooksey (7-2, 3.50), Foley (3-6, 4.93) and Wertz (4-1, 2.31) to repeat their conference tournament magic. And the top third of the Sacred Heart lineup will have to carry the offensive load, as it has all year – leadoff man Jayson Sullivan (.296/.350/.379), No. 2 hitter Jesus Medina (.327/.395/.363) and slugger Zack Short (.302/.421/.536, 9 HR) are the three biggest threats in an underwhelming lineup.
Join the Discussion