Ten Thoughts: Saturday, March 7
Saturday's Coverage:
---
1. Southern California makes its statement
Walking through the USC campus with Trojans head coach Dan Hubbs last spring, it was obvious he had an intense, very cool passion for the university and program. He spoke about Trojans lore like he was thumbing through a family scrapbook, and a smile went across his face every time an athletic department employee would walk by and give him a simple "Hey, Coach!" This was where Hubbs always wanted to be.
It was a special finish Saturday afternoon for USC.
He also said at the time he'd love nothing more than to turn USC back into a nationally relevant program.
Well, he might have just done that. The Trojans showed improvement last season, but fell short of the ultimate goal — making the NCAA postseason with a chance to reach the College World Series.
This year, though, the Trojans are off to a terrific start, and improved to 2-0 in the Dodgertown Classic with a thrilling 6-5 walk-off win over No. 1 Vanderbilt.
USC entered the bottom of the ninth inning tied with the Commodores. Vandy had lefthander Ben Bowden on the mound, and the talented southpaw recorded a pair of outs before the Trojans could blink in a 5-5 ballgame. Hubbs decided to pinch-hit with Adalberto Carillo, and after he drew the count to 3-1, found a fastball up in the zone and hit it just over Bryan Reynolds in left field for the walk-off, and more importantly, a second statement win this weekend against premier competition.
Can the Trojans finish off the weekend with a win over rival UCLA?
2. Virginia's offense seriously lacking
It's been the last month from hell for the Virginia Cavaliers. They lost stud outfielder Joe McCarthy for a lengthy amount of time with an injury, and to top it off, they still haven't played a home game as we get through the first weekend of March.

It's been that kind of start for the Cavaliers, who split a doubleheader with Pittsburgh on Saturday, losing the first game 1-0, but winning the second 2-1. The Cavaliers did very little offensively against the Panthers, and haven't score more than five runs in a game since the second weekend.
In the first game against the Panthers, Virginia lefthander Nathan Kirby was magnificent, striking out 13, walking just two and allowing a run on seven hits in seven innings … in a losing performance. On the flip side, Pitt starting pitcher T.J. Zeuch struck out eight in eight shutout innings. In the second game, the Cavaliers again did little to almost nothing offensively, but still were able to win. Cavaliers righthander Connor Jones struck out seven, walked just one and allowed four hits in seven innings, while the offense, again, scuffled with just three hits against Pittsburgh pitching.
For the season, the Cavaliers, who are ranked No. 3 nationally, are hitting just .259 as a team.
3. College of Charleston's Clarke En Fuego
The Cougars have gone through some tough times the past few weeks, the leading setback being the loss of starting righthander Bailey Ober for the rest of the season because of an arm injury. So, it was a breath of fresh air to see Taylor Clarke, the veteran righthander, put together a terrific showing in a 3-1 win over Radford, helping the Cougars sweep the doubleheader on the day.
Taylor Clarke was tremendous against Radford. (College of Charleston)
Clarke was magnificent against the Highlanders, striking out 18, not walking anyone and allowing just a run on five hits in a complete game performance. He threw 115 pitches, 85 for strikes.
Most impressive about his performance? The righty showed electric stuff. He was 91-94 with his fastball all the way to the eighth inning. He also showed secondary offerings with his slider and changeup.
Though losing Ober certainly changed the complexion of this team a bit, Clarke once again proved he's more than able to lead the charge the rest of the way.
4. UNC Wilmington finally gets the marquee series
The Seahawks hit the road last weekend hoping to make a statement against Florida State, but fell short, albeit not by much. The Seahawks lost two of the three games by a single run, and the third loss was by two runs.
UNCW head coach Mark Scalf isn't one for moral victories, but he had to feel like the Seahawks were very close to the big boys in that series. The Seahawks, in turn, busted through in a big way Saturday afternoon, sweeping a doubleheader from No. 12 Maryland by scores of 8-6 and 11-7.
UNCW first baseman Corey Dick led the offensive onslaught in the first game with two hits, one a home run, and two RBIs, while in Game Two, Dick once again led the charge with a pair of hits, one a double, and three RBIs. Meanwhile, reliever Whitman Barnes provided stability out of the bullpen, striking out four and allowing a run in three innings.
UNCW will has unfinished business, but at 8-3, this is a very intriguing team to watch moving forward.
5. Can someone cool down Iowa?
We've all spent the past two months pumping up Big Ten teams like Illinois, Maryland, Indiana, Nebraska and others, but could Iowa really be the best team in the league? We're not saying it's the case at the moment, but Rick Heller's club definitely has our attention.
The Hawkeyes dropped their season opener to Kansas State, but have since won nine straight games, including a doubleheader sweep of Middle Tennessee State on Saturday by scores of 2-1 and 6-1.
Pitchers Tyler Peyton and Ryan Erickson were terrific on the front end of the doubleheader, with Erickson tossing four shutout innings, while in the second game, power-armed righthander Blake Hickman struck out two and allowed just a run on four hits in six innings. Hickman, of course, has a big-time arm with a fastball into the mid-90s, but it's been the development of his changeup and slider that's the big difference from a consistency standpoint, especially the changeup.
Unfortunately, we won't see have a chance to see the Hawkeyes against Big Ten competition for a while, as they face Houston Baptist and Kansas, both on the road, the next two weekends before returning home to finally open Big Ten play with Indiana.
6. Washington's Bremer brimming with confidence
The Huskies hope to make a return trip to the postseason later this season, but to do so, plenty of key cogs will need to step up along the way. Well, freshman righthander Noah Bremer is doing his best veteran impersonation, piecing together yet another dominant start in a 5-0 home win over Pepperdine.
Bremer, a tall and lanky 6-foot-4, 168-pounder, made headlines last weekend when he struck out six, walked one and allowed just one hit against North Dakota. Well, against clearly better competition in the Waves, the freshman was up to old tricks, striking out just one, but also just allowing one hit through seven shutout.
For the season, Bremer has a 1.21 ERA in 22 1/3 innings, along with 13 strikeouts and two walks.
And about those Huskies — remember when they looked rather pedestrian in Arizona a few weeks ago? That team is now 11-4 overall.
7. Tulane is still human after all
With the Green Wave being the featured team in our latest Top 25 rankings early last week and in another feature on early-season surprises later in the week, some wondered if we'd transitioned from D1Baseball.com to the Tulane Herald. Well, the Green Wave deserved the ultra-positive recognition then, and not so much at the moment.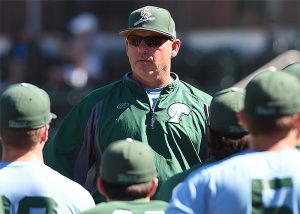 David Pierce's club had to deal with failure after Saturday's results. (Tulane)
Tulane dropped its first series of the David Pierce era on Saturday, losing for the second straight day, 6-2, to Gonzaga, which improved to just .500 overall with the victory. Talented Gonzaga righthander Andrew Sopko chopped up the Green Wave, striking out five and allowing just two runs (none earned) on six hits in six innings. Meanwhile, Gonzaga reliever Wyatt Mills was terrific with one hit allowed in three shutout.
It was a day to forget for Tulane starting pitcher Alex Massey. Massey, who has been OK but not great so far this season, was lifted after just two innings after allowing six runs on five hits in two innings.
The silver lining for Tulane? Reliever Emerson Gibbs struck out four and allowed just a run on three hits in seven innings out of the pen.
8. Oregon State is heating up
The Oregon State coaching staff told me before the season their club had a chance to build itself into an NCAA postseason type of team by the end of the regular season. Well, the Beavers might just be well ahead of schedule.
Though OSU didn't begin the season in the most impressive fashion, losing games to the likes of New Mexico (twice) and Oklahoma out in Arizona, this team has played much better the past couple of weeks, and is now the winner of eight straight games after clinching a series win over Fresno State with a doubleheader sweep on Saturday by scores of 5-2 and 12-2.
In the first game, OSU righthander Drew Rasmussen had a strong start against the Bulldogs, striking out five, not walking anyone and allowed two runs (one earned) on eight hits in 7.1 innings. In the second game, starting pitcher Travis Eckert struck out five and allowed just two runs on four hits in 8.2 innings, while sensational freshman K.J. Harrison hit his sixth homer of the season and finished the contest with three hits. OSU leadoff hitter Jeff Hendrix, a premium athlete, went 3-for-5 with four RBIs, while DH Gabe Clark had a big day with a four-hit performance.
9. UNLV's Oakley wears out rival Nevada
Raise your hand if you thought the series between Nevada and UNLV would have national importance before the past three weeks? Unless you're Nevada head coach Jay Johnson or UNLV's Tim Chambers, you're very likely not raising your hand.
But this series, thanks to a pair of very good coaches, has national relevance, and veteran righthander Kenny Oakley put the Rebels on his back Saturday afternoon in a 1-0 win over the Wolf Pack. Oakley had a strong performance, striking out 11, walking two and allowing just four hits in a complete-game shutout. Oakley did throw 133 pitches, which certainly seems excessive this early in the season, but he also gives the Rebels a chance to nab a series win in Sunday's rubber match.
Nevada received a good pitching performance of its own, as Jason Deitrich struck out six, walked one and allowed a run on eight hits in 6.2 innings.
10. Don't sleep on Cal State Fullerton just yet
It was very easy to be down on the Titans just a couple of weeks ago. The Titans were an abysmal 2-5 overall and had a pair of series against Big 12 competition coming up the next two weekends.
Justin Garza was solid against Texas Tech on Saturday. (Photo by Matt Brown)
The Titans hosted Baylor last weekend and scored 28 runs in a three-game sweep, defeated Pepperdine in midweek action and clinched a huge series win over Texas Tech on Saturday with a 3-2 victory after winning the series opener 4-0.
Cal State Fullerton righthander Justin Garza struck out five and allowed just two runs on six hits in six innings. The hard-nosed righty sat 91-93 and bumped 94 with his fastball, while he also mixed in a cutter and changeup. The Fullerton bullpen also did a terrific job with Willie Kuhl and Tyler Peitzmeier leading the charge.
Cal State Fullerton head coach Rick Vanderhook would be the first to tell you the Titans still have much work to do, but Saturday was pure progress, and his team has now won six straight contests.
One crazy note … Dallas Baptist has one of the nation's premier relievers in physical righthander Brandon Koch. With the Patriots clinging to a close lead over Oral Roberts late in the game Saturday, coach Dan Heefner wasted little time bringing Koch into the game. Koch then struck out a ridiculous seven batters in 2.1 innings and the Patriots captured the series win with a 9-8 triumph. Koch continues to be a big-time prospect to watch with a fastball in the mid-to-upper 90s.
Join the Discussion