Cal Poly Shows It Is Big West Contender
Analysis
SAN LUIS OBISPO, Calif. — Sometimes it takes a rivalry series to bring out the best in a team.

That's been the case for Cal Poly this weekend as the Mustangs have played focused and nearly flawless baseball for two days in a row to beat big West rival UC Santa Barbara.
"I think it's just the intensity playing Santa Barbara brings," senior outfielder John Schuknecht said. "I think collectively as a group, we've just been more dialed in this weekend."
Cal Poly earned a series victory over the No. 13 Gauchos with a 10-5  victory Saturday night at Baggett Stadium. An opportunistic offense led by Schuknecht, who hit the ball hard all over the yard, reaching base three times and hitting his fourth home run of the season.
UC Santa Barbara uncharacteristically kicked the ball around, committing four errors, throwing three wild pitches and having multiple mental lapses. Even defensive stalwart Clay Fisher wasn't immune as the sophomore shortstop committed his first error of the season.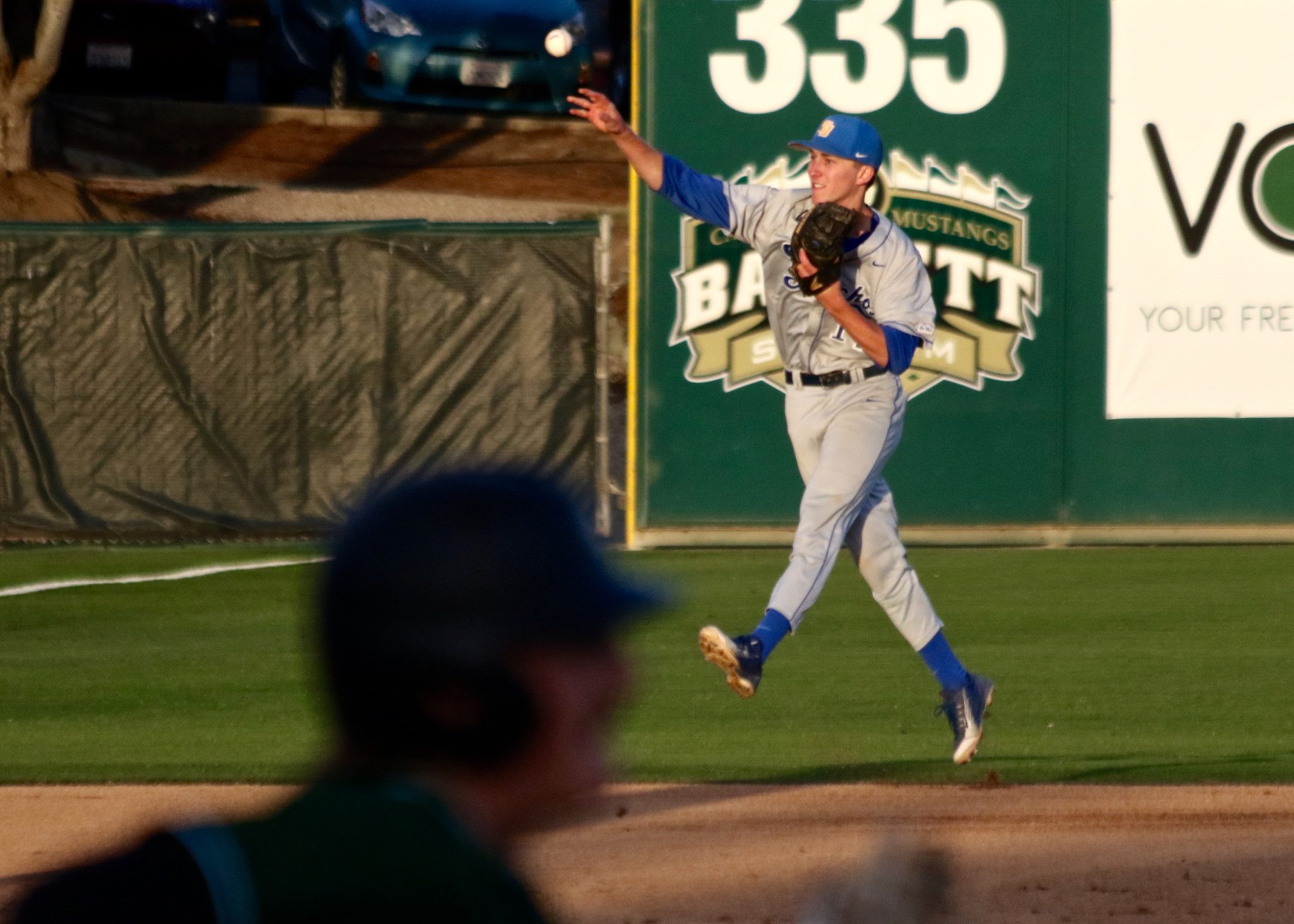 UC Santa Barbara shortstop Clay Fisher makes a play in the hole. (Shotgun Spratling)
The Gauchos jumped out to a 2-0 lead in the first inning on an Austin Bush RBI double and Billy Fredrick sacrifice fly, but Cal Poly had an immediate answer, scoring four runs on four hits in the bottom of the first inning. UC Santa Barbara quickly tied it back up with two runs in the second inning, but Cal Poly righthander Erich Uelmen was able to limit the damage stranding runners on the corners.
The Mustangs continued their relentless attack scoring a run in the bottom half with a pair of groundouts after Fisher's throw to first sailed into the dougout. They added two more the next inning, taking advantage of two walks, an error and a wild pitch. After Schuknecht's solo homer in the fifth inning, Cal Poly added single runs in the sixth and eighth innings — one on a throwing error and the other on a mental mistake when JJ Muno chose to try to get a runner caught between second and third for the final out rather than attempting to turn a conventional double play.
The Breakdown
Star Spotlight
For Cal Poly to be successful this season, John Schuknecht has to be a run producer in the middle of the lineup. A veteran of two regional teams, Schuknecht is key behind Brett Barbier, who has been swinging it well all season.
After a slow start to conference play, Shucknecht has an extra-base hit in each of his last four games and has driven in six runs.
John Schuknecht leads Cal Poly with 18 extra-base hits and 33 RBI. (Shotgun Spratling)
"I'm seeing the ball well right now. I'm getting off good swings and I just feel comfortable while I'm up there."
Cal Poly head coach Larry Lee said Schuknecht has been much more consistent since the coaching staff made an adjustment, raising Schuknecht's hands.
"Now he's not swinging and missing as much. He's barreling up the ball," Lee said. "He's a vital part of our offense because there are parts of our lineup that are soft, so we need to be strong up front and in the middle with Barbier and Schuknecht because those two guys can really carry you during the course of a game or a weekend."
Schuknecht has also been a critical leader on a team that lost almost all of its established offensive threats. There are several young and inexperienced players that have looked to Schuknecht to lead by example.
"He helps set the tone and the culture of the program — what's expected and how to go about your business," Lee said. "Having him back, contributing in a major way is just going to make us that much stronger."
Game Changer
UC Santa Barbara did something Cal Poly wasn't expecting early in the game, attacking early in the count after the Gauchos had been conservative and patient in their approach on Friday night. They jumped on starter Erich Uelmen for six hits and four runs in the first two innings by attacking fastballs early in the count.
Uelmen made an adjustment and was able to settle in nicely after the early struggles. He switched to more offspeed pitches and found better arm speed with his changeup, enabling him to get UCSB's lefty-heavy lineup swinging. He minimized damage in the second inning, starting a streak of retiring 10 in a row. He allowed just two hits after the second inning — an infield single and an Austin Bush RBI double, just inside the right field line.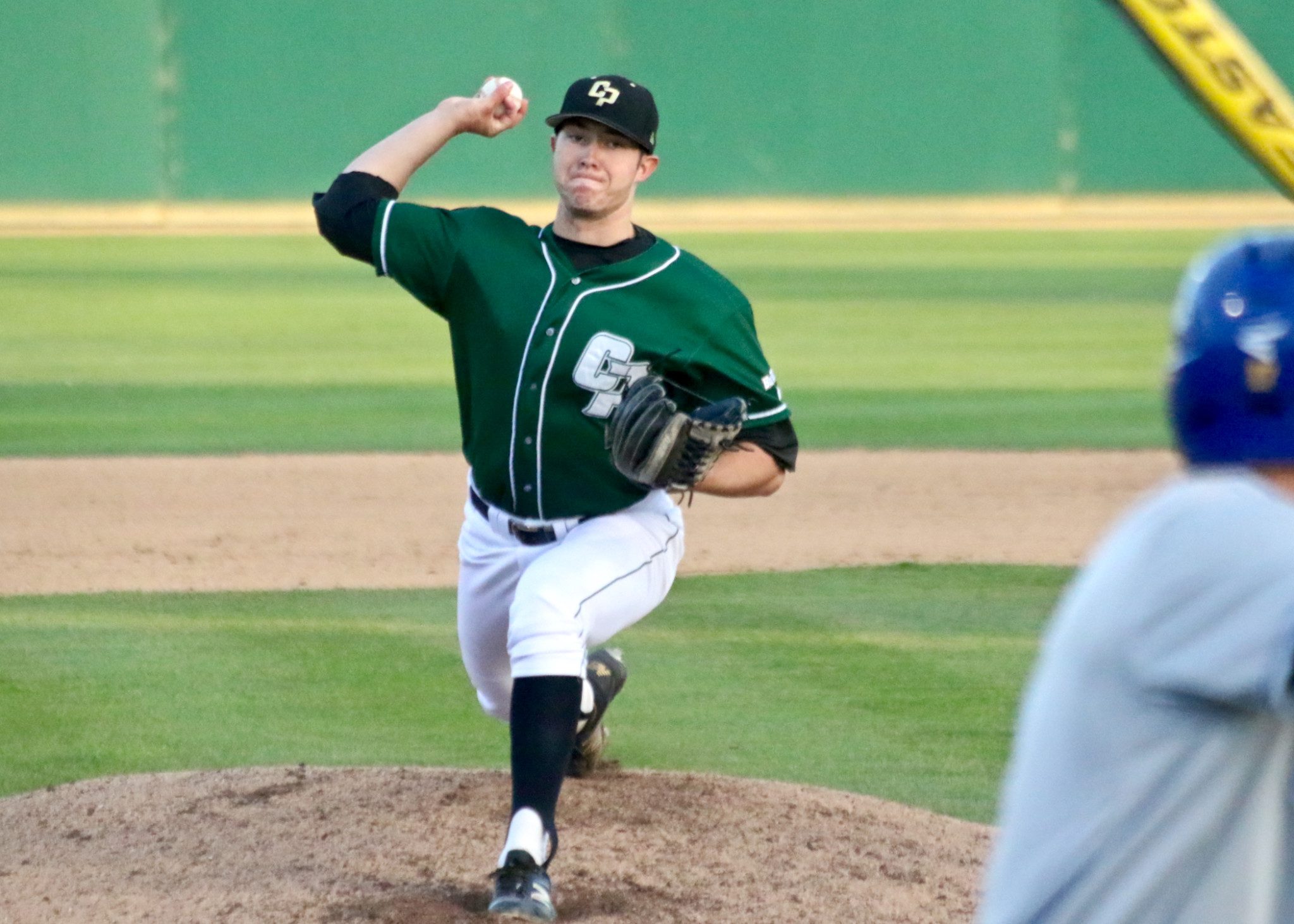 Erich Uelmen improved to 5-0 on the season. (Shotgun Spratling)
His final line of seven innings, eight hits and five runs isn't indicative of how good Uelmen was as he varied speeds on his fastball from get-me-over 86-mph all the way up to 95-mph early in the game and got a lot of swing-and-misses with his 81-mph changeup and 79-81 slider, which both sit on the same plane and go in opposite directions when Uelmen is on.
Top Performances
UC Santa Barbara:
Austin Bush: 2-for-4, 2B, 2 RBI
Andrew Calica: 1-for-3, 2 R, RBI, BB, HBP
Cal Poly:
John Schuknecht: 2-for-4, 3 R, HR, 2 RBI, BB
Michael Sanderson: 3-for-4, 2 R, 2B, 2 RBI
Justin Bruihl: 2 IP, 0 H, 0 BB, 3 K
In Their Words
Cal Poly OF John Schuknecht talks about the Mustangs' 10-5 win over UC Santa Barbara to win the Blue-Green rivalry series and his leadership role on a young and inexperienced team:
Cal Poly head coach Larry Lee talks about the defensive effort of the Mustangs and taking advantage of UC Santa Barbara mistakes.
Lee also discusses the importance of senior John Schuknecht in the middle of the lineup and in the clubhouse:
Bottom Line
– You can't win when you are constantly hopping up and down on one foot in pain after repeatedly shooting yourself in the foot. The fact that shortstop Clay Fisher made his first error of the game, summed up the first two nights at Cal Poly for the Gauchos. They've feasted on teams making mistakes this season, but this weekend, they've been the team hurting itself.
– Larry Lee might have to win a College World Series title before he finally admits that he has a good team. While this team lacks the experienced talent to be considered a CWS contender, it has proven through its first three weekends of Big West play that a conference championship isn't out of the picture. When the Mustangs play focused baseball and don't kill themselves with mistakes, they can compete with anyone in the league as they've proven once again this weekend.
Join the Discussion