Driveline's Anatomy Of A Prospect: A&M's Asa Lacy (Powered by TrackMan)
Analysis
---
These periodic deep dives into college baseball's premier prospects is a key component of our partnership with Driveline Baseball. Check out everything they have to offer, here.
Thanks to our partners at TrackMan for providing the data that made this feature possible. 
---
One of the main attractions in 2020's all-too-short college baseball season was Texas A&M star pitcher and lefthander Asa Lacy. A potential top pick in this year's draft, Lacy has climbed draft boards since his arrival at A&M in the fall of 2017.
In this Driveline Player Profile, we'll take a closer look at Lacy's success:
Career Overview
Although primarily working out of the bullpen his freshman year, Lacy immediately made his mark on the field during his first career appearance, striking out all three batters he faced against Cornell. This short outing was a preview of what was to come.
In 2018, Lacy logged 39.1 innings and became a relied upon member of the roster from the start, leading the team with a 28.5% K%, and pacing not far behind with a 2.75 ERA and 3.66 FIP. This statistical success may have belied a more limited arsenal, as his fastball and changeup combined to form 98% of his total offering.
The following summer, Lacy snowballed his momentum from freshman year over to the Alaska Baseball Summer League, racking up a 2.16 ERA with 47 strikeouts (good for second in the entire league) in 33.1 innings. As a member of the Matsu Miners, he was named the league's premier prospect.
But Lacy was only just starting to get comfortable on the leaderboards, flashing higher and higher strikeout rates each season. 2019 saw him break through to the starting rotation, and, while pitching alongside future 2019 second rounder John Doxakis, Lacy posted a workhorse-like 88.2 innings, 2.13 ERA (27th amongst all NCAA pitchers with 5+ starts) and 3.79 FIP.
His already impressive K%, ticked up to 35% in his sophomore season (9th amongst NCAA pitchers with 5+ starts), helping him secure a Golden Spikes Award semifinalist spot.
The 2019 season also ushered in the emergence of Lacy's new pitch: a slider. The pairing of a sweeping breaking ball along with the dominant fastball and changeup would start to lay the groundwork for his current arsenal and mold him into the well-rounded pitcher of today.
Of course, Lacy's development has also been greatly assisted with the steady increase in velocity.
While only two short years ago, Lacy was a freshman arising out of the bullpen sitting 90 mph with his fastball, his most recent outings to date saw him averaging 93-94, even topping out at 97 mph.
With added velocity and a more complete arsenal, Lacy's abbreviated 2020 performance was in a class of its own, posting an excellent 0.75 ERA (1.57 FIP) in 24 innings, while striking out half the batters he faced (a 15% increase from his sophomore year). He also slashed his BB% from 11.6% in 2019 to 8.6%, and limited batters to a .177 wOBA against.
Texas A&M fans and scouts may have missed out on witnessing another career year from Lacy, but we can look at his pitch metrics more closely to evaluate what contributed to his dominant rise in the SEC.
Evaluation of Pitches
Fastball
Lacy arrived in College Station as a raw pitcher with a slender frame possessing a high 3/4 arm slot and a three pitch mix that lacked a glove-side component (four-seamer, two-seamer and changeup). 
Initially, Lacy was known for his fastballs, and rightly so. A pitch that can sit in the low 90s with an above average amount of vertical break is an easy recipe for strikeouts.
As mentioned above, the centerpiece of his arsenal has only improved over time, not just through increases in velocity, but also with subtle changes in arm positioning. By his junior year, Lacy had adjusted his fastball release position by moving 8.3 inches towards the 3rd base side of the rubber and becoming slightly more over the top (release height rose by 1.4 inches over the same time period).
This adjustment had promising returns, as the tilt on his fastball climbed from 10:56 to 11:21 and the vertical break dramatically increased by 4 inches over the years, going from 16.7 inches to 21.7 inches. 
We should note that a more recent reliance on four-seamers over two-seamers likely also contributed to those changes, but regardless of the root cause for the uptick in V-Break, Lacy's newly improved fastball would place him in the 99th percentile among Major League pitchers in terms of vertical movement, joining the company of elite big league fastballs such as Colin Poche, Justin Verlander and James Karinchak.
These overall improvements were a large factor in why he held hitters this season to a .233 wOBA against on his fastball (.290 in 2018; .308 in 2019).
If Lacy can maintain the current shape and velocity on his FB, we could be looking at one of the premier big league FBs from the left-hand side.
Changeup
In leading up to the upcoming draft, many talent evaluators have spoken highly of Lacy's changeup, positing that it could potentially be the second best pitch in his arsenal.
While we believe that Lacy's SL may be a bit further along than his CH, we still see a pitch of quality given that it has maintained a 10:44 tilt with 14.5 inches of vertical movement and -10.9 inches of horizontal movement despite the uptick in release slot.
In fact, regardless of the season, Lacy's CH has typically sat 8 mph slower and had about 7 inches in vertical separation off of the fastball, roughly MLB average in both categories. 
While this pitch may not stand out in terms of devastating arm side fade, it plays up tremendously because it is paired with an elite fastball. At present, it serves as a decent weapon to neutralize RHB and projects as an MLB average offering or better.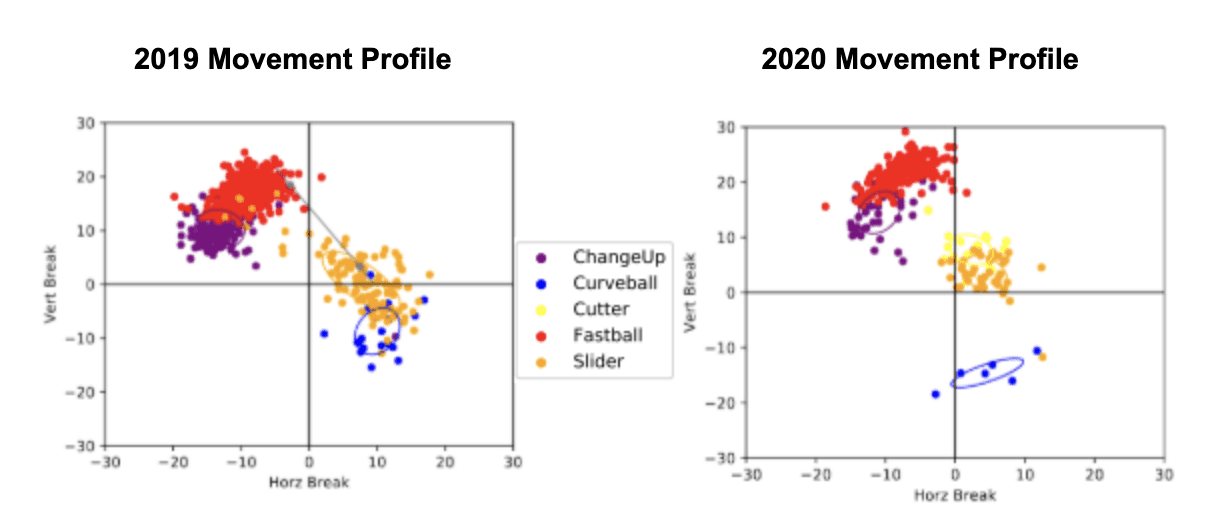 Slider
As we stated earlier, Lacy started to focus on a slider in 2019 and it flashed the potential to be a third quality pitch in his arsenal. With above average sweep (7 inches horizontally), minimal lift (0 inches vertically), and decent velocity (82mph), initial returns on the pitch were strong. Hitters struggled with Lacy's new offering, posting a .153 wOBA against the slider during the season.
But, despite the early success with the pitch, Lacy continued to tinker with the offering, shifting its profile from more of a true sweeping slider to a harder, more gyro-based SL heading into 2020. Over the course of this Spring, the offering contained more sharpness and bite, as evidenced by the 4.5 mph increase in velocity and smaller movement profile shown in the table below.
Despite the recent change in shape, the separation that Lacy's SL achieves off of his fastball has remained about the same (close to a differential of 18 inches vertically), giving the pitch a similar amount of depth despite the uptick in velocity. 
Overall, the development of this pitch over the past two seasons has given Lacy another swing and miss offering that is thrown hard and projects to be plus at the highest level.  
Curveball
To complement the three other offerings, Lacy has also recently integrated a curveball into his pitch mix, giving him a full starting pitcher's arsenal heading into the draft. 
Although the spin rate on the newly featured pitch is roughly 400rpms below MLB average, the initial feel he has demonstrated for the pitch gives us excitement moving forward, given that it is thrown about 15 mph off his fastball and at 70% spin efficiency with predominantly topspin.
The vertical break on the CB (-14.6 inches) is already well above average and would rank in the 74th percentile of all MLB curveballs today. Although infrequently thrown, the new curve's raw potential makes it an exciting new offering.
The Future
The future is undoubtedly bright for this junior hurler out of A&M. The progression since his arrival to College Station is one that most collegiate pitchers dream of turning into reality. His ability to throw multiple quality pitches and consistently improve his skill set equips him with the tools necessary for the long journey that is professional baseball.
—-
For a refresher on what some of the more technical terms or models we reference, please consult our 'What The Terms Mean' from our first player profile here.
Join the Discussion