Survey Says: All Hail The New Balls
Does any sport engender more discussion and controversy about the equipment used to play it than college baseball? Imagine if NFL fans and media spent 20 years hyper-ventilating about "Deflategate" instead of just two weeks.
Because the bats have been a hot topic in college baseball since at least the 1990s, when Gorilla Ball reigned. A switch to the less-potent "minus-3" bats in 1998 coincided with the expansion of the NCAA tournament field to 64 teams and ushered in the sport's modern age. And for a while, equipment talk faded into the background.
Then came the rise of composite-barrel bats in the late 2000s. Players learned to tamper with the bats using a process called "bat-rolling," and offense soared again, culminating in absurdly high scores at the College World Series in 2008 and 2009.
In 2010, the game returned to a balanced state for one season, as composite barrels were banned but BESR bats were still in use. Batting average in Omaha fell from .304 in 2009 to .260 in 2010; homers plunged from 45 to a more reasonable 32.
In the four College World Series since, teams have hit a combined 25 homers. Aggregate CWS batting average over those last four years: .239, .234, .237, .219. There were just three homers hit in each of the last two Series. When Texas' C.J Hinojosa hit the first one at the 2014 CWS, fans and media members reacted with a mixture of giddy incredulity and mocking laughter. College baseball's biggest showcase had become a punchline.
The switch to BBCOR bats depressed offense nationwide during the regular season as well as the postseason, and the coinciding move of the CWS from homer-friendly Rosenblatt Stadium to TD Ameritrade Park—a beautiful stadium that faces the wrong direction, with winds seemingly always howling straight in—created a one-dimensional game in Omaha. Baseball is at its best when there are a variety of outcomes. Every CWS game in recent years has felt about the same.
And big-name coaches—from LSU's Paul Mainieri to Miami's Jim Morris to Rice's Wayne Graham to TCU's Jim Schlossnagle, to name a few—have lined up to lament the quality of the game, particularly in Omaha.
"I've heard the word 'boring' used so many times to describe last year's College World Series," Mainieri said a few months after his team was eliminated from the 2013 CWS. "And I hate to admit this because I've never used the word 'boring' to describe the game of baseball. But after we were eliminated and I was watching in the privacy of our living room, I turned to my wife and said, 'Is this game as boring as it seems to me?' You don't hear people like Wayne Graham ever use the word 'boring' to describe baseball. Every game was that way. We had a team era of 2.40 last year, and good for us, it led us to Omaha. But how is that different from hitting all those home runs in 1998?"
The goal is to restore balance, not to bring back Gorilla Ball. Because the bat change was justified by concerns for player safety, the BBCORs aren't going away anytime soon. But the Division I Baseball Committee could make a change to the balls without going through the labyrinthine NCAA legislative process. The committee could not alter the coefficient of restitution (COR) of the balls—which would affect exit velocity. But it could lower the seams, and so that's what it did.
The new ball isn't the same as the balls used in the majors (which has the liveliest COR of all) or the minors (which has a livelier COR than the college ball, but not as lively as the big league ball). But at least the height of the seams matches the height of the pro-ball seams. The idea is that lower seams will reduce the "drag effect," causing balls to travel farther in the air. The NCAA's research concluded that a typical home run ball will now travel 20 feet farther—even though the exit velocity is the same—because of less drag effect.
And the early returns are encouraging. We surveyed Division I coaches in December, after every school had concluded fall ball and had a chance to play with the new balls, to try to determine what kind of impact they will have on the game, and whether the change goes far enough.
As you can see, about 71 percent of coaches anticipate the balls to make a "moderate impact," and just 12 percent expect a "huge impact." Anecdotally, some coaches insist the difference will be much more significant than most people expect.
"I don't know what other people are saying, but for me, the ball is not just jumping out for us but jumping out for everybody a little more, and that's definitely what college baseball needs because it had gotten to the point where no runs were scored and it was pretty boring," Morris said.
Texas A&M's Rob Childress echoed that sentiment.
"The ball's definitely been different for our guys," he said. "We've got guys that have power potential, and it has a chance to show up. I think we scrimmaged 18 times in the fall and hit as many home runs as we did in 62 games last year. So there's definitely a difference for us in the ball."
UCLA's John Savage, who made his name first as a great pitching mind just like Childress and Morris, said he has seen more balls driven out of the park, more balls driven in the gaps, more balls driven over outfielders' heads—and even more balls get through the infield at a quicker pace, although that the lowered seams aren't supposed to impact balls on the ground. So Savage expects a big difference, but he doesn't expect pitchers to complain either.
"I think pitchers like them," he said. "They like the feel of the ball—I think velocity is going to be up. (How the seams will affect) the breaking ball, I think has still yet to be determined. But I think the feel for the pitchers and the ball is a good thing."
Most schools report that pitchers are getting more movement on their sinkers with the new balls, and while some have found it harder to spin their breaking balls, others have adjusted fine. Fastball command will matter more than it did with the old balls, because pitchers won't be able to just throw to the heart of the plate and pitch to contact, knowing that home runs are extremely rare.
Physicality at the plate should be rewarded again.
"I think strength is back in the game, which I like," Savage said.
So are coaches satisfied with the lowered seams as a solution to the game's lack of offense? See for yourselves:
Just maybe, we can stop tinkering with equipment for a while and just enjoy the game. But what about those fences in Omaha? Some coaches still would like to see them moved in: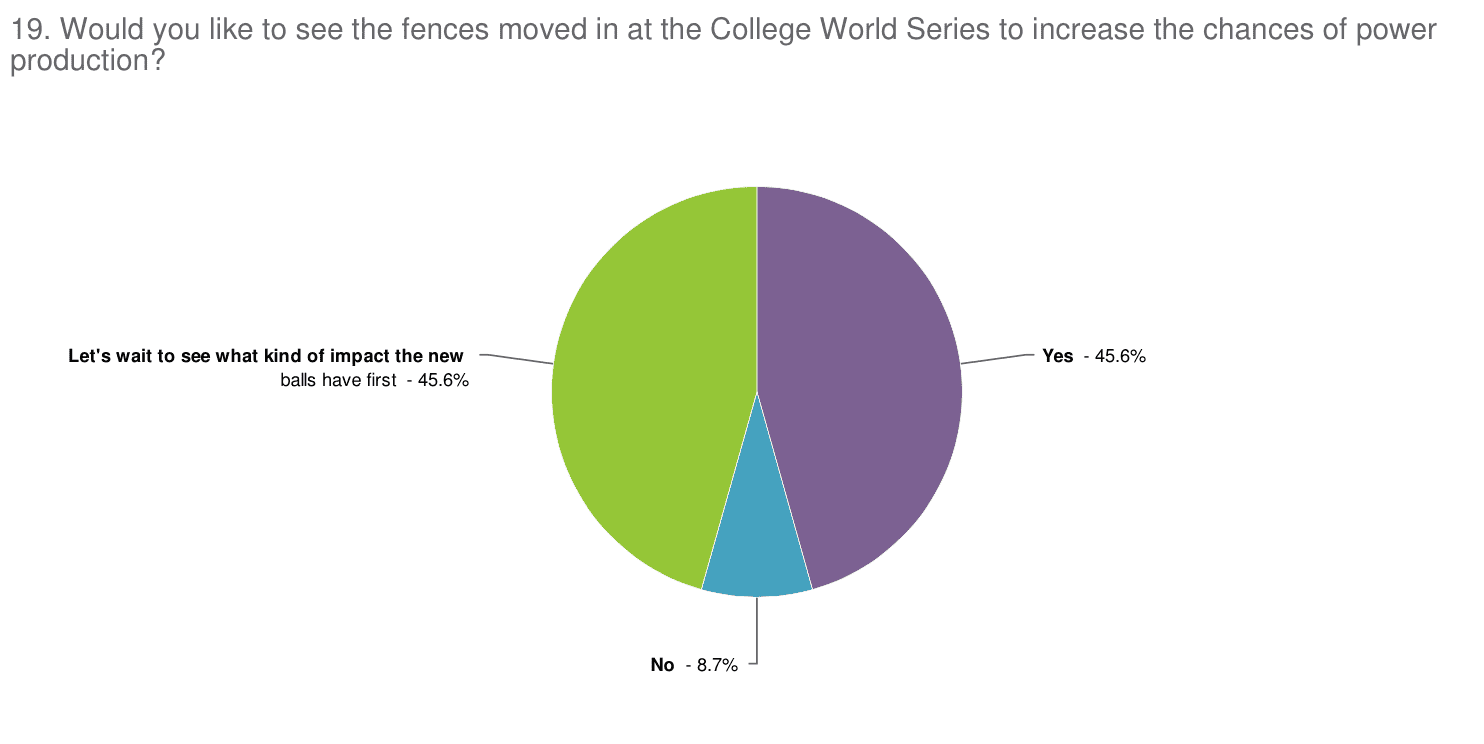 Survey Says: Vanderbilt Is The No. 1 Answer
Yesterday we revealed our staff picks for the 2015 season. We also asked the coaches we surveyed to make a couple of predictions. Here are the results (only schools that received four or more votes are listed):
National Champion
Vanderbilt: 97
Virginia: 24
LSU: 16
Texas: 12
Florida: 11
UCLA: 9
TCU: 4
Omaha Sleeper
Houston: 12
Nebraska: 10
College of Charleston: 8
Cal Poly: 7
Liberty: 7
Maryland: 7
Oklahoma State: 6
Illinois: 5
Alabama: 4
Arizona State: 4
Louisville: 4
North Carolina: 4
Rice: 4
Tennessee: 4
Washington: 4
Obviously, some coaches have different definitions of the word "sleeper" than we do. The top vote-getter for that category, Houston, was a super regional team last year and ranks seventh in our preseason Top 25. Not much of a sleeper!
Join the Discussion