Ten Thoughts: Saturday, March 26
Analysis
• Want more D1Baseball.com coverage? Subscribe Today

Kendall Rogers' Five
1. Georgia Tech Is Back On The Map
The Yellow Jackets took a slight step back a couple of weeks ago with a tough series loss on the road against Florida State. However, they are right back in the saddle after hitting the road and taking a series from North Carolina, winning 6-0 in the series finale, while also outhitting the red-hot Tar Heels 11-4 in the process.
While the offense got it done against Mike Fox's Heels, the story of the game was the outing put together by starting pitcher and righthander Zac Ryan, who struck out three, walked three and allowed just two hits in six shutout innings. Ryan threw 75 pitches (42 for strikes). The Georgia Tech bullpen also did the job with Burton Dulaney tossing three shutout frames.
Offensively, Georgia Tech's Wade Bailey hit a home run and finished the afternoon with three hits, while Matt Gonzalez chipped in a three-hit performance and hard-hitting Kel Johnson with a home run and three-hit performance of his own.
The Jackets are sizzling hot and now winners of six of their last seven contests with Duke at home next weekend, while the weekend series over the Tar Heels should serve as a major RPI boost as well.
2. Long Beach State Makes A Statement

The Dirtbags have been one of the more consistent teams on the West Coast so far this season and made yet another statement on Saturday by taking a hard-fought series from rival Cal State Fullerton with a 5-4 victory.
It wasn't pretty at times, as the Dirtbags had to use several pitchers to get the job done. However, the offense rose to the occasion when it needed to with shortstop Garrett Hampson going 2-for-5 with a double and and RBI, while Daniel Jackson and Tristan Mercadel each had a pair of hits. For the Titans, freshman righthander Colton Eastman allowed four runs on eight hits in six innings, while the Dirtbags used five pitchers to get the job done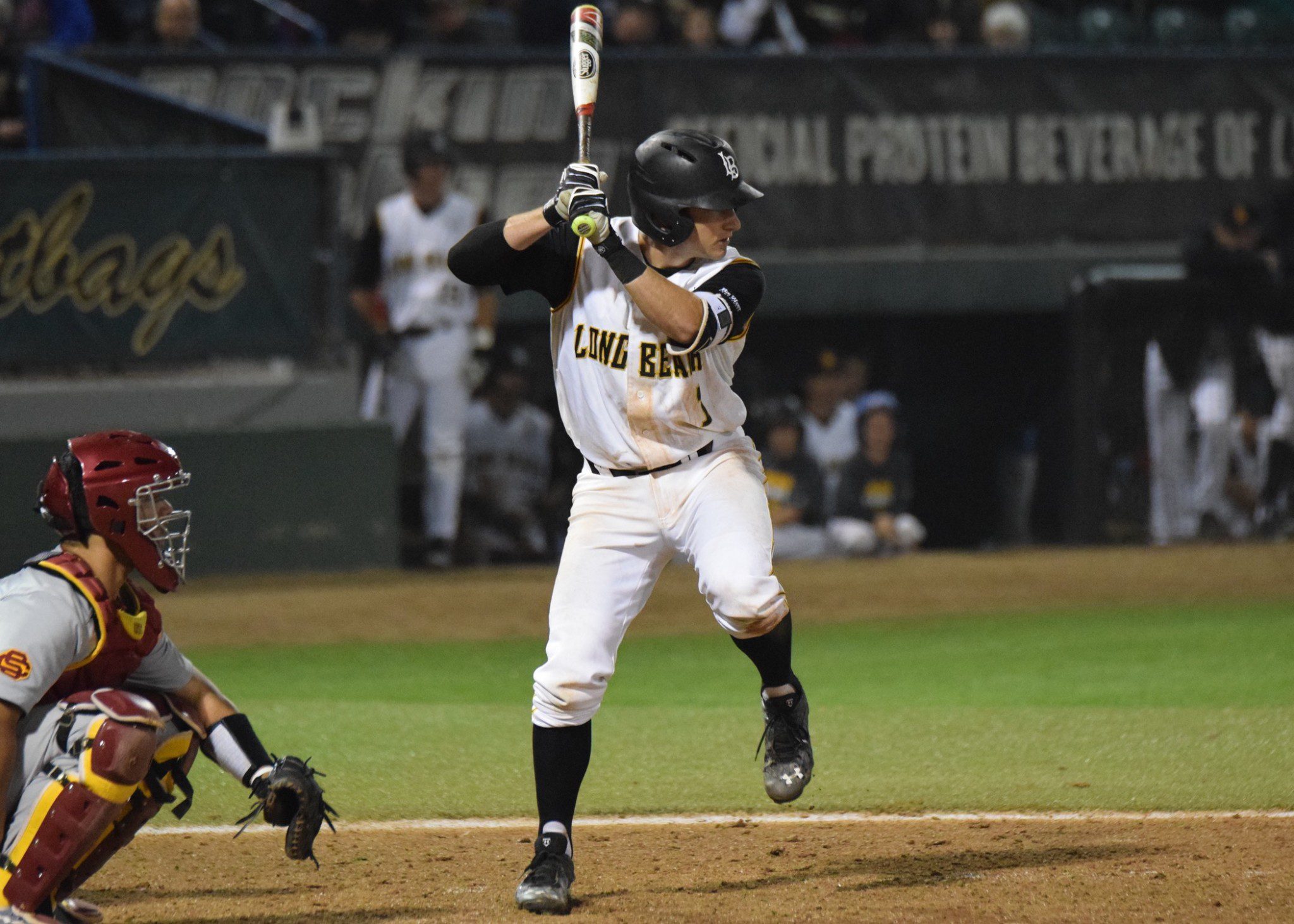 Garrett Hampson had a productive day at the plate. (Aaron Fitt)
Remember, this series doesn't actually count in the Big West standings, but it gives you a strong idea of the pecking order out West. And right now, the Dirtbags are in terrific shape, and are the leading candidate to host a regional in Southern California with the region somewhat down.
3. California Gets Back To Normal
The Golden Bears made a rather sizable statement a couple of weeks ago by hitting the road and doing a four-game sweep of Texas. However, they took a step back last weekend by dropping a hard-fought series against USC, on the road, mind you.
California returned to normalcy this weekend at home against Oregon State. It allowed just five runs in three games to one of the nation's best offenses, and won the series finale 5-3 to complete the series sweep.
Golden Bears righthander Jeff Bain didn't escape the first inning without giving up three runs, but soft-tossing lefthander Matt Ladrech was able to get the job done, silencing the Beavers and allowing no runs in 7.2 hitless innings. Ladrech is one of the more interesting arms out there, as he has an extremely soft curveball and sits in the low-to-mid 80s with his fastball. On the flip side, OSU starting pitcher Travis Eckert allowed four runs on four hits in 1.2 innings in the losing cause.
There's no doubt in my mind that Oregon State is still the real deal. But, with a series win over the Beavers, it reinforces our preseason idea of what the Golden Bears are capable of this spring.
4. Arkansas Responds To Adversity

The Razorbacks created some serious detractors last weekend by hitting the road and getting swept by South Carolina. However, they've responded in impressive fashion so far this weekend by taking the first two games from Auburn, including a 14-7 decision on Saturday.
The Hogs had played some impressive baseball earlier in the season, but have scuffled at times over the past couple of weeks. They looked terrific against AU, though, as shortstop Michael Bernal had a pair of homers and Carson Shaddy and Chad Spanberger each finished the contest with a pair of hits.
Hogs sophomore righthander Keaton McKinney put together an impressive start against the hard-hitting Tigers, having some command issues at times with five walks, but also showing the ability to escape trouble with three strikeouts and no runs allowed on just three hits in six innings.
Arkansas won't fully calm some of the nerves from its fans until it takes care of an elite opponent on the weekend, but this weekend has been a solid step forward, particularly from a pitching standpoint. I still maintain the Hogs will be fine as the season moves along, and this weekend was a step in the right direction.
5. Texas A&M Takes Care Of LSU

We will have much more on the series between the Tigers and Aggies in Monday's takeaways piece, but the series finale was an absolute dandy, with the Aggies taking down the Bayou Bengals 3-1.
The rubber match of the series saw quite an intriguing pitching matchup between A&M senior righthander Kyle Simonds and LSU lefthander John Valek, who headed to Baton Rouge after Akron cut its program during the offseason. While Simonds sat upper-80s with his fastball and possessed quality secondary stuff, Valek was quite a surprise. He arrived at Baton Rouge with expectations of being a midweek type of starter. But, now he's in the weekend rotation and didn't disappoint, sitting mid-80s with his fastball, along with a pair of secondary offerings, while also allowing just two runs on six hits in six innings of work.
Texas A&M junior All-American outfielder Nick Banks, who struggled immensely the first two games of the series, hit a first-pitch home run to give the Aggies a 2-1 lead over LSU, while the big blast came from hard-hitting first baseman Hunter Melton, who brought in a run with an eighth-inning triple to extend that lead to 3-1.
The Aggies took the series and will only get better season moves on, as Banks will be more consistent, while catcher Michael Barash has been a big bright spot for the offense. Meanwhile, the Aggies have a plethora of power arms who are still trying to find exact roles, while the young Tigers will be one of those teams to watch in May with a solid 1-2-3 weekend rotation, along with some offensive potential. A&M's starting rotation was infinitely better than it was against Auburn, and the Tigers looked like a young team a little ahead of the curve at this juncture.
Aaron Fitt's Five
1. Morris gets another milestone on another Miami walk-off

Last weekend, Miami coach Jim Morris earned his 1,500th career win on Willie Abreu's walk-off grand slam against Louisville. Abreu hit another walk-off homer on Friday night against Clemson, and it looked like he might have a chance to deliver yet another on Saturday, but Clemson opted to intentionally walk Abreu with a man on second and one out in the 11th. But Edgar Michelangeli made the Tigers pay for that decision, too. Michelangeli hit a walk-off RBI single through the right side to lift Miami to a 5-4 win — and give Morris his 1,000th victory as Miami's head coach. Michelangeli, who finished the game with four hits, then sprinted around the basepaths and circled back toward the Miami dugout as his teammates tried in vain to mob him. Moments later, the Miami video board played a tribute to Morris as his players looked on.
It was another special night in Coral Gables, where a special season is brewing. No. 7 Miami clearly has a flair for the dramatic, and now it is sitting pretty at 19-4 overall and 6-2 in the ACC, with big series wins against Louisville and Clemson. The Hurricanes will go for the sweep on Sunday.
2. Another loud weekend for South Carolina
The Gamecocks were perhaps the biggest story in college baseball last weekend, when they opened SEC play with a sweep of Arkansas. This weekend they went on the road and swept another ranked team — No. 8 Ole Miss — to improve to 6-0 in SEC play for the first time ever. Freshman Adam Hill bounced back from a lackluster outing last week to throw six scoreless frames in Saturday's series finale, holding the dangerous Rebel offense to just four hits in a 4-0 win. Brandon Murray and Tyler Johnson followed with three combined innings of one-hit relief for the Gamecocks, who pitched very well this weekend. I wrote last weekend that Johnson looked like an emerging star, and he continued to shine this weekend, with 2.2 scoreless frames over two appearances.
The Gamecocks have won 13 straight games and are now 23-2 overall, with their only two losses coming against Clemson. Expect 14th-ranked South Carolina to make a jump up the rankings on Monday — this team looks like a bona fide contender for the SEC crown.
3. Vanderbilt outlasts masterful Houck

The best pitching performance in college baseball Saturday was turned in by Missouri star sophomore righty Tanner Houck, who racked up a career-high 14 strikeouts while allowing just two hits and two walks over nine shutout innings against the No. 5 team in the nation. Houck carried a no-hitter into the sixth, but he had to settle for a no-decision, because Vanderbilt's Kyle Wright (6 IP, 3 H, 10 K) and Matt Ruppenthal (4 IP, 2 H) matched him zero for zero — and then some. The game remained scoreless until the 11th, when Vanderbilt got RBI singles from Jason Delay and Alonzo Jones to win 2-0. Ben Bowden worked the bottom of the 11th to earn the save.
This was a big series for the Commodores, who needed to bounce back after dropping a home series last weekend to Mississippi State. With series looming against South Carolina and at LSU over the next two weekends, Vandy couldn't afford to fall into a deeper hole in the SEC, and they came through in a big way, clinching a tough road series win by outlasting one of college baseball's most talented pitchers on Saturday.
4. Big day in the Bluegrass State
The two power-conference teams in the state of Kentucky both earned big wins Saturday, as Louisville evened its series against Virginia with an 11-4 victory, and Kentucky knocked off No. 1 Florida with a series-leveling 7-4 win. After losing Friday's opener, the Cardinals were facing the possibility of losing back-to-back ACC series (and they still face that possibility with the series tied heading into Sunday), but Brendan McKay made sure they rebounded Saturday. McKay, a first-team preseason All-America two-way player, held Virginia to three runs (one earned) over eight innings while striking out nine and walking none, and he helped his own cause with two hits at the plate. The top two hitters in Louisville's lineup, Corey Ray and Colby Fitch, combined for five hits, four runs and six RBIs to lead Louisville's 11-hit attack, as UVa. freshman lefty Daniel Lynch failed to make it past the second inning.
Meanwhile, in Lexington, Kentucky snapped Florida's 17-game winning streak. Bulldog righty Dustin Beggs (5.2 IP, 8 H, 4 ER) improved to 6-0 on the year, and Justin Lewis followed with 3.1 scoreless innings of relief to earn his fourth save. Kentucky got three hits including a homer from Evan White, plus a big three-run homer from Dorian Hairston in the fourth and a two-run double from Gunnar McNeill in the fifth. Florida preseason All-America lefty A.J. Puk (4.1 IP, 4 H, 6 ER, 2 BB, 5 K) continued his up-and-down season, falling to 1-2.
5. Topsy-turvy Pac-12
Heading into this weekend, we all thought we had at least one thing figured out about the Pac-12: Oregon State was the team to beat. We might have to revisit that notion after the Beavers were swept by Cal (as Kendall Rogers detailed above) — but that wasn't the only surprise of the weekend in the unpredictable Pac-12.
The only other ranked Pac-12 team, No. 18 UCLA, lost a series at Arizona after falling apart in the ninth inning of Saturday's rubber game. The Bruins carried a 5-1 lead into the ninth, but Arizona exploded for five runs against Brian Gadsby and Scott Burke to win 6-5 on Bobby Dalbec's walk-off double. Arizona improved to 16-7 overall and 3-3 in the Pac, while UCLA's season continued to mimic a seesaw. The Bruins are 12-9, 4-2.

Sticking in the desert, Utah earned its second consecutive conference series win by bludgeoning Arizona State in Tempe, 16-7. Eight Utes recorded multiple hits as part of a 23-hit onslaught against ASU's beleaguered pitching staff, which fell on its face one day after Ryan Hingst's no-hitter. ASU fireballer Hever Bueno returned to action in this one, allowing a run on one hit and two walks while striking out the side in his lone inning of work. ASU actually led 7-6 heading to the eighth, but Utah scored 10 runs over the final two innings. The Sun Devils are just 1-5 in the Pac-12, while Utah is 4-2 in conference, with series wins against Oregon and ASU. Who saw that coming?
Speaking of the Ducks, they continued their downward spiral with a 7-4 loss in the rubber game at Washington, giving Oregon three straight series losses. Troy Rallings (3 IP, 1 H, 0 R, 0 BB, 4 K) continued his dominance at the back of the Washington bullpen, and Josh Cushing had three more RBIs to lead the UW offense. Since starting off 8-2 and taking a series against UC Santa Barbara to climb to No. 9 in the rankings, Oregon has fallen apart, going 3-7. On the other side, nobody was talking a whole lot about the Huskies heading into the season, but they've stealthily gotten off to a 4-2 start in conference, with series wins against Arizona and Oregon.
It feels like the complexion of this league could shift dramatically from one day to the next. It should make for a compelling conference race.
Join the Discussion