Weekend Insider: Sizing Up The SEC So Far
Analysis
It's finally here, SEC fans. Opening Weekend 2019.
To get you ready for this weekend's SEC action and the conference slate ahead, we take an in-depth look at several topics and headliners, including:
• Best opening weekend matchup
• Most impressive pre-conference team
• Best player
• Best pitcher
• Best transfer
• Best freshman
• Rising prospect
• Biggest surprise
• Biggest disappointment
• Breakout star
---
Best Opening Weekend Matchup
6 Mississippi State at 5 Florida
There's not much debate about the best opening weekend series in the SEC. While there's plenty of intrigue around the league on Vanderbilt at A&M, Georgia at South Carolina and Tennessee at Auburn, the best series belongs to Mississippi State at Florida. The Gators began the season struggling from an offensive standpoint but have been much improved over the past couple of weeks, getting their average up to .300 as a team. Meanwhile, the Bulldogs are incredibly balanced, hitting .311 with who else? Jake Mangum leading the charge offensively. Ethan Small and JT Ginn have been incredible in the weekend rotation, while the bullpen has premium depth with a few arms, including fireballer Colby White, still carrying perfect ERAs. Both teams are playing at a high level and something will have to give this weekend in Gainesville. Call this one a tossup, with Florida having the slightest of an edge being at home with a red-hot offense and a solid pitching staff as usual.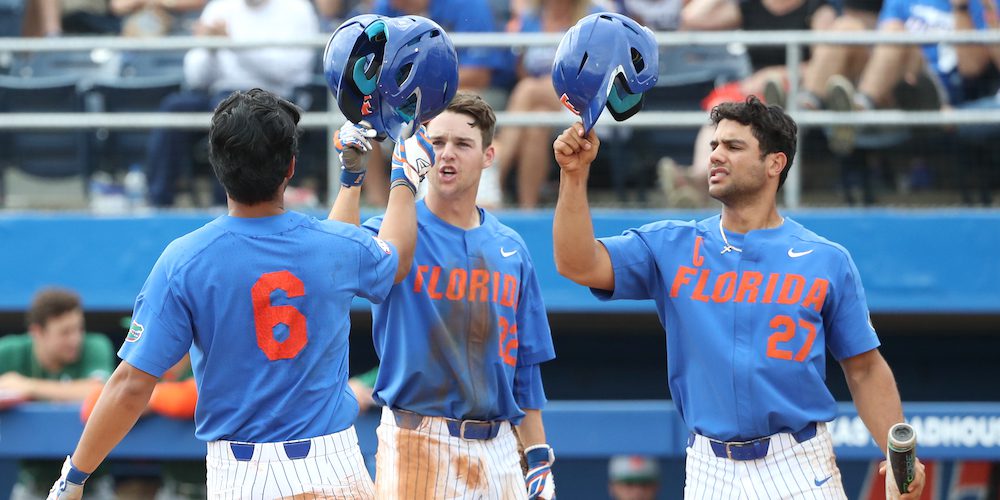 Florida's Kendrick Calilao (left) is having a great season. (UF photo)
---
Most Impressive Pre-Conference Team
Mississippi State
Click below to read the rest!
--- Already a subscriber? Log In
.
Join the Discussion