Fiery Hall Silences Arkansas Bats
FAYETTEVILLE — Maybe you thought Missouri State would roll over Saturday after getting pounded 18-4 on Friday. Maybe you were one of those people who took to Twitter and ridiculed the Bears' selection as a national seed over Vanderbilt and Texas A&M from the mighty SEC. Maybe you thought the Fayetteville Super Regional was as good as over.
If so, maybe you didn't know enough about Matt Hall.
Missouri State players said after Friday's loss that they had no doubt Hall would come out Saturday and give them a strong outing. They knew the stage wouldn't be too big for him. No stage is too big for Missouri State's junior lefthander, as he proved in Saturday's one-hit complete game masterpiece, leading the Bears to a 3-1 win that evened up the super regional at a game apiece.
"He's like that every game," Missouri State coach Keith Guttin said. "He really thrives on having fun, and he likes challenges, and he likes hot weather, and he likes wearing his camo jersey. He's not real complicated. When he's got hot weather and his camo jersey, he's pretty good."
Hall has a knack for getting under the skin of Arkansas fans. In Thursday's pre-series press conference, Hall made a rather innocuous comment that he didn't expect the Baum Stadium crowd to determine the outcome, that "you've still got to play the game — it's still 27 outs." Arkansas fans took to social media in force to express their disagreement.
And Saturday, the Baum Stadium-record crowd of 12,167 rode Hall hard after the fiery junior expressed some emotion during key moments of the game. Hall and Arkansas superstar Andrew Benintendi appeared to engage in a little jawing after Benintendi's fourth-inning strikeout, drawing the crowd's ire. When Benintendi walked in the seventh, he flipped his bat emphatically and had a little more to say, though it was unclear whom he was addressing.
"The kid lives for it," Missouri State pitching coach Paul Evans said of Hall's big-game persona. "Then the whole thing was, he said something — and it wasn't any snide remark. He basically said, 'We're pitching, we're playing, and the crowd's not going to be a factor. The game's between the lines.' The whole Arkansas people fed into it like, 'You're bigger than us,' or whatever — 'We're gonna show you.' And he just goes out there and does it."
Missouri State lefthander Matt Hall smiles after getting Andrew Benintendi to pop out in the ninth inning (Aaron Fitt)
Hall maintained control of the situation in the seventh inning, even as the crowd roared. That frame was Arkansas' best chance to score — the Hogs hadn't even had a baserunner since the first inning, and Hall had faced the minimum number of hitters through six innings. The Razorbacks pushed across an unearned run in the seventh on two walks and an error, but Hall stranded men at the corners by getting Rick Nomura to ground out. He issued leadoff walks in the eighth and ninth as well, but he continued to make big pitches and kept the Hogs from even putting another man in scoring position. Hall said the key to his success in the second half of the game was that he avoided falling into a pattern with his pitches.
"Once they started getting runners on, the crowd got into it, and they feed off the crowd's momentum," Hall said. "The crowd loves their Razorbacks, and the Razorbacks love their crowd … I love it, it's a great atmosphere. Baum Stadium's a great place to play … I wasn't really worried about the crowd. I just went out there and played for my team, I wanted to play another game."
Hall's pitch count was up to 107 after eight innings, but there was no doubt he would return to the mound for the ninth. Between innings, Evans told him, "This is your game — go take it."
"He's a warrior, that's what he is," Evans said. "I trusted him, I wasn't planning on taking him out the whole game, unless his pitch count got ridiculous. But the guy competes his rear end off, that's the best way I can describe it. He was having to earn everything there the last few innings with the zone."
Hall is a strike-thrower with advanced command, but he's also a strikeout machine. He had struck out 11 or more batters in each of his previous five outings before Saturday, and he fanned eight more against the Razorbacks to give him 171 on the season, breaking former Wichita State pitcher Bryan Oelkers' single-season Missouri Valley Conference record of 166, set back in 1982. Wichita State played 87 games that year; Hall broke the record in Missouri State's 60th game. Heading into Saturday, he led the nation in both strikeouts and strikeouts per nine innings (12.65).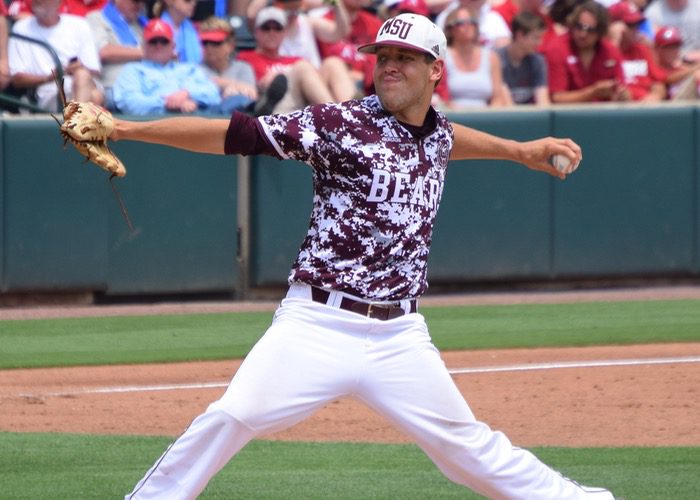 Missouri State lefthander Matt Hall (Aaron Fitt)
Hall's signature pitch is his 74-77 mph curveball, which has good deception and late 11-to-5 break. He used that for several of his punchouts, but he also used it to set up his 87-90 fastball, which he used as his putaway pitch on the majority of his strikeouts. He also mixed in a sweeping 80 mph slider against lefties, and a handful of changeups against righties. But his biggest weapon against righthanded hitters is that curveball, which he backdoors extremely well. In fact, he's actually better against righties than lefties, holding righties to a .148 batting average on the season, compared with a .252 mark against lefties.
"Matt just uses that backdoor breaker, and guys quit on it," Evans said. "I don't know, the angle or whatever — you'd think he'd own lefties with that great curveball he has. Not that he's bad against them. He won some battles with Benintendi, that was the key.
"When you're throwing breaking ball for strike as often as he can do it, then you can explode fastballs up in the zone and it makes his fastball look that much quicker. And that's what he does. He goes in, he goes up, breaking ball, then he explodes that fastball."
Arkansas is a good offensive club, but Hall is a master craftsman, and he did some of his finest work Saturday, when the stakes were highest. Now the Bears are set up well for Sunday's winner-goes-to-Omaha showdown, as Hall's complete game spared their bullpen, and Friday's lopsided score also allowed them to keep their top relief arms fresh. Missouri State will start finesse lefty Jordan Knutson on Sunday, while Arkansas will counter with swingman James Teague. The Hogs haven't lost a series in 10 weeks; they have a knack for finding a way to win two out of three. Missouri State has fired its two big bullets in Hall and Jon Harris, so neither team has a major pitching edge Sunday. It should be fun.
"Two months ago," Arkansas coach Dave Van Horn said, "if you'd give me one game to go to the Series, I'd take it in a heartbeat."
Join the Discussion