Gillespie Honored In Perfect Fashion
At The Ballpark
---
IRVINE, Calif. — "Screw you," Mike Gillespie said as he walked down the steps of the dugout.
But this wasn't a barb hurled at an umpire, an insult yelled in retaliation for a disagreeable call. The retiring UC Irvine head coach wasn't upset at a call. He wasn't even angry. Instead, it came with a smile and was directed at his successor Ben Orloff.
Irvine had honored Gillespie with a video presentation and framed jersey before the start of his final home series at Anteater Ballpark, but also surprised the coach by retiring his number during the ceremony. Gillespie asked Orloff of the blue number 19 encased in a white circle on the right field wall, "Why'd you go and mess up your field?" He later added that he felt he had to apologize for ruining the fence.
Orloff laughed and said he didn't know about the extra honor, claiming he maintained ignorance of the proceedings so he would have plausible deniability with his mentor.
"They kept this thing really under wraps, at least from me," Gillespie said. "I really didn't know. We knew something was going on, but I did not know that they had gone to those lengths. I greatly appreciated it. I'm uncomfortable with it, but it was great…I felt humbled by it."
The evening was full of smiles and laughs, chuckles and hugs as the 'Eaters rolled to an easy victory on a night celebrating the UC Irvine skipper.
A strong contingent of Gillespie's former players, who all still refer to him as "Skip," sipped on ales from plastic cups and retold their favorite 'Skip Stories.' They regaled in tales from his 19 postseason appearances, seven conference championships, five College World Series trips and the 1998 national championship. And they fielded many well-wishing text messages from teammates from far-flung college baseball eras. Many of the texts read something akin to 'I wouldn't be the man I was right now if it wasn't for Skip. I wouldn't have been the player I was without Skip's help.'
The fans gleefully enjoyed the moderate temperatures and the shallow night breeze creating perfect baseball weather. They cheered throughout the night, watching the home team produce rally after rally with the Anteaters (30-21, 11-8) scoring in six of their eight at-bats.
The current players under Gillespie exploded out of the dugout to celebrate with freshman Brendan Brooks after his three-run homer put the 'Eaters up 9-0 in the third inning. There was no silent treatment for Brooks' first career blast. They had plenty of opportunities to greet each other with hoots, hollars and exultant embraces. There were 12 runs to congratulate each other for, including six in the third inning.
(Shotgun Spratling)
The coaching staff smirked watching the master at work. Every item lined up perfectly, every button Gillespie pressed worked. Sending the runner negated a double play on a chopper back to the pitcher. A sacrifice puts two runners in scoring position. Both scored when the next batter got a hit. The 'Eaters ate up every extra base. They scored an extra run when a ball bounced away. Six of the first seven walks they drew all eventually scored. A hit batsman led to another run. Nearly every opportunity proved fruitful for UC Irvine.
"Everyone had in the back of their minds is trying to win this game for Skip whether they say it or not," Cole Kreuter said. "We wanted to get back in the win column, especially tonight on a night like this for him."
There were smiles all around the ballpark except in the opposing dugout. Even when UC Riverside (18-29, 6-13) had its one positive inning, scoring two runs in the sixth inning, pitcher Andre Pallante minimized the damage and Gillespie stymied any comeback threat with his bullpen.
Did it feel like everything went right?
"Well…," Gillespie said. "…yes."
As he tallied his 26th Division I season with 30 plus wins and on a night when the five-time conference Coach of the Year and two-time National Coach of the Year was being honored, it was only fitting that the baseball gods were smiling down on Gillespie as well.
Celebrated Skip the right way? his number has also found a new home on the right field wall #TogetherWeZot pic.twitter.com/IrpGSUmjVU

— UCI Baseball (@UCIbsb) May 19, 2018
The Breakdown
Star Spotlight
What has made Mike Gillespie such an outstanding coach throughout the years has been his attention to detail and having his teams prepared for any and every situation.
"He talks about little things versus details," Ben Orloff said. "There are no little things. Everything is a detail, so we practice all these things and then when it comes up, you're like, 'Oh man, that actually worked.'"
But being prepared for all those situations requires discipline and focus, which is why playing under an old school coach like Gillespie can be demanding. It can be even more so when you are his grandson. One of Gillespie's traits several people have highlighted is his fairness. He has never been a coach to play favorites and treat players better than others.
But as Cole Kreuter learned when he first got to UC Irvine, that doesn't mean he isn't harder on some players, particularly those related to him. Kreuter spent his childhood in the dugouts at USC being a bat boy for Gillespie's Trojan teams, along with his brother Cade. But in high school the family moved to Florida to be closer to Miami, where Cade was playing collegiately.
Cole Kreuter stands beside his grandfather, Mike Gillespie, in the dugout. (Shotgun Spratling)
"I hadn't been around him for the past four years, so I didn't really know what playing for him would really be like because I saw him as a little kid, but I never really saw him chewing guys out," Cole said. "What's interesting is when he offered me to come here, he told me he wasn't going to be the coach. He said Ben Orloff was probably going to be the coach and then they went to Omaha that year, got a contract extension."
With that extension came a chance for Gillespie to spend the next four years coaching his grandson. Cole admits there have been ups and downs.
"It's been fun and sometimes it hasn't been fun because my freshman year, he was pretty hard on me. He didn't want to make it ever seem like he was playing favorites. If I screwed up — and he still does it — he takes guys out of games.
"He was really hard on me my freshman year, but it's shaped me into the person I am today. I really had to prove my worth coming in as a freshman and I'm really happy for the opportunity honestly."
Cole proved he belonged by being one of the 'Eaters' top hitters as a freshman. He hit .300 while making 32 starts. By his sophomore season, Kreuter was an everyday starter, playing in every game and produced a respectable .284, 1, 26 line. He hoped to take a jump his junior year, but an early swing upended his season.
He hit a home run.
The simple approach at the plate Kreuter had maintained his first two years was replaced by attempts to try to hit the ball out of the ball park even though he had hit only one long ball his first two seasons.
"I was like, 'Oh yea, this is fun. Let's keep on doing this. Let's do this again.' And my whole approach went down the drain."
It became a learning experience after he batted .223, 5, 35 with 10 extra-base hits following a season with 14 doubles. Now Kreuter can sense when he's getting a little too big and absconding his normal approach. With better recognition of the issue, he can make an adjustment after one or two games, if not sooner, rather than having a poor plate approach linger.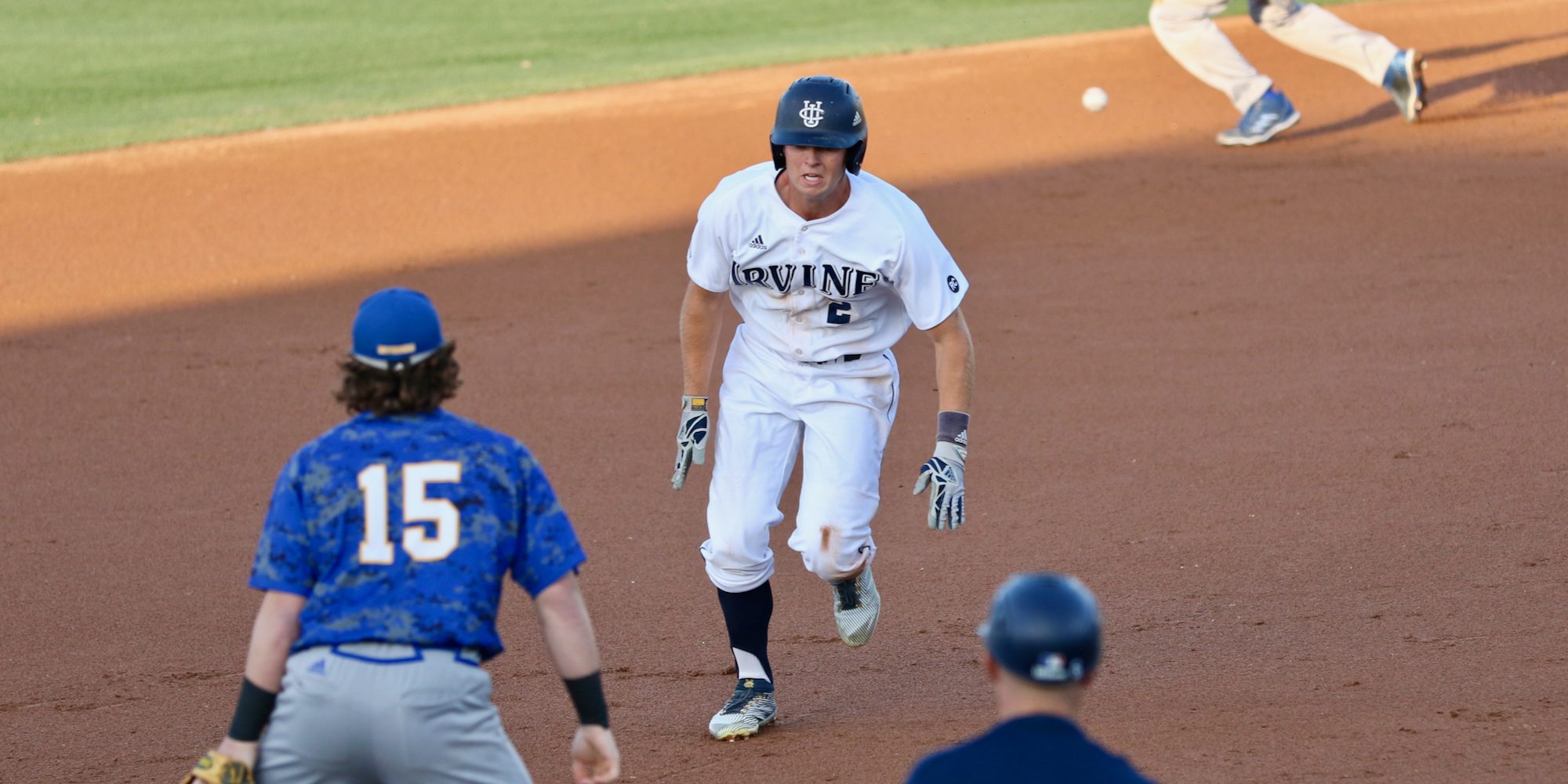 Cole Kreuter digs for third base in the first inning. (Shotgun Spratling)
By staying simple and realizing he isn't a power hitter, Kreuter has actually unlocked more power potential this season. The addition of 20 pounds of muscle since arriving on campus has helped him drive balls more, but he said his focus is on hitting the ball up the middle.
"Home runs are going to come on their own, just by accident basically. I just need to stick to my approach."
The results have followed. Kreuter is hitting .280 and is second on the team with seven homers and 47 RBIs. He added his 14th double on Friday night, clearing the bases with a line shot down the left field line that pushed Irvine's lead to 9-0 in the third inning. He also singled to left field, finishing 2 for 5 with a run scored and three RBIs.
"He's gotten stronger. He's bigger," Gillespie said of Kreuter's development. "He's no taller. He's lying if he tells you he's taller, but there's more sock in there now. And he's certainly more confident, and he's become a good leader too."
Game Changer
UC Irvine ace Andre Pallante didn't have his best stuff on Friday night. It's a testament to just how good he is (9-1, 1.43) that he can produce high-quality numbers even when he's not at the top of his game.
"He's dirty. He's really, really good and it's fun watching him pitch because even on his bad nights, he's still getting 10 strikeouts a game," Kreuter said.
Pallante finished with seven on Friday, but it's the one he didn't get that he'll likely remember. He cruised through the first three innings, had to pitch with two runners on base in both the fourth and fifth innings and then ran into some trouble in the sixth inning.
The sophomore righthander struggled to get ahead of hitters, throwing only 14 first-pitch strikes to the 28 batters he faced. That was particularly an issue in the sixth.
Andre Pallante picked up his ninth win. (Shotgun Spratling)
Cameron Cannon led off with a double on a 2-1 count that started with a ball. Yeager Taylor walked on five pitcher. Another first pitch ball. Dylan Orick loaded the bases with a 1-0 single. But with one out, Pallante got ahead of eight-hole hitter Matt Hardy. He was up 1-2 when he didn't execute on a pitch leaving it up in the zone. Hardy lined it to center field for a two-run single.
Pallante's scoreline still looked solid for a starter picking up a victory: 6 IP, 7 H, 2 ER, 3 BB, 7 K. But the game-changing element for Pallante was his opportunity to move up yet another rung on the national ERA list. He had lowered his season ERA to 1.25 and would have passed Southern Miss' Nick Sandlin for third with a scoreless sixth inning. Instead, the two runs Riverside scored pushed his ERA up to 1.43 and moved Pallante behind Robert Broom and possibly Rick DeVito depending on the percentage points of their ERAs.
"Pallante has been better. You've seen him be better," Gillespie said. "You know how it is, it's a cliche, there's no bad wins. There's some ugly ones, but there's no bad wins."
Top Performances
UC Riverside:
Connor Cannon: 3-for-4, R, 2B.
Matt Hardy 1-for-4, 2 RBI;  IP, 0 H, 0 R, BB, K
UC Irvine:
Andre Pallante: 6 IP, 7 H, 2 ER, 3 BB, 7 K; Win
Konnor Zickefoose: 3-for-5, R, 2B, 3 RBI.
Brendan Brooks: 1-for-3, R, HR, 3 RBI.
Cole Kreuter: 2-for-5, R, 2B, 3 RBI.
In Their Own Words
Retiring head coach Mike Gillespie talks about being honored by UC Irvine in the series opener of his final home games and the surprise of seeing his number on the outfield wall after it was retired by the school.
Gillespie also tells how wearing No. 19 came to be and how everything seemed to go successfully during the game as the 'Eaters beat Riverside, 12-2:
Bottom Line
– UC Riverside was saving its best pitchers for Saturday and Sunday because it felt it had a much better chance to win with Trenton Toplikar or Cole Percival not having to match up against Andre Pallante. So Friday, the Highlanders played the perfect patsy on Gillespie's big day.
– The Anteaters still have slim postseason hopes. All they can do is keep taking care of business. They need to win out and they need help from Cal State Fullerton's opponents. Irvine is three games back with five to play and Fullerton holds the head-to-head tiebreaker over it.
Things still have the potential to get really wacky with an unlikely five-way tie scenario still in play. …Of course, that scenario would require Fullerton to end the season on a seven-game conference losing streak.
"We play each game one by one the rest of the season," Kreuter said. "Hopefully that we win out and we'll see what happens. Hopefully, some Gillespie magic happens. That's what I'm praying for."
Join the Discussion