Maryland Knocks Off Top-Seeded UCLA
LOS ANGELES — "You're talking about a true freshman, pitching against the No. 1 team in the country, in the regional championship game … at their place," Maryland head coach John Szefc said. "He was as good as he could be."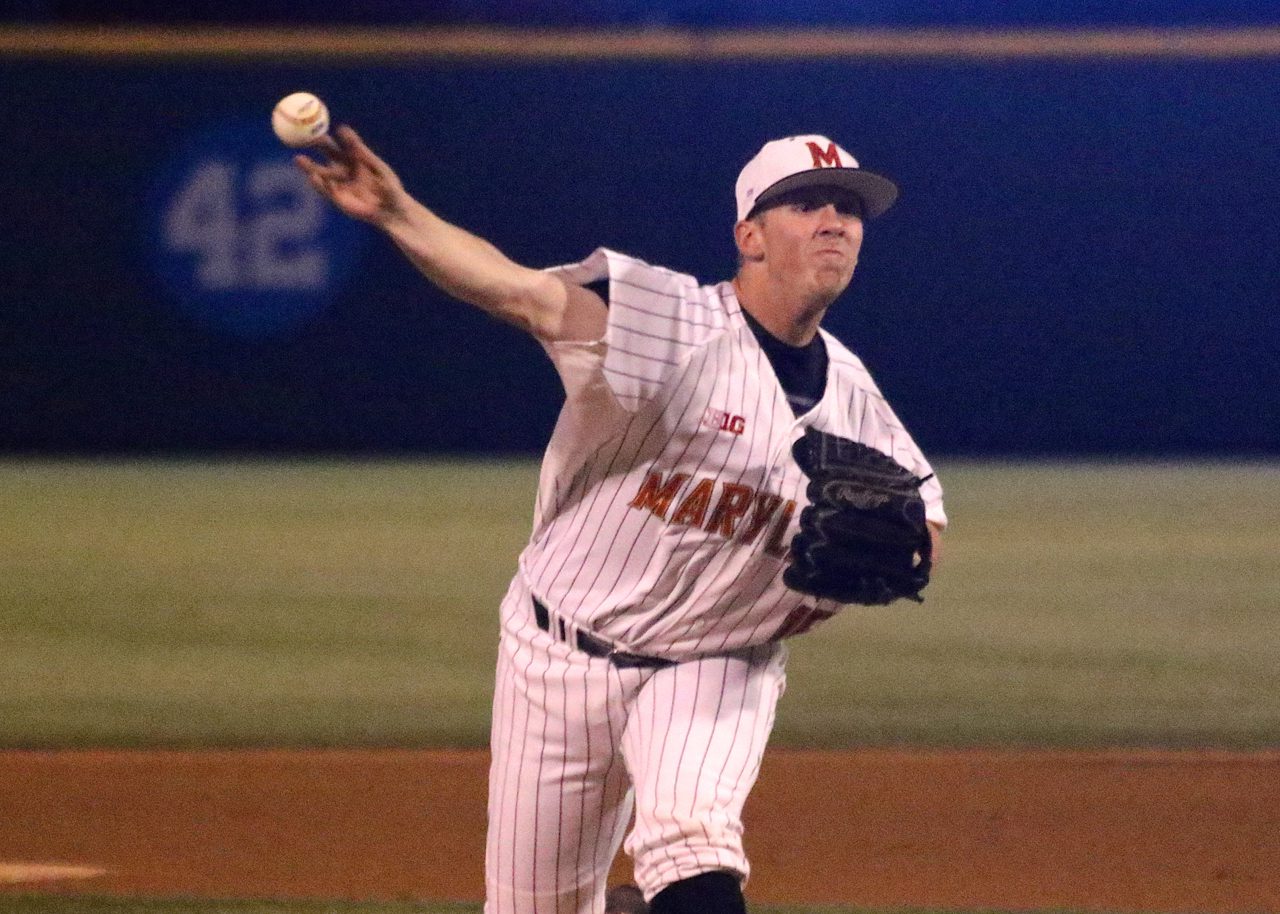 In just his fifth career start, Maryland RHP Taylor Bloom picked up the win in the regional championship. (Shotgun Spratling)
Maryland freshman Taylor Bloom made the biggest start of his life Monday night at Jackie Robinson Stadium and was completely undaunted by the situation. He tossed six innings of one-hit ball, needing just 58 pitches to beat UCLA, the No. 1 overall seed in the NCAA tournament and many people's pick to win the national championship, and claim the Los Angeles Regional title for the Terrapins.
"Really, I just attacked with all my pitches in the strike zone," Bloom said. "I just stayed attacking and they just kept rolling over. That's how I got all my outs."
Bloom turned the ball over to Terrapins closer Kevin Mooney, who pitched the final three innings, to record the 2-1 victory. But it wasn't without drama.
Mooney came in after Bloom walked Ty Moore to lead off the seventh inning. Brandon Lowe's second error in as many innings put two men on for Kort Peterson, who shot a ball the other way through the left side for an RBI single that trimmed Maryland's lead in half to 2-1. But Mooney responded with back-to-back strikeouts of Darrell Miller Jr. and Christoph Bono to keep UCLA from getting the tying run home.
After an easy 1-2-3 eighth inning, Mooney struck out red-hot Ty Moore and got Luke Persico to fly out, but a walk and a single put runners on the corners with the tying run just 90 feet away. Miller Jr. strolled to the plate with an opportunity for redemption. Using almost exclusively curveballs, Mooney got ahead 2-2, but Miller fought off a pair of big breakers to stay alive. On the seventh pitch of the at-bat, Mooney tried another big hook.
Miller Jr. took the chest-high pitch. It hit Maryland catcher Kevin Martir's mitt and popped to the ground as home plate umpire Greg Street signaled strike three. An incredulous Miller Jr. put his hands over his head in disbelief as Martir tagged him for the final out of the Los Angeles Regional.
Maryland closer Kevin Mooney catches his leaping catcher Kevin Martir. (Shotgun Spratling)
As Miller Jr. pleaded his case to no avail before eventually slinging his bat away in disgust, Mooney toosed his glove to the heavens and reversed the roles, catching a leaping Martir as the Maryland dugout streamed out to celebrate on the Bruins' home field.
Grant Dyer took the loss for UCLA. The Bruins' setup man in the bullpen all season, Dyer pitched four innings, allowing three hits and one run. He allowed one walk, which came back to bite him, and struck out two.
Dyer walked Martir on four pitches in the fourth inning. Two batters later, Anthony Papio jumped on the first pitch and crushed a double to deep right-center field. Martir scooted around the bases and slid in ahead of the relay throw, which was up the third base line.
UCLA ace James Kaprielian pitched two innings on two days' rest and also had a troublesome walk. Kaprielian walked Lowe with one out in the sixth inning. He got way ahead of Martir, 0-2, but left an outside pitch a little bit up and Martir did a nice job of staying back and shooting it through the hole on the right side for a single. After a wild pitch eliminated the possibility of a double play, designated hitter Nick Cieri hit an RBI groundout to second base. UCLA second baseman Trent Chatterton had to go to his right to make the play, so it would have been a difficult double play turn, but with Cieri running, it would have been a possibility. Instead, the Terrapins took a 2-0 lead that proved to be enough of a cushion for Mooney.
Play of the Game: UCLA had an opportunity to take the lead early in the game. Miller Jr. reached on an error and advanced to third on a sacrifice bunt and a wild pitch. Chatterton lifted a potential sacrifice fly to center field, where LaMonte Wade was waiting.
For the second time in the regional, Wade did this to UCLA:
Dear LaMonte Wade,

You are amazing.

Sincerely,#RoadToOmaha http://t.co/NS7kBUOlcd

— NCAA Baseball (@NCAACWS) June 2, 2015
"He's certainly playing his best baseball. That's for sure," Szefc said of Wade.
Wade was named the Los Angeles Regional Most Outstanding Player after hitting .400 with two homers. He led all hitters with 12 total bases, but it was the pair of assists at the plate against UCLA and his home-run-robbing grab against Ole Miss that sealed the deal. Not bad for a converted first baseman.
"The most impressive thing for me is really not his offense," Szefc said. "He's by far the best defensive first baseman I've ever been around in my life, but the question was he can't play center field at the pro level. Well … guess what? I think he's shown people, 'I can play center field at a high level at the pro level.'"
Super Regional Rematch: Both Maryland and Virginia traveled across the country as No. 3 seeds in two of the tougher regionals and yet next weekend, the two will matchup in a rematch of last year's Charlottesville Super Regional won by Virginia in three games. In 2014, Maryland won the opener behind Jake Stinnett only for Virginia to take the final two games to advance to the College World Series. It was announced before Monday's game that if Maryland won, Virginia would host the super regional.
"It kind of shows you how a little bizarro college baseball can be," Szefc said. "I'm pretty sure the big bettors in Vegas would not have bet that would happen when they laid odds at the beginning of this week."
When asked if the Cavaliers were the team Maryland would want to see, Mooney looked like a bobblehead, aggressively nodding his head.
"That's exactly the place we wanted to be," Mooney said. "We've really got some unfinished business to take care of there. Last year was a great series. This year is going to be the same thing. It's going to be a dogfight all the way to the end."
End of an Era: UCLA closer David Berg pitched the final two innings Monday night and struck out hard-hitting Jose Cuas — he of the 11 homers and 53 RBIs this season — to end the eighth inning and strand two runners on base to keep it a 2-1 ball game. Berg gave a primitive yell and a fist pump after the pitch and then set to hoping for one more opportunity to toe the rubber at The Jack. That never came.
After the game, with the reassuring hand of shortstop Kevin Kramer to pat him on the back, Berg fought back tears as he talked about the emotion of having his senior season come to an end prematurely.
College baseball's finest closer of all time pitched two scoreless innings in his final UCLA appearance. (Shotgun Spratling)
Berg came to UCLA as a preferred walk-on. He knew he would have his work cut out just to earn his way up the ladder first by making the team, getting on the travel roster, tossing a few innings, etc. Head coach John Savage thought that Berg could eventually earn some playing time. Neither had any idea the impact Berg would have on the entire Bruins' program.
Berg always took the mound with a fiery intensity. Despite his fastball topping out in the mid 80s, his deceptive sidewinding motion and the tremendous amount of movement created from that arm slot made him one of the toughest pitchers in the country for four years.
He went to two College World Series and tossed the ball to first base for the final out in UCLA's 2013 national championship. He became the first reliever to earn Pac-12 Pitcher of the Year in 2013 … and then did it again this year. He joined only two other players to be named All-Pac-12 four times. Berg was drafted in the 17th round and chose to come back to school for another shot at making it to Omaha.
"David Berg will go down as the best reliever in the history of the game. That's not an overstatement. He's a four-time Pac-12 player. He's a two-time Pac-12 Pitcher of the Year," head coach John Savage said. "He is the best reliever in the history of the game. The numbers back it up."
For 2015, Berg finishes with a 0.68 ERA. He pitched in an absurd 70 percent of UCLA's games this season, tossing 66.2 innings in 43 appearances — to contribute to his NCAA record 175 career appearances. He struck out 65 batters and walked only eight to finish with a 7-1 record and 13 saves. In Pac-12 play, he was even more lethal, allowing only one earned run (which should have been unearned with a correct scoring) in 22 appearances. He pitched six innings of relief twice and combined with James Kaprielian for a 10-inning no-hitter.
And yet after the game, he was emotional not because it was his last game, but because the season was over for his teammates and coaches:
"I guess really what has made me a little emotional is just how much I care for the guys in the locker room and Coach," Berg said. "I know how hard those guys work and how hard (Savage) works. We played very well all season. We played well today, but when it comes down to one or two games in the postseason, things can end quickly."
Photos:
Interviews:
Join the Discussion