MWC Dispatches: Ryan Jensen Leads Fresno State
At The Ballpark
RENO, Nev. — Just before the first game of the Mountain West tournament Thursday at Peccole Park, Fresno State racked up three of the top four honors when the conference pitcher, player, coach and freshman of the year awards were announced.
The regular season champion Bulldogs were represented by Tony Gwynn Co-Player of the Year McCarthy Tatum, Pitcher of the Year Ryan Jensen and Mike Batesole as Coach of the Year.
But if Fresno State is able to win its first Mountain West tournament title, Jamison Hill might actually be the team's most valuable player. Hill (2-1, 4.19 in 34.1 innings over 17 appearances) has been an important bullpen arm for the Bulldogs, but it's something else he provided that may propel Fresno State to a strong postseason run — a slider grip has helped make Fresno's ace, Jensen, dominant.
Jensen has won eight straight starts after an electric performance against Nevada in the opening round of the Mountain West tournament. The 6′, 180-pound righthander allowed one run on three hits and struck out 10 over eight innings in Fresno State's 4-3 win. It was Jensen's fourth career outing with double-digit strikeouts and his second back-to-back.
Jensen overpowered Nevada hitters with his fastball that was 96-98 early and still up to 97 as late as the sixth inning.
"His stuff has always been really good," Nevada head coach TJ Bruce said. "I think the ability to sustain his stuff has been a big deal for him. He's good. He's by far the best arm in our league."
He also carved up the Wolf Pack with an 86-88 mph slider. It has been the improvement of the slider over the course of his junior year that has helped Jensen become the conference's top pitcher. He's now able to command the pitch, throwing it in the zone for strikes when he wants or out of the zone to try to get hitters to chase.
"I switched my grips, actually in the middle of the season against San Jose State," Jensen said. "The other grip was a super slow, floppy break. I was not liking it. Just switched it and stuck with that one. Actually got that grip from Jamison Hill. I've been sticking with it. It kind of has more velo to it and is tighter. It's been better."
In his five starts after changing slider grips, Jensen is 5-0, 2.13 with 38 strikeouts in 38 innings.
Two-Seam Sensation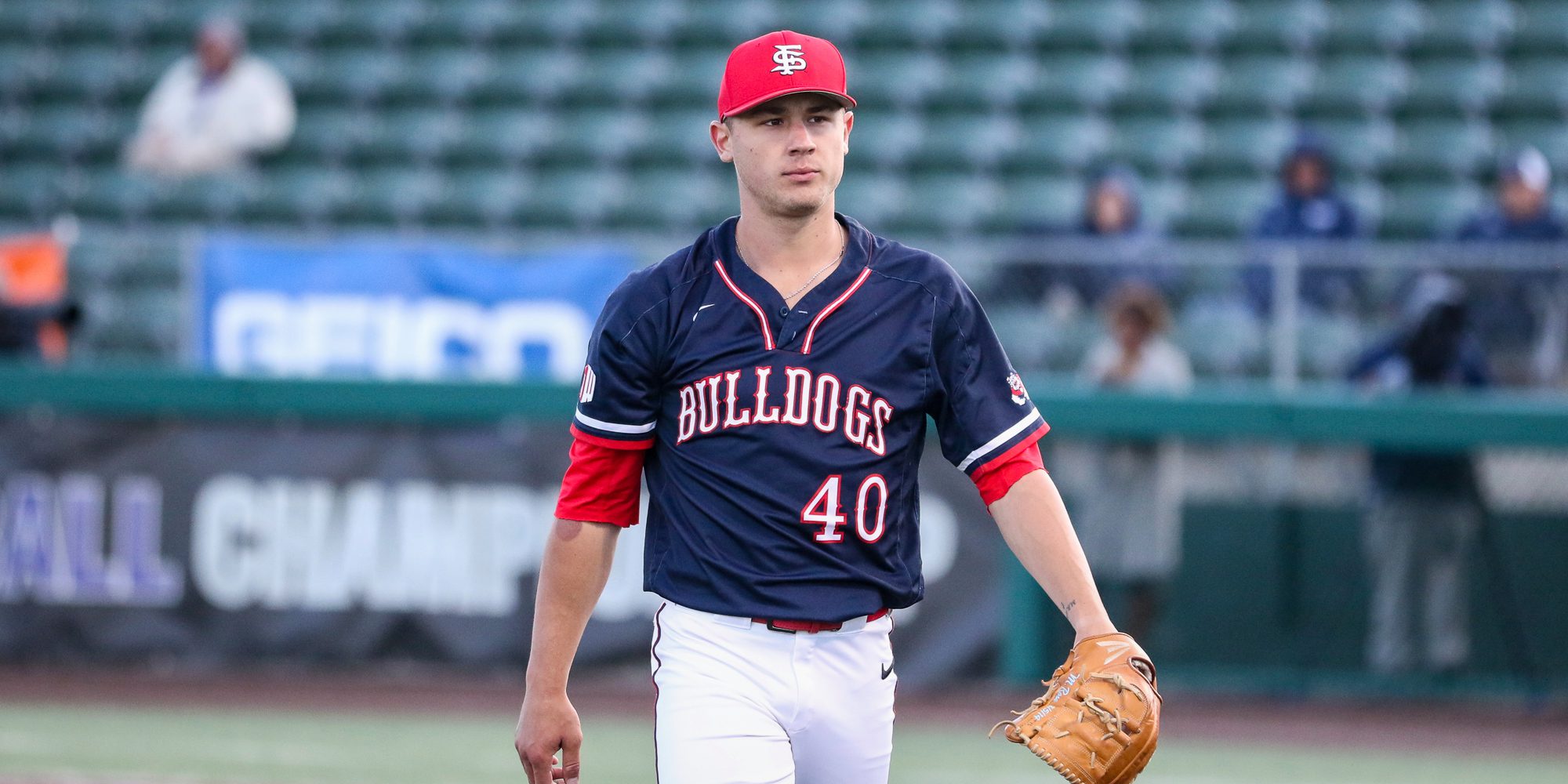 Ryan Jensen has 99 strikeouts this season. (Shotgun Spratling)
Jensen's slider has made him more dangerous on the mound, but his most important pitch has been his two-seam fastball. 
"It's an outstanding pitch," Fresno State head coach Mike Batesole said. "Any time you can go 92-93 with 12-, 15-inches of movement and you can control it. That's just dirty because that means you can go to that 1-0, 2-0, 3-1, you can throw a fastball. They know you're throwing a fastball, but it ain't a normal fastball.
"That two-seamer is so hard to hit. It's so heavy. It's not just sideways. It's got depth to it. It's almost like if you know it's coming, it's still hard to hit. When he has that two-seamer going as he has for most of the year, he's just really, really difficult."
Jensen was throwing his two-seamer at 95-96 mph with some strong movement on Thursday…and locating it. Last year, Jensen struggled to throw strikes at times. He walked 4.8 batters per nine innings. When he came back in the fall, pitching coach Ryan Overland told him what seemed counterintuitive — stop focusing on throwing the ball over the corners.
"In the fall, we started taking away corners and just letting my two-seam run," Jensen said. "Not trying to spot up with it, just let it dance in the zone."
Pitchers that throw fastballs in the middle of the zone don't usually find much success, but the coaching staff was convinced Jensen's two-seam fastball was too tough to hit even if it was in the strike zone.
"We did that with Justin Wilson here his junior year," Batesole said. "Justin had that same dirty, heavy movement that was 96. Just say, hey, let it move instead of trying to make it go to this side of the plate or that side of the plate. Set up [in the middle] and just let it do what it wants and that has freed him up. By just letting it, he's been so much looser with it. It's just a really powerful pitch."
A True Ace
Ryan Jensen has been clocked at 101 mph reportedly. (Shotgun Spratling)
Jensen's velocity has ticked up this year, but the velocity has always been strong. He was up to 98 mph, sitting 92-94 last year when he was thrown into the Friday role even if he wasn't quite ready. He struggled going 2-6, 5.35, but it laid the foundation for this year. He learned how to pitch. He learned how to get himself out of jams.
"All of that that we went through last year, those growing pains, now his whole presence, his whole demeanor, everything is different," Batesole said. "He gets it and he's just attacking the mitt. It's beautiful to watch."
Jensen has pitched with a new bravado this year.
"When he gets in trouble now, he's not in trouble now," Batesole said. "The last couple years, it would spiral out of control. If we made an error behind him, it was going to score. If he walked a guy, it was going to score. Now, he's so much more confident. He's been through so many more innings. He understands that if he just does his thing, he's very tough to score off of."
Jensen began the game with a 98-mph fastball that Joshua Zamora popped out. Jensen then threw Weston Hatten all fastballs, striking him out, but a 1-0 fastball to Kaleb Foster got deposited way beyond the right field fence for an early 1-0 lead for Nevada.
"I left it right over the plate. He put a good swing on it. I just got to tip my cap to him. That was a good swing," Jensen said. "You just got to get to the next pitch. You just got to let things go as a pitcher. You can't let things affect you or you're just going to take yourself out of the game."
He showed his maturation by retiring the next eight batters. And when Foster doubled to end that streak and got to third base, Jensen stranded him there with an inning-ending strikeout. Then his teammates got him some runs, putting up a four-spot in the fourth inning that was more than Jensen needed but just what the Bulldogs had to have to lock up the win.
Emilio Nogales slides in with the fourth run. (Shotgun Spratling)
His teammates were also the ones with the most to say about Jensen.
"He's an unbelievable talent. He has an incredible fastball, incredible offspeed. He's a really talented kid," senior second baseman Nolan Dempsey said. "Really leading by example and teaching these young guys how to go about his business. His fastball is unreal. His four-seam is cutting. His two-seam is tailing. His slider is nasty and I'm really excited for him and what he's doing and what he's going to continue to do throughout his baseball career."
Shortstop JT Arruda called him electric and said he's grasped the concept of getting ahead of hitters because "when you get ahead of guys at 100, it's hard to hit." McCarthy Tatum agreed with teammates' assessment.
"He's definitely grown into a lot better pitcher. He's not really a thrower any more. This year, he's a complete pitcher," Tatum said. "He's definitely the definition of a Friday night starter and he'll go high in the draft because he deserves it. He throws hard. His ball moves. He's got everything going for him. He'll do well."
Things Go Rebels' Way
Dillon Johnson's grand slam was a game changer. (Shotgun Spratling)
In the second inning of the Mountain West tournament opener, Dillon Johnson was standing in the on-deck circle watching Bryson Stott battle against San Diego State starting pitching Justin Goossen-Brown with two outs. Stott fouled a pitch near the fence in shallow left field.
The third baseman, shortstop and left fielder all converged on the spot, trying to track down the ball, but third baseman Casey Schmitt overran the play as the ball was pushed back toward the field by the wind. He couldn't make an attempt on the foul pop. It hit the turf and bounced in the air. "New life!" someone yelled from the UNLV dugout. Stott and the UNLV inning were still alive.
UNLV's star shortstop worked the count, eventually drawing a nine-pitch walk that loaded the bases. A pitch later, the Rebels had taken command of the game. Johnson turned on an inside fastball and sent the pitch over the left field wall for a grand slam that put the Rebels ahead 5-0.
"The at-bat before they had thrown me an inside fastball and kind of beat me, so that's what I was looking for," Johnson said after UNLV won Game 1, 9-3. "I figured they would come back with the same thing and sure enough…threw it right where I was looking and it felt good off the bat."
But after the game, San Diego State head coach Mark Martinez didn't lament the pitch Johnson hit. He looked back at the missed opportunity to end the inning on the pop fly.
"We've got to make a play. We catch a popup, it's 1-0. I think it's a different game," Martinez said. "Our team is not built to come back from a five-run deficit. We've got to make that play and I think it changes the complexion of the game."
Seeing Double
UNLV ace Ryan Hare got five double plays. (Shotgun Spratling)
In the bottom half of the inning, UNLV starting pitcher Ryan Hare gave San Diego State  (32-24) an opportunity to get back in the game. He loaded the bases with three straight one-out walks. He fell behind Ryan Orr, 1-0, and threw a center-cut fastball to the eight-hole hitter.
Orr laced the ball.
"I told him they're going to stay away," Martinez said. "What he does well is hit the ball the other way very well and he smoked a ball. He did everything he's supposed to do."
But his liner went right into the glove of first baseman Austin Pfeifer, who took one step and tagged first base to give UNLV (28-27) an inning-ending double play. If the ball gets by Pfeifer, San Diego State is right back in the game and has stolen the momentum.
"That would have changed the game," UNLV head coach Stan Stolte said. "It's just things went our way today. He lined out to first instead of it rolling down in the corner for probably three runs."
If double plays are a pitcher's best friend, Hare should make the double play his best man. It was more than just a friend on Thursday. San Diego State had 12 baserunners against Hare. He only allowed one run and that was on the one baserunner that never stayed at a base as the Aztecs lone run against Hare came on a Mike Jarvis solo home run in the sixth inning.
"He's learning. [Pitching coach] Greg [Maddux] is kind of telling him, you don't have to strikes guys out," Stolte said. "You can still see him with two strikes trying to hump up and strike guys out, but we're trying to get across to him that a ground ball is as good a strikeout."
They were better than strikeouts against San Diego State. So were lineouts. Hare didn't strike a single batter out, but he was able to pitch around the 12 baserunners with the help of five double plays, including three on line outs.
Hare, a redshirt junior, has come into his own in his second season under Maddux. Hare struggled to an 8.64 ERA in seven relief appearances last year after he had missed the 2017 season due to injury. But he has been the Rebels' ace this season, improving to 8-4, 3.79 with eight innings on one-run ball on Thursday.
Hare's numbers were even better (7-2, 3.10) before a start at Houston to open the month where he took a line drive off the leg. A couple of rough weeks followed, but when the Rebels needed him in the Mountain West tournament, Hare stepped up.
"He's a competitor and he's been our best guy and he showed it tonight," Stolte said.
Kill the Monster?
Jacob Maekawa turns a double play. (Shotgun Spratling)
San Diego State has been the horror film monster of the Mountain West tournament. No matter the circumstances, the Aztecs just seem to keep coming back time after time, rallying through the loser's bracket multiple times the last six years when San Diego State has won the tournament five times.
In 2013, 2014 and 2015, the Aztecs took the long route, going through the loser's bracket to ultimately come out on top. In 2017, Fresno State pushed them to the 'if necessary' game.
Only last year when playing the conference tournament at home did the Aztecs not lose a game. But they still needed a pair of one-run wins, including a dramatic 12th inning walk-off win over UNLV, to get to the finals.
But this is a different San Diego State team, one that doesn't have the pitching depth due to injuries to all three of their anticipated weekend starters — Logan Boyer, Brad Wegman and Harrison Pyatt. Pyatt could start on Friday, but after throwing 176 innings over his first three seasons, has been limited to 19 innings this year and hasn't gone longer than an inning in any outing since being shut down for a month in March. Aaron Eden and Michael Paredes could also start while the Aztecs' top arm this season, reliever Adrian Mardueno, could be a wild card.
Martinez said they can't approach it as having to win four games. His team has to win one game at a time.
"We've got to win tomorrow. I think that's what it boils down to," he said. "We can't think about the rest of the tournament. We just got to win tomorrow. We'll worry about the rest of the tournament after tomorrow. All hands on deck. If we have to use all guys just to win a game tomorrow, we'll do that and then we'll reset it the next day and we'll find a way to go."
Kaleb Foster had two of Nevada's three hits. (Shotgun Spratling)
Nevada will be the team to try to slay the Mountain West monster first. The Wolf Pack will try to spin history for both teams. It is trying to snap a streak of six straight conference tournament losses. Nevada has been eliminated in their first two games in three of their last four tournament appearances.
Bruce thinks his team is capable of making a run in the tournament, especially playing at home, but they have to be able to respond after taking a hit. That starts with throwing strikes on the mound — three of Fresno State's four runs reached via base on balls — and stretching out some at-bats. The Wolf Pack had opportunities, leaving a runner at third base in the fourth inning, the bases loaded in the sixth and the tying run on base in the ninth inning.
"If we can just extend some at-bats and extend the lineup a little bit more, I think we've got a chance," Bruce said.
Top Performances
Mountain West Tournament Game 1
UNLV:
Dillon Johnson: 2-for-4, 2 R, HR, 4 RBI, BB
Ryan Hare: 8 IP, 7 H, ER, 3 BB, 0 K; Win
Austin Pfeifer: 2-for-3, R, 2 RBI, BB
Bryson Stott: 1-for-3, R, 2 BB.
San Diego State:
Chad Bible: 2-for-3, R, HR, RBI, BB
Mike Jarvis: 2-for-4, R, HR, RBI
---
Mountain West Tournament Game 2
Nevada:
Kaleb Foster: 2-for-2, 2 R, 2B, HR, RBI, 2 BB.
Shane Gustafson: 2.1 IP, 2 H, 0 R, BB
Bradley Bonnenfant: 1.1 IP, H, 0 R, 0 BB, 4 K
Fresno State:
Ryan Jensen: 8 IP, 3 H, ER, 2 BB, 10 K
Nolan Dempsey: 2-for-3, R, 2B
Emilio Nogales: 0-for-1, R, RBI, 2 BB
Zach Ashford: 3-for-4.
Schedule
Elimination:
2 p.m. PDT – San Diego State (TBD) vs. Nevada (RHP Owen Sharts)
Winner's Bracket:
6:30 p.m. – UNLV (RHP Cameron Jabara) vs. Fresno State (RHP Davis Moore)
In Their Words
UNLV head coach Stan Stolte talks about the Rebels bouncing back from a bad weekend ending the regular season to take the MWC Tournament opener.
Stolte talks about the performance of Ryan Hare leading the Rebels to a victory thanks to some momentum-shifting plays, including Dillon Johnson's second inning grand slam:
Join the Discussion