Stanford: Cardinal Forces Game 7 With Stellar Pitching
At The Ballpark
STANFORD, Calif. — Erik Miller's stat line is one of his worst of the year. It belies how effective he was, how valuable his outing was and the redemption he received from pushing Stanford to a winner-take-all regional final Game 7.
Miller was the losing pitcher each of the last two seasons when the Cardinal was eliminated from the Stanford Regional in regional Game 6.
"I had a bit of a personal vendetta going into this," Miller said. "I simply told myself that I wasn't going to allow us to lose this game. It wasn't going to be on my watch."
The Stanford southpaw gave up six runs (four earned) in 5.2 innings, but had dynamic stuff leading the Cardinal to an 8-6 victory to avoid elimination and keep its season alive.
"I'm so proud of Erik," Stanford head coach David Esquer said. "He's pitched this game for us the last three years and he came out with just his best effort, one of his best efforts of the year, against a really good lineup. Kept us in the ball game and did all he could for us."
Unlike his previous two Game 6, Miller came out strong. He struck out a pair in the first inning and struck out the side in the third inning, around an infield single and a walk.
"He did a good job of mixing a little bit more than we thought he was going to and once he found his slider for a strike early in the count, it was pretty dirty," Fresno State head coach Mike Batesole said. "Then he was really difficult."
Before he made that discovery, Miller ran into his own difficulties in the fourth inning.
Fresno State had managed only one ball out of the infield — a lazy flyout to right field — through the first three innings. McCarthy Tatum got one out of the infield and out of the field of play to open the fourth inning. He ambushed Miller's initial pitch of the frame, driving it to left-center field for his 13th homer and RBI No. 77. A challenge on a sinking line drive that Kyle Stowers dove for and gloved went against the Cardinal putting two on for Zach Presno, who drove a changeup the other way that Miller left up out over the plate.
Presno POWER ?? #GoDogs pic.twitter.com/SnNSejqpNL

— FS Bulldog Baseball (@FresnoStateBSB) June 3, 2019
That may have been it for Miller in the past. Things had a tendency to snowball on him quickly.
"Something like that where I gave up a four-spot would probably kind of rattle me mentally a little bit last year where this year, it's just 'Hey that's fine. My team, we're still in the game,'" Miller said. "That's the biggest thing I think about is I'm still keeping my team in the game, so I know we go back out there, just try to get as many zeroes as I can. The past is in the past. Not thinking about the future, I'm just worried about the present. That's kind of the mindset I was working in."
Miller said his repertoire is basically the same as it was in previous years. But he's now striking out 10.9 batters per nine, up more than a full strikeout from last year and more than double the amount he was sitting down as a freshman. His hits per nine innings is down this year and batters are hitting .224 against him, down from .240 last year.
In 13 starts last year, Miller averaged just barely 3.2 innings per start, throwing 46.2 innings on the year. He went 4-4, 4.07. In 15 starts this year, Miller has thrown 80 innings (5.1 innings per start) and is 8-2, 3.15.
His development has come more on the mental side. He credits his time in the Cape Cod League with the Orleans Firebirds. He didn't put up good numbers in the summer (0-4, 7.71 in 23.1 innings), but the coaching staff worked on his mental approach and he got a chance to see what worked for him.
"'Hey how can I control what I have and how can I allow myself to consistently work deeper into games, give my team a chance to win, stuff like that," Miller said. "The biggest maturation has really just been mentally and once you do that and once you start seeing results, success breeds confidence. Obviously I've had a good amount of success this year, so going into this game, I just felt 10 times more confident than I have the past couple of years and obviously experience helps. I wasn't fazed having to do it a third time in a row. It's nothing new to me."
Erik Miller struck out a career-high 12. (Shotgun Spratling)
It's a similar maturation for the Cardinal as a whole.
The lineup is full of experienced hitters that have tons of game experience. Esquer started three seniors, four juniors and two sophomores will plenty of at-bats. They've tried to learn from last year's mistakes. The team really pressed during the regional last year. The offense tried to do too much at times instead of trying to pass the baton down the line.
In the first inning Sunday, Fresno State left fielder Jeff Jamison leapt up to steal a leadoff home run from Stowers. Maverick Handley was robbed of extra bases and multiple RBIs an inning later when Zach Ashford made a catch jumping on the warning track and gloving the ball before crashing into the wall.
Miller said in the past those plays would become a deterrent that affected the Stanford dugout.
"Little things like, maybe early on if we see that ball caught and think maybe this just isn't our day. Maybe it just wasn't meant to be and if something like that is going to happen to us, then jeez there's just no way we can win if they are robbing home runs," Miller said. "This year we applaud them for making…'Hey Stowers, way to make good contact.' We're going to keep pressing on. If you're barreling him up, that means more guys will keep barreling him up. It's just 'Hey as a group, let's keep pushing it.'"
When Fresno State rallied to tie the game, the offense likely would have tightened up and started pressing a little bit last year, Miller said. He would have as well. But not this season and not on Sunday. The Cardinal answered back immediately.
Brandon Wulff scored the go-ahead run. (Shotgun Spratling)
Down 1-2 in the count, Brandon Wulff worked a walk and later came in to score the go-ahead run on a Duke Kinamon single.
"That was big for us because when you give a punch and you take one, you don't want to get knocked down and stay down," Esquer said. "I think you've got to show that you're in this thing to win. That's kind of the character of our team. They're not going to give up. It means too much to them. They put too much work into it.
"I told them all year long. I said, 'You're tougher than people give you credit for.' They probably don't expect Stanford kids to be as tough as they are, but they've got a toughness that's unusual, so really proud of them."
Miller then went back to work and was at his best after getting the lead back. He retired seven in a row after Presno's home run with five of his career-high 12 strikeouts. Two errors in the sixth inning kept Miller from continuing, but he put his team in position to win. The bullpen took care of the rest with closer Jack Little throwing three scoreless innings (with five strikeouts) to pick up his 11th save of the season and the 29th of his Stanford career, taking sole possession of the school saves record.
Plans Go Awry
Nikoh Mitchell struggled with his command. (Shotgun Spratling)
"Before the game you have a plan," Fresno State head coach Mike Batesole said before listing off the checklist his pitching staff hoped to execute. "You're going to throw 65% strikes and 65% breaking balls for a strikes and you're going to get 60% of the leadoff men out. You're going to have 60% or more of less than 15-pitch innings.
"Then as the game goes, you adjust and adapt and that's kind of where we found ourself today, right in the middle of it. Trying to win messy."
Except it was more ugly than messy.
Fresno State starting pitcher Nikoh Mitchell struggled to find the strike zone consistently. He threw just five first-pitch strikes to the 19 batters he faced and made it through just three innings.
Stanford took an early 2-0 lead when they scored a run following a walk and a double in each of he first two innings. In the third inning, the Cardinal had a golden chance to break the game open. Mitchell got ahead of the leadoff hitter and got a pop out. Then the balls started flying — not around the yard but all around the home plate area.
Mitchell walked back-to-back batters and gave up a run-scoring single to Kinamon. Mitchell tried the rare lefty pickoff attempt to third with disastrous results as the ball flew out of the reach of Tatum's expansive wingspan and down the line, allowing the runner at third to score. Mitchell walked the next three batters, but somehow managed to avoid any more runs scoring. Kinamon was cut down at the plate trying to score on a ball that bounced away from the catcher and Mitchell go a popout to strand the bases loaded.
Mitchell walked seven batters (and only on the seventh did Fresno State send someone to the bullpen to start getting loose). He gave up four hits in his three innings and he kept the Bulldogs close enough for them to get him off the hook with a pair of home runs in the fourth inning.
Fresno State has tag-teamed Mitchell and righthander Jamison Hill as a combined entity that starts the Bulldogs' Sunday games. Hill wasn't much more effective. He gave up five hits and four runs in two innings before he was ejected by home plate umpire Morris Hodges for saying something demonstrably to Hodges as Hill walked off the field following the fifth inning.
"The plan is for Nikoh to get through the order twice and then Jamison get through the order twice and then finish it off with our bullpen, but that's not exactly how it happened tonight," Batesole said.
---
Lights Out Baby Beck-Lite
Alex Williams. (Shotgun Spratling)
Alex Williams sees himself as a "pretty similar pitcher to Brendan [Beck] and I saw what he did and how successful he was and still tried to just repeat that."
Williams didn't clarify if he was referencing Beck's seven scoreless innings Friday in a shutout of Sacramento State or the youngest Beck's performance in last year's Stanford Regional when he pitched the same Game 5 elimination round battle that Williams was put in charge of Sunday.
It could have been either. Beck was outstanding in both, as was Williams in Sunday's opening matchup against Sacramento State.
The freshman righthander went the distance for the Cardinal in a 12-3 elimination game smacking of the feisty Heart Attack Hornets. Williams allowed six hits and three runs over his nine innings of work. He struck out a career-high eight batters in the 109-pitch effort. He improved to 8-1, 2.56.
"He gave us a great effort when we needed it the most," Esquer said after the midday victory. "We were trying to get to the game tonight and not use our bullpen and hold a couple of bullets back. Just a fantastic performance. Complete game. I can't remember the last time we had a complete game and we had it at the biggest point of the year."
It was actually Stanford's first complete game during Esquer's two years at the helm. Its last came during the 2017 Stanford Regional when Chris Castellanos went the distance against BYU, also in regional Game 5, to send the Cardinal to the championship round.
Last year, Beck went 6.2 innings, giving up four hits and two runs against Baylor to push Stanford to the championship round. Williams followed suit, but he one-upped Beck by going the distance. Williams wasn't facing the same caliber of offense against Sacramento State, but he "was in control the whole time with his ability to make pitches at any time in any count and keep hitters off balance," Esquer said.
Williams didn't think about how many innings he could give the team. Pitching coach Thomas Eager told him his only goal was to get the first out. Then he could worry about out two and then the next one and the next one.
"I just took that approach to attack batters and went one out at a time," Williams said. "Didn't think I would go all nine, but definitely happy with my performance."
Out Of Gas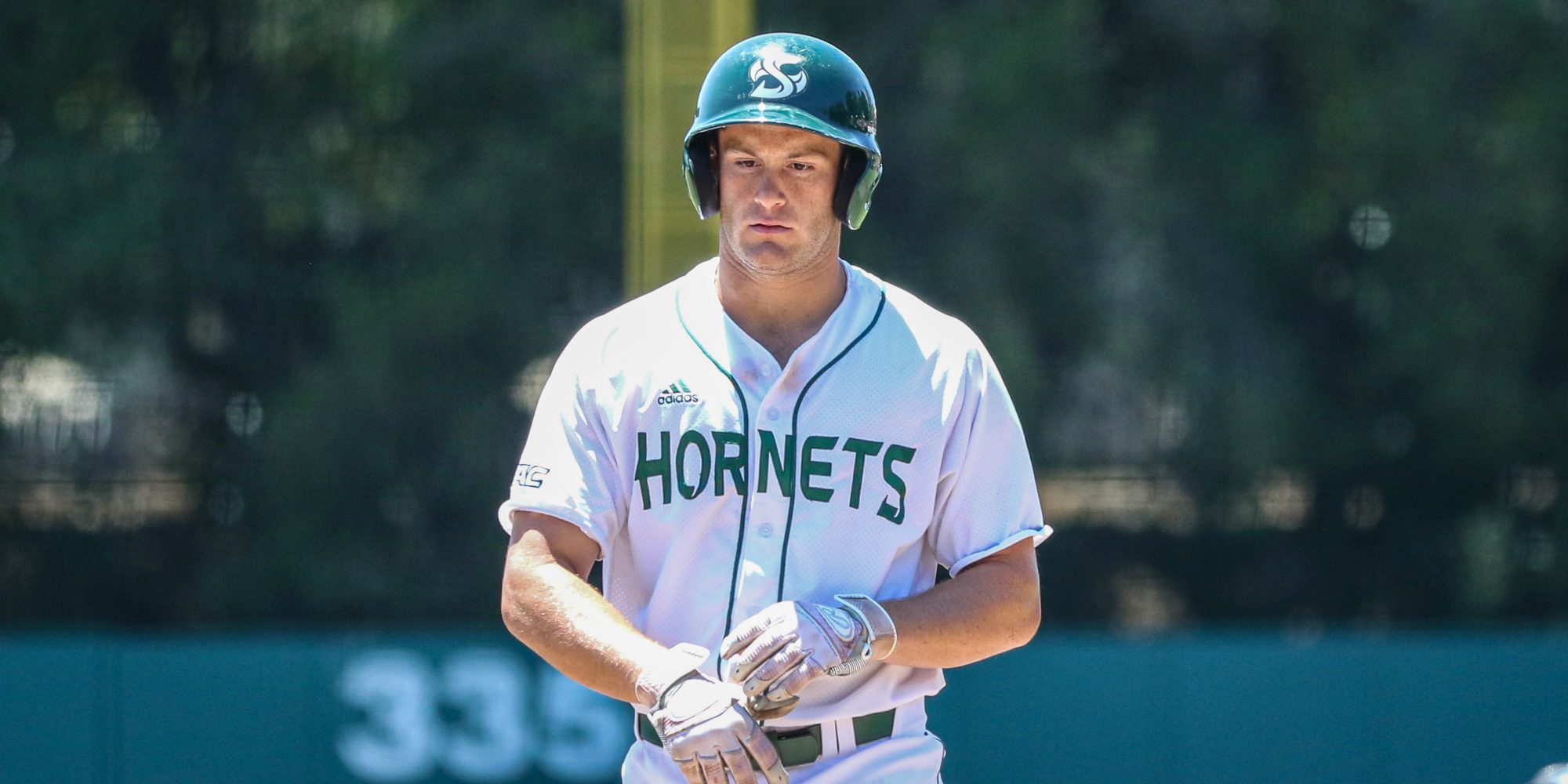 Steven Moretto and the Hornets couldn't rebound after falling behind. (Shotgun Spratling)
Sacramento State was playing its 10th game in 12 days and on its third straight day game. The Hornets fell behind early, but had a chance in the sixth inning. They got the first two runners on base and were a hit away from bringing the tying run to the plate in a 5-1 game.
Martin Vincelli-Simard, one of the team's top home run hitters, jumped on the first pitch from Williams. But he hit it right to Kinamon at second base, who began a 4-6-3 double play. Two pitches later, Williams got Dylan McPhillips to ground out, ending the threat and Sacramento State's last real opportunity to challenge Stanford.
"I think if we have a chance to score a couple right there, you're right back in the ballgame," Sacramento State head coach Reggie Christiansen. "I think our guys just ran out of gas. We've asked a lot out of those guys out of the bullpen."
Freshman starting pitcher Evan Gibbons making his fifth career start didn't make it out of the second inning, putting a lot of onus on the relievers to eat up some innings. But like Gibbons, the first three relievers all allowed multiple runs. Only after the game was out of hand did a Sacramento State pitcher not give up runs in his outing. But Christiansen wouldn't let the final game deter his memories of this year's team and what they had accomplished.
"Just a magical run we've had the last two weeks and really all season long," Christiansen said. "They've helped propel this program to the next step. There's a lot of guys that are going to be back that are going to be hungry to be in one of these and win it."
Coming Up 7s
Brandon Wulff scores during Stanford's seven-run seventh. (Shotgun Spratling)
Stanford jumped out to a quick lead in the early innings. Wulff's first inning home run to left-center field put the Cardinal up 2-0. Stowers greeted reliever Brady Rodriguez in the second inning with a hard single up the middle to make it 3-0. Will Matthiessen hit a solo shot in the third inning for 4-0 and Tim Tawa scored on a wild pitch for an early 5-0.
Sacramento State picked up a run in the bottom of the fourth inning on an RBI groundout, but left a runner at third base. It left runners on in each of the first four innings and then couldn't capitalize in the sixth inning. That was as much opportunity as Stanford was going to allow the Hornets to have because the Cardinal blew the game open in the seventh inning.
Stowers led off with a home run. Wulff walked, went first to third on a wild pitch and scored on a Matthiessen single. Kinamon doubled him home. Tawa scored a ball for an RBI infield single. And then Nick Bellafronto crushed a pitch over the batter's eye in center field for a back-breaking three-run blast.
The big inning gave the Cardinal the freedom to ride its freshman arm and not worry about a run or two.
"We talked about it. We talked about we needed to add on," Esquer said. "We didn't want to have to go to the bullpen and let's give him some cushion to work with a little bit and let him just ride this thing out as long as he could."
The inning also allowed Esquer to empty his bench, keeping only three players in the starting lineup. He gave young guys an at-bat and save the legs of his starters a little bit, especially for a guy like Handley who was catching in all black attire and gear during the afternoon sun. It worked as Handley was spry enough to steal a base in the nightcap
---
Top Performances
Stanford Regional Game 5
Stanford:
Alex Williams: CG, 9 IP, 6 H, 3 ER, 2 BB, 8 K; 109 pitches, 73 strikes; Win
Will Matthhiessen: 2-for-4, 2 R, HR, 2 RBI
Brandon Wulff: 1-for-3, 2 R, HR, 2 RBI, BB
Kyle Stowers: 2-for-5, R, 2B, 2 RBI, HBP
Sacramento State:
Connor Sparks: 1.2 IP, H, 0 R
Matt Smith: 1-for-4, R, HR, 2 RBI
Bronson Grubbs: 1-for-3, R, HBP
---
Stanford Regional Game 6
Stanford:
Jack Little: 3 IP, 2 H, 0 R, 0 BB, 5 K; Save
Tim Tawa: 3-for-3, 2 R, 2B, BB
Christian Robinson: 1-for-2, R, 2B, RBI, BB, HBP
Brandon Wulff: 1-3, 2 R, 2 BB, SB
Fresno State:
Nik Cardinal: 3 IP, H, 0 R, BB, 6 K
Zach Presno: 1-for-3, 2 R, HR, 3 RBI, BB
McCarthy Tatum: 2-for-5, R, HR, RBI
In Their Own Words
Stanford Regional Game 6
Stanford Post-Game Presser:
Fresno State Post-Game Presser:
---
Stanford Regional Game 5
Stanford Post-Game Presser:
Sacramento State Post-Game Presser:
Join the Discussion