2023 D1Baseball Coach of the Year: LSU's Jay Johnson
Awards
LSU athletic director Scott Woodward had zero doubt that Jay Johnson would bring another national championship to one of college baseball's most storied programs.
As Woodward and other LSU officials embarked on a national search for a head coach two summers ago after long-time head coach Paul Mainieri retired, they had a laundry list of who's who in Division I Baseball interested in the job. Legendary former Oregon State head coach Pat Casey flew down to Baton Rouge and snapped a picture with icon Skip Bertman on the field at Alex Box Stadium, Vanderbilt's Tim Corbin was rumored to be a heavy candidate for the job, Tennessee's Tony Vitello was mentioned as an option, as was now Texas A&M head coach Jim Schlossnagle. Florida's Kevin O'Sullivan was even a candidate early in the process.
You could argue that deals couldn't be reached with those candidates, and thus they didn't end up heading to Baton Rouge. But as Garth Brooks says in one of his famous songs, perhaps those candidates were simply just 'unanswered prayers' for LSU baseball fans.
In the end, the Tigers ended up with Jay Johnson — a guy from small Oroville, Calif., who had absolutely zero ties to the Southeastern Conference. To say it was a risky hire at the time by Woodward and LSU would be an understatement. But behind the curtain and during the interview process? Woodward couldn't have found a better option.
Now, his option — Jay Johnson — is a national champion and is the winner of the 2023 D1Baseball.com Coach of the Year award.
"He was one of the best — if not the best — interviews I've ever done as an athletic director," Woodward told D1Baseball.com. "He was prepared, he was ready, and he had a vision. He came into the interview process knowing exactly what he wanted to do.
"I get it — he was a West Coast guy, but I honestly wasn't worried about the geography of his hire," he added. "I knew he was a grinder, and most importantly, I knew he was a winner. For me and my staff, once we were finished interviewing him, I thought it was by far a no brainer."
Johnson didn't waste much time making an impact in Baton Rouge. The Tigers put together a 40-22 overall record and a 17-13 SEC record in his first season. LSU fell short of hosting a Regional and hit the road to Hattiesburg, where it lost to Southern Miss in the Regional title game.
After that final loss to the Golden Eagles, a stoic Johnson hit the podium at Pete Taylor Park and made a rather stern statement. In essence, he said we're not going to let this happen again — go on the road in a regional — and he was going to do everything in his power to make it happen.
As the Transfer Portal opened, players were not required to sit out a year and NIL was introduced in a big way to the college athletics — and college baseball – landscape. LSU took advantage of that reality, landing 2023 D1Baseball Player of the Year Paul Skenes from Air Force out of the portal, landing former NC State slugger Tommy White, landing UCLA righthanded pitcher Thatcher Hurd, all while returning Dylan Crews, Ty Floyd, Gavin Dugas, Cade Beloso and Tre Morgan, among others.
With that accumulation of sheer talent, expectations were sky high for the Tigers entering the 2023 campaign. As rugged as it might seem, LSU fans expected nothing short of the program's seventh national championship, and we had the Tigers ranked as the No. 1 team in the country in our Preseason Top 25 Rankings.
They were supposed to be a gargantuan force. What we didn't know is how Johnson would manage the different egos, and a rash of injuries to the pitching staff that included guys like Grant Taylor, Chase Shores and Garrett Edwards going down for the season.
The answer? Johnson couldn't have handled the entire situation better.
"The thing about Jay is that he never, ever backed down from the expectations that were put on these guys," Woodward said. "He accepted it, and he embraced it. He loved the expectations, and he certainly loved the pressure.
"In the end, that's just what winners do."
LSU overcame some adversity during its magical run to the national title. The Tigers had a hiccup late in the season but rebounded nicely from it. They also dropped a game to Wake Forest in the College World Series, only to send the Demon Deacons packing a few days later. Then, in the CWS Finals, after getting embarrassed in the second game of the series to SEC rival Florida, the Tigers responded like a championship club — and a well-coached team — should, they bombarded the Gators in the series finale to win the crown.
Jay Johnson is happy to be a national champion. But he didn't get into coaching, or go to LSU, to win just one championship. He will forever want more.
Just ask Omaha hero Cade Beloso.
"He loves baseball so much and there's not a person in the room that cares more about LSU and the game of baseball than Jay. This program is pretty lucky," Beloso said in Omaha. "They're going to have to build another intimidator billboard, because he's going to keep coming and coming, and he's not going to stop."
---
One phone call from former Point Loma Nazarene head coach Scott Sarver to former long-time University of San Diego head coach Rich Hill changed the course of Jay Johnson's career forever.
At the time, Hill was looking for a new assistant for the Toreros, while Sarver had departed Point Loma and handed the keys to the driver's seat to a young Jay Johnson for the 2005 season.
As Hill's search continued, the phone rang. It was Sarver, who also coached Johnson as a player in college.
"Scott just called me one day and said 'hey, I know you don't know this guy, but you have to trust me on this one — hang up right away and call him'," Hill recounted. "He went on to tell me that he doesn't have a ton of experience at this level, but I have to admit, Scott was the driving force behind me hiring Jay at USD.
"He told me Jay was a difference maker," he added. "And you know what? The rest was history."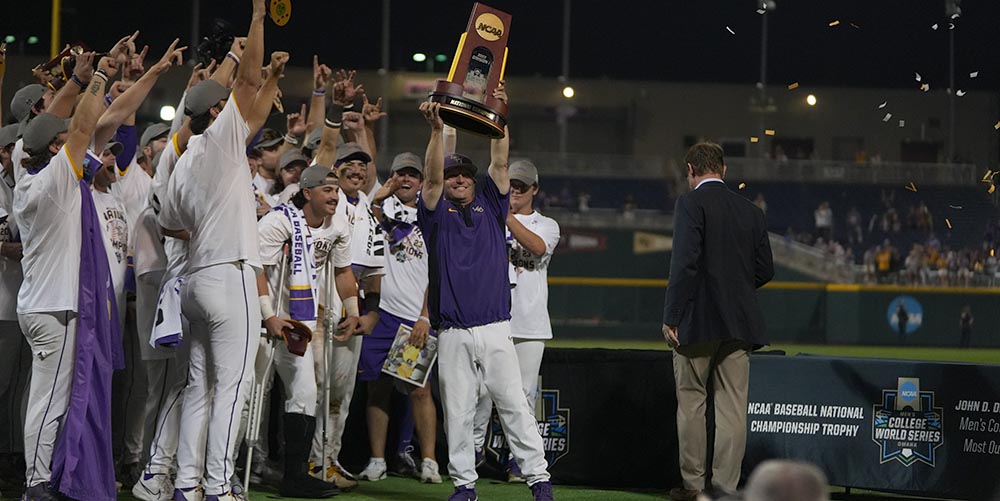 Johnson went on to help Hill and the Toreros make some massive strides as a program. The Toreros were a national seed at one point during his tenure as an assistant, while they also captured three West Coast Conference championships and appeared in four NCAA tournaments.
While helping the Toreros win on the field with his coaching, Johnson also made a massive impact on the recruiting trail. Sure, USD did a terrific job of developing players, but Johnson also helped the program secure the services of some players who usually would have chosen larger, more established programs in this region.
To illustrate just how relentless Johnson was in his research of both games themselves and the recruiting aspect of the sport, Hill told me a story about the time he went to Johnson's home toward the end of the season when the Toreros were fighting for an NCAA tournament appearance.
"Man, one of my favorite stories about Jay is I had to pick up something from his house one time while he was an assistant — he lived out in Point Loma. Anyway, it was late in the year, and I walk in, and the guy has two huge white dry erase boards up on his living rooms walls," he said. "One of them had the potential NCAA tournament bracket on there with where we stood in terms of an at-large berth, and the other board had all of our recruits color coded by catchers, infielders, outfielders, you know name it.
"And oh yeah, there were a couple of pizza boxes and fast-food items laying around, too," he said with a laugh. "I just looked at him at that point and said there's no way you've turned that oven on since you moved into this place.
"That's just Jay, man. He's baseball all the time. I thought that situation pretty much summed up who he is as a person and coach."
As LSU moves forward with Johnson as the head man, its fans can only hope this is the beginning of magical run over the next decade. Or shall we say, the reboot of a dynasty that once was. Those are, of course, very lofty expectations to say the least.
But nothing at this point would surprise anyone close to Johnson, and certainly not Hill.
"When people ask me all the time if I thought Kris Bryant would be that good as a player, I always say absolutely not. But when people ask me if I thought Jay Johnson would be this good of a coach, I say that I saw all the makings of a great coach," Hill said. "The biggest thing about him is that he has a template in his mind of what a college baseball coach should be in 2023 and '24. He's super smart, he's a relentless worker, and he knows how to connect with kids in the modern environment.
"If I'm being honest, he's done a very good job of staying a couple of steps ahead of everyone else."
That's one of many reasons why Johnson is our Coach of the Year.