D1Baseball.com's First Team All-Americans
The Hitters
---
CATCHER: Kade Scivicque, Senior, LSU
The Tigers have done a great job of developing players in their program, and the 5-foot-11, 233-pounder is a perfect example. Scivicque has had a productive career with the Tigers, but rose to the occasion as a senior. In addition to being a brick wall behind home plate, the leader also hit .347 with six homers and 45 RBIs, while striking out just 21 times. Scivicque hails from small Maurepas, La., which has a population just under 4,000. He's made the big-time now.
---
FIRST BASE: Will Craig, Sophomore, Wake Forest
Craig made one of the more noticeable improvements from last season. The 6-foot-3, 230-pound first baseman hit below .300 last season, but still showed good power. This season, Craig took a big leap forward, establishing himself as one of the nation's premier bats, hitting .382 with 20 doubles, a triple, 13 homers and 58 RBIs. He also drew 41 walks and struck out just 24 times with a .496 OBP. Though the Demon Deacons were unable to make the postseason, Craig, the ACC Player of the Year, had a season to remember.
---
SECOND BASE: Scott Kingery, Junior, Arizona
The Wildcats had one of the nation's elite middle infields with Kevin Newman and Scott Kingery teaming up to get the job done. Though Kingery was a very steady defender for the Wildcats this season, he's certainly more known for his advanced bat, hitting .392 with 15 doubles, three triples, five homers and 36 RBIs. Kingery also stole 11 bases and was a very good contact hitter with just 18 strikeouts for the season. The Phillies drafted the athletic Kingery in the second round.
---
SHORTSTOP: Dansby Swanson, Junior, Vanderbilt
One of the more charismatic players in college baseball, Swanson backs up that infectious personality with big-time production across the board. The first overall pick in the draft to the Diamondbacks, Swanson is an elite defender with great range, an accurate arm and advanced defensive skills, while he's hitting .350 with 16 homers and 52 RBIs, along with 23 doubles, six triples, and 16 stolen bases in 18 attempts. There's not a better overall player in the country than Swanson.
---
THIRD BASE: David Thompson, Junior, Miami
Just call David Thompson Mr. College Baseball. Thompson has been a consistent force for the Hurricanes the past few seasons, and the 6-foot-2, 220-pounder, who was drafted in the fourth round by the New York Mets, is one of the nation's most feared hitters. Thompson has big-time power and an advanced approach. He's hitting .333 with 19 homers and 87 RBIs, along with 18 doubles, two triples and .658 slugging percentage. Thompson is that big bat that makes Miami's offense go.
---
OUTFIELD: Andrew Benintendi, Sophomore, Arkansas
There's no single player in college baseball that did more to increase his stock over the past year than the hard-nosed Arkansas outfielder. Benintendi hit well below .300 last season, but made significant improvements and was a major force for the Hogs this spring. He's hitting .380 with 19 homers and 55 RBIs, along with 23 stolen bases, a slugging percentage over .700 and 23 stolen bases in 27 attempts. Benintendi is a complete player, and was the No. 7 overall pick to Boston.
---
OUTFIELD: Donnie Dewees, R-Sophomore, North Florida
Dewees has had a strong career with the Ospreys, and he took another step forward as a junior this season, getting drafted in the second round by the Chicago Cubs. Dewees has all the tools, finishing the 2015 campaign with a .422 batting average, 18 homers and 68 RBIs, while also smacking 12 doubles, eight triples and swiping 23 bases in 26 attempts. Dewees also showed an advanced approach with 30 walks as opposed to 16 strikeouts.
---
OUTFIELD: Ian Happ, Junior, Cincinnati
Happ was one of the more exciting players in college baseball this season. The Bearcats gave him a great deal of flexibility, basically allowing him to play whichever position he felt most comfortable. Well, no matter the position, Happ had an extremely impressive year at the plate, hitting .369 with 18 doubles, 14 homers and 44 RBIs. He also walked 49 times, showed some athleticism on the basepaths and had an OBP approaching .500 for the season. Happ was a first-rounder to the Chicago Cubs (No. 9 overall).
---
DESIGNATED HITTER: Alex Bregman, Junior, LSU
One of the more exciting players in college baseball, Bregman met expectations in his junior season and was the No. 2 overall pick in the draft by the Houston Astros. Bregman's batting average (.312) might not be overwhelming, but he smacked 22 doubles, three triples, nine homers and knocked in 49 runs. Bregman also had 37 stolen bases and is an elite defender with incredible instincts and an accurate arm. Bregman will go down as one of the best players in LSU's prestigious history.
The Pitchers
---
STARTING PITCHER: Carson Fulmer, Junior, Vanderbilt
The most decorated and best pitcher in this year's college class of arms, Fulmer, at 6-foot, 195-pounds, is a real treat to watch. Fulmer has a fast delivery and aggressive mentality, to go along with a huge arm with the ability to sit in the mid-90s well into the contest. In addition to his plus fastball, sharp power curveball and changeup, Fulmer tallied amazing numbers this season, striking out 152 and walking 46 in 114 innings. He also held opposing teams to an incredibly low .186 clip. Fulmer was a first-round pick by the Chicago White Sox (No. 8 overall).
---
STARTING PITCHER: Taylor Clarke, R-Junior, College of Charleston
There are few pitchers that stepped up more than Clarke this season. The Cougars were in quite the quandary when sophomore righthander Bailey Ober went down for the season with an injury, but Clarke was more than willing to pick up the slack. He not only shined as the Friday starter for the Cougars, he showed electric stuff with a fastball getting into the mid-90s, and an ability to throw multiple pitches for strikes. The 6-foot-4, 190-pounder struck out 143, and, astonishingly only walked 14 in 114.1 innings. He also held opposing teams to a .185 batting average and was a third-rounder by the Diamondbacks.
---
STARTING PITCHER: Thomas Eshelman, Junior, Cal State Fullerton
One of the most fun and remarkable pitchers in college baseball, the 6-foot-3, 210-pounder is a real treat to watch. Eshelman has established a reputation as the best command pitcher in college baseball. His lack of walks throughout his career is truly amazing. Eshelman can get above 90 mph with his fastball, but it's his ability to command the zone that sets him apart. Eshelman has struck out 131 and walked seven, while teams are hitting him at a .210 clip and he has a 1.58 ERA in 131.1 innings. The Astros chose Eshelman 46th overall in the draft.
---
STARTING PITCHER: Matt Hall, Junior, Missouri State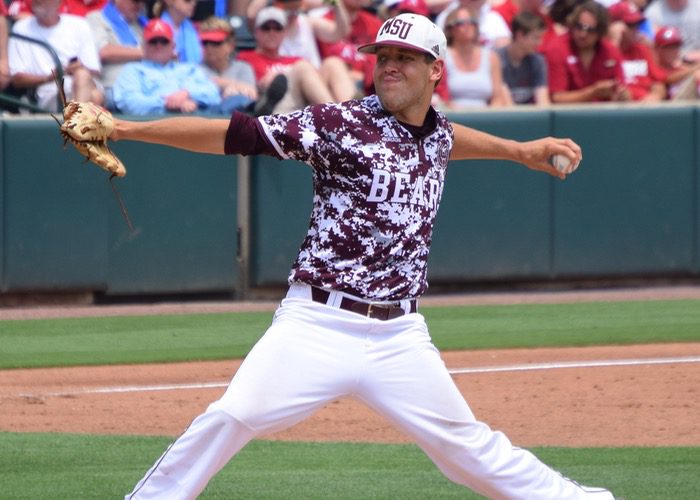 Hall's cohort in crime in the weekend rotation, Jon Harris, earned a lot of headlines throughout the spring, but Hall was the most dominant arm on this pitching staff. The fiery lefthander tallied amazing numbers, using an 87-90 mph fastball, a slider and a dominant curveball to carve up opposing lineups. Hall struck out 171 (leading the nation), walked 45 and held opposing teams to a .196 batting average. He also tallied a 2.02 ERA in 125 innings while helping lead his team to the Fayetteville Super Regional, where he threw a one-hit complete game against Arkansas.
---
RELIEF PITCHER: David Berg, Senior, UCLA
Berg is the most decorated closer in college baseball history. The righthander made an astounding 175 appearances in four seasons with the Bruins, helping lead John Savage's program to a national title two seasons ago. Berg and his unorthodox approach stymied offensive lineups the past four years. And this season, he had yet another dominant campaign, making 43 appearances and tallying 65 strikeouts and eight walks, while posting a career-best 0.68 ERA in 66.2 innings and recording 13 saves.
Join the Discussion