D1Baseball First Team All-Americans
Awards
Want to get in-depth coverage? Subscribe to D1Baseball
---

ALSO SEE: D1Baseball All-America Teams
Hitters
---
C | Adley Rutschman, Oregon State | Sophomore
• Sherwood, Ore. (HS)
After having a strong freshman season behind the plate, Rutschman put all the important pieces together to form an incredible 2018 campaign. In addition to his exceptional defensive skills behind the plate, Rutschman developed into one of the nation's most feared hitters this season with a .386 average, seven homers, 70 RBIs and a strong 1.080 OPS.
---
1B | Andrew Vaughn, California | Sophomore
• Santa Rosa, Calif. (Mara Carrillo)
One can only marvel at the numbers Vaughn tallied this season. Though his Golden Bears missed the postseason, he did all he could to guide the way. Vaughn was outstanding throughout the spring, hitting .402 with 14 doubles, 23 homers and 63 RBIs. He also had a .531 OBP, 44 walks as opposed to 18 strikeouts and a strong 1.350 OPS.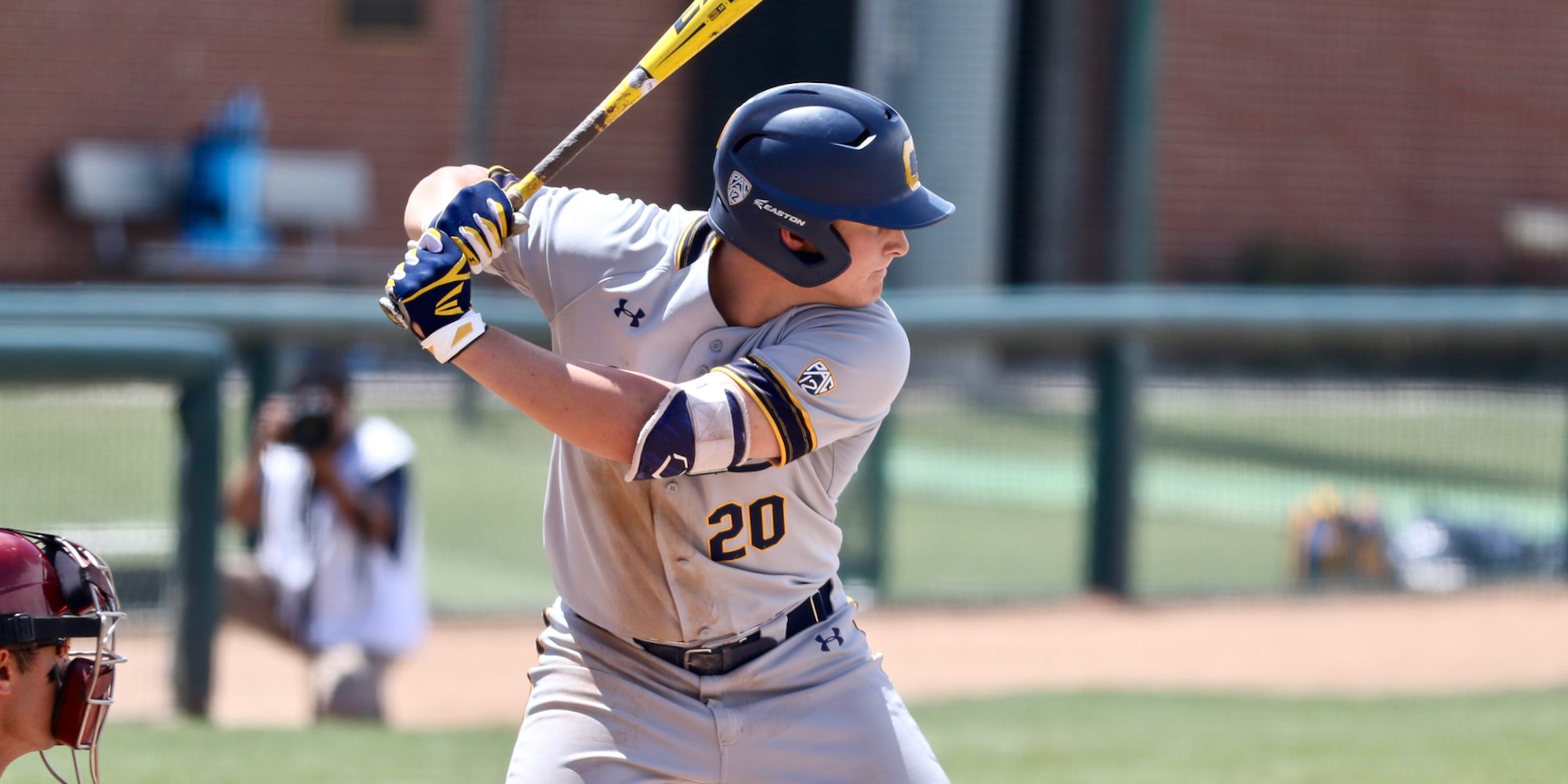 ---
2B | Kody Clemens, Texas | Junior
• Houston (Memorial)
Perhaps no one has captivated a national audience quite like Clemens over the past few weeks. The Longhorns slugger has hit a home run in the last five games entering the College World Series, while also carrying a .352 average, hitting 24 homers and knocking in 71 runs. He carries a 1.177 OPS entering Omaha, while also serving as the catalyst for the Texas offense.
---
3B | Jonathan India, Florida | Junior
• Coral Springs, Fla. (American Heritage)
Few players made as many improvements from last year as India. India was already a premier defender, and only built on that this season. His offense was kicked into high gear as well, hitting .352 with 12 doubles, 19 homers and 47 RBIs, while also inducing 53 walks. India heads to Omaha with a whopping 1.205 OPS.
---
SS | Terrin Vavra, Minnesota | Junior
• Menomonie, Wis. (HS)
Vavra had a terrific year with the Golden Gophers and capped it all off with his best campaign yet in 2018, hitting .386 with 13 doubles, four triples, 10 homers and 59 RBIs, while also walking 30 times (22 strikeouts) and tallying a 1.069 OPS. Vavra also fielded at a .965 clip.
---
OF | Seth Beer, Clemson | Junior
• Suwanee, Ga. (Lambert)
Beer earned legendary status as only a freshman for the Tigers, while adding to his impressive totals his last two seasons with the program. This year, the hard-hitting slugger hit .301 with 11 doubles, 22 homers and 54 RBIs, while also walking a whopping 54 times. He also had a 1.098 OPS, capping off an illustrious career at Clemson.
---
OF | Devlin Granberg, Dallas Baptist | Senior
• Hudson, Colo. (Holy Family)
The Patriots have a rich tradition of premier hitters, and Granberg might be the best yet. The 6-foot-2, 224-pounder, had an incredible senior campaign, hitting .443 with 17 doubles, two triples, 13 homers and 70 RBIs. He also walked 52 times and tallied a 1.221 OPS, while also having a .541 OBP.
---
OF | Trevor Larnach, Oregon State | Junior
• Pleasant Hill, Calif. (College Park)
Larnach put together a solid sophomore campaign last season, but took a huge step forward this season with a .336 average, 14 doubles, 18 homers and 68 RBIs. Larnach showed premium power to all fields and had a tendency to hit opposite field home runs. He also induced 48 walks and heads into the CWS with a 1.111 OPS.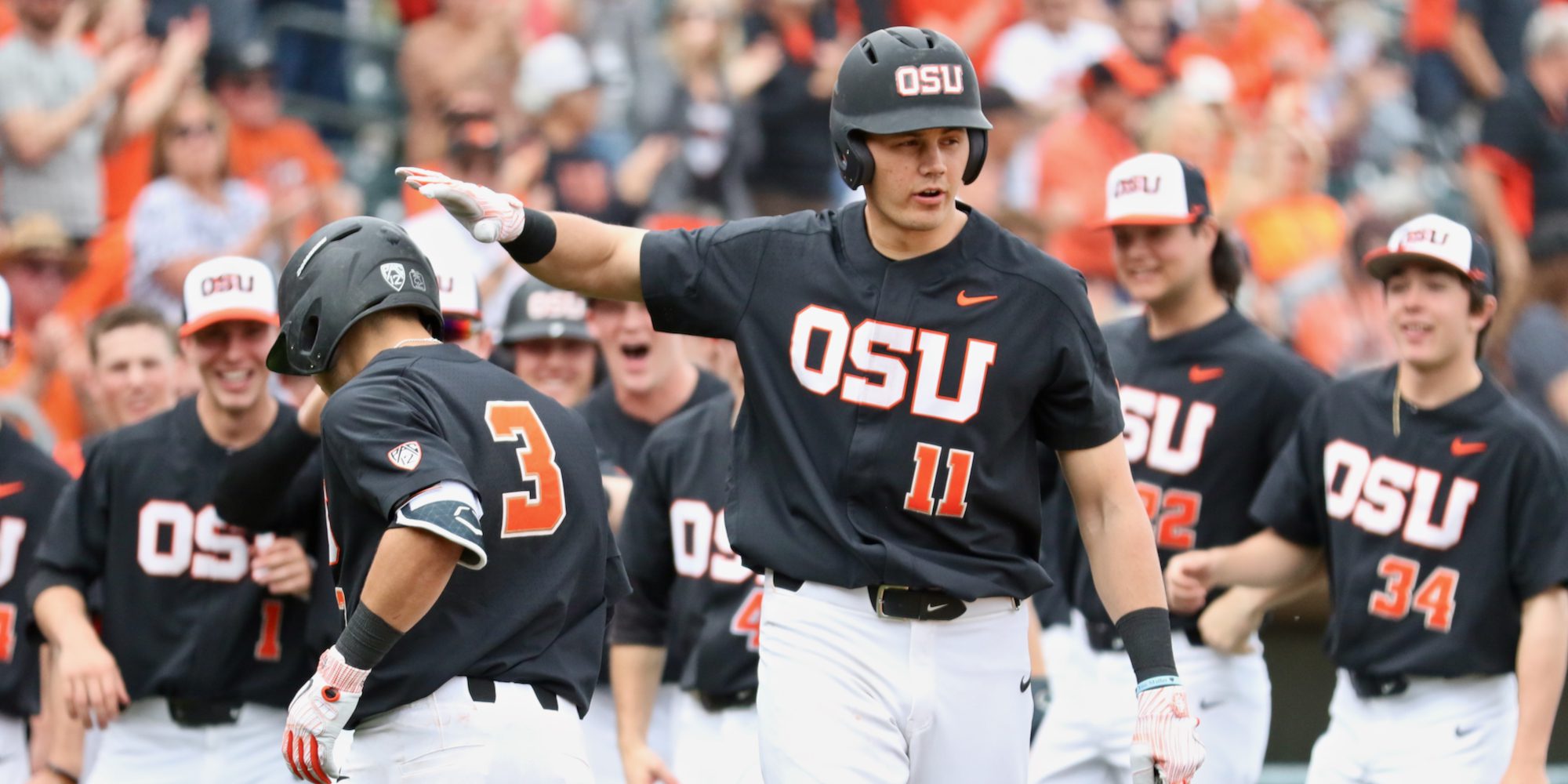 ---
 DH | Bren Spillane, Illinois | Junior
• Wheeling, Ill. (HS)
After finishing last season with a .295 average, Spillane, who's athletic at 6-foot-4, 210 pounds, had a sensational junior campaign for the Fighting Illini this season. He finished the year hitting .389 with 17 doubles, two triples, 23 homers and 60 RBIs. He also swiped 16 bases and ended the year with an insane 1.401 OPS.
Bren Spillane, Illinois (Illinois)
---
UT | Brooks Wilson, Stetson | Senior
• Lakeland, Fla. (Lakeland Christian)
No two-way player was more important to his team's postseason run and overall season than Wilson. The 6-foot-3, 210-pounder, struck out 69 and walked 19 in 56.1 innings, while also recording 20 saves, while at the plate, he hit .299 with 16 doubles, two triples, three homers and 35 RBIs.
Pitchers
---
SP | Logan Gilbert, Stetson | Junior
• Apopka, Fla. (Wekiva)
Gilbert has had quite the past year. After having a solid 2017 campaign, he went off and blew up at the Cape Cod League last summer. With all the lights on him, he managed to have an even stronger campaign in 2018, tallying an 11-2 record, while also striking out 163 and walking 25 in 112.1 innings.
---
SP | Blaine Knight, Arkansas | Junior
• Bryant, Ark. (HS)
You know you had a good year when fans refer to you as 'Big Game Blaine'. Knight had a season to remember, as he won head-to-heads against some of the nation's best pitchers, tallying a 12-0 record while also a 2.84 ERA in 101.1 innings. He also struck out 92 and walked 23, while teams hit him at a .226 clip.
---
SP | Nick Sandlin, Southern Mississippi | Junior
• Evans, Ga. (Greenbrier)
Sandlin stepped up when the Golden Eagles needed him most. With some injuries earlier in the season, head coach Scotty Berry moved Sandlin to the weekend rotation. He flourished in that role, tallying a 10-0 record with 144 strikeouts and 18 walks in 102.1 innings. He also limited teams to a low .166 OBA.
---
SP | Brady Singer, Florida | Junior
• Eustis, Fla. (HS)

Singer was the heart and soul of the Gators last season, and he assumed that role yet again this year. The hard-nosed righthander tallied a 12-1 record, was the SEC Pitcher of the Year and had 107 strikeouts as opposed to just 21 walks. He also limited teams to a .187 OBA with his nasty sinking fastball and slider combination.
---
SP | Colton Eastman, Cal State Fullerton | Junior
• Fresno, Calif. (Central)

Eastman joins the prestigious list of Cal State Fullerton aces and All-Americans. The exceptional righthander had a strong year with the Titans, going 10-4 and striking out 124 and walking just 28 in 117.2 innings. He also threw a no-hitter and limited teams to a .220 OBA.
---
RP | Michael Byrne, Florida | Junior
• Orlando, Fla. (Olympia)

After earning All-American honors last season, Byrne didn't let off the accelerator this season. The outstanding junior righty recorded 15 saves and tallied a 1.71 ERA in 52.2 innings, along with 55 strikeouts, and get this, just four walks. Teams hit .205 against him.
---
RP | Jack Little, Stanford | Sophomore
• Las Vegas (Bishop Gorman)

The Cardinal had a strong season and Little served as the ringleader out of the bullpen. He recorded 16 saves and had an incredibly low 0.60 ERA along with 58 strikeouts and just eight walks. He limited teams to a .193 OBA and was a premier weapon out of the pen.
Join the Discussion