D1Baseball's Weekly Chat: Feb. 24
Chats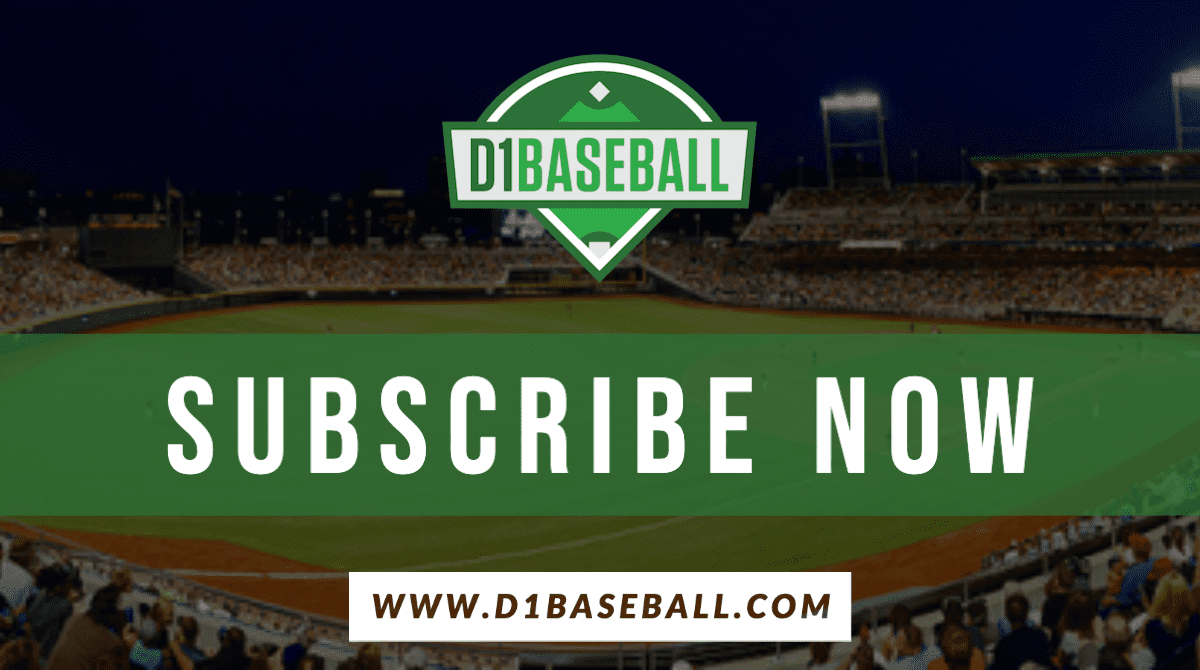 2020 Top 350 Prospects | 2021 Top 150 Prospects
---
Latest Top 25 Rankings
D1Baseball's Weekly Dean's List: Teams Who Aced Their Weekends
---
Sam Jackson: What are your thoughts on Clemson so far? Pitching looks solid but having trouble scoring runs. Only 21 total so far.
Aaron Fitt: Yeah, so far it's pretty much what I expected from Clemson — figured they'd pitch well, and figured the offense would be a work in progress. Of course, their pitching has been downright elite so far; it's awesome to see Spencer Strider back and pitching very well earlier than I think even the Tigers were expecting. And Sam Weatherly seems to have taken to his new starting role, which is huge for Clemson, because he's got big-time stuff. I think they've got enough athletes in the lineup to stay competitive offensively, and I suspect they'll improve as the season goes along. I still have high hopes for Dylan Brewer as a freshman, and I expect much bigger things are ahead for Teodosio and Hall.
---
Chris: Thoughts on Tulane's start to the season and what do you expect from them moving forward? Also, what are your thoughts on the AAC? Big statements made by Tulane, UCONN, and UCF early on. Add ECU and Houston and it looks like this could be a really competitive league
Aaron Fitt: The American is off to a great start — that league looks stronger than I anticipated, and I'm almost always high on that league. I was really intrigued by Tulane in the preseason — we talked long and hard about putting them in our preseason Field of 64, but I just wasn't yet convinced that the pitching would hold up. We knew they would hit, but it sure has been impressive the way they've pitched so far. I think that's a regional team, and they were team No. 26 in our Top 25 deliberations this week. UCF sweeping Auburn on the road simply stunned me. The Knights are a completely different team now, with arms like Joe Sheridan and Trevor Holloway healthy again, and Colton Gordon leading a strong group of newcomers. And UConn is athletic and versatile in the lineup, with solid depth on the mound. Those are all contenders, along with ECU and Houston, of course.
---
Adam: With Florida sweeping Miami on the road, is it time to sound the alarm in Coral Gables, or will Miami be just fine, come May and be in the mix for a Regional & Super Regional Host, or will they struggle to make the field of 64?
Aaron Fitt: I'm not even a little bit worried about Miami — that's still an Omaha team for me. They lost three very tight games (two in extras) to an elite opponent; they'll be just fine, and I'm willing to wager they wind up as a top-8 national seed. The starting pitching is elite, I still think the lineup will be elite even without Freddy Zamora, and I think they've got enough pieces in the bullpen to figure out that piece of it.
---
Adam F.: With getting swept at the light is it time to sound the alarm in Coral Gables or will the U be just fine
Kendall Rogers: I still think Miami will be fine. Obviously, it misses Freddy Zamora a little bit right now. But the rotation is still in strong shape with Brian Van Belle and Chris McMahon leading the way, and the bullpen, for the most part was OK over the weekend with Carson Palmquist leading the way with three shutout frames. We will see how Miami responds to this series loss, but I don't have any major concerns about them at the moment. Still an Omaha team in my book.
---
Mike: How does the quality of this Florida team compare to other UF teams under Sully?
Aaron Fitt: Sully's had so many insanely talented teams over the last decade that it's hard to keep track of them and hard to compare them — but I definitely think this team stacks up well with most of them from a pure talent standpoint. Jack Leftwich and Tommy Mace seem to have answered any lingering questions about whether they were ready to become bona fide stars as juniors, and that was really the only question I had about Florida heading into the year. Hunter Barco is going to be a superstar as the Sunday guy, and Josh Rivera is going to be a superstar at shortstop — just a reminder that this is not the same team as last year, in part because they brought in the most impactful group of stud freshmen in the country, and in part because the young guys who took their lumps last year are now more mature, and they're very talented also. I said in the fall that Florida was the best team I'd seen — and I saw Louisville, Vandy, Georgia, Mississippi State, and a bunch of other elite teams. Really feel like that now.
---
Mark: How about CHRISTIAN CHAMBERLAIN for the Beavs the last 2 weekends!
Kendall Rogers: Mark — I know Aaron really liked Christian, but I've been on Team Chamberlain since he got there. I love the moxie he has out there. For instance, when he got a big K on Friday, he strutted off the mound like he's a total bad dude. And he is … the thing that stood out to me is that Aaron said he held his FB velocity for six innings. That's a big development moving forward and proves he can handle the starting role IMO.
---
BossHog: Arkansas looked very impressive this weekend against a good Zag team.  The bullpen looked especially good.  Does this affect how you expect the SEC to shake out this season since some of the high quality SEC West teams have stumbled a bit out of the gate?
Aaron Fitt: Yes, Arkansas has been awfully impressive so far. I knew Robert Moore was a stud, but he looks even better than I expected; you just don't expect an early enrollee to hit the way he has against D-I competition when he hasn't even had a fall to prepare. Anyway, we already had Arkansas as the top team in the West, and I actually feel more convinced about that now than I was in the preseason, when I kinda liked Mississippi State a tick better (I'll credit Kendall for us ranking Arkansas higher). With JT Ginn's status uncertain, Arkansas looks clearly better, I think.
---
Joe Cook: What team has the most to prove this weekend in Houston?
Kendall Rogers: Joe — Hope you are well buddy. For me, it would be Texas and LSU.

Texas would top my list. Really like how the Horns have played the past two weeks, but those two teams are a combined 0-for, so who knows what the Horns are right now? Huge tests this weekend with LSU, Arkansas and Missouri.

As for LSU, just something has been a little off with the Tigers so far this season, and I'm intrigued to see how they look at the Shriner's Classic this weekend. LSU needs a strong showing to get confidence rolling just a few weeks ahead of SEC play.
---
Eric Simmons: Why isn't Texas ranked when their 8-0?
Kendall Rogers: Texas will answer this question this coming weekend. Strong start for David Pierce's boys, but you have to beat someone to earn respect. So far — they've beaten up on two teams who will be average to below average at best this season IMO.
---
Jeffrey: What are your thoughts on DBU after the road win at UNC? Do you think they can make Supers or Omaha this year possibly?
Aaron Fitt: Huge road series win for DBU. I don't think North Carolina is elite this year — I think we were probably lower on those guys than all the other polls — but UNC is still a solid club, and the Patriots showed a lot by shutting down the Heels those last two games, after getting blown out in the opener. On paper, yes, I think DBU has super regional potential, but I'll reserve further judgment until I get a chance to see them in person. But I really like the arms there.
---
SECBaseball: This TAMU offense hasn't been tested like they will in SEC play but nevertheless they look night and day from last year. Thoughts on them once they hit conf. play?
Kendall Rogers: SEC — A&M's big test is this weekend against UCLA, Oklahoma State and Illinois. But I am definitely encouraged by its offense the past two weekends. The Aggies were pretty much screwed last year if they got three or four runs down. Yet, yesterday, they made comebacks look pretty easy against Army. A&M is hitting .359 right now and couldn't hit anyone last season … so they are clearly better. How much better? We'll find out this weekend.
---
John M.: Are there any particular matchups you are most excited to see in Houston at the Shriners tournament? Can be specifically a certain pitcher vs. a certain offense, etc.
Kendall Rogers: Texas vs. Arkansas and Texas vs. LSU will be fun. Astros are expecting the entire lower bowl to be filled on Saturday with the Tigers and Longhorns. The other one for me is Oklahoma's Cade Cavalli against that potent Arkansas lineup on Friday. That is grown you know what man against grown you know what lineup.
---
Mike: When do statistical performers who people don't know as much about yet start getting scouted by clubs, and are there any that stand out to you as guys who are performing that no one really knew about before the season started, who have both stats and tools to go along with it?
Aaron Fitt: I think most clubs have a list of statistical performers for scouts to follow up on heading into the spring, and I'm sure the stat guys for every organization are monitoring the numbers closely. A couple of early performers who strike me as breakout prospect types with some legitimate tools are NC State's Devonte Brown, Tennessee's Zach Daniels, Alabama,'s Sam Praytor, South Carolina's Wes Clarke, Ole Miss' Anthony Servideo (a personal favorite), Louisiana Tech's Parker Bates, JMU's Fox Semones, UNC's Dylan Harris…
---
Steve: What's more likely: Tulane is an actual a top-25 caliber team that can content in the AAC/make a regional, or that they're a club that is destined for another .500 season but got some good early-season pitching plus some lucky breaks that swung the Fullerton series? Asking for all my fellow cynical Green Wave fans!
Kendall Rogers: Steve — I actually think there's a better chance they are for real. We already liked what the Green Wave had from an offensive standpoint coming into the season. But the pitching has been strong for the most part as well. How about Braden Olthoff, who struck out 16 in a complete game shutout over the weekend? That's what you call an ace. I kinda like this Tulane team right now.
---
Kevin: After 8 games, and L's to Nicholls and Eastern Kentucky, LSU is hitting .231 as a team (dead last in the SEC) and is in the bottom third of virtually every hitting statistic (in the SEC ); they have 10 errors which is third highest (in the SEC); and have walked 37 batters and hit another 9—that's nearly 6 free passes a game (which is most in SEC). At what point do LSU fans start hitting the panic button?
Aaron Fitt: Ooof… those numbers are ugly. And look, the lineup is going to be a work in progress this year, we always knew that — the key is that LSU's elite arms will keep them very competitive until the lineup gels. Please keep your fingers away from that damn button until April. In fact, that's my new rule: come April 1, you're allowed to mash that button, if your team is still sounding alarms.
---
John: If/when this season continues the way it's heading, would Rice be right to get rid of Bragga? The team is an unmitigated disaster and is leaving tons of runners in scoring position, when hitting was his supposed coaching strength. Not sure how you can justify it when Rice has great pedigree, decent facilities, and nearly unmatched financial aid.
Kendall Rogers: John — No, I would not get rid of Bragga after year two. The Owls are definitely recruiting at a higher level right now. I will place blame in two areas. There's zero doubt the Owls should be better, and that falls on Bragga and Co. They would agree, I bet. They also were left with an absolute mess from a pitching standpoint. Look at the quality of talent on that Rice pitching staff right now and tell me that's a premier staff from a talent standpoint. Not even close.
---
JD: I am as humbled as I can be With the slow Start Oregon State Has had. Deep down I knew this could happen but I have honestly seen some good things like competing in two games over the weekend at Mississippi State. Do you honestly still see them as a regional team after a small sample size?
Aaron Fitt: Said on the podcast today that I view Oregon State as a likely bubble team — could go either way. There's no question that the talent has dropped off dramatically from where it was two years ago — but I mean, that was one of the most talented teams of the 21st century. The Beavers still compete their tails off, they still defend at a very high level. They're going to have growing pains along the way, but I think they're good enough to get into a regional if they can put it all together. And I will say that Mitch Canham instilled some confidence in me this weekend; he seems to have a very even keel that I think will make him successful as a head coach.
---
Tyson: What area of Texas Tech's game do they need to most improve on in order to make it to Omaha and have success there?
Kendall Rogers: Tyson – I think the offense will be explosive as the season progresses, and I also think Tech will be fine defensively. Frankly, I point to the starting pitching as intriguing moving forward. Bryce Bonnin and Austin Becker are both really talented pitchers and can throw the heck out of the ball. But both also had flashes of brilliance and flashes of lacking pitchabilty at times. WTS, I am still a believe both will have solid seasons, especially Bonnin. I also think Dallas will be in the rotation sooner rather than later.
---
Packfanatic96: What is your take on NC State's start to the season? How good is Devonte Brown looking batting behind Pat Bailey.
Aaron Fitt: I mentioned Brown briefly a bit ago — I've always liked his bat speed and athleticism, it was just a matter of refining his approach at the plate, and the early returns are awfully encouraging. He could be this year's Brett Kinneman for the Wolfpack. I just think NC State is a very good, balanced club, and obviously they're off to a hot start. Look forward to seeing what they can do against stronger competition, starting this weekend in Minneapolis.
---
Lloyd: I thought Brian van Belle pitched pretty well for Miami even though they lost to Florida on Friday. How highly regarded is he as a prospect?
Aaron Fitt: Van Belle isn't a high-level prospect because he's a righty with an 88-91 fastball — that just doesn't move the needle in pro ball these days, in an age when every other guy throws 97. But his changeup is a legit plus pitch, one of the better changeups in college baseball, and he has very good command and competitiveness. He'll definitely get his shot in pro ball. But he's a downright great college pitcher.
---
TigerRag: Huge series this weekend in the Palmetto state. Even though both teams are uncharacteristically unranked this will be a highly anticipated matchup. Clemson seems to be opportunistic on offense and really solid on the mound, while the Gamecocks found a way to lose 2 games this weekend against an inferior opponent in Northwestern. SC is still by far the more talented team but how do you see this series panning out?
Aaron Fitt: How did South Carolina manage to lose that Northwestern series at home? It looks like they pitched pretty well most of the weekend, just lost a couple games in the bullpen. I still actually like the arms in that SC bullpen, and I really like the three starters — I did not expect to see Brannon Jordan stretched out in a starting role, I had him pegged as the closer, but he was great on Sunday. Anyway — I think South Carolina will be ticked off, and I think they'll play a lot better. I do like their offensive personnel more than Clemson's, and I think their pitching is comparable (and frankly has even more raw talent than Clemson's). So I'm taking the Gamecocks this weekend.
---
Brian Snitker: What is Tennessee's ceiling? Looking really good even with Crochet and Sewell sitting out
Kendall Rogers: Brian — If Tennessee plays much of the season the way it did in the Round Rock Classic I am really excited about its prospects. Connor Pavolony, Jordan Beck and Jake Rucker were all really impressive, and Zach Daniels looked the part at least one day in RR. I also like some of the arms — Chad Dallas is a good one, Jackson Leath is electric and Drew Gilbert is a freshman with some serious moxie out of the pen. What Tony and his staff have done with this program is pretty impressive to say the least.
---
Max: Between USC, LBSU, CSUN and Pepperdine which LA County school (Not named UCLA or LMU) are you most surprised by?Do you think more than 1 of those 4 teams has a chance to break into the field of 64 or top 25?
Aaron Fitt: I mean, Long Beach is the biggest surprise in college baseball, and it's not even close. Let me just say this clearly: Long Beach State went 14-41 last year. FOURTEEN and FORTY-ONE. And now they've won series over Wake and Cal? Unreal.
---
Brooks: How close was Pepperdine to being ranked? And what are your thoughts on their matchups against undefeated FIU and UCLA this week?
Kendall Rogers: Brooks — Pepperdine was in the discussion for the Top 25. I liked its club Opening Weekend. Another strong week would likely put it in good shape to enter the Top 25. Justin Lutes and Wyatt Young were terrific for me Opening Weekend, and I also think the Waves have some nice pieces from a pitching staff, too, with Cooper Chandler leading the way. Good looking club, and probably my favorite in the WCC at the moment.
---
Pearson: After just 2 weekends, who are the Freshman that have blown you away?
Aaron Fitt: Hmm… I have to go with Robert Moore of Arkansas, based on the fact that he's killing it and he didn't even have a fall to get acclimated. And… I'll say Josh Rivera at Florida. Sounds like he's playing great defense at short, and he's hitting for average and power. He's a big-time dude.
---
Francisco: hi guys, thanks for chatting. What can you tell me about Duke Catcher Michael Rothenberg ?
Aaron Fitt: Rothenberg is a long-time Fitt Favorite. He's a 6-3 or 6-4 switch-hitting catcher with real power (especially from the left side) and a plus arm behind the plate, and he's working hard to polish up his defense. I've always thought he had first-round tools, and so far, it looks like the production matches the talent.
---
JJ: Your take on Hunter barco??
Kendall Rogers: JJ — Aaron and myself discussed his omission from the weekend rotation on Opening Weekend. But Sully believed in him enough to put him into the rotation against the rival Canes, and he didn't disappoint. He's a premier arm who had a great fall. I'm really excited to see what he does moving forward.
---
BaseballFan: Who were the top five teams left out of the Top-25?
Aaron Fitt: Tulane, Texas, TCU, San Diego State, and probably Oklahoma State.
---
BMP: Stanford…ouch. Hitting .189 as a team and 36% of the runs they've allowed through 7 games are unearned. The offense has been brutal, the defense has been brutal. Not a good recipe. Do you think this team can turn it around? Or just too young at the plate and this will continue? They played 6 freshmen in the starting lineup yesterday.
Kendall Rogers: BMP — If the Cardinal is going to turn it around, they have to be so much better defensively and from an offensive standpoint. Stanford made some really poor defensive mistakes over the weekend and that must change. The lineup will have plenty of ebbs and flows with so many young players. That means the Tim Tawa's and Christina Molfetta's of the team must step up. I do like the pitching with Alex Williams (he was very good over the weekend) and Brendan Beck leading the way. But again, Stanford won't turn the corner until the offense and defense improves.
---
Tom: USC fans have to be excited with how the season has started, it seems like Coach Gill & staff have the program in the right direction. What is going to be the biggest hurdle for the Trojans moving forward?
Aaron Fitt: Indeed, solid 4-2 start for the Trojans, after a 2-1 showing at the Tony Gwynn Legacy. I think pitching will be this team's strength all year, and it's one reason I thought they were a sneaky sleeper pick (kudos to our man Shotgun Spratling for picking the Trojans as his official preseason sleeper, I believe). Kyle Hurt and John Beller were excellent Friday, and I believe in both of those guys — and Isaac Esqueda was good in a defeat Saturday. That's a pretty nice nucleus on the mound. I'm not convinced they're going to hit a lot, so that would be the biggest hurdle, I think.
---
HawkTalk: Bryce Jarvis' 15K Perfect Game or Kumar Rocker's 19K Super Regional No-No.  Who do you have? (Game Score went 104 to 102, Rocker)
Kendall Rogers: Hah! Good question. Without a doubt, Rocker. A no-hitter in a Super Regional!
---
Steven C: Based on the small sample size we have seen so far, which SEC teams are making it to Omaha?
Aaron Fitt: Well I'm not going to base anything on a two-week sample size… but I still feel pretty good about Florida, Georgia, Vandy and Arkansas as Omaha teams.
---
PG: ECU is coming off back to back weekends with a sweep. With the LeClair Classic coming up, which of the three matchups is most interesting to you guys?
Aaron Fitt: That Ole Miss game on Saturday is loaded with intrigue! Cliff Godwin against his old team (his old boss Mike Bianco and one of his his best friends in Carl Lafferty). Plus the Pirates will get to face a guy who has already been a first-rounder in Gunnar Hoglund. I hope the weather is good, because I have to imagine Clark-Leclair is gonna be rockin'.
---
BearkatAg: What's your take on Sam Houston's start to the season? I think they have to be considered the favorite to win the Southland at the moment.
Kendall Rogers: Bearkat — We had Sam Houston as the favorite in the SLC coming into the season and I don't see anything that would change that for me. Taking care of St. Mary's and LMU to start the season is pretty loud for an SLC club, and how about the start for Jack Rogers? .417, three triples and 10 RBIs. Pretty good I'd say, especially when you already have Cowser in the lineup. Good club with some tough non-conference tests remaining.
---
Owen: Why did y'all jump UCLA and FSU over LSU this week?  I understand that they both had better weeks record wise but neither team has played a team that was expected to be decent this year or has already performed decently.  Are we considering margin of victory/dominance in collegiate baseball now?  Thanks guys and have a nice Monday.
Aaron Fitt: LSU had a 2-2 week, with losses to Nicholls and Eastern Kentucky. It's not like we dropped them — but UCLA and FSU have been much more impressive so far, so I think jumping them over LSU is fair.
---
HawkTalk: Pick a group of starters: Hickman-Rocker-Eder-Leiter-Smith, Mace-Leftwich-Pogue-Barco or Pettway-Nastrini-Bergin-Karros?
Aaron Fitt: I will take the Vandy group, easily.
---
Paul: Oregon State is young with the coaches also not having much experience with the players.  The tough early season games will help this team in the long run.  But I worry will too many early season losses damage their hopes of getting in the field of 64 considering there are some very tough conference games coming up as well?  Thank you
Kendall Rogers: Paul — going 2-2- opening weekend and 1-2 at MSU certainly puts OSU behind the eight ball a little bit, but the middle of the Pac-12 looks pretty blah right now, so OSU might end the season with a pretty salty Pac 12 record. With that said, I do think it would be advantageous for the Beavs to have strong weekends against SDSU and UCSB. Lose 3/4 to SDSU or 2/3 to UCSB and I think the Beavs will find it tough to make the NCAA tourney in May.
---
Pierce: Would sweeping the Shriner's Classic be enough for you guys to take Arkansas seriously as a potential #1 team? The pitching staff doesn't have the front end talent like Georgia, Louisville or Vandy but I think the depth is more than enough for a team that's loaded offensively.
Kendall Rogers: Pierce — Would be a STRONG weekend and statement no doubt, but Florida has earned the spot for now, sweeping the previously No. 1 ranked team in college baseball on the road. But move up a few more spots? Absolutely. I really like the way Arkansas pitched over the weekend, especially Wicklander, so I'm excited to see the Hogs this weekend.
---
HawkTalk: Nick Gonzalez cruises into the second midweek with a solid 2.131 OPS.  What's a reasonable over-under for his end of season OPS?
Aaron Fitt: When I saw that OPS, I literally just laughed out loud at the airport restaurant I'm chatting, drawing looks from neighboring diners. Put it this way: Rutschman led the nation in OPS last year at 1.326, so let's just set the over/under there. And I'm taking the over — dude is a monster no matter where he plays, even in the #marinelayer of the Cape League… but he plays half his games in Las Cruces. So, you do the math.
Aaron Fitt: Well friends, it's been fun, but I need to be catching a flight. Thanks for all the great questions as always! See you next week.
---
Will: Hey guys! I know it's early, but which teams have you been most impressed with after the first two weeks of the season? (Could be surprise teams or one's you expected to perform well, yet they seem to be living up to the expectations)
Kendall Rogers: I thought Michigan looked really, really good Opening Weekend before losing that series to UConn this past weekend. Tennessee was terrific over the weekend in Round Rock. Seriously, it looked fantastic. And I have to give Florida and UCLA props. The Gators are the real deal as we suspected and I've been impressed with UCLA's sheer domination on the mound.
---
Caleb: Thoughts on Robert Moore so far? Has he entered the early conversation for freshman of the year in the SEC?
Kendall Rogers: Caleb — Hah! Let's let the season play out a little bit before we anoint anyone, including Moore, FOY, but I was in awe of that defensive play he made over the weekend. That was simply ridiculous. I'm excited to get my eyes on him this weekend in Houston, and I definitely will have many more thoughts on him.
---
Luke: Tony Vitello has turned a historically bad Tennessee program into a respectable SEC team.  However, they don't have the fan support, facilities, or resources to keep him.  He's young, energetic, and is going to be a superstar.  Who makes a run at him?  And how soon until he makes a move?
Kendall Rogers: Luke — Too early to tell, but don't discount Tennessee paying him a mint to stay put. I think you might be surprised. But as you said, the Vols won't and will never have the fan support of some other programs in the SEC. However, you could say the same for a program like Florida, whose fan support is minute compared to Arkansas, LSU, A&M, Ole Miss, MSU, etc. WTS — you'd be insane not to look at Vitello if you are a premier program looking for someone to jump start the program.
---
DAW: Thoughts so far on USM BASEBALL
Kendall Rogers: DAW — So far, so good. Central Arkansas is a quality club in the SLC (we had them finishing second in the league), and USM gets another test with McNeese on the docket twice this weekend. The most impressive guy to me has been Walker Powell. I just love the guy. He's not going to rack up gaudy strike out totals, but what a pitchability extraordinaire.
---
mike: What a week for AAC baseball! Big wins vs Michigan and Auburn took the spotlight. Tulane winning a tough series at CSF was like the fourth biggest win for the conference this week, which should tell you something. What is the conference outlook, with clubs like UConn, UCF, ECU, Tulane, etc off to a good start?
Kendall Rogers: Mike — Looking very very good for the AAC right now. Let's hope the league can establish that consistency now. If it can, you could see the league wind up being a three-to-four bid league, we'll see. Very encouraging start, and I do think Houston is a solid club. Not great. But very solid with Clay Aguilar and Lael Lockhart on the front end of that rotation.
---
Not Kendall Rogers: How is TCU not ranked? Swept Kentucky, so far split with Minnesota on the road, and putting up ridiculous offensive numbers. Stop hatin Rogers!
Kendall Rogers: You know I gotta hate. Haters gonna hate. In all seriousness, I'm extremely encouraged by what the Frogs have done so far this season. Johnny Ray is meeting expectations and the offense is most certainly improved. They remind me of A&M in that regard. I'm interested to see if the Frogs can close out a series win over Minnesota or not.
---

Kendall Rogers: All right all. I have to run, but it was an outstanding chat yet again. Make sure you're a D1Baseball subscriber — http://www.d1aseball.com/subscribe
Join the Discussion