D1Baseball's Weekly Chat: March 2
Chats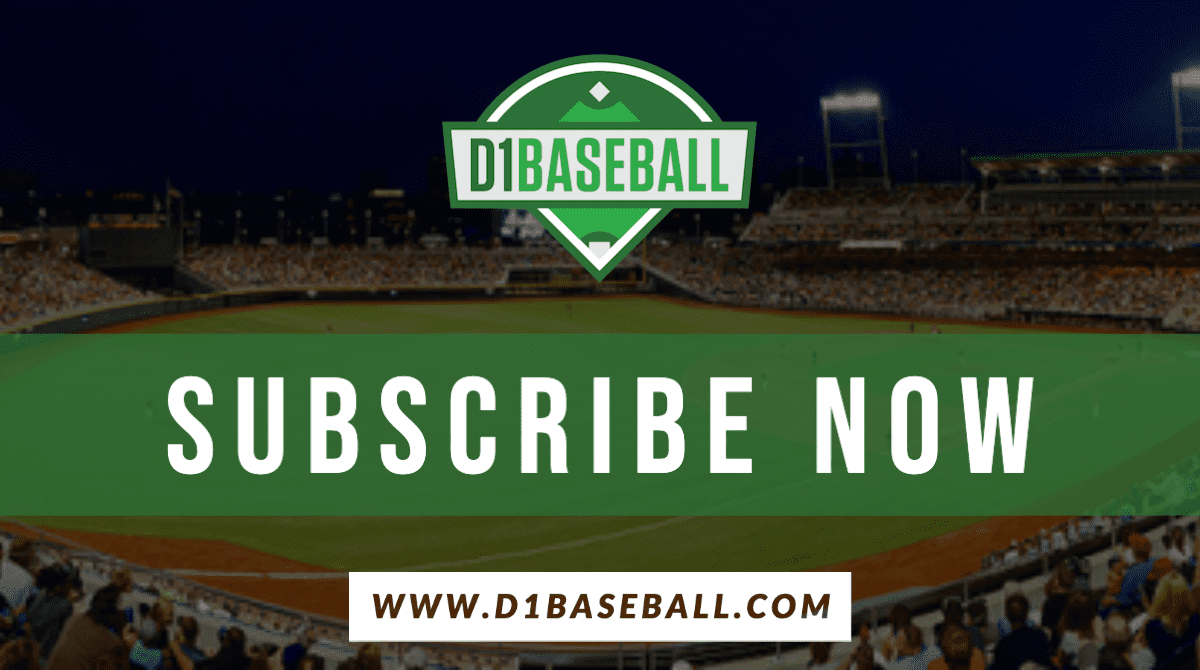 ---
SCORES: Friday | Saturday | Sunday
THE DEAN'S LIST: Which teams aced Week Three?
Check out our latest podcast!
---
Aaron Fitt: Hey everybody, welcome to the week three chat. Let's dive in.
Windywave: Tulane finally has a decent team (knock on wood) after a few weak years but the American looks to be a bit down this year.  Will conference play ding Tulane's RPI leaving us outside looking in again come selection time?
Aaron Fitt: I'm not so sure about the American being down. You've got two AAC teams in the Top 25 right now, just not the teams most people expected. ECU is just outside the Top 25 and will be a solid regional club again. Memphis and Wichita are off to surprising starts, and I still believe Houston and UConn are capable of making some noise this year. I actually think the American has a real shot to send 3-4 teams to regionals this year.
---
Patrick: Two questions about west coast squads. Long Beach State and Oregon. First, how far can we see this Dirtbag team going this year? Conference title and a regional host potentially? As for Oregon, back-to-back home sweeps (albeit against Nevada and Milwaukee), but can they compete in the Pac12 this year?
Aaron Fitt: Right now, I think you have to make Long Beach the official new "favorite" to win the Big West — and those are words I did not expect to type in 2020. But sweeping a Wake Forest team that I am still convinced is going to be very good, then winning two of three from a very good Mississippi State team, that's just loud. As for the Ducks, the jury is still out — I need to see how they fare against better competition before declaring them legitimate contenders, but it's good to see Waz has them headed in the right direction, it appears.
---
Eric Simmons: Any word on Mississippi State pitcher JT Ginn?
Kendall Rogers: No word just yet. I don't expect him to be back anytime soon, though, barring a surprise.
---
Aggie Josh: Did we just see the real Texas A&M in Frisco?  Is this finally the end of Rob Childress, he's had a lot of slack in that rope.
Kendall Rogers: Josh — First of all, no team is going to fire a coach after the first three weekends. And it's ridiculous to insinuate a coach should be fired for one bad weekend.
With that said, there's no doubt the Aggies played some brutally bad baseball (defensively and offensively) over the weekend. They were simply outclassed by a team like UCLA. I still feel great about the pitching staff, but the defense must get better and the offense now has something to prove yet again. There are concerns with A&M — but ready to throw in the towel on them? Hardly.
---
Sherman: Does South Carolina have what it takes to go .500 in conference and sneak in the NCAA tournament?  The past two weekends have not been very encouraging.
Kendall Rogers: Sherman — Aaron and myself debated this on the podcast last night. I do like some of the pieces the Gamecocks have with Carmen Mlodzinski, Brett Kerry and Thomas Farr, among others, but the road to the tournament is now much tougher. Two non-conference series losses now means the Gamecocks need to go .500 or better (IMO) to make the NCAA tourney. I'm not ready to say I expect that at this point. This looks like a 14-16, 13-17 type of club to me.
Aaron Fitt: I still think they find a way to go 14-16 or 15-15. And really, that's what they always needed to do to get into a regional, so in my opinion these two series losses changes absolutely nothing for them. Still gotta get to 14 SEC wins, and they'll be in.
---
Guest: How impressive is TTU's pitching staff. They just run out guy after guy pumping mid -90s.
Kendall Rogers: Guest — Really impressive group, but it can be challenging as a coach. Tech has a lot of talented pitchers and throwers. That means you have a lot of guys who probably think they should be pitching. So don't take for granted the job that staff does in managing egos and innings.
I was very encouraged by the weekend at FSU. I thought Tech looked good but not great in Round Rock. But clearly the Tech team that showed up in Tally was the one I always expect to see. Same old Tech. Elite club.
---
Tyler: Is there any chance for Kentucky to make the tournament?
Aaron Fitt: They're not off to a real good start, that's for sure. And considering we picked them to finish last in the preseason, we certainly haven't seen anything to change that projection. But I'm still surprised at these early struggled, I thought Kentucky had at least a chance to surprise some people in the SEC. The pitching was always the big question mark for me, but I expected this team to be very offensive, and so far the bats have really struggled against quality pitching. It's still a small sample size though, and I think the bats will get going at some point. But as of right now, a regional feels like a long shot for this club.
---
Jeff: After 3 weeks, the SEC West looks wide open. Do you still think Arkansas is the team to beat despite their poor performance this weekend?
Kendall Rogers: Jeff — I would have Arkansas or Ole Miss as the teams to beat in the West. I have concerns about State with JT Ginn out of commission and a potential long-term injury for Tanner Allen. I do think Arkansas will be fine — it just had a really poor weekend in Houston. And Ole Miss' rotation has been rock solid, and there's plenty of offense present. After that, it gets pretty murky with MSU/LSU/A&M/Auburn all having some noticeable gaping holes.
---
Bull City Tiger: How close is Clemson to cracking the top 25? Arms certainly carrying the load and the bats seem to be coming alive a little bit. Another good week swinging the bats get the job done?
Aaron Fitt: I'd say Clemson was the unofficial Team No. 26 this week, and if they hadn't lost midweek to ETSU we probably would have brought them in. Definitely encouraged by Clemson's first three weeks, feels like they're going to be a Top 25 team very soon, and could be there to stay.
---
Dan: Any concerns you see with Tyler Brown's early performances?
Kendall Rogers: Dan — Certainly a cause for concern. He was a little shaky in his two outings out in Arizona, too, that I saw. It seemed like teams kind of knew what was coming with Brown. I'm not sure if he was tipping some of his pitches or what. WTS — he's a premier talent and I think he'll have a dandy year. But it's certainly something to follow for the time being.
---
BMC: How does this Big 12 stack up to other conferences at this point in the season?  Only 3 ranked teams, but seems to have surprised many in Houston over the weekend, to go with TTU sweep in Tallahassee and TCU home sweep of Cal.
Aaron Fitt: We actually led off today's podcast with a discussion about the Big 12's strong start. The league definitely looks better than anticipated, and every team but one is above .500 after 3 weeks, which bodes well for the Big 12's RPI future once they start playing each other, boosting everybody's strength of schedule. Baylor appears better than we thought, TCU's newcomers have really clicked (which the Frogs really needed), and Texas is obviously much better than last year. Big 12 looks better than the Pac to me; I'd probably rank it the No. 3 conference, behind only SEC and ACC.
---
Jackson: Most disappointing team relative to expectations on the Gulf Coast so far this season: UH, ULL, or Rice?
Kendall Rogers: Jackson — Hmm. Maybe lean UH. The Cougars lost Layne Looney and Sean Bretz right before the season and that has been a killer from a pitching perspective, but they should still be winning more games. Rice is another disappointed. I'm not seeing an improved team right now. And I'd have Louisiana after that. The Cajuns didn't look great on paper coming into the season, so I think it's going to take time to get back to "Deggs" ball.
---
Jeff: So I appreciate how much work you guys do in compiling the rankings, but…How is UCLA not number one?  They are 11-0, have trailed for a TOTAL of 3 innings this season, have a team ERA of 0.91 and allow opponents a team batting average of.126 while hitting .320 themselves.  And they've beaten good teams too including Texas A&M, OK St, Illinois and Pepperdine.  There are really five teams that you think are better than the Bruins? At this point in the season, no one has put together a better resume for #1.  Why don't you agree?  Thanks
Aaron Fitt: The Bruins are really, really good — I just watched them for three utterly dominant days, and I couldn't stop raving about them on Twitter. We jumped them up as far as we could — but yes, the five teams in front of them are also really, really good. What, you're gonna drop Georgia after they just dismantled a good Georgia Tech team in a three-game sweep? You're gonna drop Texas Tech after they went to Tallahassee and beat FSU twice and a solid FAU team once? You're going to move UCLA all the way up to No. 1 and drop Florida, a week after it went on the road and swept Miami? No, the rankings don't exist in a vacuum — there are other good teams too. And as great as UCLA has been so far, there will be bumps in the road — that team still has a whole lot fewer proven veteran players than the five teams ahead of it in the rankings.
---
TW: LA tourney appears to be huge crash course for the teams involved. Would love my frogs to go 3-0, but what are you most interested in seeing?
Aaron Fitt: Hooboy, Dodgertown looks awfully juice right now. Considering TCU and UCLA have gotten off to such strong starts, and Vandy is Vandy, and USC looks improved and is off to a nice 7-3 start, this field looks much more exciting than it did a month ago. I won't be in LA, but we'll have folks there, and they're gonna be in for a treat. I'm probably most interested to see how TCU and USC fare against the first truly elite competition they've seen yet.
---
AndrewG: Do you think Arkansas can climb out of the hole they dug themselves into over the weekend? 0-3 against Oklahoma, Texas, and Baylor…
Aaron Fitt: To quote the great American satirist Mark Etheridge, "Has any team ever made a regional after losing 3 games in a row? Hogs are donezo."
But seriously… it's March 2. And it's baseball. Arkansas will be just fine.
---
Hob: Michael Mcgreevy has been nothing but dominant pitching for UCSB, and so far this year he hasn't missed a beat after joining the starting rotation full-time. Are there any roadblocks keeping him out of consideration for the upper echelons of college pitching?
Aaron Fitt: Man, has he been good: 0.42 ERA, 23-4 K-BB mark in 21.2 IP… yep, that'll play. He's just a really polished college pitcher who stands out for outstanding command, good life and deception, which makes his rather pedestrian raw stuff play up. I doubt he'll be a big leaguer, but I do think he can be an elite college starting pitcher, a strong candidate for Big West pitcher of the year and All-America honors.
---
Dan L: Is the biggest surprise of the season LBSU?  Has to be, right?
Aaron Fitt: Yep. Open and shut.
---
Ryan M: From what you have seen so far, what teams do you think are out performing your expectations and what teams are under performing your expectations?  Would you make any changes to your predictions for Omaha yet?
Aaron Fitt: I don't think I made official Omaha predicitions since the summer, but the obvious change I would make is including UCLA. They're not gonna go 56-0 — at some point they're going to start giving up more than one run per game… but I love their team, and I think they are a legitimate national title contender — which is amazing when you consider the fact that they lost their top two weekend starters, top setup man, their entire infield, two-thirds of their outfield and a 12-homer DH from last year.
---
HawkTalk: @Kendall, what is your favorite instance of being accused of bias by a fan?  And please do not allow this to turn into Aaron trying to hide his Oregon State Stan-dom.
Kendall Rogers: Hawk — Probably TCU fans back when they played A&M in back to back super regionals. For whatever reason, people took it extremely personal that Aaron and myself picked A&M to beat the Frogs (both times, I believe). Fortunately, TCU fans who were mad at the time are now some of my most passionate followers (and a few are even friends). That was a pretty wild deal to be honest and went pretty deep.
Aaron Fitt: #YoureBias #YourBiast
---
CC: Early in the year, but is TCU's Gray Rodgers' selection of the Mii Channel theme music the frontrunner for most creative walk-up song?
Aaron Fitt: I hadn't heard that, but I love it. I'll keep my ears open for other nominees — we need to hold a vote at the end of the season.
---
Nate: Any concerns with the buckeyes slow start? Are they still a contender in the BIg10?
Kendall Rogers: Nate — Aaron and me were just talking about this the other day. Ohio State has already put itself behind the eight ball for the postseason with the 0-3 mark at GT and a poor series loss to Lipscomb. OSU will now have some work to do the rest of the way to get into regional contention. OSU needs to get its offense going.
---
Cowtown Bill: I had hoped the Frogs would stay under your radar a little while longer but now that they are in the Top 25 can they stay there after this California road trip? The defense has been the most pleasant surprise to me in the early going. Thoughts?
Aaron Fitt: They'll need to go 2-1 in LA to stay in the rankings, and yeah, I think they can do it. Would not surprise me at all if they find a way to knock off UCLA or Vandy. The Commodores, in particular, feel a little vulnerable right now.
---
Tyler: The big 12 had a pretty impressive weekend between the Shiners tournament and Florida "tournament". Who impressed the most in your opinion.
Kendall Rogers: Tyler — Color me really impressed with the Big 12 right now. I think that league has six postseason quality clubs right now, and I'd also advise keeping an eye on WVU.
As for over the weekend, I love what Oklahoma has on the mound and Dane Acker's start against LSU just reinforces my feelings. I also feel very good about the bullpen with hard-nosed Wyatt Olds, Zack Matthews and Jason Ruffcorn. I'm aboard the OU train right now. I think Steve Rod is doing a terrific job (again) with Baylor, and I liked what I saw across the board from the Bears — Nick Loftin and freshman talent Jared McKenzie stood out. I also feel like Texas is much better. Trey Faltine looked like a stud at SS and I really liked the Elder/Madden combo. I'd also look for Pete Hansen to be in the rotation sooner rather than later.
---
J.T.: Nick Gonzales. That's it. That's the comment.
Kendall Rogers: JT — what an absolute beast Nick Gonzales is. I'm really looking forward to seeing him Friday night as the Aggies head to College Station to face another slam-dunk high first-round pick, LHP Asa Lacy.
---
Beau: I understand the schedule hasn't been the strongest, but if ND can take 2 out of 3 this weekend in Chapel Hill, will that be a reason for the fans to get excited about the direction the program is now moving in?  I'm quickly becoming a fan of Coach Jarrett!!!!
Aaron Fitt: I'll tell you what: Link Jarrett can really, really coach hitting. His teams at UNCG were always very offensive, and so were his teams at Auburn and ECU. Looks like he's gotten those Notre Dame bats going pretty good early on, albeit against softer competition. I also like the direction the program is headed. And yes, if they win a series in Chapel Hill, that would be a statement that the Irish might be a legitimate ACC contender.
---
Kevin: What in the heck is going on with LSU at the plate? This past weekend, they struck out 34 times, and I think the stat was 26 of those K's came on 5 pitches or less. And then they get no-hit by OU's third best starting pitcher. It seems that LSU's pitching staff is going to be constantly overshadowed by its troubles at the plate, and that's a shame because Labas was out of this world good on Sunday. A lot of people in Baton Rouge are calling Paul Manieri "Paul Miles" (after Les Miles of course). What do you make of the current state of the program, in particular to how it relates to people's perception of LSU and constantly trying to relive the success of the '90s?
Kendall Rogers: Kevin,
First of all, calling for Paul's head after Week Three is just asinine. Let the season play out. He's had a ton of success.
With that said, there's no doubt the LSU offense was a little concerning. I just feel like once you navigate through Zack Mathis, Cade Beloso and Daniel Cabrera, that lineup really really eases out. I do think Alex Milazzo is a nice overall player, while Saul Garza has to be better and more consistent. He's still hitting around .230 this season. On a positive note — how about LSU's pitching? Wow.
---
Frank: Gents, Casey Martin seems to have become a big liability in the infield for Arkansas. At what point do the Hogs move him back to 3B? I am hard pressed to believe he is worthy of a first round pick or that he can play Shortshop in the big leagues. Am I wrong here?
Kendall Rogers: Frank — I think camps are pretty split on Martin at the next level. Some think he can play short, others second base, other third base, and I even had someone bring up center field to me over the weekend down in Houston. More so than his defense, I'm worried about his offensive approach. Texas threw six straight sliders at the same spot the other night and he whiffed on all of them. He's just not seeing the ball well at all right now. The Hogs need to get him right.
---
Sean: Hey guys I know its early but the WCC looks pretty strong this year. Pepp, Portland, USD and Santa Clara off to hot starts others lurking. Thoughts on the conference being at least a two bid league this year?
Aaron Fitt: Yeah, how bout those Pilots? 10-1 start, a neat under-the-radar team to keep an eye on. Rusty Filter's doing a nice job at Santa Clara too — they snagged a win on the road against a really, really good Georgia team and split a four-game set at Sac State. The Dons had a nice weekend too, took two of three from Fullerton. I feel like the WCC deserves two bids most years, and seldom gets two. I hope this year it does; it's a good league.
---
Cy: How worried are you about Mississippi State's slow start to the season at the plate? Also, will the pitching staff be able to hold up in SEC play if JT Ginn is out for extended amounts of time?
Aaron Fitt: I'm not worried at all about the offense, though obviously you'd have to downgrade it some if Tanner Allen is out for an extended period. But there's too much talent and experience in that lineup, they'll heat up offensively. I am concerned about the staff if Ginn is out long-term. He's just a hugely important piece of that team, and without him I would downgrade my expectation for MSU from likely host and strong Omaha-caliber club to probably a regional 2-seed.
---
Caleb: Should we be worried about East Carolina's chances in hosting another regional?
Aaron Fitt: Yeah, we didn't have ECU projected to host heading into the year, they just lost so much from last year. I still think they'll be a solid 2-seed in a regional when the dust settle.
---
Terry: How about a little love for the Big West this weekend? UC Davis won a 2 day, 24 inning marathon game over Loyola Marymount on Saturday. Also UC Riverside freshman Zack Jacobs tossed a 3 hit shutout over St. Mary's Saturday for his first college win
Aaron Fitt: Not only that, but UCSB is off to a nice 9-2 start after sweeping UIC, and Hawaii gave Vandy all it could handle this year. The Big West is awfully intriguing this year — feels like this is going to be a topsy-turvy race, with a bunch of teams all clustered together until the end. I don't envision anybody running away with the conference this year.
---
Ryan M: What non-conference weekend matchups are you all most looking forward to seeing the rest of the season? Where will you all be this weekend?
Kendall Rogers: Ryan — I am going to go check out NM State's Nick Gonzales against A&M's Asa Lacy on Friday. Not sure about Saturday just yet. Might go see Cal State Fullerton in Austin for the day.
As for the upcoming weekend, I'm really excited to see what happens with Michigan at Pepperdine. That's such an intriguing series withe the Waves joining this week's rankings.
---
Brian: Maybe I missed it, but no mention of Ole Miss on the podcast after their move up in the rankings. They're not hitting for average but are getting on base and knocking the cover off the ball. Concerns? Thoughts on the starting rotation?
Aaron Fitt: No real concerns for me — they've got a nice, balanced club, and they're playing well. I really like the rotation — Nikhazy and Hoglund have solid stuff and a lot of experience for sophomores, and Diamond has really good stuff. I like the athleticism in the lineup, I love Anthony Servideo at short, I'm a big fan of that spark plug Chatagnier, always been a fan of Tyler Keenan. That is a team that has improved its standing in my eyes since the preseason.
---
Wrigley: Tadlock an early season favorite for COTY? Impressive start for a team that lost Jung, Warren, Holt, Killian, Floyd, etc.
Kendall Rogers: Wrigley — Even with those losses, Tadlock's Red Raiders were still a preseason Top 10 team and were expected to be excellent. My COY right now is Eric Valenzuela, and we'll see if that changes. From 14 wins last season to ranked in the Top 20 is pretty incredible.
---
Jake: Aaron it seemed like Oklahoma state had a lot of hard contact all weekend in Frisco but just didn't get the results. Do you think this team is a year away with all the young players they got or do you think this team can be like all the other teams under Josh Holliday and by April they are a dangerous team.
Aaron Fitt: The last two days, they made a lot of hard contact; not as much Friday. But yes, I'm confident this will be a typical Holliday team that gets better and better as the season goes along; they've got the personnel to be very dangerous. Love what I'm seeing from Carson McCusker, I think he's ready to blossom into a star. Cade Cabbiness continued to impress me with how much better his approach has gotten — there were a couple times he came up with big hits against tough lefthanded breaking balls, which he simply would have whiffed at in years past. Huey Morrill played great this weekend, I'm a huge fan of Polcovich, and I think Trenkle is going to be a fan favorite, high-motor speedster. I like their team quite a bit; the key will be the maturation of those young arms, but the talent is enormous. Bryce Osmond's stuff was pretty electric yesterday, and Campbell has good feel for pitching and loads of projection.
---
PapaGreg: Thanks for Y'all's excellent work!! How close is Texas from your Top 25 and in Your oppinion, why can't they hold down a lead in the Crunch?? They're 2 outs away from 12-0!!
Kendall Rogers: Papa — Texas was in the discussion and it isn't far away. As I said a bit ago, I love the one-two punch in the rotation and I foresee Pete Hansen being in that three-man rotation soon. I also think Texas will hit enough to win a solid # of games this season. But yeah the bullpen in yesterday's game, in particular, was pretty rough. Cole Quintanilla hasn't been the same since that TCU series last season. Just something lacking from a confidence standpoint.
---
Travis: Who's the going to end up best team in Mississippi this year? Looked like state before the year but ole miss is surging now
Aaron Fitt: Yeah, I thought it would be MSU heading into the year. And don't get me wrong, I'm not burying the Bulldogs, I still think they've got a nice club and are going to win plenty of game. But I think I now have more conviction in Ole Miss' pitching than I do in MSU's, and I've seen what I needed to see from the new-look Rebel lineup. I'm gonna switch to Ole Miss.
---
SECBaseball: True or False: Asa Lacy will win SEC Pitcher of the Year.
Aaron Fitt: Hmm… this is so tough, but after what I saw Friday night, I'm gonna say "true." The biggest difference for Lacy is that slider has become a ridiculous power pitch at 86-90 with real depth — I'd say it was regularly plus-plus on Friday. It wasn't THAT kind of weapon in the past. He's a beast.
---
Jason worchester: What do you think about the little shortstop from Pepperdine?
Kendall Rogers: Wyatt Young? He's a really nice player. I talked about him a little on the Podcast last night. He's an excellent, steady defender, and also has a nice bat as well. He and Justin Lutes really stood out to me Opening Weekend out in Arizona.
---
Adam F.: Of the three weekend rotation guys BVB, Slade & CM which projects best on the next level?
Aaron Fitt: I'll say Cecconi. Van Belle doesn't really have big league starter fastball velocity, but boy is he a great college pitcher, and his changeup is filthy. I know some scouts who think McMahon projects as a big bullpen arm in the majors, though I'm reserving judgment there until I see more of McMahon in person. I think Cecconi profiles best as a potential MLB starter.
---
SECBaseball: Vols had a hot start last year as well. Thoughts on how they will fare in conference play in 2020?
Kendall Rogers: SEC — TBD, but I really liked this team over in Round Rock two weeks ago. The pitching staff has some really nice arms, including Jackson Leath, Chad Dallas, Drew Gilbert, etc, and that's not even including Garrett Crochet, who could potentially return to the mound at some point this season. I also think that lineup 1-9 is as good as anyone's in the SEC right now. We'll see if the Vols can continue playing at this high of a level, but so far so good.
---
Jon: Is UCF the surprise team in the South so far? With the dominate sweep at Auburn 2 weeks ago, to them winning 3/4 over a previous undefeated Cal St Northridge. Seems like they have the pitching depth this year to finally host a regional. Also, the new hitting coach from the Boston Red Sox seems to be doing wonders with the hitters thus far. Your thoughts?
Aaron Fitt: I'd say so, yeah. I really didn't know what to make of UCF in the preseason — they were relying on lots of newcomers in the lineup, and we just didn't know how those key arms would come back from injury. So far, the Knights seem to have found answers to all our questions. They definitely have talent, and they've put the pieces together well. Getting Holloway and Sheridan back in the rotation was probably the biggest key, along with the addition of Colton Gordon. And how Jack Sinclair has been just awesome so far, really living up to the potential he's always flashed.
---
jrich: Can we get some mid-major love in here for a minute? Mercer is 11-0. Any thoughts on them heading into a challenging week against FSU and WVU. Northwestern State is off to a good start in the Southland as well.
Aaron Fitt: Mercer has caught my eye — that's a team I want to learn more about. They always hit down there, and they're sure hitting again so far this spring, but this year they've gotten off to a great start on the mound too. If they make some noise this week, they'll really explode onto the national scene — big opportunity.
---
Aaron Fitt: All righty everybody, that'll do it for me today. Have a great week, and thanks as always for the great questions.
Kendall Rogers: All right, everyone. Enjoyed today's chart. Be sure to hop on board with a D1Baseball subscription at http://www.d1baseball.com/subscribe
Join the Discussion