Fearsome Arkansas Offense Goes Hog Wild
College World Series
Want to get in-depth coverage? Subscribe to D1Baseball
---
OMAHA — It seemed like the bottom of the sixth inning would never end. Maybe it still hasn't.
The fateful frame began at 3:08 p.m. CT on Sunday afternoon, and Arkansas second baseman Carson Shaddy led it off with a single. Three and a half hours later, the inning was still going.
After the first five Arkansas batters of the sixth reached safely, the game went into a weather delay that last two hours and 49 minutes. When play finally resumed, the nightmare was still just beginning for Texas.
A loud Bronx cheer rang through the stadium when Texas finally recorded the first out of the inning, 11 batters into the frame.
The final tale of the tape: Arkansas sent 14 batters to the plate in the sixth and scored eight runs on six hits, four walks and a hit batsman. It took three hours, 34 minutes of real time with that long delay stuffed in the middle, and by the time it was over a 3-2 Arkansas lead had ballooned to 11-2, propelling the Hogs to an 11-5 victory in their CWS opener.
Texas coach David Pierce used the word "unraveled" three times during his postgame remarks. The Longhorns used six pitchers to get through the inning, which began with back-to-back singles by Shaddy and Jared Gates against UT starter Nolan Kingham, who had pitched well to mostly hold the explosive Razorbacks in check over the first five innings. After those two singles, Pierce called upon bullpen stopper Parker Joe Robinson to try to extract the Longhorns from the jam — but Robinson uncharacteristically could not find the strike zone. He walked the only two batters he faced to force in a run, so Texas summoned its other go-to reliever, lefty Josh Sawyer. Who promptly walked in another run — and that's when the lightning delay was called.
Texas ace Nolan Kingham exits — one of UT pitching changes in the sixth inning (Mandy Sorenson)
But the onslaught didn't stop when the inning resumed and normal No. 2 starter Chase Shugart took the mound to try to extinguish the threat. Arkansas' super-talented freshmen, Casey Martin and Heston Kjerstad, greeted Shugart with back-to-back singles to drive in three more runs, forcing Texas to go back to the bullpen to try to keep Shugart on track to pitch Tuesday.
"Hindsight is a beautiful thing," Pierce said. "You look back at that and you would really say, 'Should have stuck with Nolan.' But Parker Joe hadn't walked two guys in the entire year back-to-back and that's what happened. And it just unraveled."
Of course, Arkansas has a way of pulling on loose threads until its opponent has no sweater left to hide behind. The Hogs offense is one of the nation's very best, and it has thrived off big innings all year. The first time Arkansas faced Texas this season, on March 13 in Fayetteville, the Hogs slapped a 7-spot on the Longhorns in the third inning and cruised to a 13-4 win. The next night, a four-run fourth led Arkansas to a 7-5 win. The Hogs put up a pair of 5-spots in their super regional clincher against South Carolina last week, starting with a first-inning blitz.
"We have such a balanced lineup. And we all know what we're doing at the plate," said Arkansas senior cleanup man Luke Bonfield. "We all have a certain approach. And once Casey Martin hit that leadoff hit after the rain delay, everything just kind of snowballed on them, and we got a ton more momentum. We just never let up on the gas."
"Luke hit the nail on the head right there: It's a deep lineup, 1 through 9, and nobody is an easy out," added Kjerstad. "And everyone's always fighting every at-bat and we're not giving away pitches."
And these Razorbacks circle like sharks when they smell blood in the water. You've heard the term "momentum offense?" This is the very definition of a "momentum offense."
Eight different Hogs got into the hit column Sunday, combining for 15 hits. Upperclassmen like Eric Cole, Bonfield, Carson Shaddy, Jared Gates, Grant Koch and Jax Biggers are all proven commodities who have been tough outs for a while now. But the addition of Kjerstad and Martin — two of college baseball's very best freshmen — has taken this offense to a whole different level. That duo hits in the No. 2 and 3 holes right now, pushing very talented older players like Shaddy, Koch and Biggers into the bottom half of the lineup.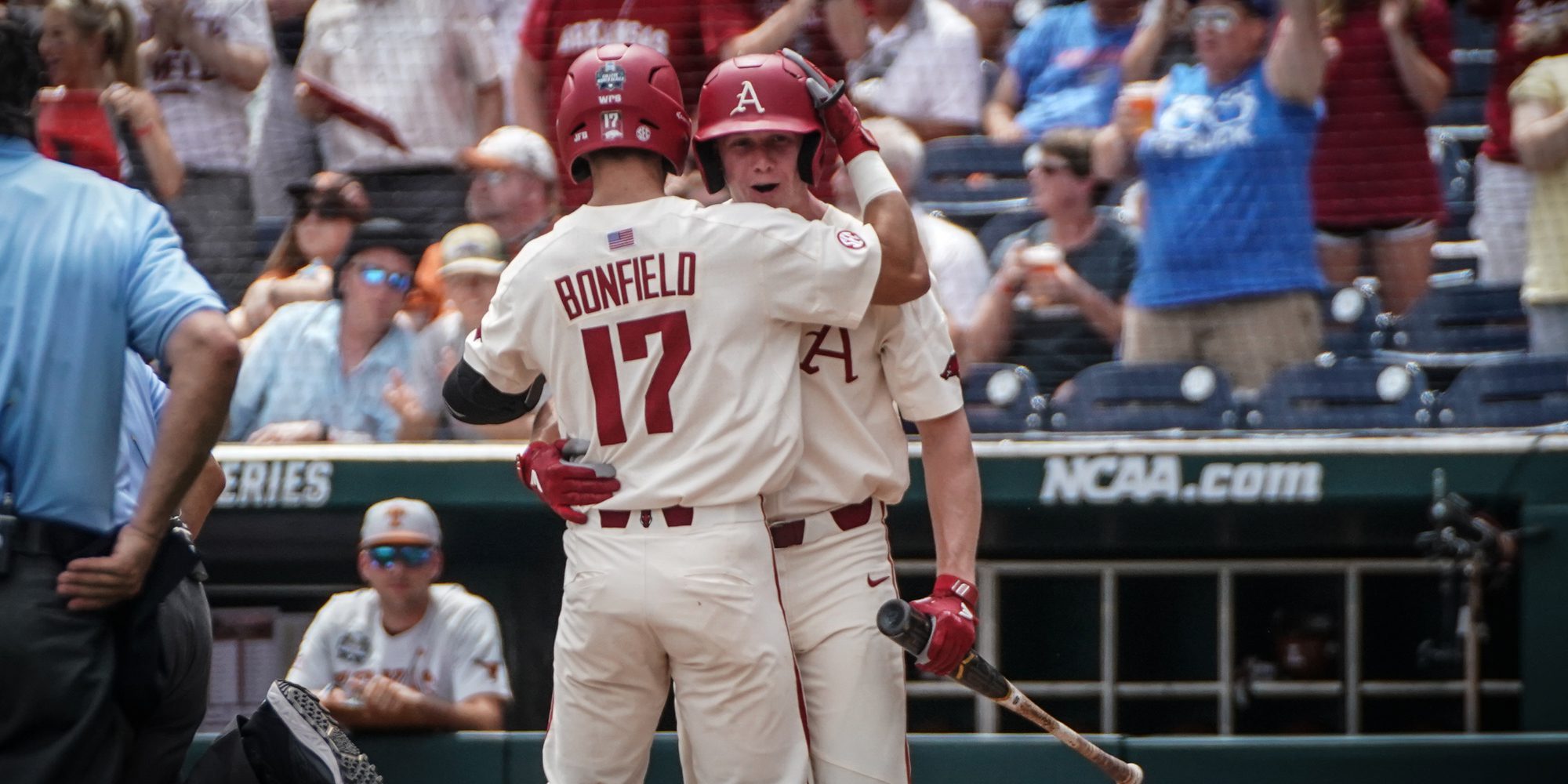 Heston Kjerstad (right) celebrates with Luke Bonfield (Mandy Sorenson)
"The way they go about themselves is just special," Bonfield said of the two freshmen. "They don't act like freshmen once they get on the field. They're very respectful off the field to the upperclassmen which you don't really see a lot with guys that are that good as freshmen, they're never scared. It's something I've never seen here. And it's pretty cool."
Of course, the upperclassmen have turned in more than their share of big hits this season, and Bonfield really turned the momentum in Arkansas' favor one inning before that eight-run onslaught. Texas actually led 2-1 in the fifth, when Bonfield unloaded on an elevated Kingham fastball for a two-run homer to left field — the only home run of this CWS so far.
"Like I told the team after the game, the big swing of the day was Luke Bonfield. We went from down 2-1 to up 3-2 and it happened with two outs," Arkansas coach Dave Van Horn said. "That was the swing we were looking for to get us going a little bit. And then obviously we set up the big inning, had a couple of runs in, had a rain delay, and came out and really just did a nice job scoring some runs there in the sixth inning that gave us an opportunity to relax a little bit."
But there's no relaxation coming for whatever poor pitcher is tasked with slowing down this freight train offense next.
Join the Discussion