Fitt: OSU Takes The Long Road To Immortality
College World Series
Want to get in-depth coverage? Subscribe to D1Baseball
---
OMAHA — Oregon State did it the hard way. And that only made its eventual triumph more rewarding.
Last year, the Beavers were on the doorstep of history. By now, you know the story, but it bears repeating, because this team's run to glory was forged in the fires of last year's disappointment. A year ago, they were 56-4 — fifty-six and four! — and sitting pretty at 2-0 in College World Series bracket play. Three more wins, and they would become legends, members of the greatest college baseball team of all time. Then they lost back-to-back games to LSU, and the ride was over.
"We came back last year and had the greatest season ever. Came here, played a really good LSU club and didn't get it done," OSU coach Pat Casey said. "And that didn't keep us from saying, 'Let's do it again.'"
Experiencing the heartbreak of falling just short of immortality last year made it that much sweeter when the Beavers finally reached the pinnacle of the college baseball world on Thursday night, with an utterly dominant 5-0 win over Arkansas in Game Three of the CWS Finals.
"Obviously it's the best feeling ever to finish it off this time," junior shortstop Cadyn Grenier said. "We've been breaking out on 'finish' all year long, and right now, we finished it. And it's the best feeling ever."
Nothing about this Omaha run came easy — until Thursday, when the Beavers finally played their "A" game for the first time in this CWS. They had to run through the losers' bracket after playing very sloppy baseball in an 8-6 loss to North Carolina in their CWS opener. They were down three runs in the eighth inning of an elimination game against UNC a few days later, and they found a way to storm back and win. They were down to their final out in Game Two of the Finals on Wednesday night, and a misplayed pop-up by the Arkansas defense gave them a stay of execution. And did they ever make the most of their new life, tying the game moments later on a Grenier single, then going ahead on a Trevor Larnach homer.
"Toss-up of emotions, man, that's all I've got to say. Once that ball dropped, I said to myself: 'We're not done,'" Larnach said. "And Cadyn put up one of the biggest battles I've ever seen this year and came through in the clutch, and I was fortunate enough to go up there and help us out. But winning this and everything we've gone through, every adversity, every single thing this year has put us through, well worth it."
But Thursday, Oregon State asserted its will right out of gate, taking a 2-0 lead in the first inning and never looking back. The Beavers played a nearly flawless game; Arkansas had just one scoring chance in the entire game, loading the bases with one out in the third for the heart of the lineup, but OSU freshman righty Kevin Abel struck out 3-hole hitter Heston Kjerstad and got cleanup man Luke Bonfield to fly out, stranding the bases loaded.
The Hogs never even managed another baserunner. Abel turned in a CWS performance for the ages, retiring the final 20 batters of the game after that third-inning jam to finish with a two-hit shutout. He threw 129 pitches, a day after throwing 23 pitches in a scoreless inning of relief. Thursday's effort earned Abel his fourth win of the CWS, setting a new single-Series record.
That final Abel outing was the stuff of legend, especially given how taxed Oregon State's staff was by its run through the losers' bracket.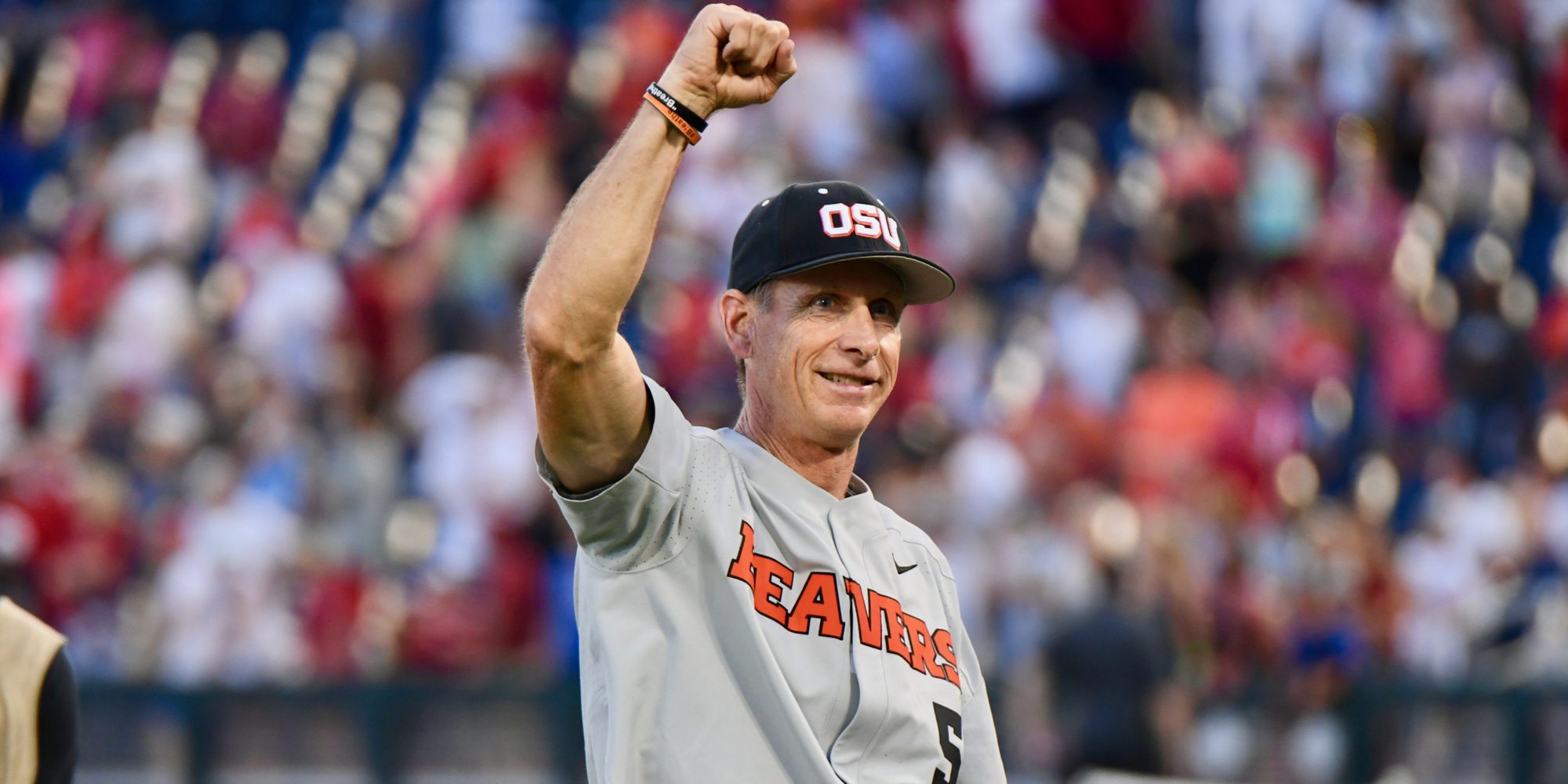 Oregon State coach Pat Casey salutes fans after winning his third title (Aaron Fitt)
"I never would have dreamed that he was going to go nine innings," Casey said. "… And then Abel just kept coming in saying, 'This is the easiest I've ever thrown.' He said, 'The ball's just coming out of my hand. I'm relaxed. Loose. I have no stress.'"
And he just kept getting outs, against an elite Arkansas offense that simply could not solve him. The Beavers had padded their lead to 5-0 by the time Abel struck out Luke Bonfield for the final out in the ninth inning, then screamed, turned and hurled his glove toward the OSU dugout along the third-base side. A moment later, catcher Adley Rutschman tackled him, and the dogpile that OSU had been deferring for the last two years finally materialized.
"I haven't taken a hit like that since eighth grade," Abel joked of the Rutschman tackle.
It was fitting that Rutschman and Abel combined to make that final out, because they turned in two of the greatest individual performances in CWS history. Rutschman went 3-for-4 with two RBIs Thursday to finish the CWS 17-for-30 (.567) with two homers, three doubles and 13 RBIs. He set a new record for most hits in a single CWS, while also setting single-season school records for hits (102) and RBIs (83).
Kevin Abel and Adley Rutschman celebrate the final out (Aaron Fitt)
"What he's done all season long is very special," said OSU second baseman Nick Madrigal. "He's probably had one of the greatest seasons ever."
It was certainly one of the best seasons in OSU history, and it was capped by quite possibly the best individual performance in the long history of the College World Series. And that epic showing came one year after Rutschman went just 1-for-15 in last year's CWS.
But the struggle only makes the glory sweeter — you'd better believe that.
"Just to come so close last year, to come through the losers' bracket this year — we just couldn't ask for anything more," Rutschman said. "We were down to the last pitch. And that makes it better. It truly does."
Larnach — who hit .417 in the CWS with seven extra-base hits among his 15 hits (tied with Jason Lane for second-most all-time in a Series, only behind Rutschman) — said the emotion of finally reaching the top of the mountain was indescribable.
"As soon as the last play was made, I just got goosebumps," Larnach said. "Came in and ran and probably jumped the highest I've ever jumped. But that was a jump of joy. And last year left a salty taste in our mouth, and every single person on the team probably remembers that. And ever since then, we started breaking on 'finish,' to finish the job. And we sure did finish."
And the way they got to the finish — well, it turns out immortality was in the cards for these Beavers after all.
"That was probably one of the greatest World Series comebacks in history," Madrigal said, "and that'll be there forever."
Join the Discussion