Louisville's X-Factors Rise Up Against A&M
College World Series

---
OMAHA — Louisville head coach Dan McDonnell called sophomore righthander Sam Bordner an X-factor for good reason.
While the Cardinals jumped out to a 5-0 lead over Texas A&M Sunday afternoon at the College World Series and seemed to be in total control, some tense moments hit McDonnell's club in the middle innings. A&M, down 5-2 entering the sixth inning, touched up lefthander Brendan McKay for three-straight hits to begin the inning and had the tying run at second base with nobody out.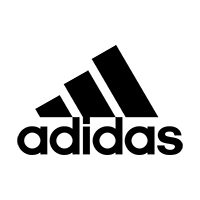 The Cardinals were at a crossroads. McKay appeared to be somewhat out of gas with his fastball velocity sitting more upper-80s, and with him at the 97-pitch mark, McDonnell needed someone to come in and get the team out of a jam.
Bordner, a 6-foot-6, 240-pounder, was more than happy to be that guy. After all, he's been in these situations before. He didn't disappoint, getting a sacrifice bunt and a pair of fly outs to get the Cardinals out of the sticky situation. As was the case with middle relievers in the last two CWS games, Bordner had a calming effect and was outstanding as the Cards took care of the Aggies, 8-4.
"I thought Lincoln [Henzman] spoke well when he won the stopper of the year award. He recognized how talented our bullpen is. You have to have a bridge to get to the closer," McDonnell said. "It's something we take a lot of pride in and Sam has been the X-factor. He's been a little under the radar, and when you look at the numbers, they're very impressive. In a middle relief role like he's in, sometimes you don't get as much attention, it's not as sexy. But Sam has been hot all year and we trust him."
For much of the afternoon, it looked like the Cardinals wouldn't need Bordner to enter the game in a crucial situation, certainly not one that required him to throw three shutout innings.
In the first, the Aggies threatened McKay but didn't scratch across any runs. Meanwhile, the Cardinals went 1-2-3 against A&M righthander Corbin Martin.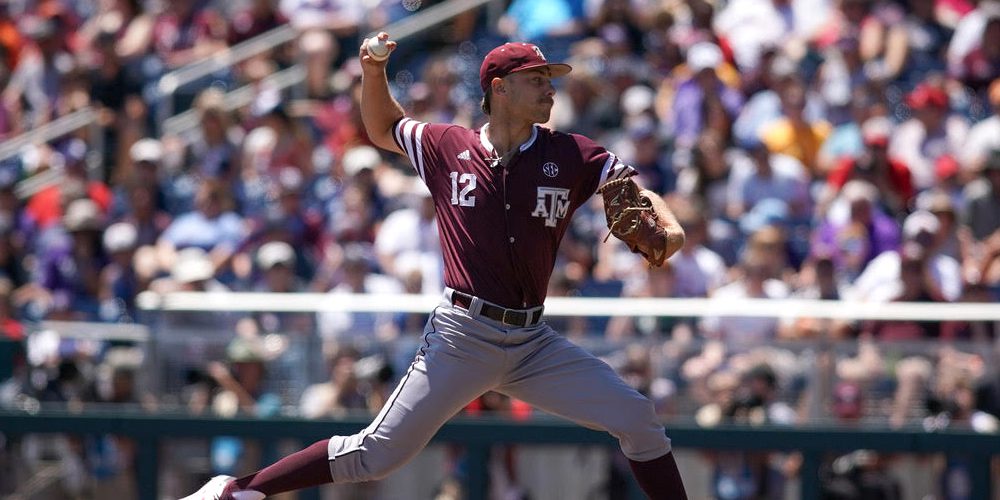 Texas A&M's Corbin Martin lasted just 1.2 innings. (Mandy Sorenson)
But everything changed in the second inning. For as good as Martin can be for the Aggies, he has a tendency to struggle with command, thus is forced to leave his fastball and slider, at times, over the plate. The hard-hitting Cardinals capitalized on that. McKay led off the inning with a single, while Drew Ellis, Devin Hairston and Colin Lyman followed with a trio of singles. After two outs were recorded, Martin walked leadoff hitter Logan Taylor before two-hole hitting catcher Colby Fitch laced a two-RBI single to give the Cards a 4-0 advantage. Before he could ever get into a groove, Martin was knocked out of the game and walked from the mound to the dugout in somewhat of a daze.
"With Corbin, the first inning was, hey, here we go. It was game on. And he was three up three down, and we're in the fight," Texas A&M coach Rob Childress said. "And each time I saw a replay of the pitches that were made when they strung together four-straight hits in the second inning, he didn't get anything to his gloveside and was very rotational. Everything was running back over the plate and they did a really good job against him.
"After the first inning, if you said, Rob, you're going to go get Martin in the second, the very next thing I would have said is you're out of your mind. He was so good in the first."
The Aggies replaced Martin with usual front-line starting pitcher Brigham Hill. And though Hill allowed an RBI single to Devin Mann to begin his relief performance, he settled in and gave A&M chance to make a run with 3.2 quality innings.
Down 5-0 early against the nation's premier player in McKay, you would have thought the Aggies were doomed for good. But this A&M lineup, which has shown improvements over the past couple of weeks, fought back in impression fashion. For instance, the Aggies scored two runs in the fourth on a pair of hits to trim the Louisville lead to 5-2. Then came the sixth inning when A&M put together those three-straight hits to knock McKay out of the game.
"Early on, I thought it [my stuff] was working well. The first hitter of the game went 11 or 12 pitches, and I thought 90-95 percent of them were good pitches," McKay said. "He was just making good swings to keep moving the count and keep working the count to get a pitch to where he could handle it. And he finally got one he could handle.
"But outside of that I worked out of a lot of jams," he continued. "It's hard to pitch effectively when you're in jams like that. But I think throughout your career you learn how to pitch and minimize, which worked today."
When McKay left the game in the sixth, A&M seemed to have all the momentum and Louisville appeared to be in trouble. Well, that's until Bordner was handed the ball.
Bordner was impressive out of the bullpen, just as he's been all-season long. He entered the CWS with an earned-run average under one and still has yet to allow a run in the NCAA tournament. In addition to getting the Cards out of the sixth-inning jam, he also retired the Aggies in order in the seventh and eighth innings and punched out all nine hitters he faced. Bordner sat anywhere from 88-91 and up to 92-93 at times, though his stuff wasn't particularly overpowering.
"I just think he was around the zone. I think we got ourselves out more than he got us out. We need to do a better job of staying flat on the ball. We had a lot of balls up in the air and that doesn't really play in this ballpark," Texas A&M leadoff hitter Nick Choruby said. "Going forward, we have to stay above the ball."
Colby Fitch and the Louisville offense stepped up in big situations. (Mandy Sorenson)
While McKay wasn't at his absolute best and the Cardinals didn't play their best game, they still got the job done against the Aggies, thanks to Bordner and the bullpen.
For much of the season, the discussion surrounding the Cardinals has been the powerful arm and bat of McKay, and the offense in general. But everyone got a glimpse on Sunday of what else makes this team dangerous – a bullpen filled with at least three high-quality arms and so much offensive poise.
Bordner was terrific and bridged the gap to All-American closer Lincoln Henzman, who went 1-2-3 in the ninth inning to preserve Louisville's first CWS victory in 10 years.
McKay might be the headliner on this team, but the Cards have several X-factors that could help them win the program's first national title over the next week and a half.
One of them, Bordner, rose to the occasion against the Aggies.
"It wasn't the best game of the year, but we understand now as we've seen two games on TV and played in one, these games aren't always the cleanest," McDonnell said. "There's too much competition. Everybody is playing too hard. It's not supposed to be smooth and easy. You just have to grind it out. And I thought today our guys did a really good job of grinding it out."
Join the Discussion