LSU Battles, But Singer Holds Serve
College World Series

---
OMAHA — Everything went exactly according to plan for Florida in the CWS Finals opener Monday night.
Of course, it really went mostly according to plan for LSU too. It's just that on this day, the deck was stacked in Florida's favor, and LSU couldn't quite get enough big hits against Florida co-ace Brady Singer. Considering LSU is shorthanded on the mound due to the Eric Walker injury, the Tigers were a significant underdog in the first game, but they gave Singer all he could handle and stitched it together with three relievers on the mound. Russell Reynolds, Nick Bush and Hunter Newman did everything they could to give LSU a shot to win, and the offense battled hard against Singer, but he made big pitches in big spots, and the Gators got a few timely hits to pull out a 4-3 victory.
In order to set themselves up for the rest of the Finals, the Gators needed a strong start from Singer and wanted to avoid using Tyler Dyson in relief so that they could start him on Tuesday. Singer wound up going seven innings before handing off to All-America closer Michael Byrne, who threw 28 pitches over two scoreless innings for his 19th save.
"It kind of worked out how we hoped it would: We were able to get Brady deep into the ballgame, and we didn't have to extend Michael Byrne so he's available tomorrow," Florida coach Kevin O'Sullivan said.
The Tigers managed to get eight hits and two walks over seven innings against Singer, who repeatedly escaped jams with big strikeouts. As usual, his stuff was simply electric. He located his dastardly 93-94 two-seam fastball to both corners and got plenty of swings and misses with his 79-81 slider. LSU knew it faced a daunting assignment trying to beat Singer, and at the end of the day, the Tigers simply tipped their cap.
"It was a close game, great game. My feelings are that we went up against who I believe to be maybe the best pitcher I've seen in the SEC for an opponent since I've been the coach at LSU," Tigers coach Paul Mainieri said. "He reminds me so much of Aaron Nola, it's scary. He was good — tough pitcher. I know he had a lot of strikeouts, but I thought our guys battled him and battled him."
The Tigers had at least one baserunner in six of the eight innings Singer started. Their best chance to put together a big inning came in the fourth, when Antoine Duplantis and Greg Deichmann recorded back-to-back singles to start the frame. But with two on and no out, Singer dug in his heels, striking out the next three batters in order, all on nasty sliders. LSU finally got on the scoreboard with two runs in the sixth, but Singer stranded two more in that inning by getting Michael Papierski to pop out.
And there were two key situations in the latter third of the game where LSU's aggressive baserunning backfired. Kramer Robertson was thrown out trying to take second on a dirtball in the seventh, as Florida catcher Mike Rivera made a clean scoop and fired a rocket to get him. An inning later, Josh Smith was thrown out trying to stretch an RBI single into a double when defensive replacement Nick Horvath made a great play to cut the ball off in the gap and fired a strike to second. Replays showed Horvath might have avoided the tag and got his hand in there, but the throw did beat him, and he was called out.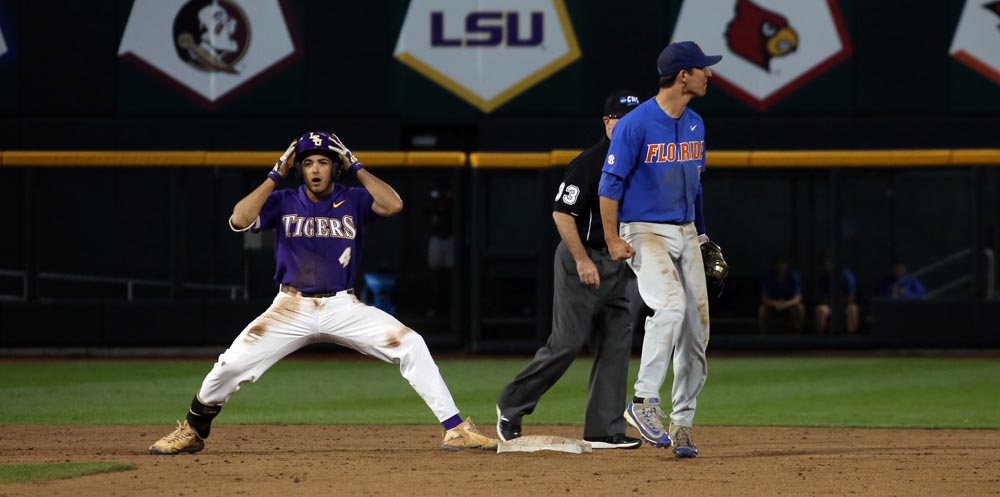 Josh Smith reacts after being called out at second base in the seventh (Eric Sorenson)
"We had a couple of situations if we had been able to take more advantage of, we would have been able to overcome it," Mainieri said. "But when you think about we went against one of the best pitchers in the country, I think the guy will be the first pick in the draft next year, and we were having to piece it together with our bullpen guys — it was amazing we were right there and had a chance to win. Our kids played their hearts out."
The Tigers couldn't have hoped for much more out of Reynolds, a fifth-year senior who carried an 8.57 ERA into his first start since 2015. Reynolds was able to get through three scoreless innings, facing the minimum nine batters, so the Tigers pushed their luck and tried to get a little more from him. The second time through, Reynolds abruptly lost his control, walking three straight batters to load the bases in the fourth. All three baserunners would score against reliever Nick Bush, who allowed a sacrifice fly and a two-run double by Jonathan India.
"Russell did a really great job there the first three innings. And, man, obviously hindsight is 20/20," Mainieri said. "If you would have told me before the game we would get three shutout innings from him to start the game, I would have been pleased. I got a little greedy there and tried to get an extra inning out of him, and we still had a long way to go and not a lot of options coming out of the bullpen. And I just thought, if nothing else, Russell is a strike thrower, and he ends you walking three guys in a row. In hindsight I probably would have started the inning with Bush. I'm sure everybody would have disagreed with that because we had shut him out for three innings, but I knew in my heart if we got three good ones out of him, I should have been pleased. I'll take the blame for that. I tried to stick with him for too long and it backfired."
But the Gators wouldn't get much more than those three runs. Bush settled in to work scoreless frames in the fifth and sixth, before Florida touched him for a run in the seventh to take a 4-2 lead. Mike Rivera's RBI single in the seventh proved to be a crucial insurance run, providing the winning margin. Newman followed with two scoreless innings of relief to keep LSU in the game, but the damage was done.
So now both teams are set up as well as they could hope for the next two days. Jared Poché, the winningest pitcher in LSU history, will take the ball on five days of rest on Tuesday against Dyson. LSU's main bullpen weapon, flame-thrower Zack Hess got an extra day of rest and is locked and loaded for the rest of the series. If it goes to Wednesday, Alex Lange can come back on four days of rest for LSU against Kowar on four days for Florida.
It took a great performance from Singer to win on Monday even though the Gators had the huge edge on the mound, because LSU's lineup is tough — tougher than O'Sullivan remembered, he said. But the Gators did win. Now the stage is set for a very compelling rest of the series.
Kevin O'Sullivan addresses his team after Monday's win (Eric Sorenson)
"We're going to have to play better if we want to win this thing. And this thing is not near — it's not nearly over," O'Sullivan said. "We got six hits tonight. Brady had to pitch his tail off. We have a freshman going tomorrow against the winningest pitcher in LSU's history. We're going to have to play better. So is it exciting to have Game One under our belt, yeah, but tomorrow we're going to have to play better. And that's the message. And we're going to have to swing the bats a little bit better. And we're going to have to get to Poché in the first part of the ballgame, and we're going to have to get a special start from Tyler. He's certainly capable.
"But, you know, we're close but we haven't finished. We haven't crossed the line yet."
Join the Discussion