Texas Tech Shows Mettle In Win Over Arkansas
College World Series
Want to get in-depth coverage? Subscribe to D1Baseball
---

CWS Central | Coaching Buzz Blog
OMAHA — Tim Tadlock wanted to see what his team was made of in an elimination game against Arkansas.
The Red Raiders were unable to get in a groove in their CWS opener against Michigan. Wolverines righthander Karl Kauffmann kept Tech's hard-hitting lineup in check and Red Raiders freshman righthander Micah Dallas struggled against red-hot Michigan.
Both of those things needed to change Monday afternoon against Arkansas if the Red Raiders wanted to stay alive at the College World Series. And they did. Texas Tech junior righthander Caleb Kilian didn't have a stellar start to the game, but settled in nicely, while the offense got contributions throughout the lineup and from unexpected places in a 5-4 win over the Razorbacks to stay alive.
Color Tadlock impressed with his team's performance.
"We had a hunch these guys were going to be fun to watch with their backs against the wall," Tadlock said after the game. "We really hadn't been in that position throughout the year. We played really good baseball pretty much the whole year, and we try to approach each day and get a good win and play the game the right way.
"I thought Caleb Kilian gave us an opportunity today with the way he pitched. It really gave us an opportunity to come back late in the game," he continued. "Cam got on with a walk and Cody ran the ball out in right center. There were a lot of really good at bats throughout the day. And again, we just had a hunch after the other that these guys — they're going to be fun to watch with their backs against the wall. They like playing baseball, and they like preparing. It's just one of those deals."
While the Red Raiders eventually got in a groove as the afternoon progressed, the Razorbacks took charge in the early innings. Hogs slugger Heston Kjerstad smacked a solo home run off Kilian on a 92 mph fastball in the second inning, while the Hogs struck again in the third with an RBI triple from Casey Martin and an RBI from Matt Goodheart.
Arkansas had a commanding 3-0 lead. But Tech, backs against the wall, delivered.
Tech responded just the way Tadlock thought it would. Cam Warren smacked a two-run home run in the fourth inning to trim the Arkansas lead to 3-2, before leadoff hitter Easton Murrell picked a good time to hit his first home run in the fifth, smacking a two-out game-tying home run to right field to make it 3-3.
Tadlock had confidence Murrell would get the job done. With Gabe Holt out of the lineup for the second straight game because of a broken thumb, Tadlock got bullish in the lineup with Murrell, who began his career at Arkansas and was well aware of what to expect from the Hogs bullpen. He used that knowledge to his advantage with the homer off righthander Kevin Kopps.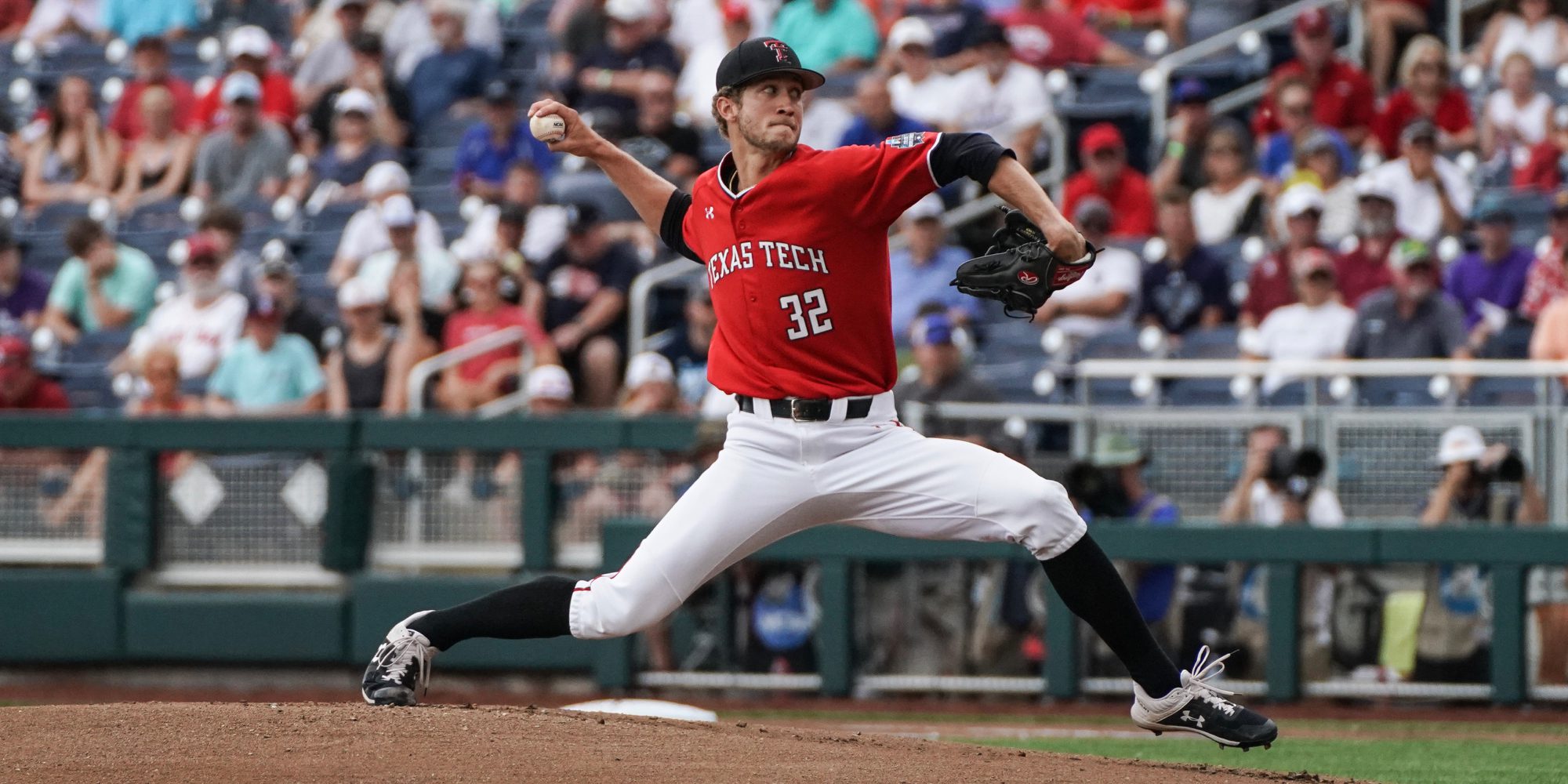 Caleb Kilian settled in to give Tech a strong start (Mandy Sorenson)
"We've played two years with the same leadoff hitter. Gabe Holt is very dynamic for us. It's not really up for debate if he's healthy, who's leading off for us," Tadlock said. "We really wanted to give our lineup the same look and wanted to get a lefthanded bat in there.
"I really just felt like the lefthanded bat was the right thing to stick in there. And then the advantage he has by seeing everyone in their bullpen before," he continued. "He's seen them a number of times, so a little bit of that went into it. It didn't really surprise me [the home run] at all. He's put together really good at bats over the last month, maybe even the last six weeks. So, I mean, I'm just really proud of him and thankful we got him."
An inning later, Texas Tech's Josh Jung hit a solo home run to give his team a 4-3 lead. Meanwhile, Kilian, who showed signs of teetering earlier in the game, was terrific after the third inning.
He sat 91-93 mph with his fastball, while also showing excellent feel for the 74-75 mph curveball. He sat down the Hogs 1-2-3 in the fourth before getting a big strikeout to end the fifth inning after a two-out double. Kilian recorded two more punchouts in the sixth before ending his start in emphatic fashion by striking out Casey Martin on a 74 mph breaking ball to end the seventh inning. Kilian finished the afternoon with nine strikeouts and allowed just three runs on six hits in seven innings.
"He was commanding the ball," Tadlock said about Kilian. "The pitch to Kjerstad was a fastball away, and we really thought it would be a hard fly ball to center or left, and he just got every bit of it and back spun it and the ball went out of the ballpark. And then the other two runs scored in that inning, a ball barely lands in front of Kurt. You're talking about a foot, maybe two feet from being out of the inning. And then the other one is supposed to be an elevated fastball and it's a ground ball in the six-hole with a lefthanded hitter.
"So, we thought he was executing pitches for the most part, and Caleb is a guy that'll battle," he continued. "He's a guy no matter what happens he's going to keep trying to execute his pitches and shows a lot of maturity as a pitcher."
It was a tough finish to the season for Arkansas. (Mandy Sorenson)
Kilian gave way to the bullpen after the seventh inning, and for the most part, they held the Arkansas offense at bay. Arkansas got a sacrifice fly in the eighth to tie the game at 4-4, but Tech responded in the bottom half of the inning with an RBI triple from Cody Masters. The Red Raiders played with fire in the ninth, but backs against the wall and all, Taylor Floyd ended the game with a fly out, this after the Hogs had runners on first and second with nobody out. Floyd induced a pop fly to leadoff hitter Trevor Ezell, he punched out the dangerous Martin on a filthy 81 mph slider and he got Matt Goodheart to fly out to end the game. Some wondered why Arkansas coach Dave Van Horn didn't bunt Ezell with the go-ahead run at first base and nobody out. But he trusted Ezell's barrel control and figured, at worst, Floyd's sinker would lead to Ezell hitting the ball to the right side of the infield. Instead, he flew out and the rest of the inning went in favor of Tech.
"Well, Floyd came in and did a great job. He had an opportunity to let that thing slip away, and he didn't," Van Horn said. "Ezell, obviously, coming up, one of our best hitters, switch-hitters, he had an option to bunt for a hit if they stayed back. I they were up I wanted him to swing. Looking back at it, I wish we he would have hit the first pitch.
"It was maybe a ball low, but it was probably the only fastball he got, and with the third baseman way up, Warren way up, and they started to back up a little. But I just didn't feel good about bunting one of my best hitters with first base open. Trevor needed to hopefully advance and drive them in, but Taylor made some really good pitches to Trevor."
While Texas Tech stays alive in Omaha, Arkansas' season comes to a surprisingly quick end at the CWS.
The Hogs entered the season with high expectations. They fell just short of winning their first national title last season. They also had some holes to fill coming into the spring. But in true Dave Van Horn fashion, the Hogs just seemed to get better as the season progressed and entered the CWS as one of the favorites to win the national title — certainly their side of the bracket.
But just like last season, the cards weren't there for the Hogs. However, it doesn't diminish what this team accomplished this season. Jack Kenley evolved from a guy with limited power production to one of the nation's premier hitters, while Matt Goodheart gave the Hogs a needed offensive jolt from the junior college ranks. Additionally, freshman outfielder Christian Franklin showed glimpses of being a special player, likely sooner rather than later. The season coming to an end never gets easier, but the future remains bright in Fayetteville.
As for the Red Raiders, they live to play another day.
They showed their coach what they're made of.
Join the Discussion