A College Baseball Giant's Bittersweet Exit
Columns

---
DURHAM, N.C. — As Jim Morris got ready to coach what would almost certainly be his final inning as Miami's head coach, he stood alone in the first-base dugout, leaning on the rail, lost in thought as "Time" by Hootie & the Blowfish played over the PA system. The musical choice was apropos, a reminder that all good things must come to an end, and time stops for no man.
"I thought about it there of course late in the game, that this might be the last inning," Morris said later, his voice unsteady. "But I'm still hoping in some way we'll get a bid to go anywhere on Monday. I told these guys all along that I believed in them, and I thought they'll never forget it, they'll never give up. And I can't give up either."
Even facing a 7-1 deficit against Clemson, the Hurricanes did not go quietly in the ninth, scrapping and clawing to put two baserunners aboard before the Tigers finished them off, eliminating them from the ACC tournament. Morris went to shake hands with Clemson coach Monte Lee, who had some warm words for the man who will retire after his 41st season as a head coach.
"I told him before the game, and I told him after the game, just how much he's meant to our game, how much he's meant to our league," Lee said. "Any coach my age, I hope I can look back when my career is over and say that I've had the career that he's had, and that's gonna be pretty much next to impossible. I just wanted to make sure that he understood how much I respect him and what he's been able to accomplish in his career.
"He's a giant in our game, and I just hope people appreciate it. I think they do."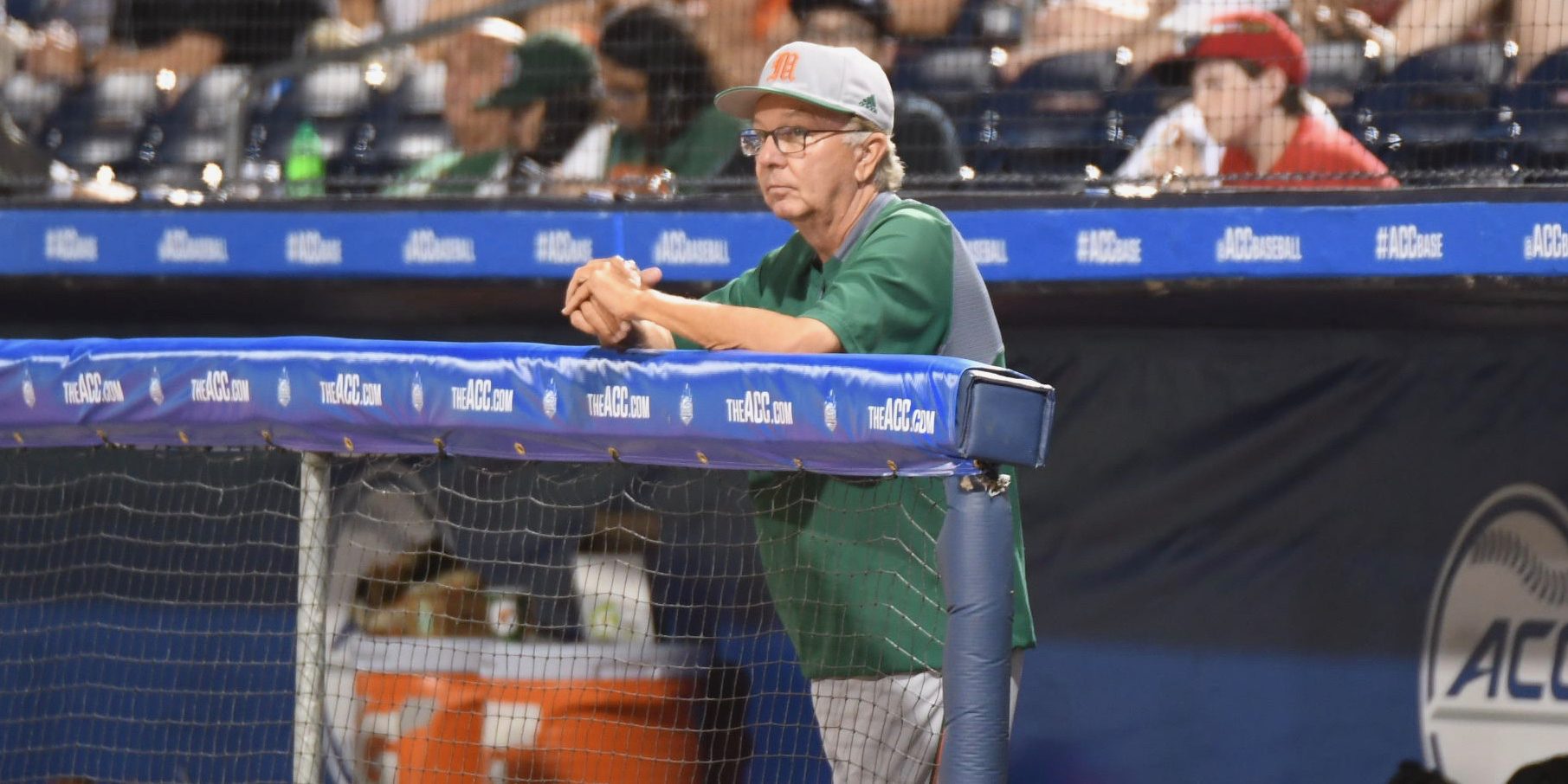 Miami's Jim Morris surveys the field in his final game (Aaron Fitt)
Morris won for so long, at such a high level, that his success probably gets taken for granted by too many people, but it shouldn't be. The tale of the tape on his career is simply astounding.
Morris, 68, likes to tell the story of how he began his coaching career just days after his playing career ended in 1975, when he joined the staff at Appalachian State. The next year, he started up the DeKalb (Ga.) CC program from scratch, and in just the second year of the program's existence he led it to the Junior College World Series. He left DeKalb to work for his future arch-rival, Mike Martin, at Florida State in 1980, and in 1982 he took over a Georgia Tech program that had gone 4-23 over its first two seasons in the ACC. But he turned the Yellow Jackets into winners in short order, leading them to nine straight NCAA tournament appearances from 1985-93, whereupon he left for Miami.
And he had his greatest triumphs in Coral Gables. He led the Hurricanes to 13 College World Series appearances in 25 years — more than any other program in the country during that span. He led the Hurricanes to regionals in each of his first 23 seasons before falling just short in 2017. He won national titles in 1999 and 2001, and finished with 1,594 wins in 37 years as a Division I head coach — the second-most among all active coaches and the fifth-most in history. Over the course of his career, he has coached more than 150 players who went on to play professional baseball, including prominent major leaguers like Ryan Braun, Pat Burrell, Nomar Garciaparra and Jason Varitek.
Morris tried hard to maintain his composure Thursday night, stating Miami's case for the postseason through glassy eyes in the postgame press conference — competitive to the end. But his emotions bubbled to the surface moments later in the Miami dugout, when he talked about the players he has coached over the course of his career.
"Oh, it is (emotional), and it'll be emotional when I meet with the team as a group. I didn't meet with them much tonight, I just thanked them a little bit," he said. "But the real deal is that it's amazing how long I've been putting on a uniform. Today may be the last day, but I'm proud of our guys and what our players have done on the field and off the field, baseball-wise and academically. The people that have made it big-time in baseball but the other people who have become doctors and lawyers and everything, I'm very proud of all our players."
And Miami's current players did not try to hide their own emotions when they discussed how much Morris has meant to them, and how badly they wanted to get him to the postseason one last time, instead of ending his storied career with back-to-back seasons missing the NCAA tournament.
"That man over there is what college baseball is all about," Miami outfielder Michael Burns said through tears. "You know, I never told him this, but he gave me my life back, and just did it by being himself. He expects high, he acts with class all the time, and so of course we wanted it for him. I wanted it for him so bad that it's coming out of me right now. It's for '3', and he's an amazing man, an amazing coach."
"This guy is a legend and he's going to be on the college baseball Mount Rushmore for everybody. He should be, at least," Miami lefthander Jeb Bargfeldt added. "Building on what Mike said, these last two years I've just tried to be a sponge, tried to take in what he's been able to bring to the field every day, and I felt like I have doubled if not tripled my baseball knowledge just hanging out with him, just watching how he goes about his day. You know, there's a lot of hanging heads on that bus because we didn't get it done for him, for sure."
Jim Morris disappears into the tunnel for the final time after Miami's loss to Clemson (Aaron Fitt)
But the last thing Morris wants is for his players to hang their heads. This Miami team looked down and out just a few weeks ago, sitting at 17-25 overall and 10-13 in the ACC after dropping the first two games at Florida State. But the Hurricanes won the series finale in Tallahassee, sparking an 11-game winning streak to finish 16-13 in the ACC. At 28-26 overall and No. 61 in the RPI, Miami almost played its way back into the NCAA tournament at-large discussion, but the reality is that it needed a couple more wins in Durham to have a legitimate chance. ACC teams with RPIs in the 60s do not get at-large bids, especially when they are 7-15 against the top 50.
But that doesn't mean Morris shouldn't be proud of the way his team rallied late in the year, after falling into a deep hole in the first half while coping with some crippling injuries and an incredibly young starting lineup.
"It was great when we got the guys back that were hurt, (Danny) Reyes in particular," Morris said. "But our freshmen got better, and they never gave up, and they kept battling even tonight, to the end, we had some guys on base and they kept battling. I'm very proud to be part of the University of Miami and being part of this program."
Finally, Morris was asked about all the players whose lives he has impacted over the course of four decades in this profession.
"I don't like talking about it because I'm still hoping on Monday something happens. But it's been…" Morris trailed off, and his voice cracked. "I can't imagine doing anything different. I've been very, very lucky."
And college baseball has been lucky to have him.
"Only a handful of guys have ever had that type of career," Lee said, "so I just want to make sure that we wish Jim Morris — I hope he has a great retirement and gets a chance to relax and enjoy life after baseball. But he's done a lot for our game."
Join the Discussion