Andrews Study Reveals Interesting Data About College Baseball
Columns

---
SEE ALSO: Omaha Eight | Transfer Tracker | Head Coach Carousel | Assistant Coach Carousel
---
Marc Rothermich and a team of experts from Andrews Sports Medicine could be the linchpin that pushes the idea of a 'New Baseball Model' over the mountain over the course of the next few months.
While saving, and in turn, making money is a large part of the model proposed by Michigan head coach Erik Bakich and a host of other coaches, the well-being of players is at the forefront of the potential legislation as well. By moving the season back a month, you'd have more pitchers and position players not competing during the colder months and a longer ramp-up time to the season. This, Bakich believes, would greatly reduce arm injuries.
Rothermich and the Andrews group agree with that assessment and have become not only integral for the potential passing of the 'New Baseball Model', but advocates of health in college baseball and professional baseball as a whole. That's precisely why Rothermich and a team of researchers embarked on an ambitious and robust study three years ago to study UCL/arm injuries in the sport. They wanted to see the sport's trends. Were arm injuries in college baseball increasing at an alarming rate, or was the sport making significant progress? We'll discuss that a bit more later in the story, but that gives you a background of where they were coming from.
Until Rothermich and his team tackled this study, there were previous studies done on arm and UCL injuries in college baseball. However, Rothermich spoke with renowned athletic trainer Stan Conte about some of the figures that were presented. Some of the numbers seemed absurdly low. For instance, one study estimated that there were 40-50 surgeries per year for all of college baseball. No way, Rothermich thought.
"I thought that's got to be way, way low," Rothermich said about some of the earlier studies. "So, I got on the phone and started calling some of the athletic trainers in some of the power conferences to get a good, but small sample size. I sent out some emails and those in the ACC were particularly excited about this study. The ACC bought into it back in 2017 and it just kind of spread like wildfire. We ended up doing 15 conferences our first year.
"For college baseball, there was just a real hole in our numbers until that point," he continued. "We didn't want to know just the incidence of arm surgeries and injuries in professional and college baseball, we wanted to know the prevalence. We wanted to know a pretty simple question: When are kids getting these surgeries done? I couldn't believe no one had really dove that much into it before."
And thus, the study began.
Rothermich assumed he would run into some issues in the first year of the five-year study. For instance, he thought he'd have a tough time getting data from Military academies and some other private institutions. So, he focused the first year getting as much data as possible from the power conferences, and about 10 more leagues. His hit rate in the first year was strong with 155 respondents (51.8%). In 2018, Rothermich did some serious leg work and decided to spread the wealth. He sent the survey out to strength coaches/trainers/coaches of every Division I program. He succeeded as 94% of the programs responded to his survey. That figure climbed to a whopping 99% in 2019.
"There were only two or three programs who couldn't do it last year. In our industry, if you can get an 80% response rate, that's a win. We got a 99% response rate. So, I was pretty ecstatic," he said. "I ended up being like the grim reaper of college baseball. I'd email and call schools the day after their seasons ended and try to start getting this information. You know you had a good season when you didn't hear from me until late June."
Though the fourth year of the study wasn't completed because of the pandemic, Rothermich and his crew will continue in 2021. And frankly, it should be fascinating to see unfold considering so many pitchers and players in college baseball are taking significant time off because of the sports shutdown.
At any rate, Rothermich hopes the study will serve as not only educational, but a guiding light for the NCAA and coaches as they potentially look to pass the 'New Baseball Model'.
"This study was all about filling in the knowledge gap," he said. "A lot of these kids are getting drafted out of college. So, are they getting hurt in college or high school? You know, things like that. We had no real goal with this study, we merely just wanted to see what the numbers told us.
"We've already had discussions with the NCAA about this data, and who knows, that might lead to a trip to Indianapolis at some point," he continued. "You certainly don't want to rub people the wrong way, but from a medical standpoint, some of the things being discussed make a lot of sense, such as a new model. It seems like a no brainer."
————
As you thumb through the 'New Baseball Model' proposal, there are financial and academic factors broken down extensively. Improved arm care is also mentioned and is rather obvious to most anyone in baseball. Now, we have all the data to back up those statements.
There are two things abundantly clear to Rothermich and the Andrews Sports Medicine group: 1) there is not enough ramp up time to the college baseball season, particularly from a pitching standpoint and 2) though there's nothing sinister about starting the season in mid-February, arm health would be greatly improved by a later start date such as the one proposed in the NBM.
"If you moved the start date for the season back to March, our hope and thought would be that you'd have a 10-20% decrease in surgeries," Rothermich said. "With a new model like this, those early-season conditioning injuries should go down. Almost 40 percent of arm injuries happen either at the beginning or at the very end of the season. By moving the season back, you can certainly limit some of those injuries on the front end."

There's an abundance of data to peruse throughout this study. (Download the Data Summary Report)
One of the most interesting figures in the Andrews study are not only the total number of surgeries but when are the surgeries occurring?
The trend from an in-season standpoint is interesting. Back in 2017 when the study began, 48.5% of surgeries occurred in-season. However, that percentage trimmed to 41.3% and 37.7%, respectively, the last two years. Furthermore, the number of surgeries performed in the preseason or after the season has increased from 51.5% in 2017 to 62.3% in 2019. When broken down by specific time, surgeries in the preseason are 12.7%, 11.7% and 16.6% in those three years, while the offseason is 22.4%, 18.7% and 22.9% in those three years. Finally, the percentage of surgeries done in the previous postseason were 16.4%, 28.2%, and 22.9% from 2017-19.
Going even deeper, the comparison of surgeries by region is in intriguing. There were 133 total surgeries in 2017, 227 in 2018, and 223 in 2019. Of those, here's the breakdown of surgeries from warm-weather schools: 2017: 65.4%, 2018: 52.9%, 2019: 53.4%. And for cold-weather schools: 2017: 34.6%, 2018: 47.1%, 2019: 46.6%.

What does Rothermich take away from some of those figures?
"There's zero doubt that's been an improvement of awareness at the collegiate baseball level," he said. "The trainers and coaches are certainly interested and very aware. They want to know things and there's a lot of enthusiasm in learning more about it.
"The numbers we presented in this study will never be down to zero, but if we can take a big bite out of it and even make a small adjustment, that's a pretty big impact on the sport and the health of players in it. If you have more time to prepare, you definitely start to limit injuries" he continued. "The biggest goal from our standpoint with this new model is just to give pitchers more ram up time — and then you certainly have the financial aspects of it, too."
————
Though the 'New Baseball Model' was a hot topic of discussion with Rothermich and his team, we also dove into other intriguing aspects of the study.
Many would approach this study with the belief that every program deals with arm surgeries. But that is not the case. The data from Rothermich and his team are illuminating in some ways. For instance, 50.7% of college baseball programs did not have any arm surgeries in 2019. That figure was up from 43.2% and 49.3% in the previous two seasons. Furthermore, 34.8% of programs reported just one surgery in 2017, with that number dropping to 27.7% in 2019. In 2019, 17.9% of programs reported two arm surgeries, while three programs reported three arm surgeries in 2019 and 0.7 reported four in the same year.
Broken down by position, 85.8% of arm surgeries occurred in pitchers in 2017, 84.3% in 2018, and 83.4% in 2019. As you might suspect, the next closest position is catcher at 4.5% in 2019, and shortstop after that with 2.7% of the arm surgeries in 2019. Going deeper with pitchers, 46.2% of arm surgeries were performed on starting pitchers in 2019 with 53.8% of them performed on relief pitchers. The figure for starting pitchers is slightly up (four percent) from the first year of the study, while the reliever figure is slightly down from the 54.4% mark in 2017.

When arm surgeries occur in a players' career also is important. Rothermich believes many players arrive at college as somewhat damaged goods. What they do in college might contribute to eventual arm surgery, but it wasn't the tipping point in many cases. The average age of a player who needs arm surgery was 19.8 in 2019, which is a slight decrease from the 2018 figure of 20. That number was 19.7 in 2017. In terms of specific classifications, 39% of arm injuries occurred in college freshmen in 2019, that number up significantly from 27% in 2018 For sophomores, that number dropped from 29.1% in 2018 to 23.8% in 2019, while the number dropped from 33.5% to 24.7% in 2019 for juniors. Finally, for seniors, that number increased from 8.2% in 2017 to 12.6% in 2019. It's evident there's more wear and tear on players entering the college ranks.
"For sure, some of these injuries are definitely happening before they get to college. For instance, if you look at the top of the bell curve — the age is 19.8," Rothermich said. "That tells me a lot of these injuries at least began before they got to college."
One trend to keep an eye on moving forward is the prevalence of total reconstruction of the UCL versus a simple repair. In the past, many players would get a total restructure of their UCL. Back in 2017, 90.5% of UCL surgeries were to reconstruct the UCL. That number has since dropped to 80.1% in 2018 and, remarkably, 74.9% in 2019. By comparison, the number of surgical repairs/clean ups on UCLs has increased from only 9.5% in 2017 to 19.9% in 2018 and 25.1% in 2019.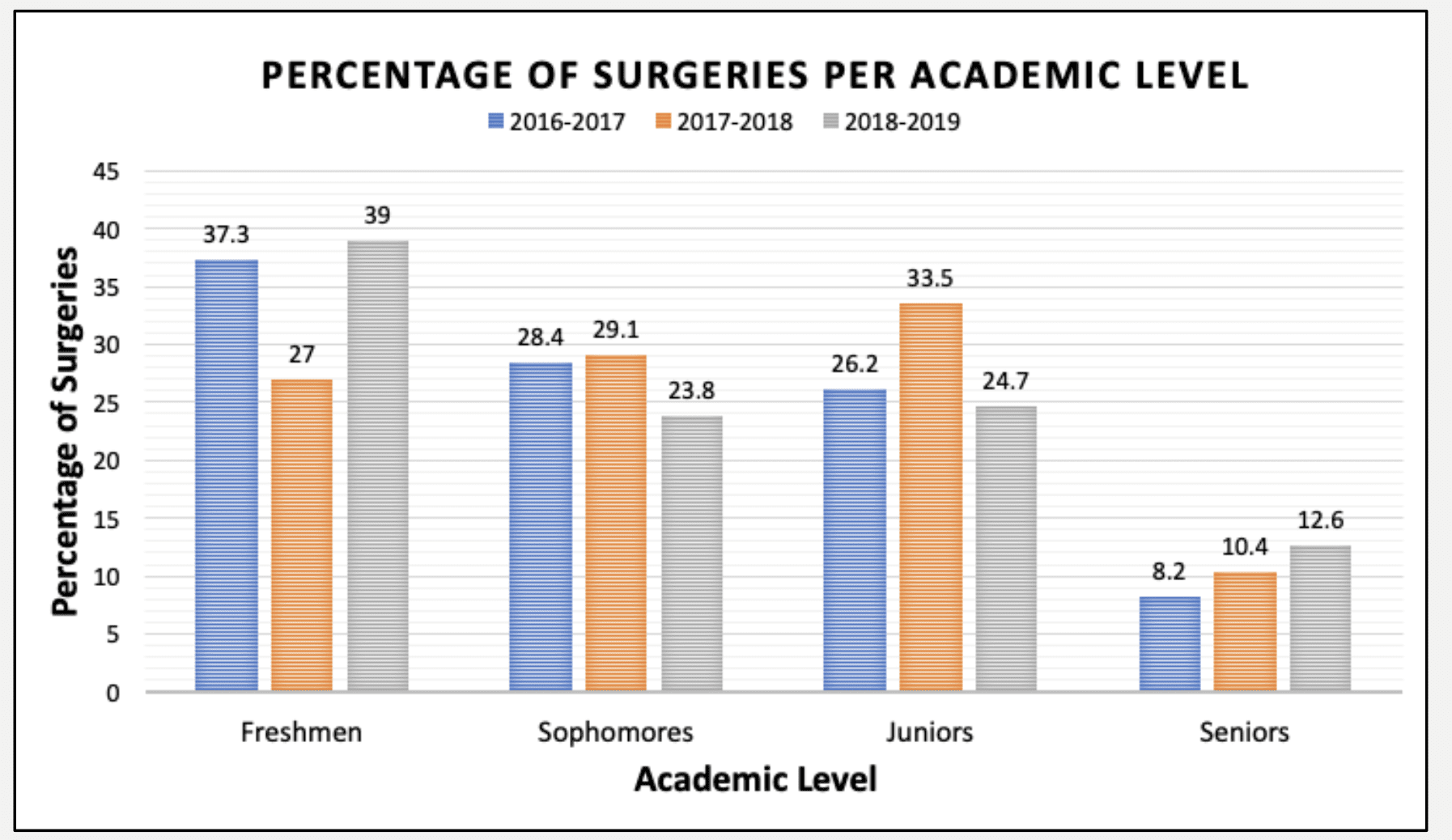 That trend excites Rothermich and his colleagues.
"The number of simple UCL repairs over the past few years has gone up 10-to-25 percent, to where almost a quarter of college baseball players are getting repairs and not a total redo," he said. "I think that's exciting for us. Getting repairs is becoming much more popular for players. Most pro athletes are getting reconstruction and college players are getting repairs."
Rothermich and the Andrews team were looking forward to year four of a five-year study until the season came to an abrupt halt. But the data already accumulated is telling an interesting story about college baseball. The sport clearly continues to make progress, but there's more that can be done. In Rothermich's eyes, the 'New Baseball Model' could be an important piece to that continued success.
We'll see if coaches and administrators agree.
---
Join the Discussion