College Baseball Braces For The Great Roster Crunch
Columns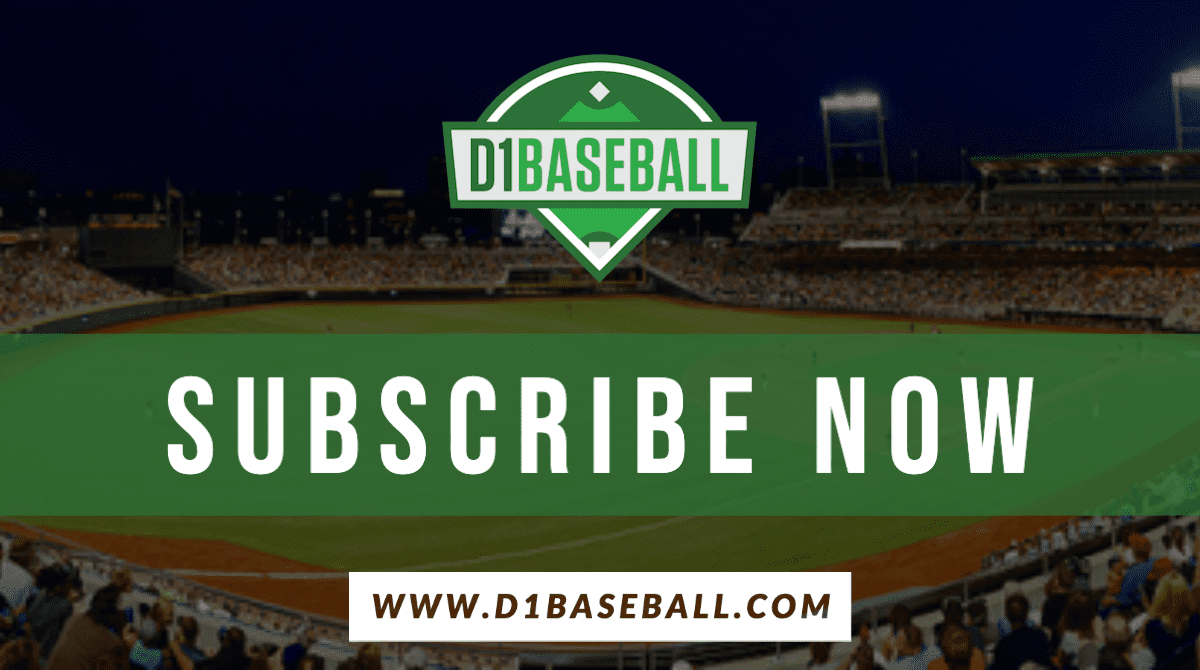 ---
---
For two weeks after the COVID-19 outbreak resulted in the cancellation of the 2020 college baseball season, players and coaches hung in limbo, waiting for news from Major League Baseball about the 2020 draft, and waiting for word from the NCAA about whether or not players would be granted an additional year of eligibility. A March 26 announcement from MLB and a March 30 vote by the NCAA's Division I Council provided some answers, but also created some big questions for college baseball's players and coaches.
The combination of the two announcements ensures that many college baseball teams will be facing significant roster crunches next season. But just how bad will the roster crunch be, and what can be done about it? Most everyone agrees that the D1 Council made the right decision to grant a blanket eligibility waiver for all spring sport athletes; but now coaches are left trying to figure out how to build their rosters within the framework of the sport's 35-man roster cap, and its limit of 27 players on athletic aid, along with the requirement that any player on aid receive at least a 25 percent scholarship. Even though seniors who elect to return for another year won't count against a team's 11.7 scholarship allotment or its roster size cap, there are sure to be many difficult decisions ahead for coaches and players alike.
"I think I was somewhat surprised [by the blanket eligibility vote], because it's such a tough financial situation right now for so many schools. But I was just so excited that they did exactly the right thing. I think it's good for student-athletes," said Craig Keilitz, the executive director of the American Baseball Coaches Association. "Now the heavy lifting starts, to figure out how we make that work, so we don't have hundreds — and I mean hundreds — of kids around the country shut out by our total of 35, or the 27 guys on aid. So we've got some work to do to make that work, that coupled with the cutting down the draft. Unless you're a baseball coach or work closely with them, you have no idea the intricacies that have to take place to get down to that 27 men on aid, 11.7 and the 35 men on roster."
The MLB Draft
MLB's March 26 agreement with the union gave the commissioner the option to reduce the draft from its usual 40 rounds to as few as five rounds, but we still don't know exactly how long the draft will be. At least we know there will be a draft, so the elite talents in the top five rounds will be taken care of, even though the vast majority of their signing bonuses will be deferred. Many insiders expect the draft to be just five rounds, to allow owners to save a modest $2.5 million per club, on average.
But the new agreement also limits nondrafted players to a maximum signing bonus of $20,000. Many players will surely take those $20K bonus offers to get their pro careers started, knowing that their value will be significantly reduced if they return to school as 22-year-old juniors, considering how age-obsessed MLB clubs have become. But the blanket eligibility waiver does at least serve to give juniors and eligible sophomores who choose to return for another year some leverage. Now, a sixth-round talent who might normally fetch a bonus between $250K and $300K will have the choice of taking $20K as an NDFA, or returning to school as a fourth-year junior and hoping to get a higher bonus in a 2021 draft that is guaranteed to be at least 20 rounds.
So in practical terms, how many players will be affected if the draft is just five rounds? MLB Pipeline's Jim Callis crunched the numbers and reported that last year, 395 players received six-figure bonuses after the fifth round. And 295 of them came after the 10th round, when players could receive up to $125K without counting against an organization's draft bonus pool. Clubs could also go above that $125K mark by saving bonus pool money with cheap seniors in the top 10 rounds.
So even if half of those 395 players who got six-figure bonuses last year decide to bite the bullet and sign for $20K (or less) this year, that's still almost 200 additional players heading to college baseball than normal. Some of the incoming freshmen would likely choose the junior-college route — but there will be roster crunches at the JC level too.
The Junior Class
Most mid-major coaches we've spoken with don't seem nearly as concerned about this as power-five schools, many of whom were planning to lose six to 10 juniors and eligible sophomores to the draft this year, and recruited to fill those holes.
LSU coach Paul Mainieri (Kendall Rogers)
"Where it really impacts us is the junior class, especially if the draft only ends up being five rounds," LSU coach Paul Mainieri said. "I went into this year with the idea that probably seven or eight of our underclassmen were going to end up being drafted and sign and not be with us the following year. Now if we only have five rounds of the draft, we might only lose two of those players. So all of a sudden you've got five or six guys that you didn't anticipate coming back next year. And you could also say the same thing about your incoming class. So we have this class of 17 players, and you were thinking you could end up losing three or five of those players, now you may only lose one or two.
"So it's nobody's fault, and you might look at it like, 'You shouldn't have over-recruited,' but you have to over-recruit in the SEC because your players are so good, you're gonna end up losing so many players; if you don't accommodate that, who are you going to beat the following year when you've got a roster of 22 players? And we all do it, we have to do it. That's the double-edged sword of being at a school that gets good players, you know you're not going to have them for four years. So I think the NCAA made a really good decision, but I don't think it impacts baseball where we are as much as if they could give us some relief with regard to the amount of scholarships and the roster size, not just exclusive of the seniors. And even if it's something just temporary. Look, we'd all love to have 15 or 18 scholarships on a regular basis, but even if they just added a couple scholarships for us to get us through this next year, and lift the lid on the 27 scholarship spots, I think everybody could kind of get through this next year. … I just think if the NCAA really wants to see this thing through all the way, then they have to look at baseball as a unique sport. I don't think softball or beach volleyball or some of the other sports have the same issues we have in baseball, and they need to take a hard look at it, in my opinion."
Additional Roster Relief?
We expect the D1 Council to recognize that baseball's circumstances are unique, and we anticipate that additional relief measures are forthcoming for baseball. Allowing teams to go above the 11.7 scholarship maximum for all players — not just seniors — for one year would certainly be helpful, but if that step seems too bold, the Council should relax the 35-man roster limit and 27-man counter limit in order to give coaches the flexibility to better navigate this unexpected crunch.
"I just know that I think the majority of schools need additional relief, for juniors who are now returning and incoming freshmen who have a good chance of enrolling. I know that's speaking to every ACC and SEC, power five school," North Carolina coach Mike Fox said. "I understand how this is going to come across to the smaller programs who are like, 'This doesn't affect us. Why should UNC get a reprieve on the 27/35, why should they get 32 and 40, and we don't need that relief?' So I understand the other side of the argument, but all I know is we are where we are, and we are not the only school in this position, that is for sure. Not by a long shot. The Coastals and the UNCWs are probably in the same position. They have good juniors and they recruit well.
"I understand people are saying there's going to be some tough conversations, and those are just words that people are typing into an article. But when we are having those conversations, we're talking about changing a kid's future, when we call and say, 'We don't have enough room for you,' or so and so came back to school. So I'm hoping they're still working on it, because they've not done enough for our sport, not even close. We need more relief to make this work."
The NCAA's official release announcing the blanket eligibility relief acknowledged that baseball is the only spring sport with a roster cap. That 35-man roster limit plus the 27-man counter limit and the 25 percent minimum scholarship requirement were put into place over a decade ago to help address college baseball's poor Academic Progress Rate, which was torpedoed by the sport's high transfer rate. To fix it, the one-time transfer exemption was eliminated, but the NCAA wanted to force schools to increase their minimum commitment to players in order to justify making transfers sit out a year. That's why the 25 percent minimum scholarship requirement was adopted. The package succeeded in repairing baseball's APR, and now it's worth considering if those restrictions are still necessary — especially since the entire APR structure might prove useless if the NCAA votes to allow players across all sports to transfer freely, as it may do later this spring.
North Carolina's Mike Fox (UNC Athletics)
"The .25 [minimum scholarship requirement] is one of the worst rules ever. It's totally unnecessary when you already have a cap on the 11.7. And why are we the only [partial-scholarship] sport that is told the amount of scholarship kids have to get?" Fox said. "The rationale [behind the 25 percent minimum scholarship rule] was flawed. Because kids transfer on 80 percent. Kids transfer for playing time, pure and simple. You're trying to make the commitment about money, and it's generally never about money, it's never about the scholarship."
And that raises another important point. Even though seniors don't count against a team's roster limit, teams that have a bunch of seniors returning will face their own roster crunch, even if they aren't affected at all by the changes to the draft.
"Even though seniors don't count against the 35, that still bites into playing time," Maryland coach Rob Vaughn said.
Transfer Portal Filling Up
So it shouldn't be surprising that the transfer portal has become flooded with players who recognize that playing time is going to be a problem next year. As of Sunday, 199 Division I players have entered the transfer portal in just more than three weeks since the season was canceled. Of those players, 104 are graduate transfers, many of them from the Ivy League, which announced last week that it will not allow graduates to return for another season.
"Just in the last couple hours, I've probably had four or five emails from kids that have either been let go or have had a change in their situations, and that's just in one afternoon," Creighton coach Ed Servais said. "I think April's gonna be a tough month for society and for players; they're going to be caught in between a little bit. Kids that have jumped on the transfer portal are taking it a step further — they're not just going on the portal, they're reaching out to coaches. And also high school kids that are very nervous. So we've been spending a lot of time the last week and a half, first of all calling our current players to make sure they're doing everything they can academically to stay on top of things. Then our recruits we have committed to us the next year and the year after. But you can tell in their voices there's a lot of anxiety because their buddies are being told that they may not have a spot at the team they've committed to. So we're trying to calm the nerves a little bit of the kids who have committed to us, because we believe we're in good shape, but I know a lot of programs are not."
Athletic Aid and Loss Revenue
Servais said the Big East has left it up to each individual school to decide whether or not to give returning seniors athletic aid (they are allowed to receive up to the amount of aid they received in 2020, but they can also get as little as zero aid and still return with a roster spot). He said Creighton has decided to give seniors athletic aid, and five of his seven seniors are planning to return. Many other conferences are still trying to decide how to handle seniors. Some seniors will elect to move on with their post-baseball lives, but many others will choose to take advantage of their extra year of eligibility. The question is, will schools be able to accommodate them?
Ball State has nine seniors on its 2020 roster, and five of them have told coach Rich Maloney that they want to come back for another year. Maloney said he wants to do everything he can to make that happen for them, but right now uncertainty reigns.
"With the lost revenues from the March Madness that every school in America is going to be faced with, we're kind of in a bit of a holding pattern about how all that's going to shake out," Maloney said. "Even in the power fives, I've talked to a few different people, even the schools in the power five with tremendous resources will be substantially hit as well. So that hit will affect each school differently, and each school's gonna have to figure out how to manage that hit. How that affects the seniors coming back is still yet to be determined. In the meantime, as coaches of baseball, we've always had to be creative and figure out ways to make our money work out for us the best we possibly could. I think every baseball coach would tell you they're looking at their rosters, their scholarships, their budgets, and they're trying to figure out how to put the puzzle together and make it work."
ABCA head Craig Keilitz
Keilitz made an interesting point about seniors in baseball. In a partial-scholarship sport like baseball, institutions can still benefit financially from players returning even if those players are on partial athletic aid. And if administrators recognize that reality, it could help more seniors get opportunities.
"Schools, their incoming freshman class, a lot of schools might be down 10, 20 percent. Retention numbers could be hurt as well with unemployment going up, wages possibly going down, so you wonder how many people simply cannot afford it. So retention could be hurt and so could incoming freshmen numbers," Keilitz said. "Baseball and all spring sports are equivalency sports, so how could a school not love to give a kid 25 percent so they pay 75 percent? So is this a way to keep more kids on campus and offset those costs? Increasing the numbers, is that a bad thing? I hope we have flexibility, because it could help students financially and it's the right thing to do for student-athletes in the sport of baseball."
Bigger Rosters Should Be Coming
There's also a debate about whether bigger rosters are even in the sport's best interests. Servais pointed out that he can only put 27 players on his travel roster anyway, so if he had a 40- or 45-man roster, he would struggle to keep a dozen more players engaged, and team morale would suffer. Even some power five coaches, like Arizona State's Tracy Smith, prefer smaller rosters.
"What I would like to see happen is for them to just do what they did," Smith said of the D1 Council. "You exempt the seniors from the roster limits and scholarships, so that's a one-year problem, but I think you definitely hold on the roster limit if there's going to be one — I wish there wasn't, but just hold the roster limit and scholarship limit as is, because that would negate that massive recruiting stuff that's standard practice at some schools."
Fox, a former walk-on himself, has strong feelings against the 35-man roster cap.
"If there was a 35-man roster limit in 1977, you wouldn't be talking to me," he said. "I've said for years, to cap the kids that can be involved with your program is just wrong, and it's sad. Part of that is me just being a walk-on, and no you don't need 36, 37, 38 players to win a baseball game. But if the NCAA is going to say they're all about providing opportunities, then that 37th, 38th guy that just wants to be part of the program and is on no scholarship and is fine with that, you shouldn't have to turn a kid away who wants to be involved in your program and the coach wants him to be involved. Give him a purpose on a college campus. That is a good thing and that should be able to happen. Let the school and the athletic programs and the coaches, let them figure out how they manage the number on a team. It doesn't mean they have to travel or be on scholarship, it just means they are a part of something. And I know the benefit of that, I've seen the benefit of that, and I think other coaches have as well."
Many mid-major coaches would strongly oppose abolishing the roster cap altogether, citing the increased parity that has resulted in part by preventing the power programs from carrying 40 or 45 or more players, many of whom could be impact players at smaller programs. But even if the roster cap isn't abolished permanently, it should be relaxed or eliminated temporarily to provide some relief for the roster crunch that will result from these unprecedented circumstances. There will still be enormous player movement because of the reduced playing time available for players as a result of the likely reduced draft and the return of many seniors, and the NCAA should also allow players to transfer without sitting out a year.
"I've been saying that from the get-go, I've been saying that until I've been blue in the face," Smith said. "If we didn't have that piece of legislation on the table prior to the pandemic, that would have been a strategy to be employed anyway to be a relief valve. So I think the more the NCAA can do to allow kids to transfer without penalty is going to actually provide some relief for these rosters."
Could Programs Get Cut?
Many coaches we've spoken with are also concerned that this crisis could result in a number of college baseball programs getting cut, particularly in light of the dramatically reduced payout from the NCAA to schools due to the cancellation of March Madness. If programs get cut, the roster crunch will be even worse, as all the players from the eliminated programs look for new homes. If the crisis lingers into the fall and college football is affected, there will be budget emergencies all around college athletics — so all we can do is hope that doesn't happen.
"I'm fortunate enough that I believe we're in a good situation at Creighton, but I do believe some programs are going to be cut, and those are opportunities that young players don't have," Servais said. "I hope administrators can find a way to hang in there. But with football potentially being in a tough situation, and basketball not being able to collect the money from March Madness, not just baseball but a lot of sports like baseball are probably going to be looked at really hard. I know there are going to be budget cuts in those programs, but I hope it's just that. We'll get back to where we need to again, it may take a year or two. But I hope the last resort is to actually eliminate the program."
But even if the number of programs stays the same, figuring out how to navigate the roster issues and budget issues won't be easy. Keilitz said he hopes to work with the D1 Council on coming up with a baseball-specific plan based on the input of coaches as well as administrators.
"I will leave that up to our coaches, as we pull our groups together and come up with our best processes and how we can handle this," he said. "The second part of that, once we come up with what we think will work best, is what's feasible for institutions to accomplish. The one thing I've been talking to a lot of coaches about is we think a two- or three-year strategy — that doesn't hurt institutions financially, doesn't create too much of an imbalance with, an equity problem amongst the different schools, but still allows as many kids who have commitments, that don't go pro, that are still on the team — all those players will still have a place to play. Because if we stick hard to the 35 and the 27, and the the draft is down to five rounds which it certainly could be, what does that mean for so many kids? There just aren't enough spots for everyone."
Join the Discussion