Rogers: Simonds Says No-Hitter
Columns
• Want more D1Baseball.com coverage? Subscribe Today

COLLEGE STATION, Texas — College baseball is made for guys like Kyle Simonds.
As Vanderbilt star outfielder Jeren Kendall ripped a liner toward the senior righthander's head with two outs in the ninth inning with a no-hitter in grasp, Simonds didn't really have much of a choice. He was in full-on protection mode, and he snagged the liner, walked a few steps forward and pointed both index fingers toward the sky, the ball firmly planted inside the palm on his right hand as if it was suddenly his most prized possession.

Simonds, who hails from Grand Island, Neb., a 150-mile western jaunt from Omaha, the home of the College World Series, is suddenly a big name in the NCAA history books. Not only did he throw a no-hitter against a team in the top 10 of the D1Baseball.com Top 25 rankings, he became just the 12th pitcher in Texas A&M history to accomplish the feat, the last being current big leaguer and righthander Ross Stripling against Addison Reed and San Diego State back in 2012. Furthermore, he became the first SEC pitcher to accomplish the feat since Florida's Jonathan Crawford did it against Bethune-Cookman in 2012, while amazingly, he's the first pitcher to do it in SEC play since Arkansas' Todd Abbott experienced the same euphoria against Vanderbilt back in 1994.
On top of the personal accomplishment of throwing a no-hitter against the Commodores, Simonds also guided the Aggies to a 3-0 victory and put them in the driver's seat for one of the always-important top eight national seeds. It was a perfect day for, well, almost perfection.
"You just dream of doing these things, and you get to see guys like [Ross Stripling] do it. It's just hard to believe," Simonds said. "There's no better place to do it than here in Aggieland. It makes it pretty special. The last half inning I was kind of expecting them to take a strike, but they came out swinging, and I don't really blame them. [On the last play] I just kind of stuck my glove up there, I couldn't believe it."
There were moments throughout the contest that really stand out. For instance, in the first inning, with two outs, Bryan Reynolds hit a ground ball to A&M shortstop Austin Homan who had to hurry his throw and wound up airmailing the ball past the head of first baseman Hunter Melton. That play kept Simonds from grabbing a perfect game, but other plays, especially late, stood out even more in this game, played in front of a raucous crowd of 6,550 at Blue Bell Park.
As Simonds alluded to, the Commodores were very aggressive against his 88-91, touching 92 mph fastball, along with his much improved slider with good breaking action and low-80s changeup. And as a result, he was able to induce some ugly swings early in the count, which allowed to him to somehow throw a no-hitter with just 83 pitches, 58 of them for strikes.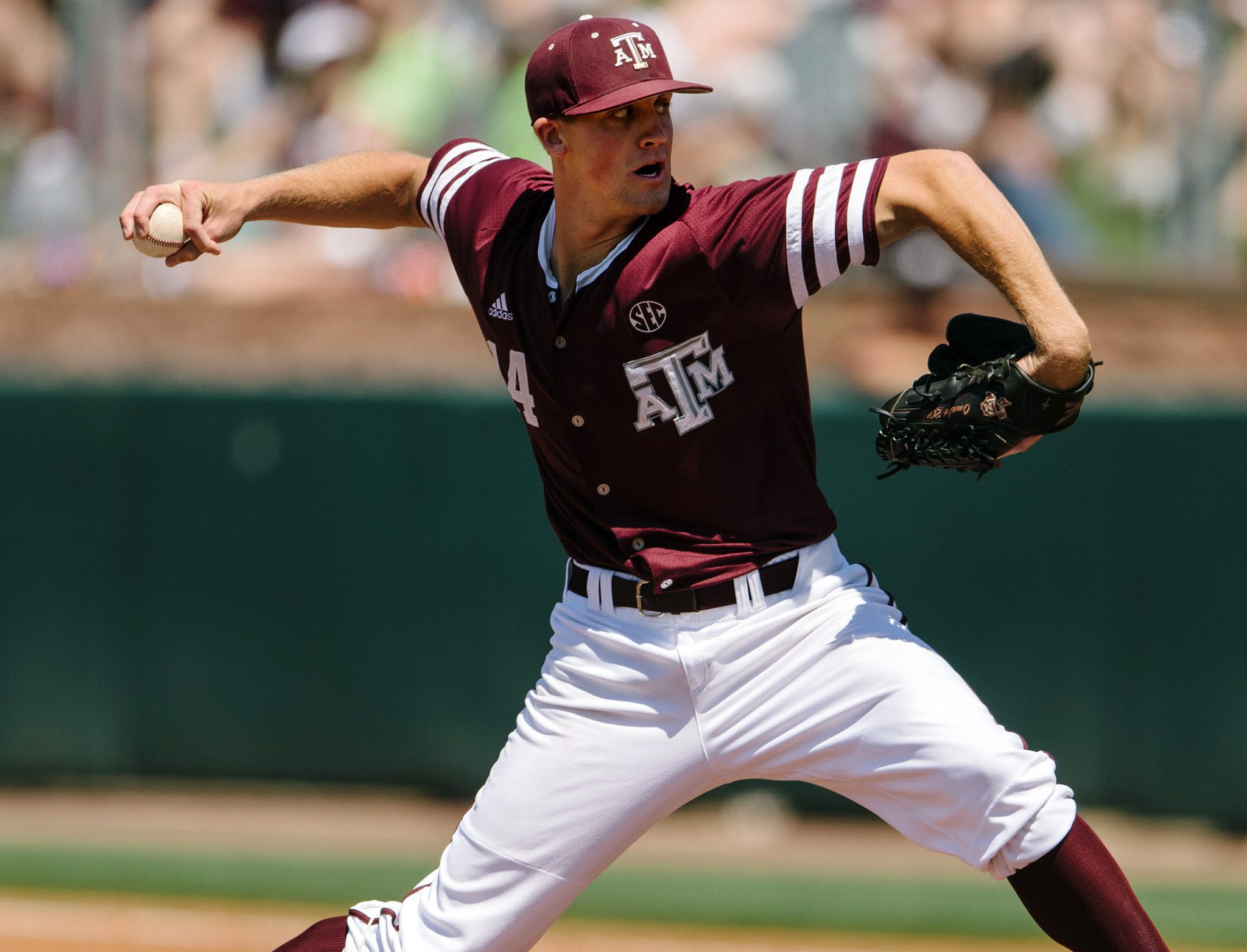 Kyle Simonds was terrific against Vanderbilt. (Thomas Campbell)
"I really started throwing my breaking ball a lot better at Arkansas last weekend and I knew it had to be an out pitch, and I built some confidence off that," he said. "I knew it had to be an out pitch for me and I threw it a lot today. The biggest difference for me is just throwing strikes. You hurt yourself when you walk guys, so I just got ahead of them in the count."
The Commodores didn't show any signs of getting to Simonds in the first eight innings, but things got rather interesting when the Nebraska native was down to his last three outs. After second baseman Tyler Campbell smacked a hard-hit grounder to Simonds for the first out, Connor Kaiser hit a liner to center field, and it initially looked like athletic Nick Choruby wouldn't be able to get to the ball. However, Choruby ran straight in and made a diving catch that caused the public address announcer to play the Olympic theme over the stadium sound system.
He needed just one more out with, of course, Jeren Kendall, everyone's nemesis, at the plate. Kendall hit the hardest ball of the day, but it found the righthander's glove, as if fate would only have it that way.
"His focus and his ability to charge the zone from inning one to inning seven or nine never deteriorated and he had a great rhythm. We just couldn't break it," Vanderbilt coach Tim Corbin said. "He was on point, and after we saw what Kyle [Wright] and Jordan [Sheffield] did, what goes around kind of comes around I guess. He was very impressive and had a well-pitched game. He was impressive in every single way.
Just a few years ago, Simonds would've been the unlikeliest of pitchers to experience this euphoria.
——————–
As a college baseball scribe with an intense love for the sport, it's always intrigued me to consistently hear the question from some in the big league arena: 'Why wouldn't you want to cover pro baseball?'. Days like today, and pitchers like Kyle Simonds is the only answer needed.
You see, Simonds wasn't some ultra-talented prospect who left his tiny abode in Grand Island, Neb., to become a front-line pitcher at Texas A&M and in the Southeastern Conference. He needed some fine-tuning. He was a low-to-mid 80s righthander in high school, and though he had plenty of success during his tenure at Central Catholic High, Childress admits he needed some work before heading the Division I route.
FINAL: @Aggie_Baseball RHP Kyle Simonds throws a no-hitter in a 3-0 win over @VandyBaseball to take the series. pic.twitter.com/3FXcSpQhpy

— Kendall Rogers (@KendallRogers) May 7, 2016
Therefore, as many players do, Simonds went the junior college route for a couple of seasons and formed into one of the best pitchers in the country at Hutchinson (Kansas) C.C., tallying 103 strikeouts and a 2.30 ERA in 2014, and drawing the attention of many of the nation's elite programs.
He decided on Texas A&M.
"I don't think he was ready out of high school and he made the decision to go to a junior college. We were just really fortunate to get him," Childress said. "He had a great sophomore year, and he was more of a mid-80s guy and made a jump in velocity to where he was more 86-89 mph with his fastball. We needed a late addition to our spring recruiting class, and while he was courted by some very good programs, I think our history at Nebraska kind of helped get him."
Simonds was a consistent contributor for the Aggies last season, but didn't quite show the stuff he has so far this season. He was more so that 86-89 type of arm with good feel for a changeup and slider, and he tallied a 3.08 ERA in 49.2 innings, along with 33 strikeouts and 17 walks. Not bad numbers under any measure, but the veteran wasn't satisfied.
So, he spent the offseason rigorously working with Texas A&M strength and conditioning coach Jeremy McMillan and showed flashes of brilliance in the fall. At one point, he was creating some serious buzz within the coaching staff with talk of increased velocity and sharper stuff, and the Aggies were incredibly excited about his potential this spring.
You've seen that potential the past few weeks. Against Alabama at home, Simonds allowed just a run on two hits in five innings to help win that hard-fought series, while his shining moment prior to today was last weekend at Arkansas, where he showed veteran poise and very sharp stuff, striking out five and allowing just two runs on eight hits in a complete game performance.
Kyle Simonds tips his hat to the #Aggies crowd following the no-hitter pic.twitter.com/c3N9xhvg3B

— Kendall Rogers (@KendallRogers) May 7, 2016
"I thought he really built on last weekend's performance against Arkansas and he showed an awful lot of confidence in his stuff," Childress said. "He threw all three pitches for a strike and he certainly fielded his position extremely well. We're really proud of him, and our defense was very good and our offense was just enough against Vanderbilt's pitching staff.
"He was 88-92 out there and he's just very confident and aggressive right now," Childress continued. "His breaking ball has been much better the past couple of weeks."
In addition to his no-hitter today, Simonds struck out four and has now allowed just three runs in his last 23 innings of work.
Kyle Simonds had a day to remember.
He's now part of history.
Join the Discussion