Sorenson: Off The Top Of My Head
• Want more D1Baseball.com coverage? Subscribe Today

Hey again, StitchHeads. Welcome to my second edition of the OTTOMH blabberfest.
There are many interesting games and tournaments coming up this weekend. After last week saw only one matchup of ranked teams (UNC at UCLA), this week will see only two, No. 1 Florida traveling to No. 6 Miami and No. 12 Oklahoma State at No. 10 UNC. But No. 16 Louisiana-Lafayette, No. 17 TCU, No. 22 Houston and No. 24 Arkansas are all taking part in the Shriner's Houston College Classic. And, while the ranked-vs-ranked isn't too numerous, there are plenty of intriguing matchups all over the map this weekend. Check these out: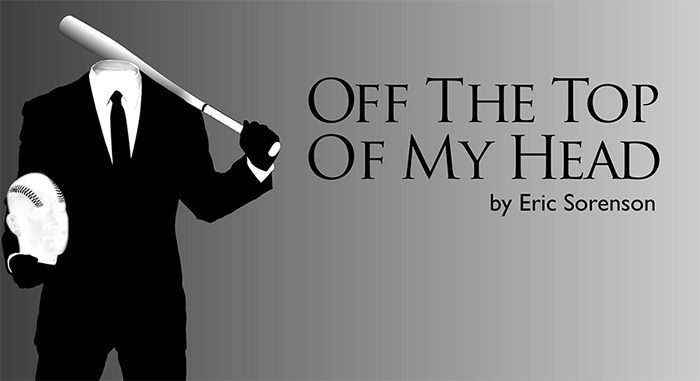 – No. 2 Louisville at Ole Miss.
Here's the Rebels chance to stick their chest out and say they have been underrated.
– No. 4 Texas A&M at Pepperdine.
Aggies are just 5-10 vs. West Coast teams the last three seasons.
– Kansas State vs. No. 5 Oregon State in Surprise, Ariz.
A rematch of the 2013 Supers where the 'Cats nearly stunned the heavily-favored Beavs.
– Sacramento State at No. 7 LSU
Tigers should cruise, but don't tell the Hornets, who are probably the best team in the WAC and coming off a road series win over Auburn.
– Wright State at No. 8 North Carolina State.
The Raiders went 1-2 vs. Ole Miss, Miami and Missouri State in 2015, each included a one-run loss.
– East Carolina at No. 11 Virginia
Are the Pirates better than we think? Are the Cavs weaker than we think? Stay tuned.
– No. 14 UCLA at Cal Poly
The Mustangs will also play Michigan this weekend for a great three-team hoedown.
– College of Charleston at No. 18 Florida State.
A rematch of the regional finals last June where FSU took two from the Cougars.
– Wake Forest at No. 21 USC
Tom Walter's Demon Deacons are desperate to prove themselves and give warning to the ACC.
– Stanford at No. 23 Texas
Both teams are looking for bounce-back seasons so this weekend is a good springboard for someone.
– Indiana at No. 25 Cal State Fullerton
Both teams went 1-2 last weekend, but give the edge to Fullerton for the pitching.
Since Aaron and Kendall are writing previews based around the Tony Gwynn Classic in San Diego and the Houston College Classic, I'll delve into the biggest matchup of the weekend down in Coral Gables.
So, here we go …
Florida-Miami Series Preview
Coral Gables, FL
Mark Light Stadium

First things first, this rivalry never seems to disappoint. But things have been leaning the Gators way of late, including their winning four of five games between the two last season. The final two games were played on the big stage in Omaha but weren't close as the Gators pounded the Hurricanes 15-3 and 10-2. Earlier in the year, Florida took two of three from Miami in Gainesville in a series I labelled as "The Winter Classic" since Friday night's game was played in 37-degree temperatures.


Logan Shore, who will get the start on the mound on Friday night for the Gators, went just 10 pitches in the Friday opener in Gainesville last season before exiting with an injury. A.J. Puk didn't last long in his outing either, going 2.1 innings and giving up three runs on four hits. Those two will face a very potent batting order as Zack Collins and Carl Chester provide the thunder and lightning in what is potentially the best batting order in the country. Emphasis on the word 'potentially.'
Also keep in mind that Shore and Puk didn't have very good opening weekends vs. FGCU either, especially Puk, who gave up four runs on four hits in four innings. Meanwhile, Miami cruised throughout the weekend against Rutgers, giving up just 12 hits and two runs in three games.
Crafty lefty Thomas Woodrey, Miami's Friday starter, has already proven that he can be effective against the Gators after he earned the lone win against them last year, going 6.2 innings and giving up just five hits and an earned run. Woodrey is one of those invaluable four-year veterans with great pitchability and smarts. He will be counted on to go pitch-for-pitch with Shore in Game One.
Thomas Woodrey is an experienced arm who tends to rely on changing speeds and location to keep batters in check.
Last Saturday, Miami coach Jim Morris decided to go with lefty Michael Mediavilla as the No. 2 starter and the sophomore delivered big time. Despite being a reliever last season – and a Freshman All-American – Mediavilla didn't flinch when it came to getting the start, holding Rutgers to three hits and issuing zero walks in his 6.0 innings of work. He also struck out seven Scarlet Knights.
Danny Garcia, Miami's Sunday starter, didn't have too shabby of an outing either as the low-90s righty shut down the Knights for two hits in 7.0 innings and issued just a single walk in his 24 batters he faced.
By all indications, the arm-vs-arm matchups for Friday and Saturday will be very interesting. Both batting orders are lethal and chock full of talent – yes, I have yet to mention Florida's gauntlet of Buddy Reed, J.J. Schwarz, Peter Alonzo and Ryan Larson, among many – so both pitching staffs will have their hands full.
If there is an edge in the arms corps it has to go to the Hurricanes, who boast an All American candidate with Bryan Garcia as their closer. The junior righty made 10 saves a year ago, along with a 6-2, 2.50 numbers and already has two saves this season after tossing two innings of no-hit, three-K ball on opening weekend. Set-up man Cooper Hammond (5-1, 2.25 in 2015) is one of those freakish sidewinder types who issued just nine walks in 40 innings last season.
But I do have to put a small caveat in this bullpen analysis here, because I am intrigued to get the chance to see the Gators' precocious freshman RHP Brady Singer, who was a second round draft pick last June (56th overall) but decided to go the college route after all. It looks like coach Kevin O'Sullivan has him slated to be the Gator closer this year so we'll see if he can live up to the pressure of the UF-Miami rivalry. Stay tuned.
I am looking forward to my first visit back to "The Light" since they made all the renovations a few years ago. Hurricane baseball fans are not a rabid bunch, but they have a long history of having a good following. We can all thank the late Ron Fraser for that. The legendary former Hurricane head coach promoted the program better than anyone ever has in the history of our sport, launching baseball at The U from a quiet little game attended by about 25 parents and girlfriends per game to a real happening, with promotions, entertainment and amenities for the fans.
This weekend in Coral Gables should be a real kick.
My Hall of Fame Ballot
Looks like Dr. Mike Gustafson wants my opinion again. The kind people at the College Baseball Hall of Fame sent out their ballots this week for this year's Hall of Fame class. They are split up in different categories, as usual. This time we voted on the players who played between 1981 and 2005, then the players who played between 1968 and 1980, then the small school coaches, the small school players and finally the D1 coaches. So here's who is getting my vote:
Players, 1981 to 2005 (pick eight)
1- Mike Smith, SS, Indiana 1989-1992
Only D1 player ever to win the Triple Crown, hitting .490 with 27 home runs and 95 RBI.
2- Jason Varitek, C, Georgia Tech 1991-1994
Was the first player in D1 history to be named a unanimous 1st Team All American three times.
3- Ira Smith, OF, Maryland-Eastern Shore 1986-1990
First D1 player to win back-to-back batting titles hitting .488 in 1989 and .519 in 1990.
4- Todd Helton, 1B/Pitcher, Tennessee (1993-1995)
In 1995 he hit .407-20-92 and was 8-2, 1.66 with 12 saves on the mound.
5- J.D. Drew, OF, 1995-1997
The only player in D1 history with over 30HRs and 30SBs in a season. Also only third player to have a triple-triple with 106 hits, 110 runs and 100 RBI in his junior year.
6- Mike Loynd, Pitcher, Florida State 1984-1986
Set the NCAA record with 20 wins in 1986. Also threw a school record 223 strikeouts.
7- Marteese Robinson, 1B, Seton Hall 1985-1987
His junior year he hit .529, which is third-best in D1 history. Also had 58 stolen bases that year.
8- Jeff Brantley, Pitcher, Mississippi State
Set the SEC single season record with 18 wins in 1985 and is tied for most career wins with 45.
Who didn't make the cut on my ballot:
– Mark McGwire, USC, 1982-1984
– Barry Bonds, Arizona State, 1983-1985
– Roger Clemens, Texas, 1982-1983
– Jeffery Hammonds, Stanford, 1990-1992
– Phil Nevin, Cal State Fullerton, 1990-1992
Players, 1968 to 1980 (pick five)
1- Rich Dauer, 3B, USC 1973-1974
Set single season NCAA records with 108 hits, 181 total bases and 92 RBI in 1974.
2- Steve Kemp, OF, USC 1973-1975
The No. 1 overall draft pick hit .435 in 1975 and a USC-record .397 career average.
3- Jim Gideon, Pitcher, Texas 1973-1975
Won 40 career games, including eight career shutouts. Led the nation in wins in '74 and '75.
4- Tom Paciorek, OF, Houston 1966-1968
Was a 1st team All American in 1967 and 1968.
5- Orlando Gonzalez, 1B, Miami 1973-1974
A burner. Hit .402 and stole 62 bases as a senior in 1974. Also swiped 38 in 1973.
Who didn't make the cut:
– Reggie Jackson, Arizona State, 1966
– Bill "Spaceman" Lee, USC 1966-1968
– Rick Monday, Arizona State, 1965
Small School Coach (pick one)
Ric Lessmann, Meramec CC/Washington Univ. 1965-2010
Never had a losing season and totaled 1,365 wins at both schools.
Who didn't make the cut:
– Frank "Porky" Vieira, Univ. of New Haven
Small School Player (pick one)
Randy Ross, SS, North Park Univ. 1981-1984
Batted .429, .511, .509, .416 in his four years. Best career average – .469 – in D3 history.
Who didn't make the cut:
– Lloyd Peever, Pitcher, Seminole State College (later LSU), 1990-1992
– Billy Wagner, Pitcher, Ferrum, 1991-1993
D1 Coach (pick one)
Augie Garrido, San Francisco State, Cal Poly, Cal State Fullerton, Illinois, Texas
Who didn't make the cut:
– Norm DeBriyn, Arkansas
– Mark Johnson, Texas A&M/Sam Houston State
– Les Murakami, Hawaii
This Week's Eight For Omaha
If the season ended right now, here are the teams which would be drinking beer and wine at TD Ameritrade Park
– Florida
– Vanderbilt
– Miami
– Louisville
– Oregon
– North Carolina
– Florida Atlantic
– Louisiana-Lafayette
Moving In The Fences
One of my biggest pet peeves over the last few years in college baseball has been baseball programs deciding to move their home field fences in. A lot of this was done during the "dead bat" years where the home run was taken away from our game at such a drastic rate, coaches freaked out and decided to move fences in so that fans would still be treated to home runs. Or, as I have heard rumored, some coaches did it for recruiting purposes. I heard a tale of a coach in the SEC telling power-hitting recruits that they should go to their school where they can hit more home runs and catch the eye of professional scouts better because of it. Pfft, wimps.
Anyway, one park that has just recently moved their fences in was at Blair Field, home of the Long Beach State Dirtbags. Now I have to be honest, I am not totally against this move. The fences, nay, the concrete wall, sat at 348 down each foul line. When you couple that distance with the walls being 10-feet high, then that was a little on the excessive side of things. They will now be at a more normal 335 feet down each line.
Here is a twitter posting they did a week before the season…

Paul Mainieri, Color Commentator
Ran across an interesting look at LSU head coach Paul Mainieri and a little insight of his life away from the diamond. He says in the piece, "I think some coaches want to die on the field. I don't." in regards to how he wants to coach nine more years and then be done with it. Walk away. What does he want to do after that? Become a college baseball TV analyst.
Check it out here…
http://theadvocate.com/sports/latestsports/14920633-172/weird-superstitions-crazy-traditions-lsu-coach-paul-mainieri-wife-karen-prepare-for-10th-opening-day#comments
Five New Stadiums I Want To See
Dang it. I did this feature last year and, well, I didn't cross any of these stadiums off my wish list. So I will re-post it here in hopes that it'll motivate me to get to some of these sparkling new parks. Anybody want to send me a plane ticket? If you're buyin' then I'm flyin'.
1- Washington's Husky Ballpark
This stadium was a long time coming. A lonnnnnng time coming. The Huskies needed it to help keep pace in the Pac 12. But now it's another gleaming home facility in the burgeoning Northwest. It's also hard to beat that view of Mt. Rainier beyond right-center field.
2- Liberty's Liberty Baseball Stadium
I have made the trip to Lynchburg before. In fact, I have seen games played at old Worthington Stadium on two different occasions in past years. But from the pics I've seen, this new joint is pretty swank. Reverend Falwell would be proud.
3- Coastal Carolina's Watson Stadium.
Unfortunately the timing wasn't the best. The Chants needed their shining new diamond back a few years ago when they were a ranked team and hosting in the post-season at neighboring facilities. But I'm sure with their new digs, getting back in the national picture will happen again soon.
Coastal Carolina's new digs.
4- Illinois-Chicago's Curtis Granderson Stadium.
Named after its most famous alum, the Flames have a brand new home that still has the beautiful Chicago skyline out beyond centerfield. An all-turf playing surface helps them keep games on schedule even if the skies cry above a little.
5- Purdue's Alexander Field.
Like Coastal Carolina above, this facility was a tad ill-timed. When the Boilermakers were ranked in the top ten and got a home Regional in 2012, they had to make it at a stadium in the dangerous part of Gary, Indiana. Now, if coach Schreiber gets them back to that level, they'll have a comfy new facility to play it in.
New Site To Check Out
Picking up where BlackCollegeBaseball.com left off, I was excited to see the arrival of BlackCollegeNines.com, a website dedicated to HBCU's, Historically Black Colleges and Universities. Michael Coker is the main man over there and has peppered the site with a lot of content, particularly focused on the MEAC and the SWAC but also featuring some small college action as well. Along with Aaron Fitt and Kendall Rogers, I have been asked to be a voting member on the BlackCollegeNines.com Top 10 rankings. The weekly ranking of HBCUs will begin in mid-March. Here is how the preseason Top 10 looks:
1- Alabama State
2- Texas Southern
3- Norfolk State
4- Jackson State
5- Alabama A&M
6- Southern
7- Florida A&M
8- Arkansas-Pine Bluff
9- Bethune-Cookman
10- Savannah State.
I have a feeling that FAMU was ranked way too low. We'll see.
Join the Discussion