Sorenson: Off The Top Of My Head
Columns
• Want more D1Baseball.com coverage? Subscribe Today

I was talking the other day with Jeeves, my driver, about some of the big upsets we've seen in college baseball already this year. Piggybacking on what I talked about in my latest Baldcast video, there sure haven't been many huge ranked-vs-ranked three-day weekends in college baseball this year. So the only thing we can hope for is upsets, in order to make the 2016 nonconference season interesting.
So Jeeves was asking me what were the biggest upsets in college baseball history. Truth be told, it's hard to say. There have been so many seasons and so many games, it's hard to quantify what is a bigger upset compared to all the seasons and all the games. But I did write a column for CSTV.com a few years ago dealing with the biggest postseason upsets in modern times.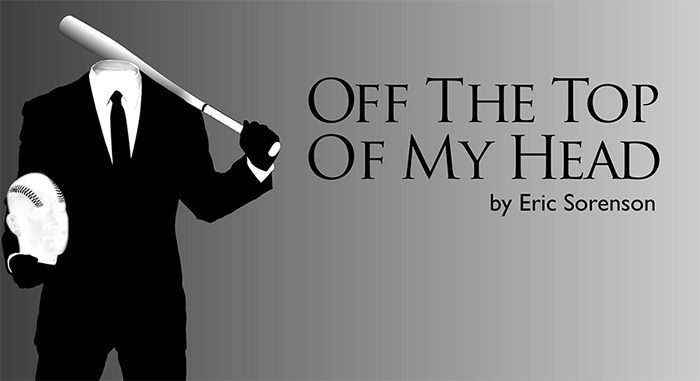 TOP FIVE GREATEST POSTSEASON UPSETS
These are all very debatable of course but here are the biggest five upsets I've see in the modern history of the postseason. Also keep in mind that this was written before Fresno State's magical run in 2008 where I would say their super regional win over Arizona State would certainly rate somewhere on this list, even more so than their run in Omaha. Anyway, here is the top five list of upsets:
1- 2004 Houston Regional – first round
Texas Southern – 4
Rice – 3
The Tigers came into regionals with a losing record and had two quality arms on the entire staff, and that was about it. Starter Isaac Daniels was one. His ERA was 4.45 on a team whose ERA was 8.49 entering the post-season. Meanwhile Rice countered with the intimidating presence of Phillip Humber, a top five draftee that year. Daniels went 7.0 innings, scattering seven hits against a team that hit .310. The Tigers chased Humber by scoring three runs in the 8th inning to forge ahead. Then, TSU's normal No. 2 starter, Brandon Strickland, came on to pitch the remaining two innings and put the clamps on the upset. Rice, the No. 6 national seed, went on to get eliminated by Texas A&M and was unable to defend its national title.
2- 1997 Midwest Regional – first round
Harvard – 7
UCLA – 2
This was a 1st vs. 6th-seed game to open the regional in Stillwater, Okla. Though the '97 edition was one of the better Crimson teams, finishing 34-17, you still have to put this in perspective. This Bruin team had players like Troy Glaus, Eric Byrnes, Eric Valent, John Heirnrichs, Peter Zamora and Jim Parque. After this hiccup, UCLA went on to win six straight games, including a win over Harvard and two ugly blowouts of the homesteading Oklahoma State Cowboys, 14-2 and 22-2, to make it to Omaha.
3- 1987 South II Regional – first round
Southern – 1
Cal State Fullerton – 0
Playing just down the river in New Orleans, the Jaguars made this the first ever win for a historically black school in the NCAA tournament. Ironically, they did it off of Fullerton's All American pitcher Mike Harkey, who was also black. Fullerton entered the Regionals with a 42-14 mark as a top five team and with a No. 1 seed under Augie Garrido. The Jaguars would go on to lose two straight after this and the Titans would rally to make it to the championship round, where they lost 7-3 to LSU.
4- 1999 Lubbock Regional – first round
Wisconsin-Milwaukee – 8
Rice – 4
Rice was the No. 1 team in the nation and UWM was playing in its first ever NCAA tournament game. Chad Sadowski led the Panthers in every way, pitching a complete game on the mound and also going 3-for-5 at the plate. The next day, however, the Owls eliminated the Panthers with a 27-1 bloodletting on their way to making the CWS field.
5- 1977 West Regional – finals
Cal St. Los Angeles – 5 7
Southern California – 4 6
This isn't as Earthshaking of an upset as you might think, because the Diablos (as they were known then – much cooler than their current "Eagles" nickname) were a good team. But keep in mind they had lost to No. 1 ranked USC 9-0 and 15-2 earlier in the season as part of a 6-7 start. Jack Deutsch's charges rallied and beat USC twice on the same day at Dedeaux Field in dramatic fashion to go to the College World Series. Once there, they became the darlings of Omaha because of their pre-game "shadow ball" routine and their mock-singing of the USC fight song in the dugout. Of course, since then Cal State L.A. has dropped to Division II status.
Fresno State's national title run would rate with one of the greatest upsets in college baseball history.
FIVE SERIES I'M LOOKING FORWARD TO
The mid-major scene in college baseball is already off to an interesting start. Here are a few big tests for some of the best off-the-radar teams in the country for this weekend.
– Fresno State (11-2) at Texas A&M (12-1)
Just to prove how fickle the RPI is, the Bulldogs were No. 1 in the early not-to-be-taken-too-seriously-at-this-point computer formula until losing the Sunday game at San Diego State and then losing a 4-3 decision at Long Beach State on Monday. Now, the 'Dogs head off to Aggieland for a tough three-game set. But at long last the Aggies will finally play a team with a pulse. Fresno is ranked ninth in the country with a team ERA of 1.78 and coach Mike Batesole bragged to me about the pitching depth of his squad earlier this season, but the Maroons have a team average of .353, which is second nationally. Something has to give here.
– New Orleans (11-2) at Sam Houston State (5-9)
Wow, the Privateers have made quite a 180 under new head coach Blake Dean, racing out to a solid start against moderate competition. However a huge comeback from 7-1 down vs. Tulane on Wednesday (they won 10-9) was a big feather in the cap. But now Southland Conference play begins, and going to the Bearkat den will be as tough of an assignment as possible in SLC play. The Privateers are fourth in the country with a .349 team average led by Kyle Bracey's .548 batting average, No. 4 in the country.
– Minnesota (7-3) at Seattle (8-4)
This one might appear to be waaaa-hay-hayyyy off the radar, but look closer. Not only do both teams come in with a good won-loss marks, it's another great pitching-vs-hitting showdown as the RedHawks come in with a 1.60 team ERA (No. 6 nationally) and the Gophers hit a robust .339 (No. 9 nationally). Seattle's bats aren't chopped liver either, coming in with a .306 average. Not only that, but Minnesota is ranked No. 23 and SU is No. 70 in the RPI, respectively.
– Samford (8-5) at Southern Mississippi (11-3)
While Ole Miss and Mississippi State always get the hog's head of the attention in the Magnolia State, it's easy to overlook the Eagles are currently at No. 20 in the RPI. But now the Eagle arms will have to deal with national Home Run champion (well, so far) Heath Quinn, who has eight yard calls in just 13 games. Word of warning fellas, don't threw a beach ball hooter high to the Mighty Quinn, he's liable to deposit it into the next county. Also, Austin Edens isn't far behind with five home runs as well.
– East Carolina (9-3) at Rice (6-6)
With wins over Virginia (2), Maryland and Southeastern Louisiana, the Pirates are sort of a known commodity already. It's the Owls who need to make a statement here, having had an 0-3 appearance at the Houston College Classic two weeks ago in their biggest games of the year. The Pirates have a team ERA of 2.64 and have issued just 29 walks in 109 innings of work. ECU also hits .318 as a team. This is where we find out if Rice is a serious contender for national honors or not. Step up Owls.
MORE GOOD SERIES AHEAD
Overall, despite my bellyaching about weak schedules, it's actually not a bad slate of games this weekend. The only nonconference matchup between ranked teams (in the D1baseball.com rankings, that is) will be No. 9 Oregon's trip to No. 20 Mississippi State. But here are some of the other tasty morsels out there this weekend.
No real reason to use this picture again from Mississippi State at Dodger Stadium, I just like the pic.
– Notre Dame at No. 5 Louisville
At 6-5, the Irish have a chance to put themselves on the map this weekend.
– Boston College at No. 8 North Carolina State
The Eagles are 10-2 but at No. 176 in the RPI. Go figure.
– USC at No. 11 TCU
Frogs look for revenge after last season's loss at Dedeaux Field. SC looks for respect.
– No. 18 Virginia at Duke
Don't forget, this Duke team beat the Cal Bear team that everybody is fawning over now.
– Texas at No. 19 UCLA
Okay Longhorns, it's not do-or-die time, but this is a chance to heal your reputation after last week's 0-for-4 vs. Cal.
– No. 21 Georgia Tech at No. 15 Florida State
Got an eye on the 12-0 Jackets here, but they have also played the 195th-ranked schedule so far. Hmmmm.
– No. 22 Clemson at Wake Forest
Tigers feel good after series win vs. South Carolina. Wake is 10-4 and could use a few more quality wins.
THIS WEEK'S EIGHT FOR OMAHA
These are the eight team that if the season ended today would be going to the Old Mattress Factory for beers after the CWS games.
– Florida
– Vanderbilt
– Miami
– Oregon
– North Carolina
– Florida Atlantic
– California
– TCU
Things mostly stay the same for this week. With their Friday loss to Georgetown, it was nearly time to take FAU off this list. But then I saw Mississippi State up close and personal the week in SmogLand, it appears the Dogs are fairly legit and the Owls are the ones who swept them twice on their home field.
Oh, and after their remarkable, history-making four-game sweep at Texas, there's no way to keep the Boys from Berkeley out of this week's special eight. Good on ya' Bears.
ODDEST SCHEDULE IN THE COUNTRY.
– Loyola Marymount.
As most of you StitchHeads out there know, I live in a refrigerator box underneath a freeway overpass. About a mile away is the campus of LMU. One of the advantages of living so close to LMU is that the weather is completely perfect for college baseball for most of the spring. Very few days of the season are bad for a game. But somehow the Lions scheduled a very road-heavy slate for 2016. In fact, 23 of the Lions' first 28 games are away from George Page Stadium. By the time game No. 29 comes around, the Lions will have already played in all four time zones and against teams like FIU, TCU, Nebraska, BYU and San Diego. That's going coast-to-coast. The Lions lucked out with their scheduled trip to Lincoln this weekend. Early March has the potential for anything from snowstorms to gully-washer rains. The temps will be in the upper 60s all weekend, so no snow around. But there is a call for rain on Saturday and Sunday.
SERIES CANCELLED.
The most bizarre cancellation of the season has officially taken place this weekend. The Lafayette-Georgia State series has been cancelled due to an outbreak of a contagious stomach virus on the Lafayette campus. The virus was confirmed to be due to norovirus.
BEST BASEBALL RELATED SONG/SCENE PAIRING IN A MOVIE
Movie: Bull Durham
Song: "I Got Loaded" (Los Lobos)
Scene: Where the Bulls players are hoping for a rainout and take matters into their own hands at getting it.
"You want a rainout? I'll getcha a rainout." This movie made a great instant transition from those words to the unfettered, ribald payoff of guys tearing up a field with the sprinklers firing on all cylinders. Hilarious.
ALREADY LOOKING FORWARD TO 2017
Yes! That's all I can say about news like this (and I don't use exclamation points often). Once again talking about weak nonconference schedules out there by programs afraid of their own shadows, there are four teams/coaches out there who definitely do NOT shy away from going on the road and playing good teams. It was announced this morning that the first-ever Frisco (Texas) College Baseball Classic will be played next year at the home of the Frisco RoughRiders, a Double-A affiliate of the Rangers. The field of teams will be Arkansas, Arizona, Nebraska and Oklahoma State. The people at Peak Sports Management, who put together this tournament, have already developed a hashtag for this tournament: #BestOutsideOfOmaha.
Ease back on the gas pedal there Peak Sports Management, the Houston College Classic and the Dodgertown Classic have dibs on that.
WHERE ARE THEY NOW?
– Gary Burnham, Clemson outfielder, 1996
Okay StitchHeads, need some help here. Remember Mr. Burnham? He is the Tiger left fielder who, in an elimination game vs. Oklahoma State, mistakenly thought a ball hit down the left-field line was ruled a foul ball, so he ran over, picked up the ball and chucked it into the crowd to a kid. Then he immediately realized that the umpire called the ball fair. The Cowboys batter was given credit with a home run. Though Burnham made a mistake on the play, he will be remembered forever in our collective college baseball minds. If anybody out there knows of Gary's whereabouts, let us know.
Gary Burnham had an 11-year career in professional baseball, but we will always love him for his stellar career as a Clemson outfielder.
Join the Discussion