Today's Schedule
| | | | |
| --- | --- | --- | --- |
| 11:00 AM | | | |
| | St. Bonaventure | | |
| | Mount St. Mary's | | |
| | | | |
| --- | --- | --- | --- |
| 1:00 PM | | | |
| | Merrimack | | |
| | Michigan State | | |
Greenville, SC (Fluor Field)
| | | | |
| --- | --- | --- | --- |
| 1:00 PM | | | |
| | Penn State | | |
| | Wagner | | |
Cary, NC
| | | | |
| --- | --- | --- | --- |
| 1:00 PM | | | |
| | Fairleigh Dickinson | | |
| | William & Mary | | |
makeup of 2/21 game
| | | | |
| --- | --- | --- | --- |
| 2:00 PM | | | |
| | Sacred Heart | | |
| | VCU | | |
| | | | |
| --- | --- | --- | --- |
| 2:00 PM | | | |
| | Bryant | | |
| | Georgia State | | |
| | | | |
| --- | --- | --- | --- |
| 2:30 PM | | | |
| | St. Bonaventure | | |
| | Mount St. Mary's | | |
| | | | |
| --- | --- | --- | --- |
| 4:00 PM | | | |
| | Merrimack | | |
| | Michigan State | | |
Greenville, SC (Fluor Field)
| | | | |
| --- | --- | --- | --- |
| 4:30 PM | | | |
| | Penn State | | |
| | Wagner | | |
makeup of 2/21 game (Cary, NC)
| | | | |
| --- | --- | --- | --- |
| 4:30 PM | | | |
| | Fairleigh Dickinson | | |
| | William & Mary | | |
| | | | |
| --- | --- | --- | --- |
| 6:00 PM | | | |
| | Central Connecticut | | |
| | Bethune-Cookman | | |
| | | | |
| --- | --- | --- | --- |
| Canceled | | | |
| | Long Island | | |
| | North Carolina Central | | |
CCD (NCCU Tournament, Durham, NC)
| | | | |
| --- | --- | --- | --- |
| Canceled | | | |
| | Long Island | | |
| | Niagara | | |
CCD (NCCU Tournament, Durham, NC)
Yesterday's Schedule
| | | | |
| --- | --- | --- | --- |
| FINAL | | | |
| | St. Bonaventure | 12 | |
| | Mount St. Mary's | 3 | |
| | | | |
| --- | --- | --- | --- |
| FINAL | | | |
| | Sacred Heart | 3 | |
| | VCU | 5 | |
| | | | |
| --- | --- | --- | --- |
| FINAL | | | |
| | Bryant | 4 | |
| | Georgia State | 3 | |
| | | | |
| --- | --- | --- | --- |
| FINAL (11) | | | |
| | Merrimack | 9 | |
| | Michigan State | 6 | |
Greenville, SC (Fluor Field)
| | | | |
| --- | --- | --- | --- |
| FINAL | | | |
| | Central Connecticut | 2 | |
| | Bethune-Cookman | 0 | |
| | | | |
| --- | --- | --- | --- |
| Postponed | | | |
| | Fairleigh Dickinson | | |
| | William & Mary | | |
PPD to 2/22, inclement weather
| | | | |
| --- | --- | --- | --- |
| Postponed | | | |
| | Penn State | | |
| | Wagner | | |
PPD to 2/22, inclement weather (Cary, NC)
Northeast Conference Leaders
Northeast Conference Headlines
2020 Northeast Conference Preview: Bryant Aims To Take Charge
Shotgun Spratling - February 4, 2020
Central Connecticut State looks to make it back-to-back NCAA trips, but Bryant's Tyler Mattison and others might have something else in mind.
Bashin' Bryant Homes In On Postseason Run
Aaron Fitt - April 25, 2019
Ryan Ward helps lead a high-powered offense for Bryant, which is the class of the NEC as usual. The Bulldogs have bounced back strong from an injury-hampered 2018 campaign, and they look poised to make some noise in June.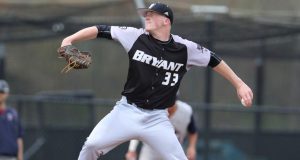 2018 Conference Previews: NEC
D1 Baseball Staff - February 7, 2018
Reigning Northeast Conference pitcher of the year Steve Theetge should help Bryant remain the team to beat in the NEC.
Fort Worth Regional Breakdown
Kendall Rogers - May 31, 2017
Brian Howard and TCU hope to protect their home field with Virginia, DBU and Central Connecticut coming to town.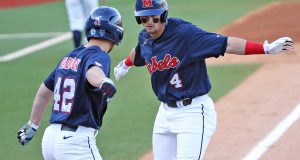 Teams On The Upswing: Week 10
D1 Baseball Staff - April 25, 2016
Oklahoma State got its bats going in a big series win against TCU, making the Cowboys one of our 10 teams that really boosted their stock this weekend.