Today's Schedule
| | | | |
| --- | --- | --- | --- |
| 3:00 PM | | | |
| | Yale | | |
| | Sacred Heart | | |
| | | | |
| --- | --- | --- | --- |
| 3:00 PM | | | |
| | Boston College | | |
| | Bryant | | |
| | | | |
| --- | --- | --- | --- |
| 3:00 PM | | | |
| | Fairleigh Dickinson | | |
| | Albany | | |
| | | | |
| --- | --- | --- | --- |
| 6:00 PM | | | |
| | Manhattan | | |
| | Wagner | | |
Yesterday's Schedule
| | | | |
| --- | --- | --- | --- |
| FINAL | | | |
| | Fairfield | 6 | |
| | Sacred Heart | 0 | |
| | | | |
| --- | --- | --- | --- |
| FINAL | | | |
| | Central Connecticut | 3 | |
| | Albany | 7 | |
| | | | |
| --- | --- | --- | --- |
| FINAL | | | |
| | Siena | 2 | |
| | LIU Brooklyn | 13 | |
| | | | |
| --- | --- | --- | --- |
| FINAL | | | |
| | Bucknell | 7 | |
| | Mount St. Mary's | 16 | |
| | | | |
| --- | --- | --- | --- |
| FINAL (8) | | | |
| | Fordham | 22 | |
| | Fairleigh Dickinson | 10 | |
8 innings, darkness
Northeast Conference Leaders
Northeast Conference Headlines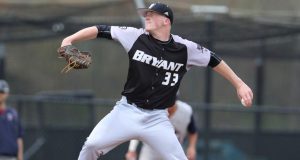 2018 Conference Previews: NEC
D1 Baseball Staff - February 7, 2018
Reigning Northeast Conference pitcher of the year Steve Theetge should help Bryant remain the team to beat in the NEC.
Fort Worth Regional Breakdown
Kendall Rogers - May 31, 2017
Brian Howard and TCU hope to protect their home field with Virginia, DBU and Central Connecticut coming to town.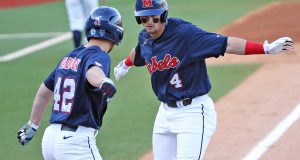 Teams On The Upswing: Week 10
D1 Baseball Staff - April 25, 2016
Oklahoma State got its bats going in a big series win against TCU, making the Cowboys one of our 10 teams that really boosted their stock this weekend.