Today's Schedule
| | | | |
| --- | --- | --- | --- |
| 3:00 PM | | | |
| | Lafayette | | |
| | Saint Joseph's | | |
| | | | |
| --- | --- | --- | --- |
| 3:00 PM | | | |
| | Lehigh | | |
| | Delaware | | |
Liberty Bell Classic, Newark, DE
| | | | |
| --- | --- | --- | --- |
| 3:30 PM | | | |
| | Holy Cross | | |
| | Harvard | | |
| | | | |
| --- | --- | --- | --- |
| 3:30 PM | | | |
| | Bucknell | | |
| | Villanova | | |
Yesterday's Schedule
| | | | |
| --- | --- | --- | --- |
| FINAL (7) | | | |
| | Navy | 6 | |
| | Holy Cross | 1 | |
moved from 3/23, impending weather
| | | | |
| --- | --- | --- | --- |
| FINAL | | | |
| | Navy | 0 | |
| | Holy Cross | 4 | |
moved from 3/23, impending weather
Patriot League Headlines
The Coaching Buzz: July 7
D1 Baseball Staff - July 7, 2016
We've got the very latest on several coaching moves around college baseball, including a surprise Tulane candidate.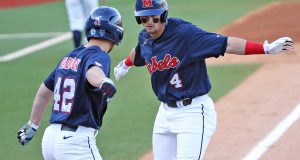 Top 10 Prospect Matchups: Week Two
Frankie Piliere - February 26, 2016
The weekend's marquee series, No. 1 Florida at No. 6 Miami, features intriguing storylines for prospect hounds, like how Miami's lefties will handle A.J. Puk.