Coppin State's Ruffino Doesn't Let Disability Slow Him Down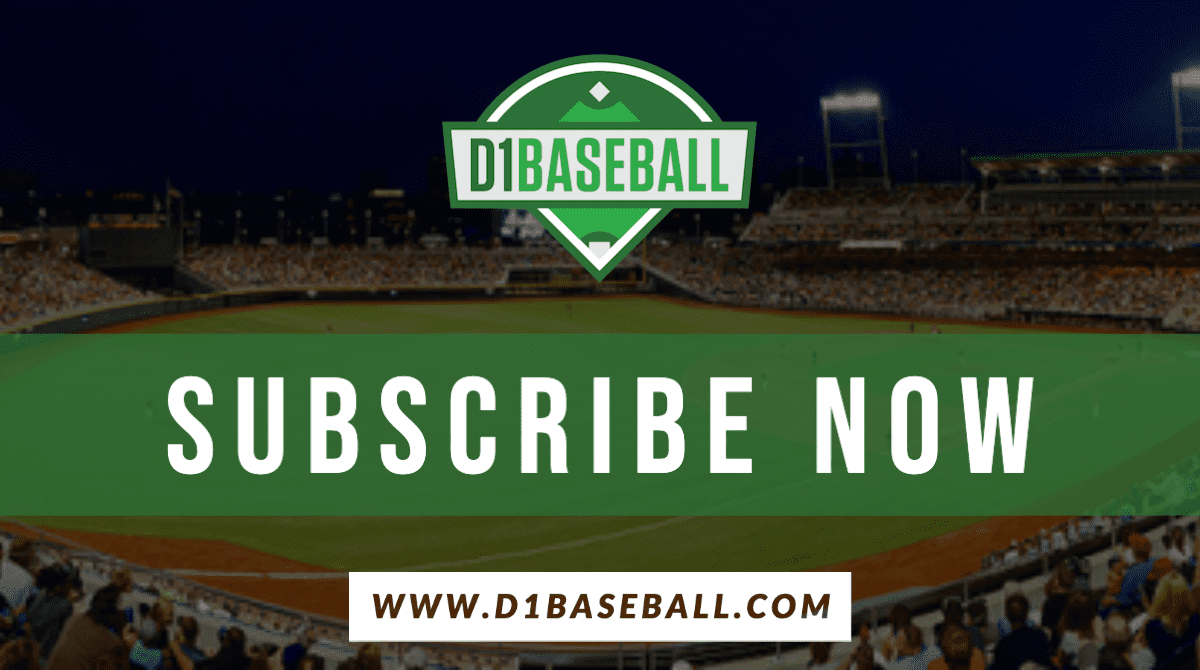 ---
Timmy Ruffino's emotions were raw.
Nineteen years of being told what you can't do had all bottled up until just recently, Feb. 16, when Tim Ruffino, a lefty for Coppin State, made his collegiate debut in relief against The Citadel.
Ruffino, born without a right hand, had set down eight of nine batters when he was challenged with a bunt. Ruffino bare-handed the ball and fired to first for the final out of the inning. As they ran off the field, Ruffino and his teammates said some things to The Citadel batter, whom they thought was trying to take advantage of his disability.
"I had a few choice words for him," said Ruffino, a 5-10, 200-pound freshman from New Orleans. "I told him, 'Keep doing it!'
"My roommate (second baseman Caden Walton) said some things, too. All my teammates had my back."
As well they should – Ruffino is off to a great start, earning his first collegiate win last week with 2 1/3 scoreless innings of relief.
On Monday, Ruffino was named the MEAC Rookie of the Week.
On Tuesday, Ruffino took it up another level, making his first collegiate start and getting the win with a brilliant performance. He struck out eight batters in six innings, allowing five hits, no walks and one run, none earned.
He also struck out the side in the fifth.
"Timmy is unbelievable," Coppin State catcher Mike Dorcean said moments after Tuesday's win.
"He pounds the strike zone – two-seamer, four-seamer, slider, changeup. He has confidence in his defense, and there's no bunting on Timmy. He's a cat on the mound. He fields the ball better than some of our other pitchers."
'WHATEVER HE WANTS'
Ruffino was born on Dec. 11, 2000, and right away he was dealt a challenge. He was forced to cope with something called "amniotic band syndrome", a rare condition in which the circulation that should have gone to his right hand was cut off, stopping the growth and development to that part of his body.
This was a shock to Ruffino's parents, Crystal and Tim. On the pregnancy ultrasounds, it had seemed as though Ruffino was just sucking his right fist. There had been no cause for alarm.
But once he was born, the doctors immediately informed Crystal.
"Tears started rolling down my eyes," she said. "I was confused.
"They immediately took my son to get tested to make sure his organs and everything were working well. Once we got in the room, the doctors said everything is fine, that this was just a cosmetic thing, and Timmy was going to do whatever he wants in this world."
Tim immediately told Crystal about Jim Abbott, who also had just one hand and became a major-league star.
"My husband said, 'Timmy is our child, and we're going to raise him like any other child.' He assured me everything was going to be OK."
Soon after Ruffino turned one, Crystal bought a book about Abbott, who no-hit the Cleveland Indians in 1993.
Timmy Ruffino is serving as an inspiration at Coppin State. (Ruffino family)
"Every night, I would sit Timmy on my lap and point to his hand and show him Abbott's hand," Crystal said. "I wanted to show him so that he could relate."
The movie "Finding Nemo" was also helpful because the title character had one fin shorter than the other. Crystal bought her son a Nemo stuffed animal, and when kids asked Ruffino what happened to him, he just said he had a "lucky" hand.
But life wasn't always so easy.
"We took Timmy to doctors who said he would never be able to tie his shoes," Crystal said. "Timmy has had his naysayers and people who said not so nice things. He heard a lot more negative than positive. But Timmy would always say, "OK, those are your thoughts. I'm going to show you what my thoughts are'."
As it turns out, Ruffino, the oldest of three baseball-playing brothers, can tie his shoelaces just fine. And he can also strike out college batters.
ANOTHER CURVEBALL
Ruffino was four years old in August of 2005 when he and his family lost their house to Hurricane Katrina.
When the family returned home to survey the damage, it was as if their house had been turned upside down. They found their kitchen table in the living room. The couch was in Timmy's room. Furniture from neighbors was on their lawn.
There was almost no material possession that they could salvage, including furniture, photo albums and clothes.
But given what they had already dealt with as a family, this was just one more 30-foot bar to vault over.
"If life throws you a lemon, throw it in your water and drink it," Crystal said. "Nothing should stop you from achieving your goals and dreams."
FINDING COPPIN STATE
Ruffino, who is studying sports administration and wants to be a college baseball coach after he is done playing, did not have any D1 offers following his senior year at Bowling Green High (Franklinton, Louisiana).
He committed instead to pitch for a local junior college, LSU Eunice, as a preferred walk-on.
"I didn't really light up the radar gun," said Ruffino, who throws his fastball in the mid-80s. "I'm mainly a guy who gets outs."
Because of that ability – which is Job One in pitching – Ruffino had second thoughts about settling for LSU Eunice.
"My mindset has always been D1," Ruffino said. "I knew I could get outs at the D1 level."
Fortunately, Ruffino had the support of coaches such as Malcolm Orgeron and Mike Perry, who worked with him on a summer-ball team called, "Love The Game Stars" or LTG Stars, for short.
Orgeron has known Ruffino since Timmy was 12. Orgeron coached against Ruffino at that time, and he told Tim that Timmy would always have a home on his team if he wanted. Soon after that, Ruffino joined Orgeron's team.
"I knew there was something special in Timmy," Orgeron said.
Given that belief, Orgeron urged Ruffino "not to close the book" on D1, and when Coppin State pitching coach Matthew Greely posted on the Field Level website that he was looking for a lefty, that was opportunity knocking.
"This was right before school started," Orgeron said. "I contacted Coach Greely, and, two or three days later, it was a done deal."
Orgeron said Ruffino's success brings him great joy.
"Timmy is like a son to me," Orgeron said. "We talk daily. On Monday, before his first start, we talked for an hour. My children love him. I call him 'Uncle Nubby' because he is family to my children (daughter Darci and sons Malcolm and Asher)."
BREAKING THE ICE
Ruffino is amazing in many respects. In high school, for example, he played first base and once hit a grand slam.
At age 12, he caught a 40-pound redfish that was as tall as he was at the time. It took a two-hour struggle to land that fish.
Leaving home for college, however, was a different type of challenge.
"My first time on campus at Coppin State was on move-in day," Ruffino said. "A southern guy coming north, I didn't know what to expect.
"But the campus, downtown Baltimore, is beautiful – way better than I expected. And the people here are really down to earth."
Coppin State coach Sherman Reed said a conference call he was on with Greely, Timmy, Crystal and Tim was a key component in getting the deal done.
"We didn't have the luxury of seeing him pitch in person," Reed said. "Timmy had taken a couple other visits, and he felt those coaches weren't prepared to see him with his disability. He got odd looks and just didn't feel comfortable.
"We told him it would be different at Coppin State. We have a family-like atmosphere with brotherly love and a welcoming environment. Timmy didn't have to worry with us."
Ruffino made the team as a preferred walk-on, with scholarship money available next year if he continues on this trajectory, Reed said.
Reed also said Ruffino has "jumped into the batting cages on occasion and has a sweet swing."
Ruffino said he wants to get at least one college at-bat before he graduates, but it hasn't happened yet.
In the meantime, Ruffino is extremely popular with his teammates, and Reed even has his freshman show recruits around campus because he is so charismatic.
Ruffino said he broke the proverbial ice with his Coppin State teammates this past fall, about five weeks after arriving on campus, by playfully chasing after them.
"He does the 'claw chase'," Reed explained. "He chases them, and they run like crazy, and Timmy is tripping and falling because he is laughing so hard."
Ruffino said he is not the type to mope around.
"It's just a joke that we do," he said. "I know my hand is going to be there for the rest of my life. Might as well have a sense of humor.
"I wanted my teammates to understand that I'm a normal person — just with one hand."
Podcast: Play in new window | Download
Subscribe: Apple Podcasts | Android | Google Podcasts | RSS
Join the Discussion