D1 Digest: Friday, March 6
Featured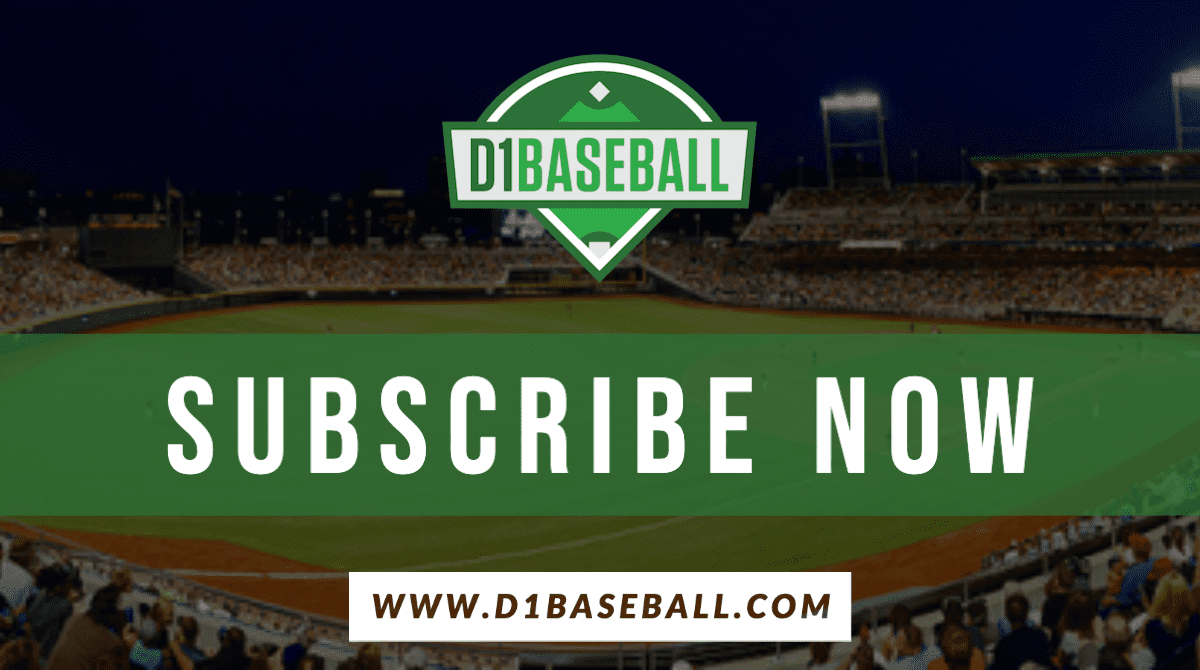 Friday's Coverage
• Kendall Rogers on Texas A&M's Lacy looking like a potential top overall draft pick
• Aaron Fitt on the remarkable transformation of Duke's Bryce Jarvis
• Eric Sorenson on Pepperdine's dominant win over Michigan
---
The Big One
⚾ FINAL ⚾

UCLA hangs on to defeat defending national champion Vanderbilt by a score of 3-2!

The Bruins continue the Southern California College Baseball Classic on Saturday against TCU.#GoBruins | #UCLAvsVU pic.twitter.com/WLneZNcDOR

— UCLA Baseball (@UCLABaseball) March 7, 2020
The sport's premiere matchup took place in Los Angles as UCLA knocked off Vanderbilt 3-2. The Bruins won despite getting only two hits, although they did work five walks from a pair of Vandy pitchers. Kumar Rocker returned to the mound for the Commodores after missing his previous scheduled start. Rocker went just three innings, allowing both Bruin hits, the three runs, walking four and striking out seven. He also hit a pair. Sam Hliboki pitched five hitless innings in relief for Vandy. UCLA starter Zach Pettway went six innings before a trio of relievers finished the victory.
Another No-hitter
Central Arkansas's Gavin Stone threw a no-hitter in the Bears' 2-0 win over Southeastern Louisiana. Stone threw 112 pitches, with 85 for strikes, and walked just one batter. He also struck out a career-high 13 batters, including all three batters in the third as well as the final batter of the game.
Third no-hitter in UCA history: ✅#BearClawsUp🐻 pic.twitter.com/Wr5g3HZqEO

— UCA Baseball (@UCABearBaseball) March 7, 2020
Losing a No-No?
If you pitch a no-hitter for 10 innings, you should win the game right? Unfortunately for Penn State, there was an11th inning. Tied 1-1 in the eleventh, a pair of errors allowed Navy to escape with a 2-1 victory despite not scratching a hit in the game. Bailey Dees, Tyler Shingledecker and Kris Kremer combined for the no-hitter.
Walkoffs
Alex Toral hit a walkout homer in the 11th inning to give Miami a 5-4 win over Pitt to open ACC action for both teams. It was Toral's second homer and third hit of the game. Anthony Vilar added three hits and a home run for the 'Canes. Kyle Hess had three hits to pace the Panthers.
Blayne Jones followed a pair of walks with a walkout single to give DBU a 3-2 win over ORU. Jones and Jimmy Glowenke each had three hits for the Patriots. Jordan Riley homered as one of his two hits for the Eagles.
The Undefeateds
Three SEC teams entered Friday's game without a loss. One lost, another cruised and the other won on a walkoff wild pitch.
Final line on Prielipp:

6.0 IP, 2 H, 0 R/0 ER, 0 BB, 11 K (75 total pitches)#RollTide pic.twitter.com/D59oMgTsg1

— Alabama Baseball (@AlabamaBSB) March 7, 2020
Alabama avoided its first loss with a 2-1 victory over Lipscomb in the 13th inning on a bases loaded wild pitch. UA starter Connor Prielipp fanned 11 in six, two-hit innings. The freshman lefty has allowed only five hits and no runs in 21 innings this year. Chase Lee worked 5.2 hitless, scoreless innings of relief where he fanned eight. Lipscomb starter Scott Eglin fanned ten in six innings. Brett Auerbach had four hits to lead Bama, who outhit the Bison 11-3.
Kendrick Calilao and Nathan Hickey each had three hits including a home run in Florida's 9-1 victory over USF. The Gators, now 14-0, got a strong start from Tommy Mace who threw seven innings without allowing a run, yielding just two hits, two walks, and logging nine strikeouts.
Wright State handed Tennessee their first loss of the season 5-4. Justin McConnell led the upset with three hits while Jake Rucker led the Vols with three hits.
NC State also entered Friday without a loss but their perfect season ended. Virginia opened ACC play with a 7-3 victory over NC State despite walking eleven batters. UVa starter Griff McGarry only allowed one hit, but walked eight in four innings. Four Cavalier pitchers combined to strand 17 NC State runners.
Aces Abound
Dynamite video here from @NathanRode shows you just how insane Bryce Jarvis' stuff was today. I don't think there's a pitcher in the college baseball with better pure stuff when he's got his changeup and slider working like this, and the fastball command was eye-opening too. https://t.co/JeJnGunIfP

— Aaron Fitt (@aaronfitt) March 7, 2020
Bryce Jarvis – he of the perfect game earlier this season – was at it again Friday in a marquee series against Florida State lifting the Devils to a 2-1 victory. Jarvis had another perfect game for 6.2 innings tonight before losing it on a wild pitch on strike three. Then the next batter singled on a ball that had a chance to be caught. He finished with 12 strikeouts. For the year, Jarvis has an 0.67 ERA, 40 strikeouts, 2 walks in 27 IP. Opponents are hitting .120.
For more on Duke and Florida State, check out Aaron's story.
Kyle Nicolas had one of the most impressive statlines of the year as the Ball State starter stifled Sacred Heart in a 1-0 victory. Nicolas struck out 17 and walked just one in a seven inning start. He allowed just one hit and no runs.
Reid Detmers, 13th K in 5.1IP…on another 🌈 Curveball. pic.twitter.com/lWajIqrwCk

— Rob Friedman (@PitchingNinja) March 7, 2020
Louisville ace Reid Detmers was electric in a 4-1 win at Wake Forest, fanning 15 batters over six innings to stay unbeaten on the season. The southpaw recorded all three outs via the strikeout in the second, fifth and sixth innings.
Max Meyer struck out 15 in Minnesota's 6-4 defeat of Utah. Meyer allowed five hits and three runs in eight innings.
Clayton Beeter had a dozen strikeouts in six shutout innings as Texas Tech beat Rice 7-1.
Mississippi State's Christian MacLeod turned in a dominant start with a dozen strikeouts in six innings. He allowed only two hits and walked one. Jordan Westburg and Josh Hatcher each homered in the Bulldogs' 5-1 victory over Quinnipiac.
Tanner Burns struck out 10 as Auburn beat Chicago State 6-0. Burns allowed only two hits and walked three in six innings. Offensively, Steven Williams homered and Matt Scheffler had three hits for the Tigers.
Ole Miss had its way with Princeton in a 15-0 win Friday outhitting the Tigers 17-1. Doug Nikhazy didn't allow a hit in six innings while striking out a dozen. Tyler Keenan, Tim Elko and Peyton Chatagnier all had three hits with a homer as the Rebs hit five long balls in the contest.
Asa Lacy pitched seven hitless innings in Texas A&M's 8-3 win over New Mexico State. He struck out 13 and walked two. Lacy now has 46 strikeouts this season in 24 innings. Will Frizzell had a homer, a double and three RBIs for the victors.
For more on Lacy and Texas A&M, check out Kendall's story.
Georgia ace Emerson Hancock turned in a strong outing with 7.1 innings of three-hit, shutout ball in a 5-0 victory over Massachusetts. Hancock fanned 12 and didn't walk a batter in his dominant start.
Kyle Hurt fanned nine in six innings and allowed just three hits and a run in USC's 2-1 win over TCU. Jamal O'Guinn had three hits for the Trojans.
Other Notables
Arkansas lost its fifth consecutive game falling 13-6 to South Alabama. Ethan Wilson had a pair of monster blasts to drive in five of the Jaguar runs. Michael Sandle added three hits and a homer of his own. USA ace Drake Nightengale struck out nine in six innings to earn the win. Arkansas ace Connor Noland was scratched and did not pitch.
Waves of Glory.
Impressive showing by @PeppBaseball, drubbing the Fighting Schembechlers 12-2 in Malibu.
Coach Bakich on Pepperdine, "they're as good of team as we've played and the score shows it." pic.twitter.com/TLqibICtXg

— Eric Sorenson (@Stitch_Head) March 7, 2020
Aharon Modlin went 5-for-5 and scored three runs to help Pepperdine beat Michigan 12-2. Reese Alexiades went 3-for-3 with a homer, three RBI's and four runs scored as the Waves move to 11-2 on the season.
San Diego State used a four-run second inning off Oklahoma ace Cade Cavalli and held off a late Sooner rally to grab a 5-4 road victory. Casey Schmitt had two hits and three RBI's to lead the Aztecs.
Join the Discussion