D1 Digest: Saturday, April 8
Featured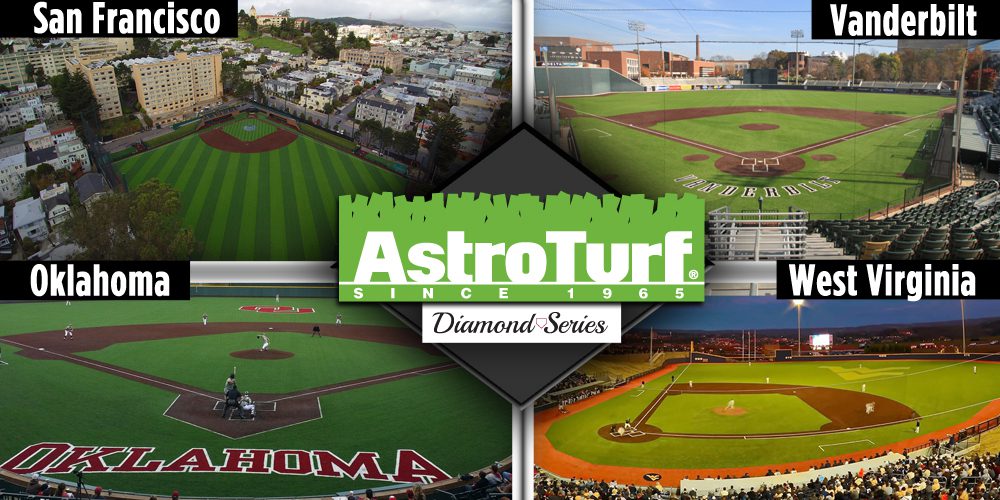 ---
Saturday's Coverage
• Aaron Fitt on Coastal Carolina
• Kendall Rogers on Texas A&M's Bullpen
• RPI Nitty Gritty
---
Aaron Fitt's Five Thoughts
Team of the Day: Tennessee
Some of us (ahem) proclaimed Tennessee a regional-bound team after it started 12-2 in the preconference portion of its schedule. Then the Volunteers went 1-9 in their first three SEC weekends, and the UT bandwagon became a lonely place. But the Vols still have the talent to make some noise in the second half, and maybe this weekend will serve as a springboard for them to do just that.
Tennessee secured a desperately needed series win at No. 7 Florida with a 3-2 win in 10 innings Saturday. Freshman Garrett Stallings held the Gators to two runs while scattering 10 hits over 6.1 innings, and the Vols broke a 2-2 tie on Benito Santiago's RBI double in the 10th. Freshman Justin Ammons (who scored the game-winning run) and Santiago had two hits apiece to lead UT's offense. The Vols are still just 3-8 in the SEC, so there's a lot of work yet to do, but winning a pair of one-run games in Gainesville to start this weekend was a huge step in the right direction.
Gotta love the call from @JWilkersonWNML as @Vol_Baseball takes series from #7 Gators for first time since 2008. pic.twitter.com/Wef21SWmY1

— Patrick Murray (@PatMurrayWBIR) April 9, 2017
LSU Mounts Furious Rally
LSU has been in a bit of a funk over the last couple of weeks, especially on offense. The situation looked dire for the Tigers on Saturday, as they trailed 8-1 heading into the seventh inning at Arkansas, which was on the verge of clinching the series. But Greg Deichmann's two-run homer highlighted a three-run eighth and breathed new life into the Tigers, who proceeded to score five more in the ninth to win 10-8 and even the series.
Certainly, Arkansas aided in its own demise. LSU's five-run ninth included two hit batsmen, a wild pitch, a walk and an error — and just two hits. But credit the Tigers for grinding out some at-bats and not quitting when they were down seven runs in the late innings. LSU won despite a poor start from Jared Poche (3.1 IP, 9 H, 7 ER), and despite a strong start from Arkansas' Trevor Stephan (7 IP, 5 H, 2 ER, 0 BB, 7 K). It was an improbable win on many levels, and LSU's much-maligned bullpen deserves some credit, as Todd Peterson, Matthew Beck and Hunter Newman combined to work four innings of shutout relief.
Missouri State Takes Control Of Valley
Heading into this weekend, just two teams were within striking distance of at-large bids in the Missouri Valley Conference — the same two teams that headed into the season as the MVC's teams to beat. And Missouri State clearly established itself as the Valley's front-runner by winning the first two games of its set at home against Dallas Baptist.
The Bears jumped out to a 5-0 lead in the first inning Saturday, highlighted by Justin Paulsen's two-run homer and Aaron Meyer's two-run triple. Meyer finished with three hits and five RBIs to lead MSU's 13-hit attack in an 11-8 victory, clinching the series. The Bears improved to 20-10 overall and 5-0 in the Valley. At No. 24 in the RPI, they're in great shape heading into the stretch run.
Gonzaga Shuts Out USD
This weekend's showdown between Gonzaga and San Diego looked like the potential series of the year in the West Coast Conference, and the Bulldogs made a loud statement by winning Friday and Saturday to clinch the series. In Saturday's 3-0 victory, Justin Vernia (8 IP, 6 H, 0 R) improved to 5-2 for the Zags, and Wyatt Mills worked a scoreless ninth to pick up his fifth save. No. 9 hitter Jake Roberts went 3-for-4 with an RBI to lead the Gonzaga offense.
All of a sudden, Gonzaga is locked in a three-way tie for first place in the WCC with San Diego and Loyola Marymount — they're all 8-3. The Toreros and Bulldogs are also both in the top 60 in the RPI, giving them realistic at-large hopes heading into the stretch run. If their resumes remain similar, Gonzaga's head-to-head series win this weekend could loom large.
Washington Wins Series At UCLA
As Shotgun Spratling wrote Friday night, Washington has struggled in recent years at UCLA — the Huskies were just 1-8 in Westwood in the Lindsay Meggs era heading into this weekend. But they won Friday night, and they followed up that victory with a series-clinching 6-3 win on Saturday. UW's unorthodox pitching approach continued to pay dividends, as Chris Micheles started and worked two scoreless innings before handing off to Jordan Jones, who earned the win with 4.2 innings of one-run ball. Joey Morgan went 4-for-4 to lead the offense, and MJ Hubbs delivered a big two-run single in the seventh inning for the Huskies.
Oregon State is clearly the class of the Pac-12 with an 11-0 conference mark, but Washington is staking a strong claim as the No. 2 team in the conference pecking order, having won series against UCLA and Utah. At 6-2 in the Pac, UW is all alone in second place, three games up in the loss column on Arizona, Cal and UCLA.
Kendall Rogers' Five Thoughts
Player of the day: Mississippi State's Brent Rooker
I'm not even sure how you can put into words what Rooker is doing offensively so far this season. But he stepped up yet again Saturday night in a 10-6 win over Kentucky to even that series at 1-1. Rooker went wild at the plate yet again, hitting a grand slam in the second inning and smacking solo shots in the fourth and sixth innings, respectively. For the game, he went 4-for-4 with six RBIs. How insane has Rooker's offensive week been? He's now hitting .643 with six homers, 13 RBIs, 27 total bases and a silly 2.651 OPS.
Overall, Rooker is now hitting .447 with 18 doubles, three triples, 15 homers, 56 RBIs, 1.008 slugging percentage, .539 on-base percentage and 14 stolen bases.
Brent Rooker's week thus far (4 games):
9-for-14 (.643)
6 HR
13 RBI
27 total bases
1.929 slg%
.722 OBP#HailState pic.twitter.com/jyI0QxhBZP

— Mississippi State Baseball ⚾️ (@HailStateBB) April 9, 2017
Texas gets big series win over Oklahoma
The Longhorns have been looking for that statement series win since getting swept at home by Texas Tech and they got just that Saturday afternoon, clinching a series triumph over rival Oklahoma with a 9-3 victory. The 'Horns and Sooners were tied 2-2 entering the bottom of the fifth inning before UT put up a five-spot, with the big hit being a grand slam from Kacy Clemens. Clemens finished the game 2-for-4 with five RBIs, while Kody Clemens had a home run and two hits and Tate Shaw and Travis Jones each had two hits. In his return to the rotation since being injured, OU righthander Jake Irvin allowed two runs on four hits in 3.2 innings, while Texas righthander Morgan Cooper struck out seven, walked two and allowed three runs on five hits in 6.2 innings.
.@KClemens21: Game-changer. ?? pic.twitter.com/t8jeDZSYlj

— Texas Baseball (@TexasBaseball) April 9, 2017
Oregon State extends winning streak to 22
We might be talking about the top-ranked Beavers in every takeaway piece the rest of the season. Okay, we're just kind of kidding. The Beavers beat Utah in close fashion in Friday's series opener, and Saturday's game was even better. OSU carried a 3-2 lead into the top of the ninth inning before the Utes tied the game on a wild pitch. The two teams traded zeroes on the scoreboard until the 16th inning. There, the Utes took the lead in the top half of the inning on a solo home run from Dallas Carroll, while Jack Anderson smashed an RBI triple and Adley Rutschman hit a walk-off sacrifice fly to win the game 5-4. While Utah didn't win the game, how about reliever Tanner Thomas, who struck out five in four shutout innings? For the Beavers, Jake Mulholland allowed just a run on two hits in 6.2 innings of relief work. The winning streak stays intact for another day.
Complete highlights from another amazing day at Goss Stadium.#GoBeavs pic.twitter.com/tffWv90tAY

— Oregon State Baseball (@BeaverBaseball) April 9, 2017
Upset of the day: Washington State over No. 9 Arizona
Outside of the Oregon State series, the Wildcats have been consistent this season. Well, Jay Johnson's club ran into a little road block Saturday afternoon in a 9-3 setback to Marty Lees' Cougars. Wazzu scored seven of its nine runs the first three innings, touching up UA starting pitcher Randy Labaut for six runs on five hits in 2.1 innings. Meanwhile, Dillon Plew had three hits and an RBI while James Rudkin went 3-for-5 with three RBIs for the WSU offense. Interestingly, the loss to the Cougars comes on the heels of a 19-5 Arizona win in the series opener.
Pitcher of the day: West Virginia's Michael Grove
The Big 12 Conference is riding high these days and West Virginia is one of those intriguing teams to watch the second half of the season. The Mountaineers improved to 3-0 in league series with a series-clinching 8-0 win over Kansas. The other two series wins were over Baylor and Oklahoma State. In the win over the Jayhawks, sophomore righthander Michael Grove was outstanding. He struck out 12, didn't walk anyone and allowed just a hit in eight shutout innings. How about this? WVU's RPI is up to 7 with a non-conference SOS of 29. Color me impressed with Randy Mazey's crew.
Join the Discussion