D1 Digest: Tuesday, March 10
Featured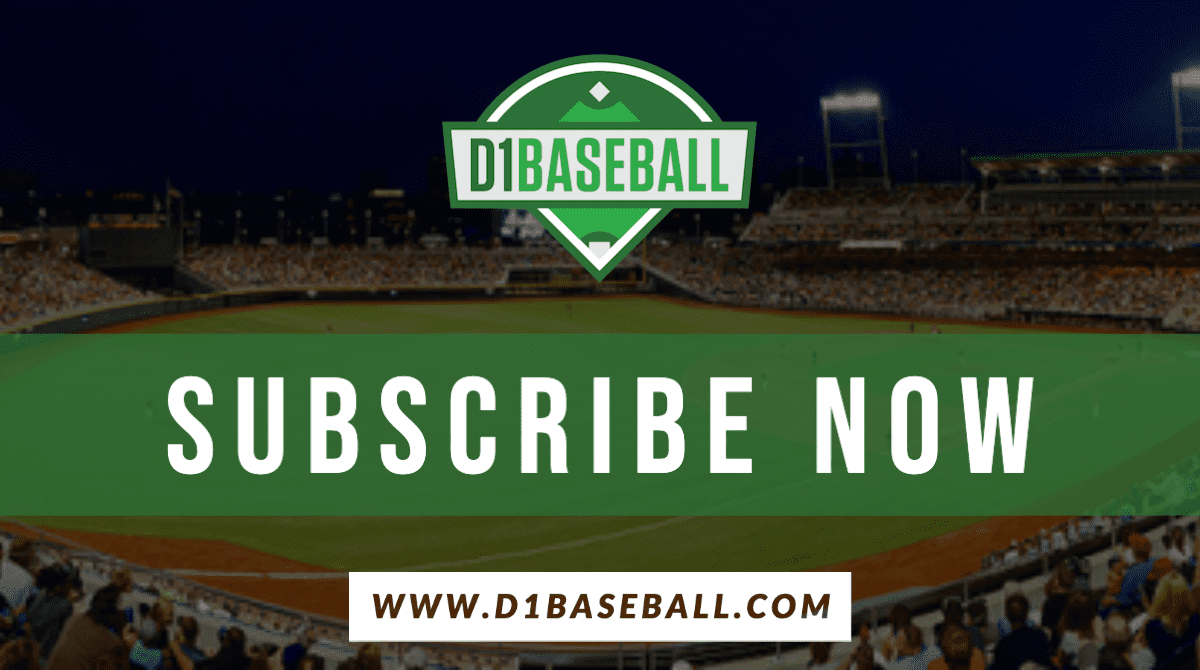 ---
---
BIGGEST WINNER
Florida State
All good streaks must come to an end, and that was precisely the case Tuesday night in Gainesville as Florida State snapped an 11-game losing streak against No. 1 Florida, its arch-nemesis. The Seminoles got a terrific start from lefthander Antonio Velez, who struck out seven, walked two and allowed one hit in six shutout innings, while Parker Messick was terrific as well with three shutout frames and seven strikeouts out of the bullpen. Matheu Nelson and Robby Martin combined for four hits for the 'Noles, while Dylan Simmons had three hits. In addition to ending the losing streak against UF, Mike Martin Jr. beat the Gators in his first-ever game against his heated rival. It was a night to remember for the boys from Tallahassee.
It just means more. pic.twitter.com/2kAK7NQ20z

— FSU Baseball (@FSUBaseball) March 11, 2020
BIG WINNERS
* No. 17 Mississippi State has a huge weekend ahead with Arkansas on the docket, but began things with an impressive 6-3 win over No. 4 Texas Tech. Houston Harding set the tone on the mound by allowing just two runs and two hits in 5.2 innings, while at the plate, Jordan Westburg had a pair of doubles and Josh Hatcher tallied two hits.
Pour it on, Westy!

State leads 5-2 after six. pic.twitter.com/zekSBwY3Wn

— Mississippi State Baseball (@HailStateBB) March 11, 2020
* Georgia Tech exited the rankings a couple of weeks ago after getting swept, but perhaps the Yellow Jackets are ready to surge after beating No. 18 Auburn, 6-2, on the road. Dalton Smith and Austin Wilhite combined to throw 4.2 shutout innings with two strikeouts, while offensively, Baron Radcliff had a home run and double.
* UT Arlington has been a tough out for several teams in midweek action so far this season, but No. 13 Oklahoma used strong pitching to shut down the Mavericks in a 3-0 victory. Talented OU freshman pitcher Jake Bennett struck out three and allowed two hits in four innings, while Ben Abrams struck out four in two shutout innings and closer Jason Ruffcorn struck out all three hitters he faced in the ninth.
* No. 14 Arkansas needed a spark in midweek action and got it from freshman righthander Will McEntire, who struck out three and allowed a run in six innings in a 6-1 win over Grand Canyon. Heston Kjerstad led the offensive charge with three hits, while freshman Robert Moore had three hits and an RBI.
* No. 8 Ole Miss went on the road and cooled off UL Monroe (12-4) with a 6-3 victory. Taylor Broadway, Austin Miller and Braden Forsyth each threw well out of the bullpen, while imposing Tim Elko continued his hot hitting with a double and triple, while Tyler Keenan hit a home run.
* Oklahoma State appears to be getting its bearings straight again, pummeling a quality Saint Louis club, 22-4, in Stillwater. Four OSU hitters smacked home runs in the wins over the Billikens with Brock Mathis hitting two bombs and knocking in five runs. OSU also got solid work from John Kelly out of the bullpen. Kelly struck out six and allowed a hit in two shutout innings.
✌🏼Home Runs
👆🏼Day@MathisBrock 3-run bomb puts #okstate up 8-0 in b3#GoPokes pic.twitter.com/ltxQDuCl1A

— Cowboy Baseball (@OSUBaseball) March 10, 2020
* Iowa picked up a Big Ten win over the Big 12 with an 8-0 win over Kansas. Hunter Lee struck out four in four shutout innings in his start, while Adam Ketelsen was outstanding as well, striking out seven and allowing just two hits in five shutout innings.
* The WCC has racked up some impressive wins this spring, and Gonzaga got another one for the league with a dominant 15-3 triumph over Washington State. Stephen Lund had a massive day at the plate, hitting three doubles, tallying four hits and knocking in six runs, while leadoff hitter Ernie Yake finished the game with three hits.
* Tennessee dipped out of the Top 25 on Monday after losing a home series to Wright State. Well, the Volunteers are right back in the saddle after beating red-hot East Tennessee State, 17-3, at home. Alerick Soularie had a huge day at the plate with a pair of home runs and four RBIs, while Evan Russell and Landon Gray each hit a home run, and Zach Daniels had three hits to help the offense.
Alerick Soularie hit two home runs and had a season-high three hits during Tuesday's win.

Hear the junior's thoughts on his big night at the plate ⬇️ pic.twitter.com/WSPPJwOr2E

— Tennessee Baseball (@Vol_Baseball) March 11, 2020
* Texas A&M dipped out of the rankings a couple of weeks ago and has since won five-straight games, including Tuesday night, 6-3, over scuffling Rice (2-14). A&M lefthander Jonathan Childress struck out six and allowed two runs and four hits in five innings, while Cam Blake led the A&M offense with a pair of doubles.
UPSET OF THE DAY
Davidson over No. 10 Duke
Fresh off a big ACC opening series win over Florida State, the Devils were tripped up on the road by Davidson, 7-6. The Devils had a 6-5 lead over the Wildcats entering the bottom of the ninth inning, but Brett Centracchio smacked a walk-off two-run home run on a 1-0 count to win the game for Davidson and to cool off Duke.
Here it is: Brett Centracchio's 2-run walk-off HR to beat No. 10 Duke 7-6 Tuesday night

🔊⬆️ pic.twitter.com/dze2FSOYSA

— Davidson Baseball (@DavidsonBASE) March 11, 2020
More Upsets:
* First-year coach Robert Woodward earned his first signature win Tuesday night in a 9-8 triumph on the road over No. 11 NC State. Charlotte and NC State were tied at 8-8 going to the ninth inning before David McCabe brought in the winning run on a ground out. Charlotte was led at the plate by Dominic Pilolli, who went 3-for-5 with four RBIs.
* No. 3 Georgia has a huge series coming up against No. 1 Florida, and perhaps the Bulldogs were looking ahead a little bit Tuesday night. Georgia Southern (10-5) got some outstanding pitching in a 1-0 road win over the Bulldogs. Rhett Gay tossed 2.2 shutout innings to begin the game, Jacob Parker struck out six in two shutout innings, Nick Jones struck out four in two shutout innings and Hayden Harris earned his first save with two strikeouts in two shutout innings.
* It's not every day that a Division III team has an opportunity to knock off a Division I club, but that's what happened Tuesday night as Baldwin Wallace defeated Butler, 12-9. Alex Ludwick had a huge day for Baldwin Wallace, going 4-for-5 with a pair of RBIs, while Dudley Taw had three hits and four RBIs.
Join the Discussion