D1 Digest: Tuesday, March 4
Featured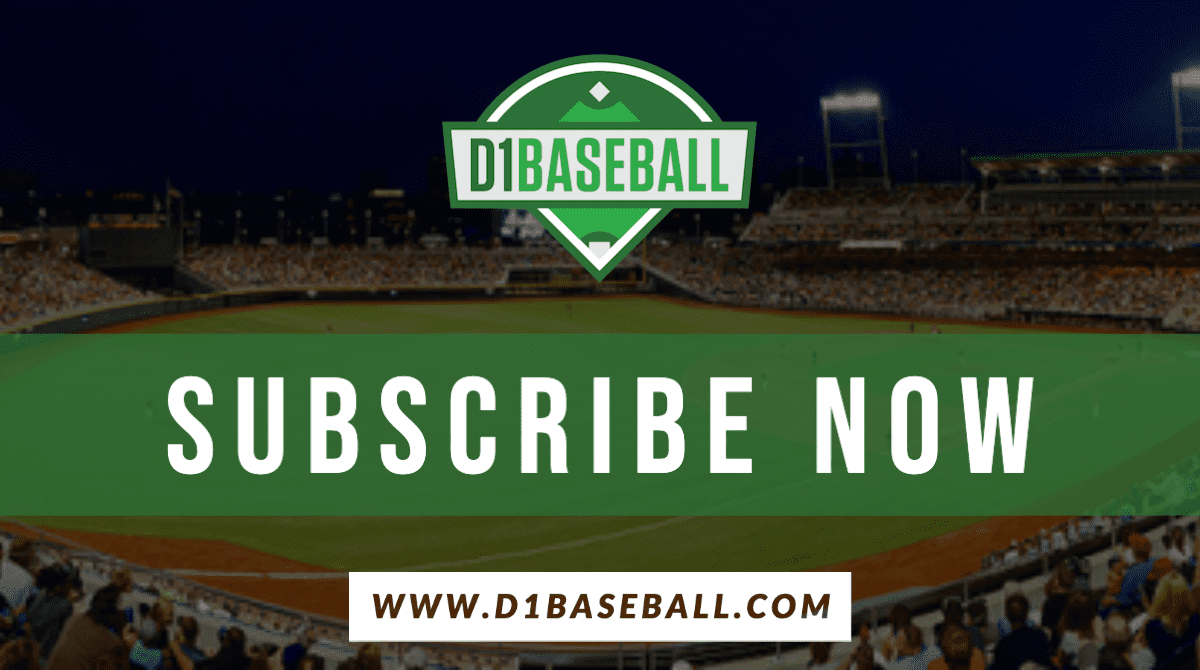 ---
Top 25 Rankings | Chat Transcript
Check out our latest podcast!
---
Showdown of the Day
No. 15 Oklahoma over No. 25 Dallas Baptist
Oklahoma had a weekend to remember at the Shriners College Classic, leaving a strong impression with a 2-1 record. The Sooners continued their impressive ways Tuesday night with a dominant 10-3 win over the Patriots. OU finished the deal in the latter innings with six runs in the seventh and eighth innings combined. Diego Muniz had a big night for the Sooners with a home run, two hits and three RBIs, while Justin Mitchell, who hit a home run against LSU this past Sunday, continued his hot hitting with a pair of doubles and three hits. Tanner Tredaway also kept his hot hitting going atop the lineup with two hits and an RBI. On a side note, righthander Wyatt Olds, who was impressive out of the pen in Houston, struck out seven, walked two and allowed just two hits in five shutout innings.
🔥💣

Muniz blasts his first home run of the season!

Exit velocity: 99.8
Launch angle: 25 degrees
Distance: 340 feet#Sooners pic.twitter.com/kYdelBVxtO

— Oklahoma Baseball (@OU_Baseball) March 4, 2020
Other Showdowns
• Top-ranked Florida hit the road to West Palm Beach Tuesday night to face perennial regional team Florida Atlantic, taking home a 7-3 victory. Austin Langworthy had a double and two RBIs to lead the Gators offense, while Jacob Young finished the night with three hits. On the mound, David Luethje and Christian Scott were terrific out of the pen with Luethje striking out three in 2.2 innings and Scott striking out five in 3.1 shutout innings.
• Fresh off a pair of tough games against Texas Tech over the weekend, No. 11 Florida State got a walk-off hit from Tyler Martin, Mike Martin Sr.'s grandson, in the bottom of the 11th to take down previously unbeaten Mercer, 9-8. Martin finished the night with two hits and two RBIs, while Elijah Cabell also had a big night with a pair of hits, two RBIs and two walks.
• We didn't put this game down as an upset. After all, San Diego State was at home and entered the night with an impressive 9-4 record. The Aztecs added yet another impressive win to their resume with a 7-3 win over No. 17 Long Beach State. Jaden Fein hit a home run for the Aztecs, while Casey Schmitt had two hits and a double and Mike Jarvis had a pair of hits. Brian Leonhardt set the tone on the mound for SDSU, striking out three and allowing just two hits in four shutout innings.
• In a battle between two perennial powers, No. 10 Arizona State crushed Cal State Fullerton, 12-2, on the road. Spencer Torkelson hit a towering home run in the win and had two hits, while Drew Swift had a big night at the plate with two hits and four RBIs. As for the Titans, they're off to a horrid start since that Stanford series, falling to a poor 4-8 overall before heading to Texas this weekend.
Arizona State's Spencer Torkelson, likely one of the top picks in this summer's MLB Draft, just absolutely annihilated a baseball. pic.twitter.com/RgnkHI4uh8

— Fabian Ardaya (@FabianArdaya) March 4, 2020
---
Upset of the Day
Georgia Southern over No. 4 Georgia
Fresh off a series win over in-state rival Georgia Tech, Georgia was knocked off at home by Georgia Southern, 6-3. GSU starting pitcher Tyler Owens put together a strong start, striking out three and allowing a run and three hits in 6.2 innings, while Christian Avant had a huge day for the Eagles, going 3-for-5 with three RBIs.
More upsets:
• Illinois State went on the road and handed No. 13 Arkansas its fourth-straight loss in an 8-7 triumph. Though Casey Martin returned to the lineup and had four hits for the Hogs, it didn't matter, as the Redbirds got a huge afternoon from Joe Butler, who hit a home run, had two hits and knocked in three runs. Jordan Libman and Ryan Cermak each knocked in two runs for ISU.
• UT-Arlington is a mid-major to keep an eye on, as the Mavericks defeated No. 22 TCU 6-4 in 12 innings, with Conner Aube delivering a two-run double in the decisive 12th frame. UTA's Andrew Miller had a home run, three this and two RBIs, while Josh Minjarez had three hits and an RBI. The Mavs now sit at an impressive 11-3.
• No. 24 Pepperdine finished off its cross-country trip to the Sunshine State with a narrow 6-5 loss to FGCU. FGCU's Hunter McGarry tossed three shutout innings out of the bullpen to aid the Eagles, while Brian Ellis, Richie Garcia and Brandon Dorsey each had two hits for FGCU.
• No. 6 UCLA had allowed just 11 runs in 11 games so far this season, but the Bruins allowed eight Tuesday night in a tough loss to UC Santa Barbara, 8-5, on the road. While UCLA suffers its first loss of the season, the surprising Gauchos are now 10-2 on the season. Conner Roberts was terrific out of the pen for the Gauchos with four shutout innings, while offensively, Christian Kirtley led the offensive lineup.
• No. 16 Michigan has cooled off since its impressive opening weekend out at the MLB4 tournament and more. The Wolverines dropped a series to UConn two weekends ago before bouncing back against Cal Poly last weekend. However, the Wolverines went right back into the loss column with a 5-4 loss to Stanford. Christian Molfetta knocked in two runs for the Cardinal, while righthander Jackson Parthasarathy tossed 3.1 shutout innings out of the pen.
---
Other Notable Results
• Alabama improved to 13-0 with a dominant 12-2 win over South Alabama at home. Sam Praytor had a huge game for the Crimson Tide, hitting a three-run home run and finishing the afternoon with three RBIs, while Tyler Gentry hit two home runs and knocked in six runs. Jim Jarvis also had a productive day with three hits and an RBI, while on the mound, Casey Cobb led the way with three shutout frames out of the pen.
And if you didn't see them, here's Gentry's 💣https://t.co/kkcpcjU0iq pic.twitter.com/EWfqO16pcN

— Alabama Baseball (@AlabamaBSB) March 3, 2020
• Texas State improved to 9-4 with a dominant 12-2 road win over Baylor. Wesley Faison had a huge afternoon with a pair of home runs and four RBIs, while John Wuthrich had a big night as well with a home run, two walks and two RBIs.
• Vanderbilt took care of business at home against Central Arkansas, 10-2. Tate Kolwyck and Ty Duvall led the charge with two hits and two RBIs, while Isaiah Thomas, who had that big walk-off home run against Hawaii over the weekend, chipped in a multi-hit performance as well.
• No. 9 Ole Miss continued its impressive ways Tuesday night with an 8-1 win over Memphis. Reigning National Player of the Week Hunter Goodman had a hit and knocked in Memphis' only run, while for the Rebels, Anthony Serviedo finished the day with two hits, one a double and an RBI.
• No. 20 Tennessee stayed unbeaten Tuesday night with a dominant 28-2 win over Longwood. The offense banged out 19 hits with Zach Daniels and Al Soularie each hitting home runs with both finishing the day with four RBIs. Jordan Beck also had a big day at the plate with three hits and three RBIs.
• In a neat Pac-12/Big 12 midweek showdown, Arizona hit the road and defeated Texas, 8-6. The Wildcats only had four hits in the game but were opportunistic with Matt Dyer and Brandon Boissiere each hitting home runs, while Donta Williams scored three times. As for the 'Horns, their pitchers walked eight Wildcats sluggers Tuesday night.
• Missouri State scored a run on a passed ball in the top of the ninth inning to beat Oklahoma State, 11-10. Jack Duffy had three hits and three RBIs to lead the MSU offense, while Ben Whetstone and Dakota Kotowski each hit home runs. Kotowski finished the night with four RBIs.
• No 5 Texas Tech continued its impressive play Tuesday night with a dominant 11-2 win over UNLV. Tanner O'Tremba, Brian Klein and Cal Conley each had doubles in the win, with Conley knocking in two runs, while Max Marusak also had a nice night with two RBIs. On the mound, lefty Mason Montgomery allowed a run and three hits in five innings, while Connor Queen tossed three shutout frames out of the pen.
• No. 14 UCF silenced Jacksonville at home, 6-0. Dalton Wingo finished the night with four hits and an RBI, while Pablo Ruiz also had a productive day with two hits and three RBIS. Andrew Brait and Matt Archer also had good showings; both finishing the night with two hits.
• Ben Metzinger, Levi Usher, Cameron Masterman and Henry Davis all hit home runs as No. 3 Louisville cruised past Morehead State, 16-3.
• No. 23 Tulane cruised past Texas Southern, 18-2. Luis Aviles hit a home run and knocked in five runs, while Collin Burns and Grant Matthews each finished the night with three hits, with Matthews hitting a home run and knocking in four runs in the win.
Join the Discussion