Driveline Success Stories: How Vanderbilt Became An Early Adopter

---
Editor's Note: Driveline Baseball is the Official Player Development Partner of D1 Baseball, and the Success Stories series is part of our partnership.
When Vanderbilt pitching coach Scott Brown first met Kyle Boddy back in 2013, Driveline Baseball was just beginning its ascent to prominence in the baseball world. Boddy, the founder and president of Driveline, had worked with former Vandy pitchers Casey Weathers and Caleb Cotham in the past, and Brown was eager to learn more about Driveline and incorporate some of its offerings into his own program.
Brown was immediately impressed by what he heard, and Vanderbilt soon became one of Driveline's early adopters in the college baseball ranks.
"We developed kind of a partnership with them, nothing more than a friendly handshake," Brown said. "It started with us using their Plyo balls and sharing information with each other. In my style, I don't mandate guys have to do anything, I just show them. If they like it, they can adopt it into their training regimen."
Brown had already started incorporating mini medicine balls to help pitchers gain velocity, so Driveline's weighted PlyoCare balls were a logical next step. In the beginning, three or four Vandy pitchers would throw the Plyo balls against a concrete wall, but eventually just about the entire pitching staff embraced that sort of training, so the Commodores built two huge Plyo walls, modeled after the ones in Driveline's suburban Seattle facility.
Brown said a common misconception about "doing Driveline" is that it's all about the weighted balls, when there's much more to it than that. But the Plyo balls are a natural entry point for many programs and individual players.
"That's exactly how I like to describe it: You have to get your foot in the door somehow," said Driveline senior business manager Tosh Semlacher. "Plyo balls were created to serve as more of like a business card. They weren't even supposed to be the main center point of the business or even the exposure point. It was just like, 'Hey, Driveline Baseball, we do things a little differently, here are the balls we use, there you go.'
"When they start understanding the importance of using the different weighted implements, when you use a heavier implement your body can naturally understand it needs to be more restrained, and that can produce more efficient arm and body mechanics to make your arm move better. So I would say that's one of the things we're fighting still — people say, 'Oh I've heard about Driveline Baseball, that's the weighted ball people, right?' Yeah, that's where it started. I think of it like, you know Dwayne 'The Rock' Johnson — oh, the WWE wrestler? Well yeah, but he's become quite a bit more than that now, he's an actor, he's in philanthropy, etc."
A big part of Vanderbilt's partnership with Driveline has been the simple transfer of information back and forth. Shortly after their introduction, Brown grew to trust Boddy and Driveline CEO Mike Rathwell. He would call them up to pick their brains about training methods and data applications, and they would learn from his experiences with his players.
"When you see things over and over you get kind of a theory, but your sample size is so small because you only have 15, 18 pitchers a year," Brown said. "It's great to have the ability to call up Kyle and Mike, because they see so many players in a year, and they might say, 'Yup, you're on the right track,' or 'That's something you might want to stay away from,' or 'That's something we haven't really tested.' It helps justify what you're seeing as a coach."
Brown said Boddy persuaded him to install a Rapsodo machine in the Vandy pitching lab about five years ago, in the early stages of Rapsodo's growth in college baseball. The machine provides instant data on pitch velocity, spin rate, spin axis and spin efficiency, among other things. That data helps pitchers get quick feedback as they experiment with different things, and Vanderbilt shares its data with Driveline, which helps everybody.
But Brown says that Driveline's next big advance — its TRAQ system, which it implemented a couple of years ago — was a game-changer.
"We've used TRAQ for online media, storing film, really use it for strength and conditioning to load daily reports," Brown said. "It's been really useful in the offseason to get guys' programs in their hands, we can upload videos to it. It's a really good platform. At the end of four years or even if it continues on after that in pro ball, it gives guys a library of their time at Vanderbilt, from bullpens to stressful innings, you name it. They can go back and look at film from their outings. If they get to a point five years down the road where they feel like they felt stronger at this particular juncture, they can go back and reference their training regimen from a particular time."
Brown uses the system most to study game video, or to isolate a particular pitch from a bullpen session.
"If something was good from one day — it could be one pitch in a bullpen or a game — I can pull pitch No. 7 from this bullpen and put it on TrackMan, because that was a really good pitch and I want to reference that later," Brown said.
Vandy strength and conditioning coach Chris Ham has become a TRAQ wizard, using the program to build exercise regimens and load them into each player's individual library, so they can all stay on the same page even when players are away from campus. Given the current COVID-19 landscape, TRAQ has been an invaluable resource.
"This is definitely where the vision of Kyle and Mike set us up to a situation like we've faced today with the coronavirus, all of a sudden we have the ability to train hundreds of remote athletes," said Semlacher, who helped oversee the development of the TRAQ project. "The truth is we were able to help thousands of athletes get in touch with their coaches on TRAQ. They were able to program remotely from their phones. I'd say this time period really highlights the strength of TRAQ that way. Our project manager from TRAQ, (former Oregon State pitcher) Max Engelbrekt, he actually came in a month or two after I took over the project, and I trained him on it while I trained myself. What he's been able to do is take it from where it was, and it's not even recognizable anymore. It's truly one of the most powerful tools a coaching staff can have right now."
Semlacher said Vanderbilt was the first major program to integrate the TRAQ software into its strength work as well as its throwing and hitting programs. Vandy even uses it to track their athletes' after-school schedules.
"I'd say that's where Vandy's been so important; they are unapologetic about asking questions, they're willing to take risks to utilize this tool, and that's ultimately how this evolves," Semlacher said. "It's allowed them the ability to have a much more holistic program, and it plays exactly how they operate, where there's very little left to chance. They're able to understand their athlete at the highest level. Whether that makes the coaches more efficient at programming, or makes them more efficient at tracking, or just to have all the data in one place so they don't have to spend time entering all these different things into Google Drive or something — I can tell you from experience that just ruins your day, and takes away from your time to coach these athletes. Now we have specific algorithms to enter all that data for you."
Similarly, Brown also appreciates the culture of Driveline. When he first visited the Driveline warehouse in Seattle, he was struck by the dichotomy. He described one side as "gladiators throwing Plyo balls off the wall, through the walls, one guy leading the other." The other side of the complex is the research lab, a quiet area with advanced technology everywhere. Players get suited up with motion capture technology and study pitch design at a high level.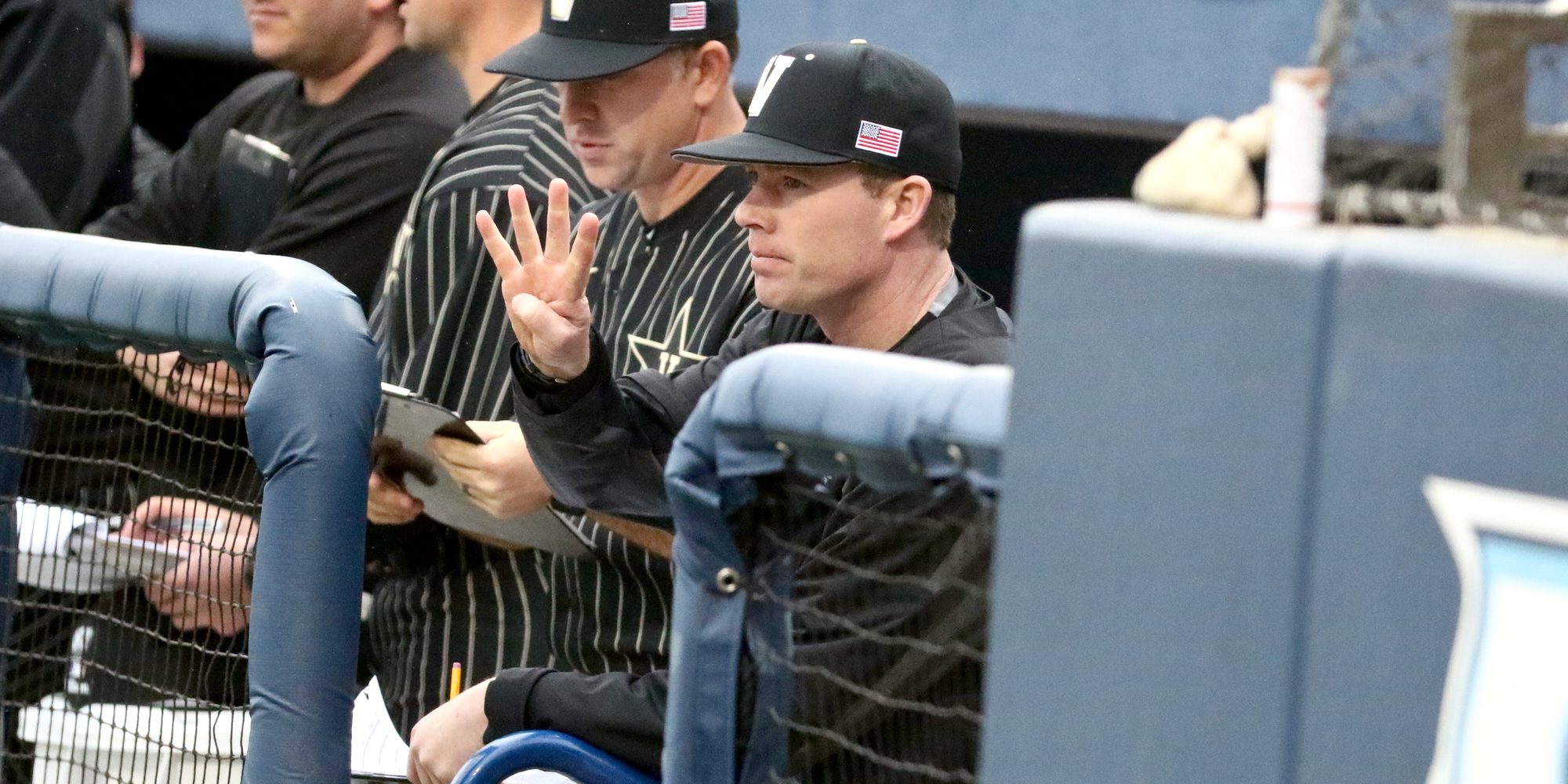 Vanderbilt pitching coach Scott Brown
"It's the blend of two worlds. You take some of your gladiator training, that might build the foundation, but ultimately to get the elite guys better you probably need to get them just 1 percent better," Brown said. "That would be my guess on that, my theory. That's probably where we fit in with them, the level of athlete we're obtaining and working with, we're trying to get them better at a small rate.
"But one thing I've always liked about Driveline is the environment of competition they create there. There's something about that. That's where you see a lot of growth."
Brown also appreciates the freedom to pick and choose which parts of Driveline's offerings he wants to incorporate into his program, and he lets individual players implement different things that work for them. It's like Driveline's most famous devotee, Trevor Bauer, once told me during his days at UCLA: "The cookie-cutter approach is good for cookies. But not really for pitchers."
Brown couldn't agree more.
"I think guys work different ways, but when they find a program that works for them, they stick to it," he said. "I'm taking some of Driveline's stuff and putting it into a menu for guys to incorporate into their routines. Their weighted balls, their command trainers, I use those things all the time for different stuff. Their products have been outstanding in a lot of ways for me to be creative with constraint training, and get players to understand what's happening and what they feel.
"And I have guys hybrided all over the place. There's so much information out there now, and one of the things I loved about Driveline when it first came out was it's so simple, and it still is simple. But I end up slimming down what guys do more than anything. The whole goal behind Driveline is to build a good, athletic thrower, and then we build a pitcher. I think you can be creative in a lot of ways to do that."
Learn More About Driveline Baseball and their TRAQ Player Development Software
Join the Discussion