Summer Stars: 10 Prospects On The Rise
Featured
Maryland shortstop Kevin Smith earned our inaugural Summer Breakout Prospect award with his strong performance in the Cape Cod League, but there were several other players in serious contention. Here's a look at 10 other players who took big steps forward this summer and boosted their prospect stock, in alphabetical order.
Troy Bacon, rhp, Santa Fe (Fla.) JC
Bacon's fastball registered at 87-88 mph when he showed up at Florida, but he showed major progress in the Northwoods League this summer, touching 93-94 mph and the makings of a good slider and changeup in the NWL all-star game. Now he's drawing interest from some big Division I programs, as well as MLB scouts.
Keenan Bartlett, rhp, Richmond
Like Bacon, Bartlett made the Northwoods League all-star game, where he showed standout stuff — a 93-95 mph fastball and a power breaking ball at 83-84. He could use some refinement with his command and control, but his numbers in the NWL were dominant: 2.23 ERA, 56 strikeouts in 56.1 innings.
Richmond righthander Keenan Bartlett (Richmond Athletics)
Bret Boswell, 3b, Texas
Boswell was a big-name recruit who hit just .248 and slugged .370 over his first two seasons at Texas, but he made a massive leap offensively with the Santa Barbara Foresters this summer, batting .383 with 10 homers to help lead the Foresters to the NBC World Series title. His emerging power makes him an intriguing player to watch heading into the spring.
Kyle Datres, 3b, North Carolina
After hitting .250 as a freshman in the spring, Datres won the Cal Ripken League batting title this summer, hitting .378 with four homers and seven doubles in 98 at-bats. He's a rising star with strength in his swing and a maturing approach at the plate.
Cody Deason, rhp, Arizona
After carving out a nice role in the Arizona bullpen as a freshman, Deason showed he could maintain his 91-93 fastball and power curveball in a starting role in the Alaska League, where he posted a 2.00 ERA with an 18-5 strikeout-walk mark in four starts for league champion Mat-Su.
Tommy Doyle, rhp, Virginia
Doyle was a key recruit in 2014, and the Cavs had very high hopes for him heading into his sophomore year this spring, but he was up and down, finishing with a 5.06 ERA. But he turned a corner this summer in the New England Collegiate Baseball League, working almost exclusively as a starter and posting a 1.62 ERA with a dynamite 40-7 K-BB mark in 33.1 IP. He's physical and durable, and he has enough life on his fastball to blossom into a big star as a junior — and a high-rounds pick.
Brady Feigl, rhp, Ole Miss
After making a solid contribution as a freshman reliever, Feigl made four starts in six appearances in the Coastal Plain League and went 6-4, 1.90. He has the big, physical build and arm strength (up to 93 at the CPL all-star game) to jump into the Ole Miss rotation as a sophomore.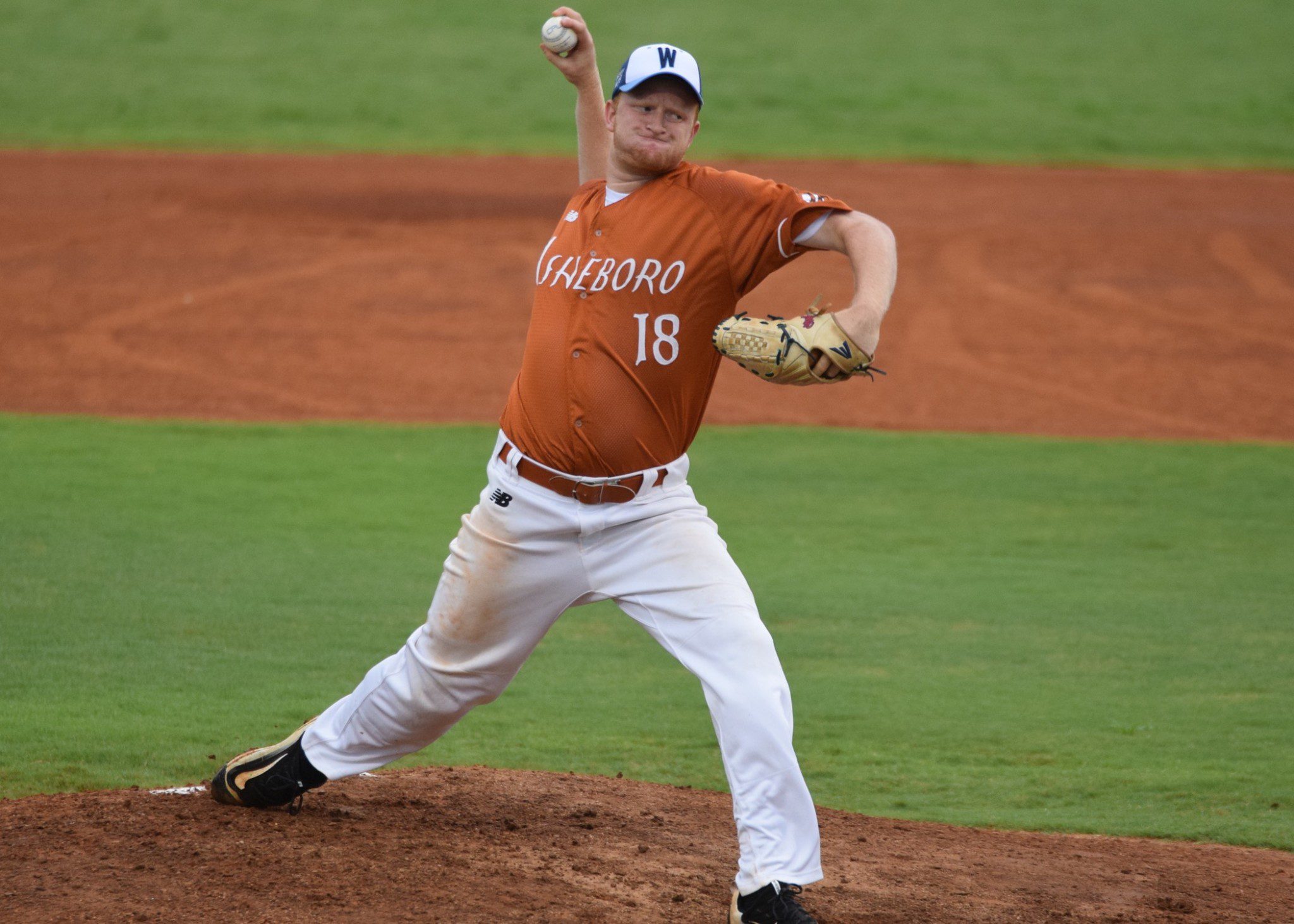 Ole Miss righthander Brady Feigl started the Coastal Plain League all-star game (Aaron Fitt)
Michael Gigliotti, of, Lipscomb
Gigliotti was a very good player over his first two years at Lipscomb, hitting .321 with 32 stolen bases, but really made a name for himself by hitting .326 with 15 steals in the Cape. Now scouts recognize him as a potential first-rounder thanks to his speed, hit tool and defense in center field.
Zac Lowther, lhp, Xavier
Lowther went 7-5, 3.09 during a good sophomore spring, then burst onto the prospect scene in the Cape, leading the circuit in strikeouts. Physical lefty with good command of a fastball that reaches 93 and a nice two-plane power curve — what's not to like?
Corbin Martin, rhp, Texas A&M
Martin ranked as the top prospect in the Alaska League last summer, but he struggled to carry that success into his sophomore spring this year, posting a 5.47 ERA. So he had some questions to answer, and he answered them with authority in a dominating summer as Falmouth's closer, showing the most electric stuff in the Cape.
Join the Discussion