Ten Thoughts: Thursday, March 24
Featured
Thursday's Coverage
• Rogers on A&M's Vines, LSU's Poche, more
• Fitt on Georgia Tech's Brandon Gold outdueling Zac Gallen
• Etheridge on Mississippi State's Reid Humphreys
• Baumann on Texas' win over TCU
• Subscribe to D1Baseball.com
Aaron Fitt's Five Thoughts
1. Cal's Jefferies goes the distance to beat Oregon State
If the season ended today, Daulton Jefferies would be a slam-dunk first-team All-American. The California junior righthander turned in his most impressive start yet Thursday, shutting down No. 3 Oregon State's explosive offense in a complete-game gem. Jefferies held the Beavers to
just two runs on four hits and no walks while striking out four to lead the Golden Bears to a 6-2 victory. He was ultra-efficient, throwing just 106 pitches (73 of them strikes). Jefferies is now 6-0, 1.29 with a sparkling 47-4 strikeout-walk mark in 42 innings this year, with other quality wins against Southern California, Texas, Texas Tech and Duke ace Bailey Clark. That's one heck of a resume.
The Bears, by the way, scored five runs (three earned) over 3 1/3 innings against OSU ace Drew Rasmussen. Nick Halamandaris led the Cal attack with two hits and two RBIs.
2. Wild, Wild West: More Pac-12 upsets
Oregon State wasn't the only Pac-12 favorite to get knocked off Thursday, though the Beavers were the only one to lose to a ranked foe. In Tucson, Arizona knocked off No. 18 UCLA, 6-1, behind a complete-game gem from J.C. Cloney (9 IP, 6 H, 1 ER, 1 BB, 7 K). The wily Cloney has plenty of pitchability from the left side, and he's a tough matchup for UCLA's lefty-heavy lineup. Griffin Canning (6.2 IP, 10 H, 6 ER) hit another speedbump in his up-and-down season for the Bruins, who fell to 11-8 overall, 3-1 in the Pac-12. Arizona is 15-6, 2-2, and looking like a legitimate regional contender.

In Tempe, Arizona State's recent tailspin continued with a 3-1 loss to Utah. The Utes has played well of late, winning a series against Oregon last weekend, but they nonetheless entered this series with a 6-12 record, so this qualifies as an upset. Talented righty Jayson Rose (8 IP, 4 H, 1 ER, 3 BB, 8 K) shut down the ASU offense and outdueled Seth Martinez (7 IP, 6 H, 2 R, 1 ER, 1 BB, 6 K). The Sun Devils have lost five straight games and sit in an 0-4 hole in conference play.
And Washington State (which entered this weekend 7-12 overall, 0-3 in the Pac) knocked off Stanford 5-2 at the Farm. Freshman Justin Harrer had two hits and two RBIs to lead the offense for the Cougars, who scored the most runs against the Stanford pitching staff since Texas scored nine in Week Two. That was the only other game this season a team has scored more than four runs against the Cardinal. Freshman Mason Cerillo delivered a two-run single in the 10th to lift the Cougars to the victory.
3. Hitter of the Day: Notre Dame's Jake Shepski
This is an easy one. Shepski, a sophomore DH, went positively bonkers in Notre Dame's 16-4 blowout win at Virginia Tech. He went 5-for-6 with three home runs, a double and a triple to give him 17 total bases. He also scored four runs and drove in nine. Entering the game, Shepski had just one home run in his career.
"Recently I've tried to bring more confidence to the plate and not look back at any bad at-bats," Shepski said afterward, per a Notre Dame release. "I feel like I did that my senior year of high school, not looking down at the bad at-bats and focusing more on the good at-bats and trying to get better."
The switch-hitting Shepski did his damage from both sides, hitting two homers righthanded, and hitting the third homer, the double and the triple from the left side.
This is a must-win series for the Irish, which had legitimate postseason aspirations coming into the season but got off to a 1-5 start in ACC play over the first two conference weekends. Maybe this blowout win will mark a turning point for the Irish, who are 10-10 overall.
4. About Schmidt: Gamecock ace keeps rolling
Coming off a big series sweep of Arkansas, No. 14 South Carolina faced its biggest test yet, hitting the road to face No. 9 Ole Miss. In a matchup between two of college baseball's hottest teams, the Gamecocks took the first game of the series 5-1 behind another strong performance from ace Clarke Schmidt, who limited the Rebels to one run while striking out eight over 6.2 innings. Two weeks into the SEC schedule, it seems apparent that Schmidt is one of the league's top Friday starters; he is now 6-0, 1.29 on the season with 51 strikeouts and six walks in 42 innings. Phew.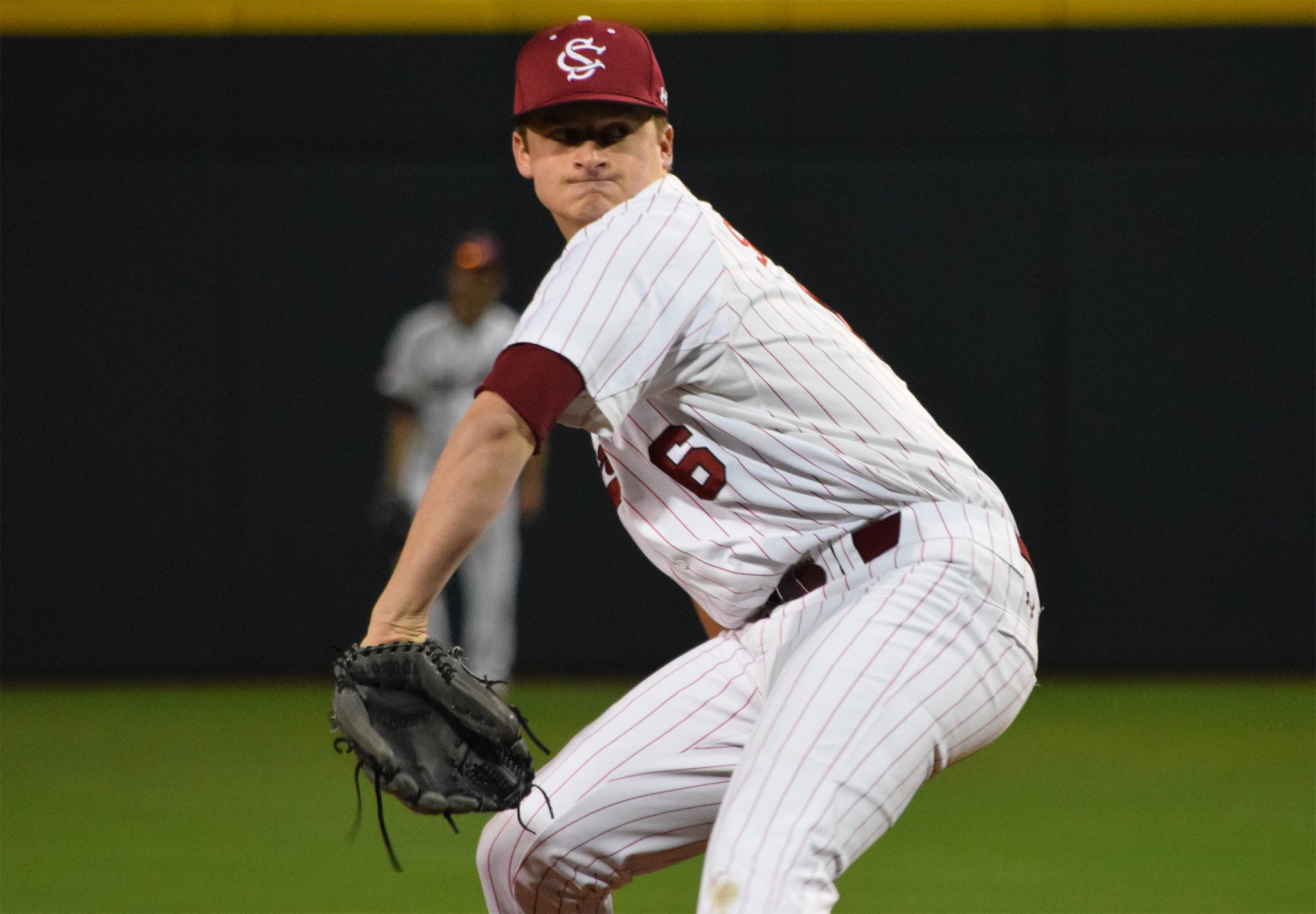 South Carolina ace Clarke Schmidt (Kendall Rogers)
Gene Cone, who was a nice sparkplug for the Gamecocks last weekend against the Hogs, had three more hits out of the leadoff spot to pace South Carolina's 13-hit attack. And the unstoppable John Jones went 2-for-3 with two walks. He's now hitting .430/.529/.698, and SEC pitching hasn't slowed him down in the least after four games.
5. Could UC Santa Barbara be the class of SoCal?
We've written repeatedly this spring about surprising UC Santa Barbara, which entered this season with modest expectations after turning over a good chunk of its roster from last year's regional-hosting team. With every passing week, the Gauchos make it more clear that they are for real. On Thursday, UCSB routed a veteran Southern California club coming off a big series win against Cal. Andrew Calica (2-for-5, 2 RBI) and Ryan Clark (3-for-4, 2 R, RBI) led a balanced 12-hit attack in support of Shane Bieber (7 IP, 5 H, 1 R, 0 ER), as the Gauchos rolled to a 10-1 win against Brent Wheatley and the Trojans. UCSB improved to 17-3 on the season, matching the 2014 Gauchos for the program's best 20-game start since 1984, when it went 19-1.
The Gauchos have won eight straight games since dropping two of three at Oregon, a streak that includes a nice sweep of Connecticut. Santa Barbara is sitting pretty at No. 7 in the RPI; it's still awfully early to put too much stock in RPI rankings, but at this rate, UCSB might not just be a regional team — it might be in the mix to host another regional (somewhere — not on campus).
Kendall Rogers' Five Thoughts
1. Long Beach State Edges Cal State Fullerton

The Big West might as well have been called the Big Unknown coming into the season. Cal State Fullerton was the favorite despite some heavy personnel losses, UC Santa Barbara lost several key players, and then there was Long Beach State, who had some key returning starters and definite potential.
Well, the Dirtbags are living up to that potential so far this season, improving to 15-6 overall with a 12-inning thrilling 5-4 win over rival Cal State Fullerton begin an important three-game series, which by the way, doesn't actually matter in the conference standings. Yeah I know, it's odd to say the least.
LBSU beat the Titans in the 12th with the winning run coming across home plate on a wild pitch. But there are some performances to remember in this one. For instance, Chris Mathewson had a gutsy start with seven strikeouts and four runs allowed in eight innings, while Austin McGeorge was terrific out of the pen for the Dirtbags with 2.1 scoreless. Other than the winning run in the 12th, the biggest play of the night was Luke Rasmussen's two-run homer in the top of the ninth to tie the game at 4-4 and to send the contest to extra innings.
The Dirtbags still need another win over the Titans to secure a series victory, but there's definitely something about this team that just screams confidence, and they're a treat to follow.
2. Corbin Burnes Does His Thing Yet Again
It's one thing to enter the season with high expectations, but it's another to do so and shatter those expectations. That's exactly what premium-armed Burnes has done so far this season for St. Mary's, as he tossed yet another gem in a 2-0 home victory over Gonzaga.
Burnes was on his game yet again, striking out six, walking just one and allowing just four hits in a complete game shutout performance. He also threw 127 pitches, 90 of those for strikes.
Overall, Burnes continues to be a big reason why the Gaels have high expectations in WCC play over the next couple of months. He now has an ERA of 1.74 ERA in 41.1 innings, along with 39 strikeouts and eight walks, while teams are hitting him at a .208 clip.
Not too bad, Burnes. Not bad at all.
3. South Alabama Strikes First In Sun Belt Showdown

Jaguars head coach Mark Calvi spoke with me earlier today about the hard-nosed and steady approach of his club so far this season. And, they put that approach on display Thursday night in a 6-4 win over Texas State.
South Alabama actually was down 4-3 going to the eighth inning, things looking somewhat bleak on the road. However, they tied the contest in the eighth when pinch hitter Eddie Paparella hit an RBI double down the left field line, and took the lead in the ninth inning when designated hitter Carter Perkins laced a two-RBI single to center field to make it 6-4.
Mark Calvi's Jaguars got the weekend started right. (USA)
The Jaguars didn't look back as they closed out the Bobcats in the bottom of the ninth.
For USA, starting pitcher Randy Bell allowed four runs on 11 hits in 6.1 innings, while the bullpen was a bright spot with James Traylor and Shane McKinley each performing at a high level, while Perkins led the charge at the plate with three RPIs.
Another win this weekend would do the Jaguars — a team now in the top-10 of the RPI – a lot of good.
4. Oklahoma's Alec Hansen Struggles … Again
The Sooners righthander might be one of the more frustrating pitchers in college baseball to follow. I've seen Hansen at his absolute best – last season against Texas Tech – and he really couldn't have looked any better. Pretty much everything he was throwing up there at Red Raiders hitters seemed to be plus, or at the least, had plus potential.
But, Hansen's junior campaign is not going as planned. Though he's had some shining moments so far this season, those experiences have been few and far between.
Looking to get a road series against Texas Tech off on a positive note on Thursday, the Sooners sent the imposing righty to the mound against the Red Raiders. Well, this time around, he wasn't dominant. As a matter of fact, Hansen didn't get out of the first inning, only recording two outs and allowing four runs on three hits and also walking three hitters.
Who knows what to expect from Alec Hansen at this juncture? (Aaron Fitt)
At this point, no one is sure what the Sooners need to do with Hansen. They moved him back in the weekend rotation earlier this season, they again moved him up in the rotation, and the result, again, wasn't very good. As a result of Hansen and other's struggles, the Sooners dropped a tough 5-0 contest to the Red Raiders.
Overall, Hansen's numbers don't look like someone in the mix for the top overall spot in the Major League Baseball draft. He now has a 7.65 ERA in 20 innings, along with 28 strikeouts and 18 walks, while teams are hitting him at a .260 clip.
Yeah, I don't think that's going to work.
5. BYU's Rucker Shines Again In Win
One of the great stories in college baseball so far this season has been the rise of the Cougars. Well, they won yet again on Thursday night, beating Loyola Marymount 4-1 to improve to 19-2 overall, 3-1 in league play.
BYU righthander Michael Rucker was terrific against the Lions, striking out eight, walking one and allowing just a run on three hits in a complete game performance. He also threw 106 pitches, 76 of them for strikes.
Brennon Lund led BYU's mild offensive charge, while LMU prized starting pitcher J.D. Busfield allowed two runs on five hits in six innings.
All's good in Provo these days.
And A Special Shout Out To … Wagner's Nick Mascelli
• How about this for a Thursday night performance? The Seahawks leadoff hitter went 5-for-6 with a pair of homers, a double and four RBIs in a 20-4 thrashing of Mt. St. Mary's.
Join the Discussion