Uniformity: College Baseball's New Threads
Want to get in-depth coverage? Subscribe to D1Baseball
---
New year, new gear.  Many schools across the country have been taking to social media to show off their new cleats, batting gloves, bats, gloves and even facilities.  Let's take a look at some of the new uniforms.
• Arkansas redesigned its home whites, choosing the Nike Vapor Elite style jersey to keep them cool on their journey to Omaha.  It is a clean look with just the right amount of red and we like the hog detail on the back belt loop.
• Wichita State has a slew of new unis this spring and we can't decide which one we like best so…here are our 2 finalists.  The gray with stirrups is a classic look (we are really into the gray unis this spring) and the bold gold top.  Which one do you like better?
• Mississippi State is reaching deep into the archives for a 2018 jersey.  Sure, we've seen the maroon but the V-neck? We haven't seen this jersey since 1985.  Thunder and Lightning much?
• Florida State has a couple of new, two button jerseys for 2018.  This white, sleeveless version is our pick.  It's just so clean and there aren't many sleeveless jerseys around anymore.  Maybe this will start a trend. #bringbackthesleeveless
• Radford redesigned the Highlander logo last year.  This year, the squad is integrating into the new unis.  Nice logos and a solid look.
• A lot goes into a great jersey – like a solid logo, bright colors and a noticeable font for the name.  Creighton's new jerseys hit a Home Run in each category.  The only problem is we can't decide which one is best.   Help?
• Kentucky must have been watching the popular makeover shows this winter because they have redesigned a few new unis, including this smoking hot cream and the icy black.  Check out the helmet for the black jersey – we are big fans of the cat logo! Shoutout to UK Equipment Coordinator Reece Wallace for the fresh designs.
• In case you couldn't tell, we really like the classic uniform look.  The road grays from Oklahoma State dominate this category.  We like how the wording pops on the gray.  Wait until you see their cleats!
• Citadel's 1990 CWS hero, Tony Skole, is at the helm of his alma mater.  There's excitement around the program and he's brought a new look to the Bulldogs. One shining example is this Adidas jersey. Who doesn't like a good red, white and blue uniform?  #Merica
• Cal signed a big deal with Under Armour in 2017 and the baseball team is making the transition to UA this year. They've designed some sweet jersey patterns. Check out the unique sleeve pattern.
• Stanford has always had the iconic V-neck pullovers in white, maroon or gray…and then they do this to us!  This black top is one of our favorites in all the country partially because of the departure from their tradition.  Or is it establishing a new tradition?  You can decide.
• Remember when we said we like old school uniforms?  Michigan must have heard us. These pinstripes are clean and look great.
• A good gold jersey is hard to find but USC's makes the cardinal "Trojans" pop.  This jersey works with all colors of pants and provides them with unlimited uniform options.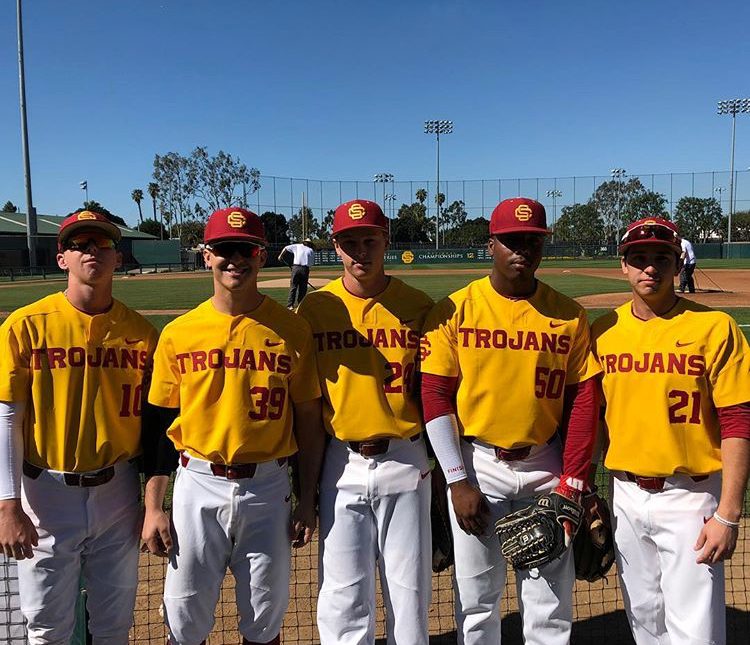 • TCU's mannequins are jacked (and so are their uniforms)!  Unlike the mannequin, this throwback uniform did NOT skip leg day.
We saved 2 unconventional uniforms for last because we are big fans of them:
• LaSalle is going hard in the paint this year.  Two new designs are radically different than the traditional baseball uniform.  You will either love them or hate them.   We are a fan!
• Indiana loves its red.  Now their jerseys are sharing that love with the pants…and the glove.   Adidas is aggressive with their designs and this one is no different.  This one may be our favorite new uniform of the year.  What do you think?
Join the Discussion