Pete Frates Leaves Behind Incredible Legacy
Features
This story by Aaron Fitt originally ran on our site in 2016. Pete Frates passed away peacefully Monday at the age of 34, after a heroic battle with ALS that inspired millions of people. Here's a look at his remarkable legacy.
---
I called John Frates on Sunday afternoon, a day after Boston College swept a doubleheader at Georgia Tech to clinch a spot in the ACC tournament. Frates was in good spirits, and when he saw my unknown California number pop up on his cell phone, his mood brightened even more, if only for a moment.
"When I saw this number come up, I thought, 'OK, maybe this is the cure.' Because it could happen any time," he said.
It was such a simple, powerful statement of optimism and belief that it gave me goosebumps on my end of the line. John Frates is so unwaveringly upbeat that he expects to get a phone call any day with the news that a cure has been discovered for ALS, the disease that has turned his son's life upside down.
By now, you are probably familiar with Pete Frates' story. The former Boston College baseball player was diagnosed with ALS (Amyotrophic lateral sclerosis — also known as Lou Gehrig's disease) in 2012 at the age of 27. The neurological disorder kills cells in the brain and spinal cord, causing muscles to weaken and often leading to paralysis and death.
Shortly after his diagnosis, Pete dedicated his life to increasing awareness of ALS and raising funds to aid the search for a cure. In 2014, he achieved national fame when he and his friend Pat Quinn launched the Ice Bucket Challenge, which went viral on the internet and raised more than $200 million for the ALS association. He was named Sports Illustrated's Inspiration of the Year, and a SportsCenter documentary about his story was nominated for an Emmy.
"Pete's had the highest accolades — Sports Illustrated, the Emmy's, the Red Sox signed him to a lifetime contract," John Frates said. "But first and foremost, he was a college baseball player."
So it was important to Pete to keep the momentum going in the fight against ALS, and to make college baseball a leading participant in that fight. That's how Band Together to Strike Out ALS began.
A little backstory: In 2011, CollegeBaseballInsider.com presented its inaugural Tom Walter College Baseball Inspiration Award, named after Wake Forest's head coach, who donated one of his kidneys to a player who needed a transplant. In 2014, the award was renamed the Tom Walter/Pete Frates College Baseball Inspiration Award. The Frates family got to know Walter and College Baseball Insider co-founder Sean Ryan, and when they all got together this winter along with BC head coach Mike Gambino to discuss potential honorees for this year's award, they came up with the idea for Band Together.
Pete Frates with BC coach Mike Gambino, his father John and brother Andrew, and Wake Forest coach Tom Walter (John Quackenbos/BC Athletics)
The plan was simple: try to get teams across the country to wear a special wristband during May, which is ALS Awareness Month. The wristbands read "Strike Out ALS" and "PF3" — Frates' initials and jersey number. It took a little work, but they got the NCAA to sanction the program, which they hoped would catch on the way Coaches vs. Cancer has caught on in college basketball.
The wristbands were immediately and widely embraced among programs in New England and also gained some traction in other conferences across the country. This past weekend, every school in the ACC wore the wristbands — and players expressed deep appreciation for the opportunity to participate in the effort to raise awareness for ALS.
"I think it's incredible," NC State first baseman Preston Palmeiro said. "Honestly up until everything that happened with the Ice Bucket Challenge and Pete Frates, I really didn't have a great understanding. Obviously you know Lou Gehrig's disease and you know that famous speech, but it's pretty incredible to be a part of this, and what the ACC's doing, and how everybody's involved. I'm just glad that we can participate any way we can and just help spread the word and get information spread around and do what we can to help out."
Preston Palmeiro sporting a Strike Out ALS wristband (Aaron Fitt)
"Awareness" is not an easy thing to measure, but it is vitally important for a cause like this.
"We're sticking to a straight playbook, which is that awareness leads to funding research and then to an eventual cure," John Frates said. "In this one, we never, ever expected this. I ended up losing a little bit more (money) than I expected on the wristbands, because I wanted it to be high quality for the college players, but the outpouring has been amazing for us. Every time I turn around, there's some Division II schools doing it. High schools are now doing it, we've had a Little League doing it. So it has the potential to be even bigger, better next year.
"It goes back to Pete's story; I remember when he was first diagnosed, we thought, 'If we could only get his story out there…' It was so compelling. We had this guy who was so athletically gifted, who did things the right way through dedication and effort, and had this beautiful woman by his side despite this terrible diagnosis."
Pete and Julie Kowalik started dating in the summer of 2011, and Julie stayed by his side and became his full-time caregiver after his diagnosis less than a year later. They were married in 2013, and the the next year Julie gave birth to their daughter, Lucy.
Walter and his Demon Deacons were visiting Boston College earlier this month when Frates became just the second person to have his number retired by BC baseball.
"We got to see Pete and his family, his little girl's getting big, and his wife is just so energetic and proud of Pete," Walter said. "We all wish we had family like that — pretty special group."
John Frates called the number retirement ceremony "an out of body experience."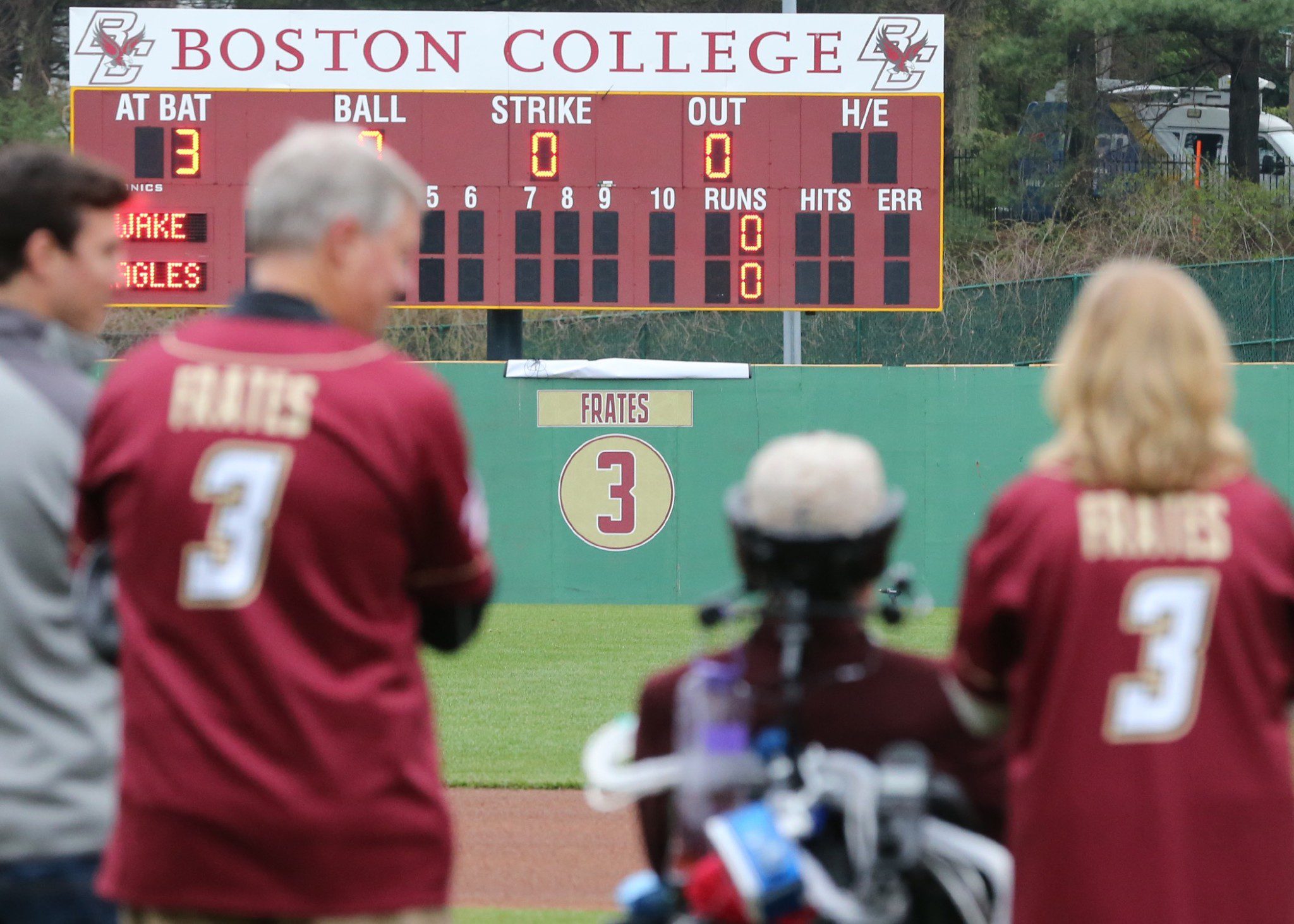 John Frates called the reriting of Pete's number "the pinnacle" (John Quackenbos/BC Athletics)
"We've had so many magical moments, but we'd take them all away in a heartbeat if we could just get him out of bed," he said. "That's the part behind the curtain that we don't show as much because it's so devastating, so we try to keep the message as upbeat and positive a possible."
Shortly after Pete's diagnosis, the Frates family met with Joe O'Donnell, who founded the Joey Fund to raise money for the Cystic Fibrosis Foundation in memory of his son Joey, who fought the disease.
"He kept saying to us, 'Pete's not well known. But baseball owns ALS, Lou Gehrig's disease. This is your moment,'" John Frates recalled. "I said, 'My God, this guy's right.' My wife Nancy and I even toyed with the idea of going to medical school, which seems like a lunatic idea, but we were desperate. We thought, 'OK, we can go find a cure ourselves.' Well, we're too old, we've lost too many brain cells, and that's not what we do."
But the idea that baseball is inextricably linked with ALS — from Lou Gehrig to the late East Carolina coach Keith LeClair — inspired the Frates family, and gave them a roadmap.
Players across the ACC and the nation participated in Band Together To Strike Out ALS (John Quackenbos/BC Athletics)
"One of Pete's major goals when he got sick, in this fight to strike out ALS and end this disease, was making it baseball's cause," said Gambino, whose bond with Frates dates back to his days as an assistant coach at BC when Frates was a player. "Pete was a college baseball player, first and foremost, a New England college baseball player. To get this to be our cause in college baseball would be an absolutely amazing thing. Pete and the FrateTrain and the Ice Bucket Challenge, how much money they raised — the ultimate goal is five, 10, however many years down the road, we don't have to do it anymore because the disease is gone."
After Pete was diagnosed, Gambino called him and John into his office and said he wanted to hire Pete as his director of baseball operations. Pete would travel with the team, and John would travel with them.
"So I've watched him instill his values, his integrity," John said. "Pete was a great mentor for some of the guys. Even some of the seniors now, he was still speaking, still traveling, didn't have much in the way of difficulties or obstacles. So some of the seniors now remember him giving not only baseball advice but life advice. He was great at that stuff."
Third baseman Joe Cronin is one of the current BC seniors who developed a close relationship with Pete, who continued to text the players constant messages of encouragement after he could no longer travel.
"To be around Pete, he came on every trip with us when we were freshmen, so I've known him for four or five years now," Cronin said. "I think the biggest thing for us is it gives us perspective on stuff, and it's just inspirational. He's faced with that disease, and we've seen what it's done to him, and how upbeat he's been throughout everything — he's always the one picking us up. So I think that's something that's tremendous for us. And then to see what he's done for ALS, it makes us sit there and think, 'If this is what he's doing, and he's got that (disease), we have nothing to complain about.' We're so lucky to be where we are, and we just want to win for him, because we know how bad he wants us to win."
The Eagles are very likely headed to the NCAA tournament even after their early exit from the ACC tournament this week, and Pete is reveling in their accomplishments.
"I don't know how many more magic moments are left for Pete, but this is certainly one of them," John said. "He loves his boys. I hate to say it, but they're almost on equal footing with his wife and child."
So BC's success has brought some happiness into a household where life isn't easy. John said Pete usually gets up at 5 or 6 p.m. and spends about four or five hours up in his chair, then goes to bed around 11.
"His quality of life is not what anybody wants, especially not at 31 years old. But his will and desire to see this thing through is so powerful," John said. "We don't want to be greedy, we just need a treatment right now. There's so many folks that need help. The hard part is the around-the-clock care that he now has because he's on a ventilator. That was a game changer — he's literally on life support. We're running an ICU unit. I'm looking at his bedroom door now, there's a nurse just sitting there in case he rings his alarm bell, wired to his pillow. The only muscle he can use is his head. So it's devastating, horrific, but he never lets us use the word 'tragic.' 'Tragic' is reserved for children dying of horrific diseases or soldiers dying in war."
John and Nancy hold out hope that a cure will come in time to help Pete. But in the meantime, they are carrying on his work. They watch a lot of old videos of speeches he delivered back in 2012 or 2013, before he lost the power to speak. And they stay true to his message.
"The message we're delivering today is the exact same message that he penned himself back in 2012," John said. "It is fulfilling to know that he was chosen for this, there's no question. I don't in any way want to think of him as a martyr for ALS, but this thing will be cured because of his efforts."
So spread the word. And spread the power of belief.
Join the Discussion