Fordham's Jake Baker Juggles Baseball, Medicine — And Rock Music
Features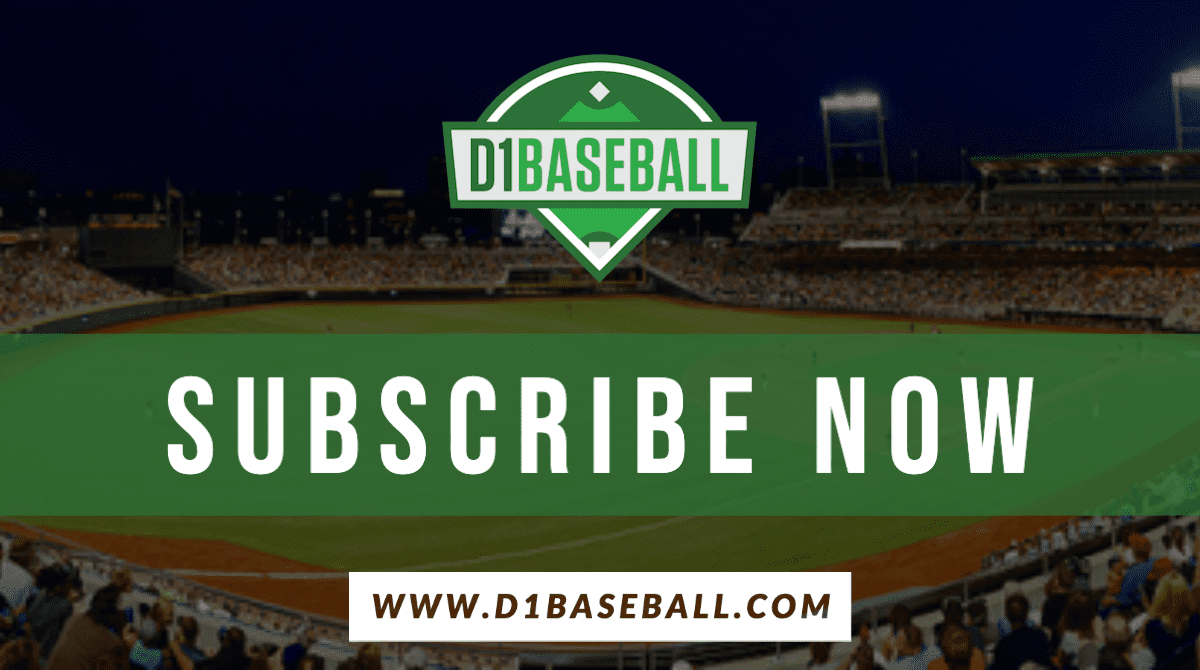 2020 Top 350 Prospects | 2021 Top 150 Prospects
---
---
Spring arrives next month, but Winter will always be special to Jake Baker.
Besides being Fordham's starting left fielder and a pre-med student with a 3.6 grade-point average, Baker, 22, is also the lead singer, main songwriter and guitar player for the rock band RELIC.
Winter is the band's first song, and it's been played often at Fordham games and in batting practice.
"We know all the words," catcher/utility man Gordo Grund said of the 36 players on the Fordham team who support Baker's music. "We spread the word about Jake to all our friends and family members back home.
"I remember last year when their new single came out. We were at a team breakfast before a road game, and all our guys were on their phones listening to the new song."
Jake MacKenzie, Fordham's star shortstop, visits Baker's apartment often, and the two of them usually end up playing guitar together.
"Everyone on our team has the utmost respect for (Baker)," MacKenzie said. "He's a phenomenal player, and we're all kind of jealous at the way he can balance everything."
The support among the Fordham players is inspiring, and, with guys on the team hailing from California, Arizona, Texas, Florida, Illinois and six other states, they have helped make the band popular.
Despite having only eight songs on Spotify, RELIC has more than 80,000 monthly listeners and more than three million streams.
But the big question with Baker is how he manages to find time for a difficult major, a demanding baseball schedule that includes 29 road games in 2020 and a rock band whose other two members live in his home state of Texas.
Baker, who is hitting .300 with three steals in three attempts through six games this season (all starts), downplays it all.
"I don't think of it as finding time," said Baker, a 6-0, 170-pound senior who swings lefty. "I just spend my leisure time doing music.
"Instead of watching Netflix, I just grab a guitar."
Baker is also pretty good when grabbing a bat. He started 49 games last season, leading the team with a .309 batting average and adding 17 stolen bases in 22 attempts as the Rams won the Atlantic 10 tournament title.
The Rams have led the nation in steals two years in a row, and Baker fits the Fordham mold perfectly as a contact hitter who can run. In fact, he struck out just 19 times last season, the fewest among any Fordham starter.
Speed is a big part of Jake Baker's game (Fordham Athletics)
Defensively, Baker is excellent, committing just one error last season while compiling seven assists due to his strong arm.
"'Bake' makes every diving play," Grund said. "When he throws the ball to the plate, we kind of know it's going to be an out."
Talent Galore
Baker inherited some of his athletic ability from his mother's brother, Eddy Furniss, who is just the second LSU baseball player to have his number (36) retired. The former first baseman is also in three Halls of Fame – College Baseball, LSU and Louisiana – led the Tigers to a pair of College World Series titles (1996, 1997) and was a two-time, first-team All-American. In 1998, Furniss earned the Dick Howser trophy as college baseball's best player and was drafted in the fourth round by the Pirates.
Furniss – who never made it to the majors — is now a doctor, which is another family tradition. Baker, who aspires to be an orthopedic surgeon, has several doctors in the family, including his mother, Karen; his aunt, Laura Morris; and Jake's grandfather, Ed Furniss.
Baker's father, Jay, is a corporate lawyer, so it's obvious that academics have always been stressed in their Dallas home.
The music thing, however, is new. Baker, the oldest of three children, is the only one musically inclined.
It all started with the popular video game, Guitar Hero, which Baker mastered, causing him to ask his parents for real lessons.
"We got him a small electric guitar when he was 10, and he loved it," Karen Baker said. "He took lessons once a week for 30 minutes, and it was the only thing I never had to remind him about."
Baker's early music wasn't very popular with his siblings – Chloe, who is now a University of Texas sophomore, studying business; and 16-year-old Davis, who plays high school soccer and baseball.
After being gifted the guitar, Baker soon asked for and received a keyboard and a microphone, building a home mini-studio, piece by piece, and all that noise annoyed Chloe and Davis.
"The kids' rooms were right below where Jake was playing," Karen said. "The kids would complain, 'Please have Jake stop playing!'
"But, at some point late in his middle-school years, Jake became talented enough that it wasn't terrible to listen to anymore. It became entertaining."
RELIC Is Born
Baker and Nathan Slonaker, 23, met in the fall of 2017 at Pine Cove, a Christian summer camp in Texas. Slonaker, who is a drummer, and Baker bonded over their love for music and decided to form a band.
"Dang, this guy is super good," Slonaker said when asked for his first impression of Baker and his music.
They added Slonaker's friend Elias Lopez, a 23-year-old who plays bass, and Baker describes their music as "modern rock, indy alternative" with country and blues influences.
RELIC on stage (Photo courtesy of Jake Baker)
Baker came up with the band's name.
"A relic is something taken out of its time and used as a remembrance," Baker said. "We want our music to reflect the rock and roll that came before us. Similarly, the three of us are all Christians, and we want our lives to reflect Jesus, who came to this Earth before us."
RELIC recorded its first five songs, including Winter, over an 18-hour span in January of 2018, and Baker has juggled music, medicine and baseball ever since.
But RELIC has had to turn down numerous gigs in Los Angeles and Nashville as well as several Florida and Texas college towns due to conflicts with Baker's baseball schedule.
The Texas gigs they have played – in Waco and College Station – have consistently drawn about 300-to-500 fans.
Fordham coach Kevin Leighton, who returns the Atlantic 10 Conference's top pitcher (John Stankiewicz) and eight of nine everyday starters, said Baker's music aspirations present a "tricky situation."
Leighton doesn't want any distractions, and Baker agrees, which is why Winter has been scrapped from the BP play list.
"Freshman year, we knew Jake played guitar and sang," said Leighton, who last year led the Rams to their first Atlantic 10 tournament title since 1998. "I don't ask him too many questions about his music because I want him to be 'all in' on baseball.
"I'm not a big music guy, but Jake is really talented. I've heard he may be able to sign with a label or studio.
"Just in general, the kid is extremely smart, raised the right way – polite, hard worker, great role model for Fordham."
Fordham's Jake Baker (Fordham Athletics)
On the diamond, Leighton said "scrappy" is one of the best ways to describe Baker.
"He doesn't blow you away when you watch him, but he beats you," Leighton said. "You never have to worry about him not hustling."
Bright Future
Baker said he would consider pro baseball were he to get that opportunity.
If not, the plan is to take a "gap year" before starting medical school. This would allow him to have more time for his band while also working in the medical field, likely tagging along with doctors on their rounds and helping them with paperwork.
In the meantime, Grund – who is Baker's roommate – gets a front-row seat to RELIC music in the making.
"He hears everything as it's written," Baker said, "and that's for better or worse."
Grund, who said his young female cousins in Miami have a crush on Baker, enjoys "the progression" of RELIC music.
"First, he starts with a guitar riff. Then, he writes lyrics," Grund said. "He and his bandmates send stuff back and forth on their phones, and they figure it out.
"It's great because I don't even have to pay to hear the music. And it's not like it's bad – it's quality."
Join the Discussion