GSA Spotlight: Parada Keeps GT's Catcher Pipeline Flowing
Features
This offseason, we are revisiting D1Baseball's best content from the 2022 season with the Best of D1 series. Every Monday and Friday, we will choose a different piece of content to highlight from our incredible staff and make it free to access, even without a subscription. If you enjoy the work we do and want to see more quality coverage of college baseball, click here to subscribe today and use promo code BestD1 for 20% off an annual subscription!

It was a comebacker that kept coming.
It was a line-drive hit … that carried 450 feet.
It was a smash so threatening that Mercer pitcher Ryan Lobus spun around and jumped as if the ball would hit under his spikes.
Instead, the blast by Georgia Tech catcher Kevin Parada on March 8 spanked a scoreboard speaker for a home run.
Through 51 games this spring, Parada has slugged 24 dingers – many of them to center and right-center, which leaves pitchers frustrated if not fearful and flummoxed.
"I had to face him many times in the preseason, and it's daunting," Georgia Tech pitcher Zach Maxwell said. "His plate coverage is so good – there's nowhere you can go with the ball that he wouldn't at least foul it off."
Although Parada's offense is ahead of his defense, his power bat at a premium position has made him a consensus top-seven-pick among various 2022 MLB mock drafts. He ranked No. 3 on D1Baseball's Midseason Top 150 college prospects list.
Parada, who turns 21 on August 3, was briefly ineligible for this year's draft. When MLB owners and the players union agreed to a new collective bargaining agreement in March, the cutoff for players turning 21 to be eligible for that year's draft was August 1.
"It's a funny story because, for about 24 hours, I was feeling really good that we may get this guy back next year," Georgia Tech coach Danny Hall said of Parada. "But he's been a great player for us. I will be happy for him when he gets drafted."
Parada is a Southern California native – Pasadena to be precise – and he grew up rooting for the Angels.
He is the first scholarship athlete in his family. His father, Jason, played club lacrosse at Stanford. His mother, Darlene, played high school softball (and not in college as reported elsewhere).
Parada understands Spanish better than he can speak the language, although he has Hispanic ancestry on his father's side, specifically from Mexico, Spain and the Philippines.
Former Yellow Jackets catcher Mike Nickeas, who went back to school at Georgia Tech after his four-year major league career ended in 2015, recommended Parada to Hall.
Parada quickly fell in love with everything Georgia Tech had to offer, essentially removing himself from the 2019 draft. But it wasn't until he arrived in Atlanta for enrollment that he fully understood his new school's history.
"Joey Bart was still playing here when I committed, but I didn't know the depth of how important Georgia Tech was in developing a lot of catchers," Parada said. "Coach Hall has always talked about how important catchers are to his program, but it wasn't until I got here that I started to understand the lineage."
Catcher U
Indeed, since Hall arrived at Tech for the 1994 season, the Yellow Jackets have had never gone more than two straight years without having a catcher drafted.
In the past 28 years, they have had 17 catchers drafted, including first-rounders Jason Varitek, Matt Wieters and Bart.
A total of 10 ex-Georgia Tech catchers have been drafted in the top 10 rounds, a list that includes Nickeas.
Here's the list of Georgia Tech's drafted catchers since 1994:
1994: Jason Varitek, 1, Mariners
1996: Tucker Barr, 5, Astros
1999: Eric McQueen, 14, Rockies
2001: Bryan Prince, 10, Reds
2001: Jason Basil, 15, A's
2002: Tyler Parker, 8, Cardinals
2004: Mike Nickeas, 5, Rangers
2005: Andy Hawranick, 48, Cubs
2007: Matt Wieters, 1, Orioles
2008: Jason Haniger, 19, Pirates
2008: Brandon Miller, 33, Red Sox
2010: Cole Leonida, 6, Nationals
2013: Zane Evans, 4, Royals
2015: A.J. Murray, 14, Twins
2016: Arden Pabst, 12, Pirates
2018: Joey Bart, 1 Giants
2019: Kyle McCann, 4, A's
2022: Kevin Parada, ???
Three other catchers – Tucker Barnhart, Tyler Stevenson and Harry Ford — could've joined this list. However, those Georgia Tech signees opted to go pro out of high school. Barnhart signed with the Reds in 2010 after getting drafted in the 10th round. The Reds foiled Georgia Tech again in 2015, signing first-rounder Stevenson; and the Mariners signed first-rounder Ford last year.
Hall believes that Lamar King – a 6-3, 215-pound prep senior from Maryland – is Georgia Tech's next star catcher.
But that plan may be in jeopardy.
"Lamar is having a tremendous high school season, and there's a lot of heat rolling in on him," Hall said. "We are starting to sweat (that he may sign a pro contract out of high school).
"A crosschecker I know told his area scout, 'If Georgia Tech has a catcher identified, I need to go see him.'"
Transforming Parada
As a true freshman last year, Parada made 48 starts, hitting .318 with nine homers, 42 RBIs and a .920 OPS. His 20 doubles led the ACC through the NCAA regionals.
This year, after a winter spent mostly in the weight room with Georgia Tech's player-development coach, Parada has turned those two-baggers into leisurely strolls around the bases.
Parada, who is 6-foot-1, now weighs 210 pounds. He estimates he gained 15 pounds due to his weight-training regimen, and the results are obvious.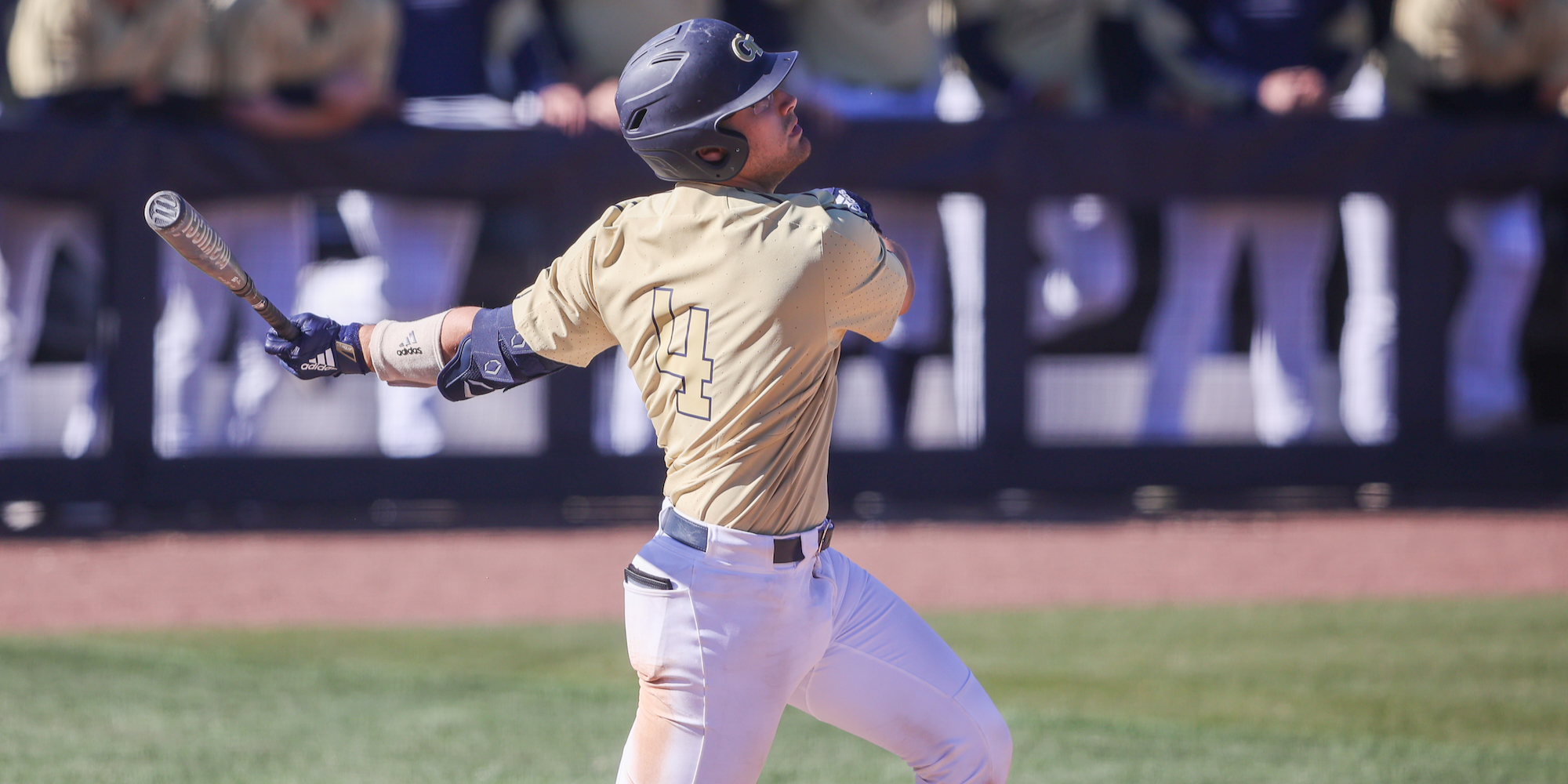 "I hit a lot of balls off the top of the wall last year," said Parada, who has a 3.55 grade-point average and is majoring in Business with a focus on Marketing.
"This year, those balls are going over the wall, even though I haven't changed my swing."
What has changed is his batting stance, which Parada – asked to define it – calls "interesting."
As part of that stance, Parada lets his bat hang downward, over his shoulder and away from his body.
After a lot of trial and error, this stance evolved over the winter.
"I tried to put my body in the most athletic position possible," Parada said. "I know that visually it's not the appealing (stance) for everyone, but it's the most comfortable position for my body. I've stuck with it, and it's been working."
That's an understatement.
Parada is hitting .355/.444/.732 with nine doubles, 77 RBIs and a 1.176 OPS. He has shown some athleticism, too, going 7-for-8 on steals while also legging out a triple against Florida State.
He ranks tied for second in the nation in homers, one behind national leader Ivan Melendez of Texas. He is also close to breaking the school record for homers – he trails only Anthony Maisano (25).
A durable player, Parada has played all 49 games for Georgia Tech (28-21).
Parada wears glasses – they have become part of his brand, he said – and he clearly sees the ball well.
It's his defense that pales in comparison to his prowess at the plate.
After throwing out just 7-for-59 runners attempting to steal last year, Parada went through an offseason throwing program that continues to this day.
Parada's blocking skills are solid, according to his teammate, Maxwell, who said his catcher's defense was an issue.
Even so, Parada has made "great gains", according to Maxwell.
"I can throw him a tough slider in the dirt," Maxwell said, "and I have full confidence he will corral it."
To his credit, Parada doesn't run from questions about his supposed weakness.
"My defense has always been my downfall in the game," he said. "That's how people evaluate me.
"I'm always going to have to continue to work twice as hard to get as good as I am at hitting. But I think I've really improved the past couple of years, especially at Georgia Tech with guys who throw mid/upper 90s. That's helped me get better at receiving."
Another big moment for Parada came this past summer, when he worked with veteran coach Jerry Weinstein of USA Baseball.
Weinstein taught Parada to catch from one knee.
"A lot of people had talked to me about (one-knee catching), but I never understood the ins and outs of it (until this past summer)," Parada said. "Jerry helped break it down and explain why I should do it. I latched on to that, and it's helped me drastically with receiving.
"It just frees your body up to be able to catch more consistently without having the restrictions you would have with a normal squat, especially when guys are throwing as hard as they are with as much movement. It gives you more freedom with the glove."